Make a purchase using a link? We earn with qualifying purchases through Amazon & similar programs. Read more:
Affiliate disclosure
Despite not seeing a ton of scooters on the road in the United States, we still have a surprising number of options. There are brands that should be avoided if you want to spend more time riding instead of working on a clunker, but the best scooter brands have great warranties & reputations to keep you scooting longer.
Finding reliable information specifically on scooters is tricky. Much less in a way that allows you to compare your options. That said, how are you supposed to know which is best?
Check out this Scooter Buying Guide when you are ready to think through how to pick the right scooter for you. In it, you will find each feature described at a high level & a spreadsheet I put together that lists each scooter within these brands AND MORE that will supercharge the buying process for you.
Vespa
Vespa fans are die-hard, and rightfully so! Vespa scooters and mopeds are the original and were launched in 1946. With over 70 years of producing scooters, there is a solid market for vintage models and plenty of Vespa-specific scooter clubs abound.
Many people not familiar with scooters aren't even aware that Vespa is a brand. They just see the iconic styling common to Vespas as the term for ALL scooters that have a similar design. I was one of those people, so I get it!
Let's throw in another layer of confusion – Vespa scooters are a subset of the Piaggio Group. Under the Piaggio Group, they manufacture multiple brands of scooters internationally – including the Piaggio scooters you can find in the US.
Beyond the history and popularity, Vespa has the history, popularity, AND mass appeal, so what do you get with the Vespa brand if you're looking for a new one?
Steel frame
LED lighting
Remote to unlock under-seat storage box
Bike Finder & Bluetooth incorporated on some models
ABS in some form on all scooters at the 150cc engine size & higher
12″ wheels as a balance between agility and stability
24-month warranty
The vintage market means parts may be easier to get your hands on as your scooter ages
Not speed restricted unless you choose one that is
I know other scooters do some of these things, but Vespa does them consistently. In addition, it seems that other brands follow the scooter leader here before offering the same.
If you have any Vespa-specific questions, you can always contact a local dealer, but don't forget to check out this All About Vespa guide first.
Vespa scooters are one of the most expensive options on the market, so these Vespa alternatives might be the better scooter for you.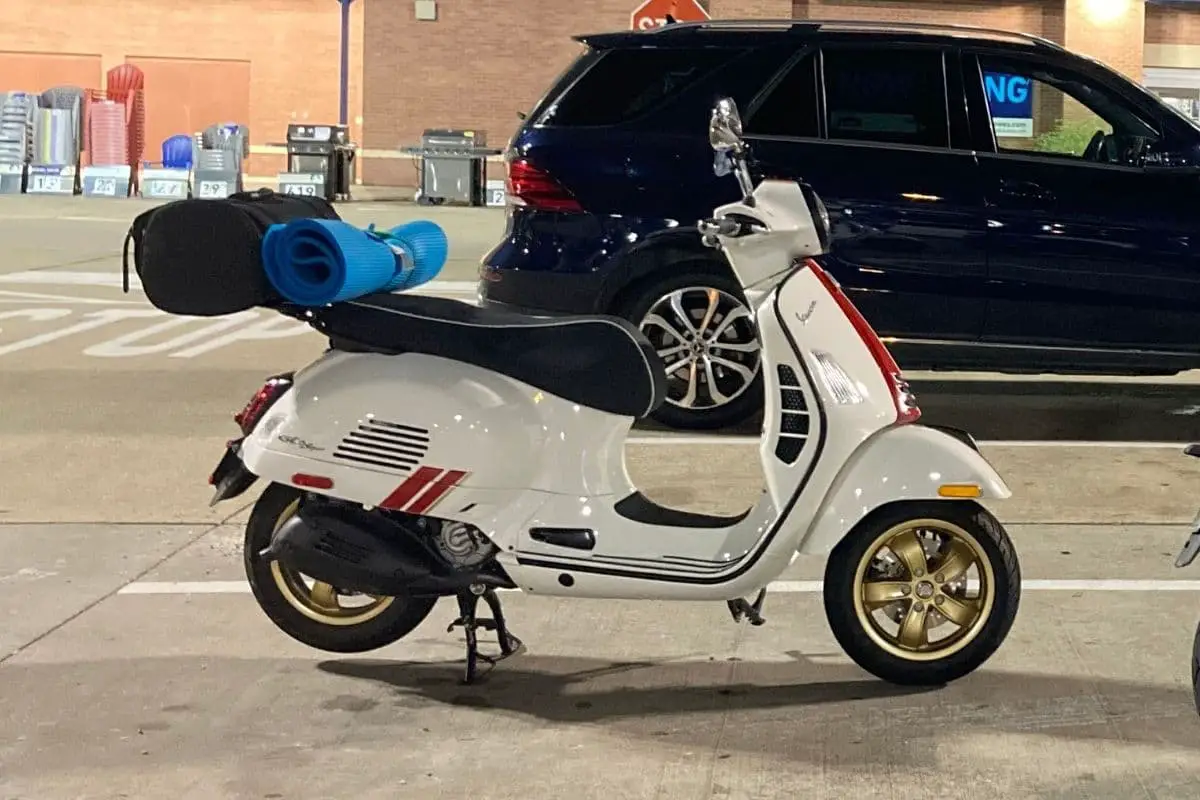 Piaggio
So the Piaggio Group manufactures Vespa scooters, but as far as what is sold in the US, they also sell Piaggio-labeled scooters, as well. Internationally, the Piaggio Group has 7 different scooter brands.
Piaggio scooters are not as expensive compared to similarly featured scooters can be to its competing scooters, and all of the Piaggio scooters are more in the sporty camp instead of the classic Italian style. I mean, have you seen the 3-wheeled trike scooter (MP3)?!
Genuine Scooter Company
Genuine Scooter Company is based out of Chicago, Illinois, but no, the scooters are not manufactured in the US. They were founded in 2002 starting with the popular Stella, so while not new, they don't have quite the history that Vespa motor scooters have.
However, Genuine Scooters are affordable, dependable, have a broad selection of scooters (and colors) and are solidly maintainable.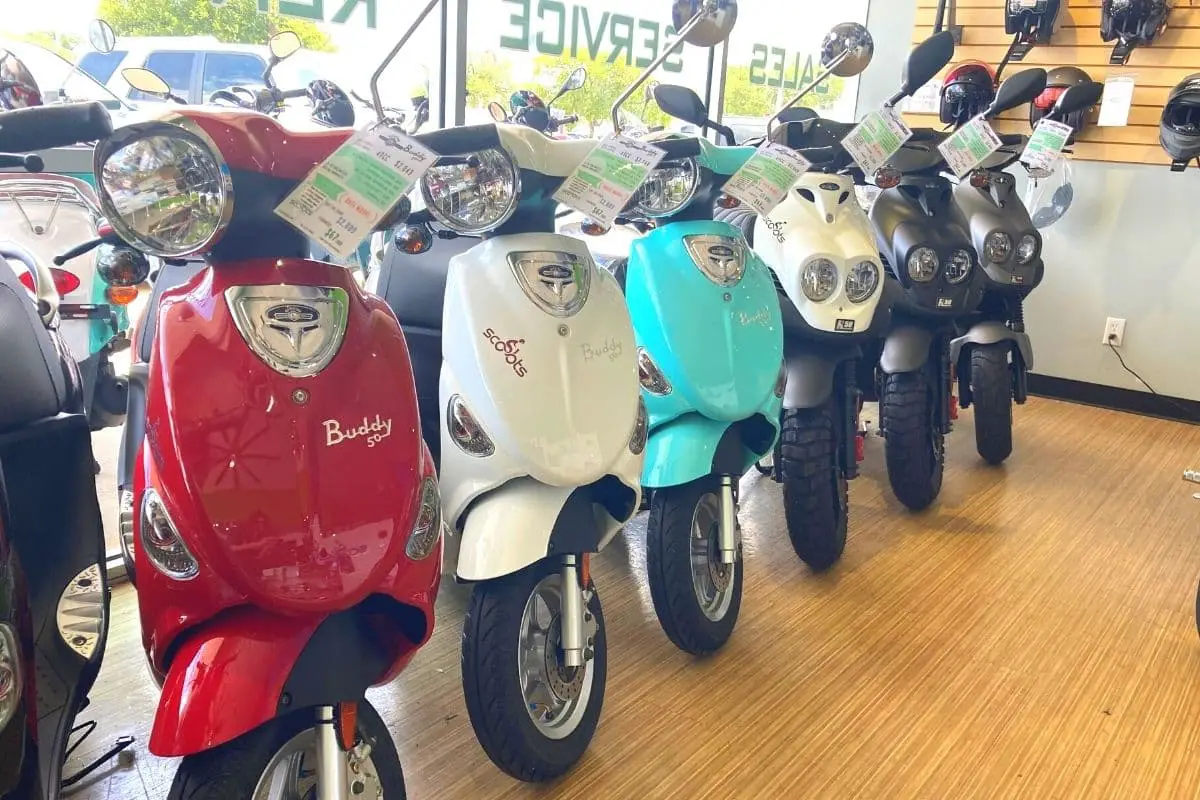 For the base 50cc scooter from Vespa, you're looking at an MSRP of $4,000. For a 50cc from Genuine that is also electronically fuel-injected, you'll be spending less than half at $1,899.
Genuine throws in 1 year of roadside assistance through their dealer network, as well.
Genuine Scooters are half the price, and their warranty is solid. Many scooter brands have jumped onto the 24-month warranty bandwagon, but Genuine was the first in its' class.
Have you seen the line-up of Genuine Scooters?
They are quite impressive because you can find the classic Italian style in the Buddy versions (especially the Buddy Kick) yet go rugged with the Hooligan. I mean. That name?!
2-stroke vs 4-stroke. Carburetor vs electronic fuel injection. 10-inch to 16-inch tires. Find the feature you care about, and then pick the scooter.
The sheer number of choices the Genuine Scooter Co offers is a compelling reason to look at these scooters if you are in the market.
Additionally, if you move beyond some of the big scooter names, finding parts can be a pain. You can get parts through Scooterworks.com, and a full accessory line-up on the new Genuine Scooter Company scooters. Try to find a rack for a Kymco easily….
What I don't like is that they do not have much in the way of a larger scooter, so if you want to go over that 200cc engine size, Genuine isn't for you. They do offer a 400 motorcycles now, though.
Where are Genuine scooters made? Are they reliable? Read on in the link below.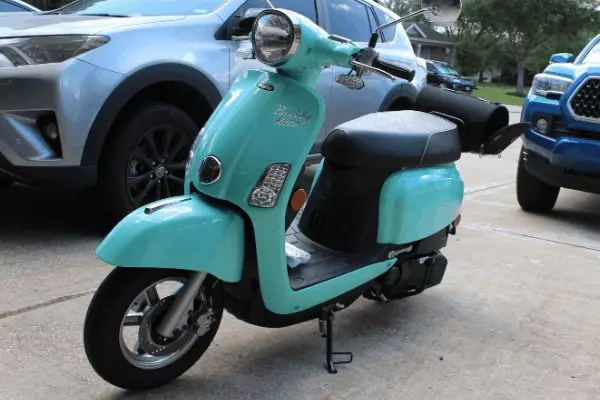 Suzuki Cycles
You won't find classic Italian styling, rugged, or a giant selection with what Suzuki offers. However, you will find the most luxury-feeling scooter on the market.
Currently, the Burgman 200 and Burgman 400 are the only scooters they offer, so you won't find any 50cc mopeds with Suzuki. What they offer is what is called maxi scooters.
If you aren't sure of the different types of scooters, check out this guide to the different types of scooters to help you. Just know these scooters are quite large compared to a moped and can handle higher speeds much easier..
The Burgman scooters have an excellent rating for highway riding for comfort and for its storage, and I rate the Burgman 400 as the best scooter for highway riding.
The storage you'll find in the under-seat compartment and the front compartment is unparalleled!
However, Suzuki does not offer a 24-month warranty, the scooters almost seem like an afterthought to Suzuki and the price. Oh, that price! The only scooter that is more expensive than a Suzuki is the 3-wheeled Piaggio.
Lance Powersports
Lance is another manufacturer with a ton of variety at an affordable price point, and it was a surprise find for me. They offer a variety of scooters. The most expensive model is the 200i models: Cabo, Cali Classic, PCH, and Havana at under $3,000.
Notice those 4 model names? What is cool is that Lance has all 3 called the 200i that are 170cc. Then they have the same 3 in the 125cc. THEN they have 3 of the same in the 50cc range.
No matter what size engine you need and style you like, if you like their scooter they have a version ready for you.
Lanco also has a couple of other models sprinkled in that do not repeat through their line-up like the Italia Classic (discontinued) and the Soho.
They also have that 24-month warranty, so you don't feel like you're taking as big of a gamble if you haven't heard of this brand before.
While they have a nice spectrum of scooters to choose from, I'm personally a fan of electronic fuel injection, and only the 200i models have it. All of Lance's scooters are 4-stroke. So plenty of looks and engine sizes, but I know plenty of die-hard 2-stroke fans that would not be a fan of Lance for this alone!
Kymco
You may have caught my jab at Kymco earlier here. However, I actually like Kymco as a brand of scooters and mopeds, so Kymco is definitely on the list of best scooter brands.
Kymco scooters are a good value for the features they offer for their price point, and they are a good quality scooter.
If you have read my summaries of the other scooter brands, you have likely noticed that I'm a fan of longer warranties. Kymco has a 24-month warranty, too. Towards the end of 2022 & into early 2023, parts can still be difficult to get, though.
The line-up of Kymco scooters is more sporty and rugged with no true classic Italian styling. The Like is the closest to the Italian styling, but it is distinctively not all in the same breath. Here's the Like 150i for reference. It's a great-looking scooter with a bit of a sporty look mixed into the traditional scooter style. Here's a full review of my 2019 Like 150i.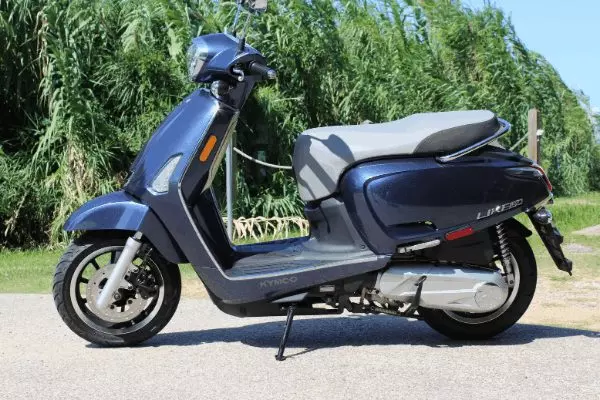 So they are a solid scooter, but did you know for $3,000 you can get electronic fuel injection, ABS brakes on the front AND rear? Did you know you can get up to almost 300cc in their line-up (X-Town)?
When you compare the other scooters in the ranges of what they offer, Kymco comes up significantly under their competitors with the same features.
Parts is a huge reason that I don't have this scooter ranking higher. Getting accessories and sometimes parts can be a pain, though. I've been able to get what I need through the dealer and a few online places depending on the model.
But are they a good scooter? Where are Kymco scooters made? I dive into those details in the link below.
Click here for whether Kymco scooters are worth it
Honda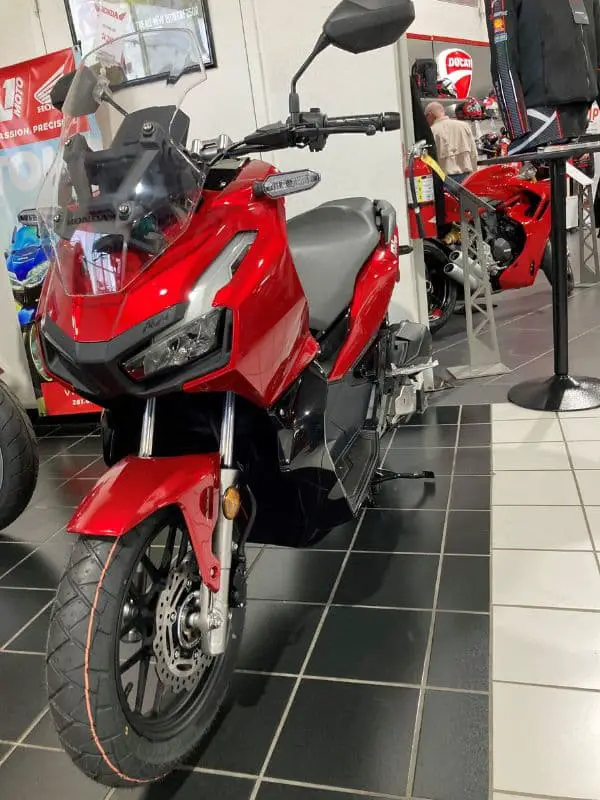 I feel like Ruckus riders will hate that Honda is alllll the way down at the bottom of this post, but hang in there! The solid Honda reputation carries into their scooter line & is definitely a best scooter brand option.
Honda has been making scooters for the US market since the 1980s, and they have developed a loyal following through their scooters – particularly the Ruckus!
What I like about the Honda brand scooters is that they are quality scoots that offer features normally found in higher-end scooters, but they are in the middle of the pack in regards to pricing.
Take the Metropolitan 50 for example. It's the cheapest 50cc scooter that has electronic fuel injection, AND it's the cheapest scooter that also has liquid cooling (instead of forced air cooling).
The same goes for the PCX and ADV sporty-looking scooters. They are the only scooters in a 125-150cc sized engine that have a liquid-cooled motor. Plus they are the cheapest scooters that have CBS or ABS brakes, as well. They are electronic fuel injected, have larger wheels for added stability, the charging port, and the ADV has a smart key.
Both are solid offerings if you like the style, and you'll be scooting for years to come on them.
One choice of rugged versus classic scooter styling is all they offer, though. If you want 150cc, you can get the PCX or ADV which both look very similar to a motorcycle than a scooter. The Metropolitan has that classic scooter vibe, but it's only offered in 1 engine size.
Also, Honda is offering the 12-month warranty which by now… you get if you read the rest of this article already. They offer a warranty, but it's half of what many brands now offer.
Where are Honda scooters made? Are they reliable? Read on in the link below.
Yamaha
Yamaha seems to have their hands in a lot of industries. But do they make great scooters still?
Yes!
Yamaha scooters are a good, quality brand that you can depend on. The selection is just limited similar to Honda, but the models they do offer have a loyal brand following, as well.
If you want to buy a new Yamaha scooter, your choice is a Yamaha Zuma with a 125cc engine. It's rugged and peppy. Your other choice is the XMAX with a 300cc engine.
That's it.
It is tough to come across an XMAX randomly at a dealer, so have a chat with your local dealer to get a call when one comes in to sit on.
BMW
As a scooter newbie myself, I learn something new from readers and YouTube subscribers often. One of those conversations led me to even learn that BMW has scooters! **insert face palm 🤦‍♀️
If you find yourself browsing the BMW motorcycle website, they hang out on 'Urban Mobility'. Right now, there is only an electric version and a 400cc engine size model called the C 400 GT.
This is not a brand I have personal experience with, but the scooter is BMW, marketed as luxury, and I'm sure it's a great scooter. It has styling similar to the XMAX and will take you on any highway you want to encounter.
SYM
SYM is another brand of scooters I had never heard of before going down this rabbit hole. The acronym SYM is simply short for Sanyang Motor Company, and SYM Scooters are manufactured in Taiwan.
The scooter brand, SYM, was born out of a manufacturing partnership with Honda, shifted to Hyundai, and through all of this landed with their scooters in the US in the early 2000s.
These scooters are offered in the US through Alliance PowerSports dealer network. That same network is your go-to for the 24-month warranty needs, too.
They offer 1 50cc called the MIO which looks like a cross between classic yet sporty, but they have 2 options in the ~200cc range called the Jet 4 (sporty) and the Fiddle 4 (classic). They also have the CityCom S if 300cc is more your speed.
SYM also manufactures Lance Power Sports scooters. Both are on this list for a reason with a lot of happy scooter riders enjoying their quality, reliable scooters!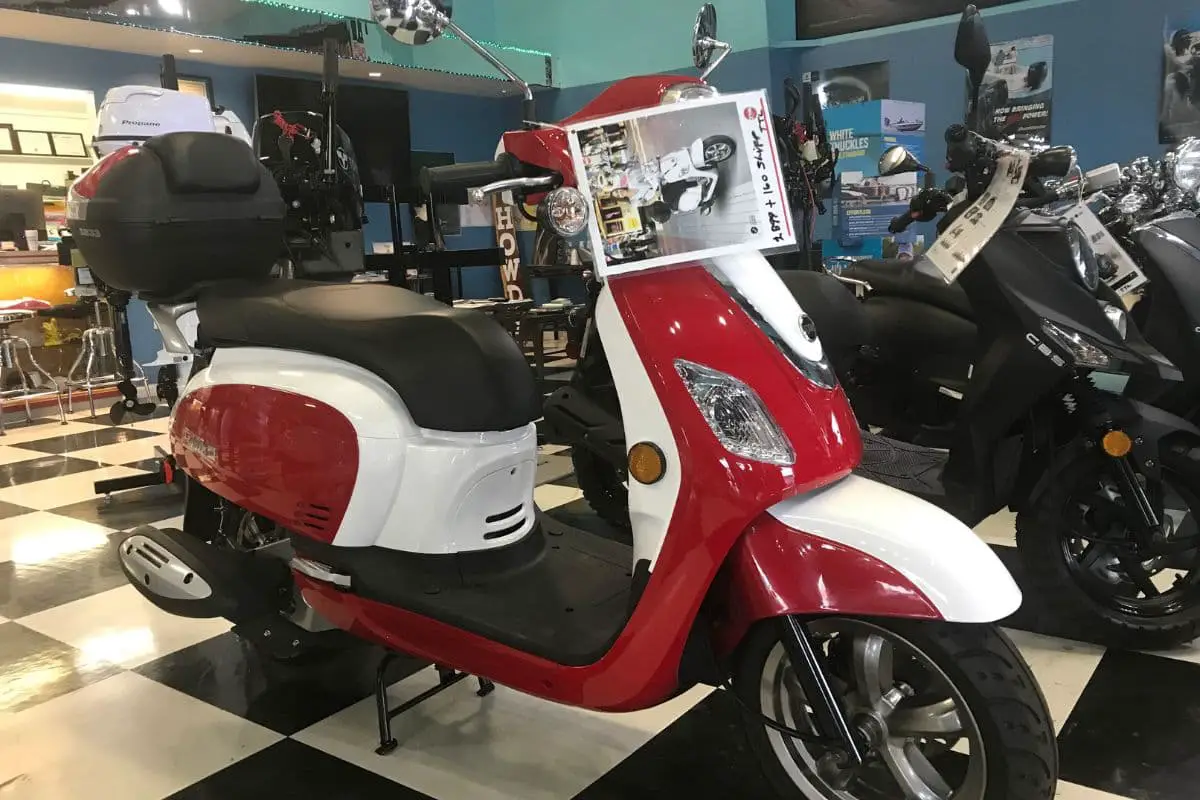 Fav Scooter Brand Closing Thoughts
Scooter preferences are personal!
Whether styling is your starting point or the brand is – I'm just happy to 'chat' here with a scooter enthusiast!
I do hope you have walked away with some thoughts to explore which brand will work best for you, but if you're still on the fence, check out the Scooter Buying Guide.
If you'd like to have more scooter chats, sign up for the newsletter here.
Be seen & be safe, scooter friend!