Make a purchase using a link? We earn with qualifying purchases through Amazon & similar programs. Read more:
Affiliate disclosure
So I purchased a 2019 Kymco Like 150i ABS in July of 2019. This is a review of the motor scooter and thoughts now that I have had the scooter for 15 months. I've included some info as to how I decided on this scooter over others and whether I still feel the warm and fuzzies about those choices today.
Overall, the Kymco Like 150i ABS has been a great scooter that has pep, has been totally reliable, and has a smooth ride. The Kymco Like 150i is the best scooter for the money!
Check out this video and read on to learn as much as you'd like about this scooter.
I personally had not heard of KYMCO until a month or so before the idea of a scooter entered my path, so I get reservations! I did some research on the company and their reliability that you can find in this article.
---
Specifications of the 2019 Kymco Like 150i ABS
You can see the full details on the Kymco site, so I will only be covering the features that led to my decision to purchase this scooter and how they have played out now that I've ridden the scooter for over a year.
All about the speed: The Kymco Like has a 150cc engine with a published top speed of 65 miles per hour. I have taken this scooter on a freeway. While I don't recommend a scooter that tops out at 65 for a freeway, it certainly eeked out a bit more than the published speed as I hit 70 miles per hour on the spedometer.
Looks: This scooter has some elements that has it more of the classic Italian styling that I enjoy, but there is something a bit sportier about the Like than most other similarly styled scooters. The navy is great, but I didn't love the white option.
Mechanical Thoughts: The Kymco Like is the cheapest scooter available that has ABS brakes with disc brakes for the front and rear. It also boasts the electronic fuel injection I wanted, it's 4-stroke like all others in this category, and it has one of the larger fuel capacities at 1.8 gallons. 85 miles per gallon isn't too shabby either.
Warranty: Before the research into buying a scooter, I had never heard of the Kymco brand before. However, I was more at ease by the brand's 24-month warranty.
Size: I liked that the Kymco has the 12-inch tires on the front and rear. As an FYI, the seat height is 31 inches. Most scooters fall in the 30-31″ range, so it's not crazy. I'm 5'11", but my 5'6″ wife doesn't love how it fits.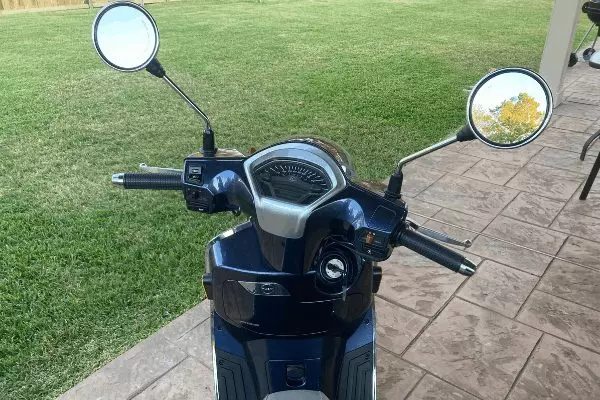 Why I Chose the Kymco Like 150i ABS
Before ever gioing to the dealership, my wife made a spreadsheet that you can check out here to compare features of new scooters. I wasn't planning on buying a scooter, but she had narrowed her choices to this one and a couple of Genuine Buddys.
She asked for my opinion on whether she should buy the scooter (she didn't), and when I hopped on the scooter (plus her enthusiasm for riding in general), I decided to get the zippy Kymco. I'll be honest and say that she had done the legwork to pick a solid scooter by the numbers, and I liked how it rode. Done.
I will throw in that I've been riding a Harley for awhile, so this was a change of pace.
If you have only barely heard of KYMCO, Renee put together some FAQs on the brand here.
Storage
I don't carry a lot on my scooter, but the luggage box has a lot of space. It won't close with a full-sized helmet, though. It does have the posts to hang a helmet, but I had to get an extender for my helmet to make that work. Here are some photos of the storage.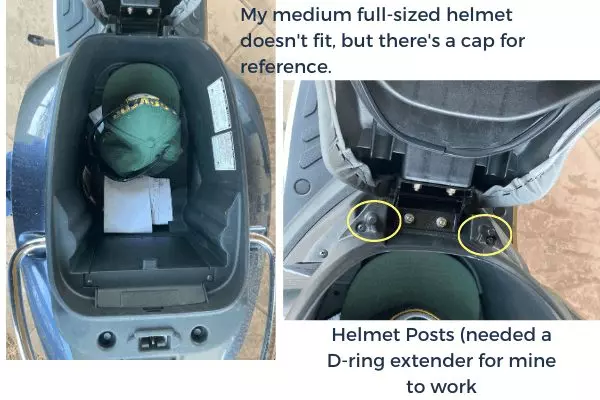 I do like that there is a USB connector in the glove comparment to charge my phone. I don't need to do that often, but I didn't expect to find an outlet on a scooter either.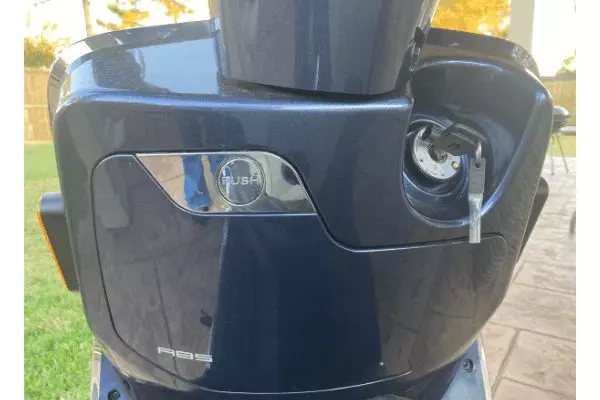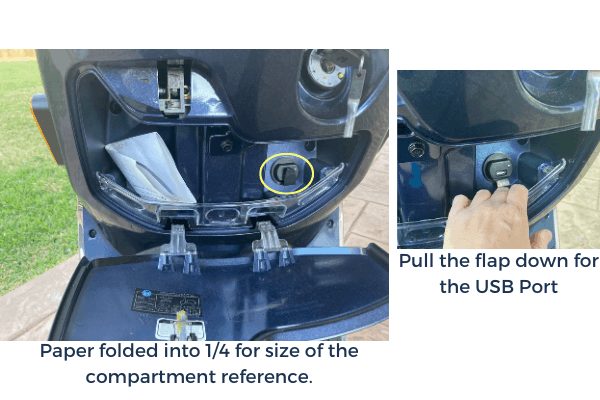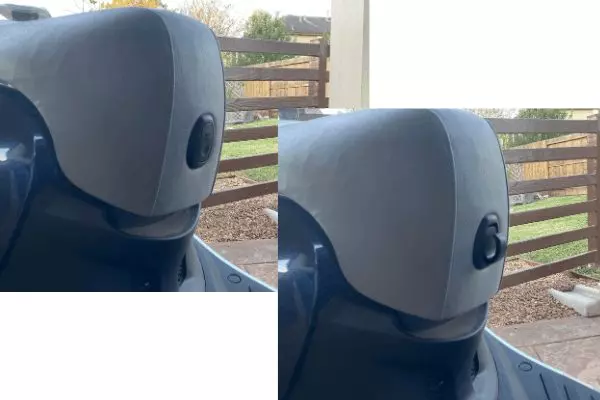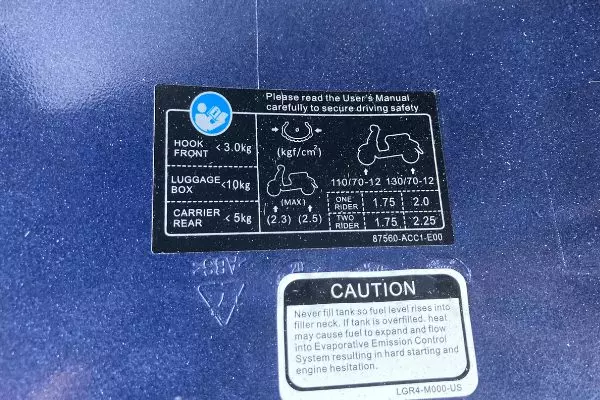 What I Don't Like About the Kymco Like 150i ABS
I have 2 complaints about this scooter.
#1 – Pieces like the compartments for the gas and glove compartment just feel cheap and awkward.
#2 – Kinda related to #1, but I hate getting gas. It is obnoxious to open the gas cap with the key and it never fails that it takes a few tries to get the cap back on right. All around that stupid not-wide-enough compartment.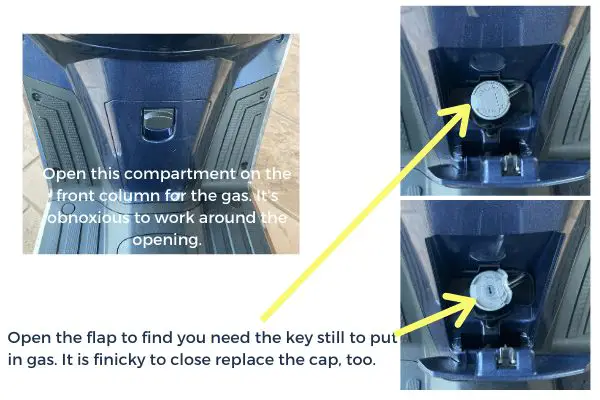 #3 – Accessories are not common for this scooter. Yes, I can get some theft deterrent things, but what about a top case? Afterall, the freaking full-face helmet doesn't fit in the under-seat storage box, so…..
If you feel like chasing this down, Givi does make a rear rack to attach to, but you have to find someone that carries it. Once you do, you're open to the Givi monolock top cases like these on Amazon.
What I Do Like About the Kymco Like 150i ABS
It's pretty speedy, smooth, and feels way more solid than the wife's Genuine Buddy Kick. I also enjoy the storage the few times I need to toss things in the luggage box.
I work almost 40 miles from home on an interstate, so I only use the scooter for goofing off around the house. I say that because beyond standard maintenance, I haven't had to do any work on the scooter despite letting it sit too long for times. Seriously too long.
Noodoe
I waited a few days before actually buying the Kymco because I couldn't decide on the Noodoe display. I ultimately didn't get it because it was almost $600 additional for what is essentially a digital display with some bluebooth. The bluetooth wasn't even all that interesting. That's what a replacement car stereo for my truck costs. No thanks. It took me a bit to get to that decision, though.
Wrap It Up
So ultimately, the Kymco Like 150i has been an excellent scooter. I now want a 300cc+, but I'd buy this scooter in a heartbeat if I were in the market for another 150 right now. Check out some available scooter accessories to account for the storage problem through Amazon here.
If you're in the market for scooter, don't forget your helmet! Here is a guide on choosing a helmet if you are unsure, but here's a link to my fav based on value compared to the safety rating through Revzilla if you don't need to go down the rabbit hole of an entire guide today.
Be Seen & be safe, scooter fanatic!