Make a purchase using a link? We earn with qualifying purchases through Amazon & similar programs. Read more:
Affiliate disclosure
Vespa's brand of scooters are synonymous with what you think about scooters, so questions about them come up all the time, but as a newbie I didn't know what a vespa was myself.
Vespa is a motor scooter produced by the Piaggio Group. Vespa scooters have become an Italian cultural icon with an upright riding position, storage, and a pressed steel unibody unlike much of their competition.
The word vespa is also 'wasp' in Italian for your language lesson of the day. 🙃 Let's dive into some more Vespa questions, and I'll keep adding as I get more!
Quick Vespa Clarification
When I started to look into scooters, my searches were clouded with results from the electric kick scooters that have become popular. Then, I moved into searching for vespa scooters. Notice that V was not capitalized. I didn't realize it was a brand versus a synonym for a scooter.
So first things first. Vespa is a brand of scooter that really popularized scooters, particularly in Europe. Let's refer to the style of scooter that Vespas are, the classic Italian style of a scooter. A Vespa is a scooter, but scooters are scooters!
Brief History of Vespa Scooters
Piaggio (the overarching owner of Vespa) had a wide footprint of manufacturing a lot of different items like windows, marine parts, and they were steeped in military vehicle productions including boats, submarines, and airplanes going into World War II. However, after the war, Italy had many restrictions on what companies could manufacture with an economic pit to dig out of.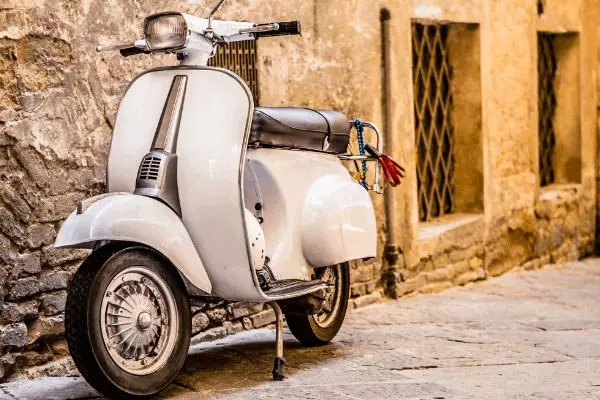 Vespa scooters were created out of the ashes of World War II. The need for inexpensive transportation became a priority for the company for diversification and to address a need of the country itself. Within 10 years, they had sold over 1 million Vespa scooters and launched into a scooter empire with over 7 brands of scooters and motorcycles offered by the Piaggio Group today.
If you have ever given Vespa scooters a glance on the used market, you'll be hard-pressed to find one with a model year between 1981 and 2001 unless it was shipped from overseas. Vespa withdrew from the United States market during this window due to legal issues, new laws, and an increase in the competition that made the market too tight for Vespa to continue to operate.
What is a Vespa?
The fun thing about talking about scooters is that it is hard to even have 1 term to talk about 1 thing.
Vespa is a brand of motor scooter that became an iconic Italian brand with a world-wide following of enthusiasts. A Vespa is a scooter, and they are classified as a type of motorcycle but not a moped.
Vespa scooters are a brand of motor scooter, and motor scooters are a class of motorcycles. So while it may not look like a Harley riding down the road, a Vespa is technically a type of motorcycle.
The term moped literally translates to motorized pedals, so a Vespa is NOT a moped based on that definition. However, out in the wild, you will hear scooters in general referred to as mopeds, particularly those with a 49-50cc engine size.
Read more: Scooters vs Kick Scooter vs Mobility & more
You may think that it's a Vespa scooter's looks that make it iconic, and while that is partially true, it has certainly been copied to some degree by other scooter makes and models.
Vespa's are also known for their pressed steel unibody whereas other brands primarily rely on plastic elements to encase the frame. It makes the Vespa have a more unique ride than you'll find on most other scooter brands.
Where are Vespa Scooters Made?
Vespa scooters are made in Pontedera, Italy. Parts are sourced in part from Asia similar to how many automotive manufacturers source through globalization.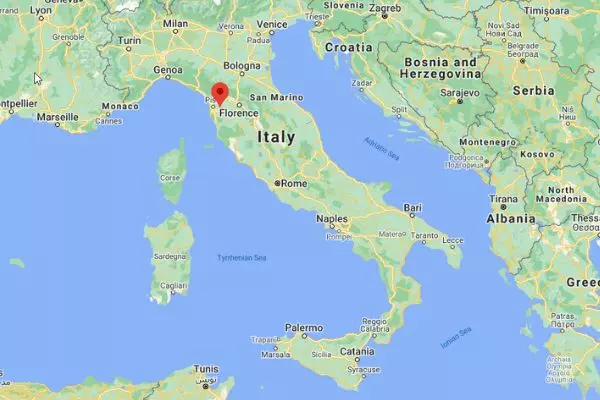 Vespa scooters are a division of the Piaggio Group which is headquartered in Pontedera. Piaggio Group has 9 different brands of scooters and motorcycles under their umbrella, and the town has much of that assembly there, as well.
Interestingly, Pontedera is a town in the province of Pisa. Yes, the town of Pisa is also in the province of Pisa. Stay with me here. The province of Pisa is part of the Tuscany region, so if you find yourself in the area, you can check out the town of Pontedera
Here you'll find the Piaggio Museum that includes plenty of Vespa specific history if you find yourself in the region at some point. Add on a tour of the facilities, too!
Of course, I'm writing this during the COVID-19 pandemic, so the museum is currently closed. Just keep this in the back of your mind for when we find our new normal collectively.
Are Vespas Still Made?
Vespa has been manufacturing scooters for over 75 years, and Vespa continues to make scooters today. They have introduced an electric model and continue to make a line-up of 50cc to 300cc that offers that classic Italian styling.
Read more: Are Vespas Still Made? And Where?
Are Vespa Scooters Automatic?
Can I say both? I have to, so I hope you said yes.
One of the modern ways to define a scooter is that they include an automatic transmission, but they have not always been so. Older, vintage Vespa scooters you might see for sale or in someone's collection might have required a clutch based transmission.
Vespa introduced an automatic transmission in select models beginning in 1984, but for model years starting in 1996, Vespa scooters are automatic with a Continuous Variable Transmission (CVT) with few exceptions.
The first Vespa with an automatic transmission was the Vespa PK 125 also had electric ignition and automatically mixed gas and oil for quite a few features for scooters of the time.
Are Vespa Scooters Reliable?
Vespa scooters are known to be a reliable scooter brand. They are known to last, and there are plenty of vintage Vespas out there to prove that the steel body makes them worthy of fixing when they do give you grief down the road. This also means that parts are available when you need them, as well.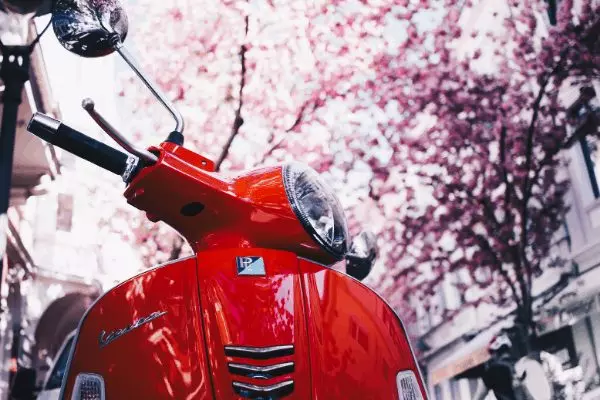 Why are Vespa Scooters so Expensive Compared to Other Scooters?
A high level look is that Vespa scooters tend to have more features than many brands before others adopt them. One example is that all of their scooters incorporate ABS braking on scooters at the 150cc range and up, but you will not find this feature uniformly on scooter line-ups across other brands.
Additionally, Vespa body panels are steel whereas others are made from plastic. Vespa prides itself on offering a higher tier of the scooter. Some of what you're paying for is brand, but the features are certainly baked in.
Read more: What is the price of a Vespa?
Are Vespa Scooters Worth the Price?
That depends on you. Are you into the features Vespa include? Plenty of Vespa scooter clubs are around. Are you looking to get in with other fanatics?
Some prefer the style of the maxi scooter. While Vespa offers a 300cc scooter, they max out with 12-inch wheels. If a larger scooter is a preference, then Vespa's might not be worth it to you. Otherwise, Vespa makes a diverse line-up of scooters from 50cc regulated and unregulated up to the 300cc option with a smattering of special editions thrown in, as well.
Read more: Is Vespa worth the premium price?
What Makes Vespa Unique?
Vespa scooters are known for the pressed steel unibody that fully encloses the engine with a front body that provides wind and debris protection that has become synonymous with the classic Italian motor scooter style.
Other scooters have mimicked the style, but Vespa is still the only brand that produces the pressed steel unibody.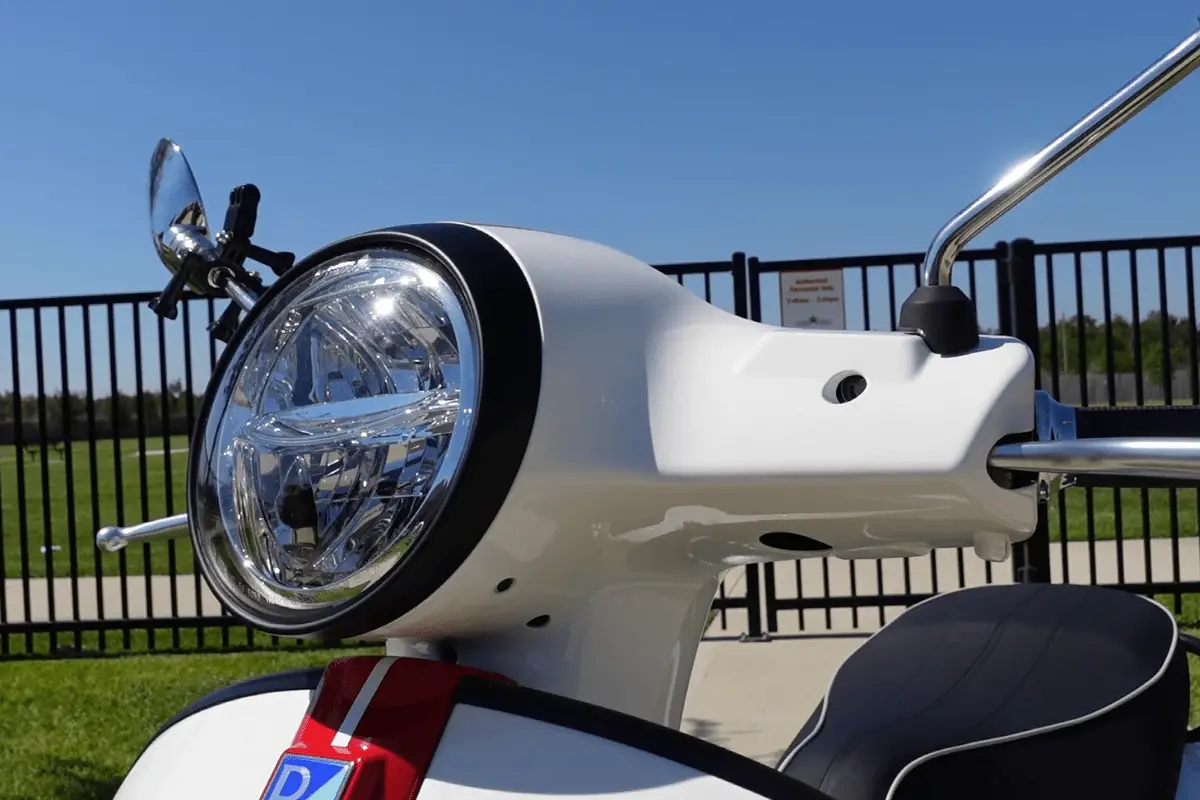 What Models Does Vespa Make?
Vespa has made many models over the years. Here are some modern Vespa models, but you can see more in-depth about the differences between Vespa scooters here.
Primavera – Both a 50cc and 150cc options are available along with a collaboration version with Sean Witherspoon.
Sprint – Both a 50cc and 150cc option is available along with a Sprint Racing Sixties version
Limited Speed – The Primavera and Sprint 50cc both come without the speed restriction normally, but some states do not require a motorcycle endorsement as part of your license if you are riding a speed-restricted scooter with an engine size of 49cc or less. Enter the Limited Speed versions for both the Primavera and Sprint.
GTS 300 – Vespa categorizes the 300cc scooters a bit differently than the lower sizes with the GTS 300, GTS Super 300, and the GTS Sei Giorni 300. Read more about the Vespa GTS 300 models
Special editions rotate, but the Sean Witherspoon Primavera version shows up in my Instagram feed the most.
What is the Difference Between the Primavera and the Sprint?
Looks (mostly)! If you line up the spec sheets on both the 50, 150, Notte, or any other version, the Primavera and Sprint have the same specifications. You will see the Sprint as being the small body version, but the overall stats are the same there, as well. Both seat heights, width, length, and more all line up the same.
The Sprint is a bit higher than the Primavera with the only true differentiating factor is a full-color, multi-function display in the instrument panel.
In addition, there are some color offering differences I've summarized below. Just keep in mind, that the colors are more like Rosso Passione where I've said red. I've included different variations of the scooters, as each of them has a different color offering.
The Sprint 50 and 150cc are offered in white, black, red, and yellow. The Sprint Notte is also a matte black available for both the 50 and 150cc, as well. The Sprint 50 Sprint S and Sprint 150 Sport are offered in gray and bright blue.
The Primavera 50 cc is available as light green, white, black, and navy blue, and you can add red if you go up to the 150cc. Both the 50 and 150cc Primaveras have the Touring (burgundy or hunter green), Yacht Club (white), (RED) (red), and Sean Witherspoon (multi-color distinct) models available. The 150 also has a Sport model where they throw in a beige in addition to the red (rosso profondo) and blue (blu armonia).
What is the Difference Between the GTS 300, GTS Super 300, and GTS Sei Giorni 300?
Like the Primavera and Sprint, you'll find a lot of similarities between these scooters. However, the Sei Giorni, GTS Yacht Club, GTS Super Notte HPE have a bit more pep to their motors.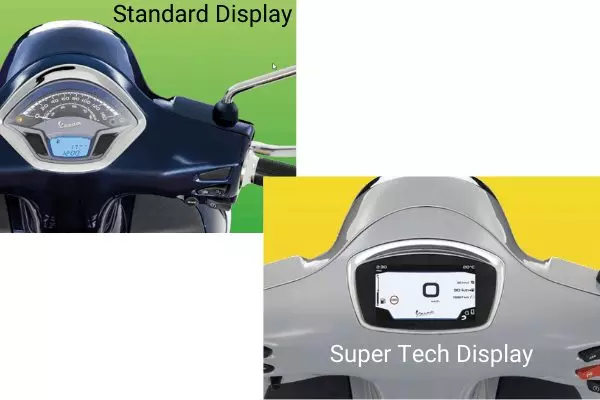 As you browse the line-up, here is a quick reference to help understand the differences.
SuperTech = Full-color, multi-function digital display with Bluetooth connectivity. The Bluetooth is also known as Vespa Mia.
Touring = Windshield, folding rear rack
Notte = matte black
SuperSport = black rims, matte paint
Sei Giorni = Throw-back to Vespa racing heritage with a vintage-looking instrument panel. Larger fuel tank.
Read more: Vespa GTS 300