Make a purchase using a link? We earn with qualifying purchases through Amazon & similar programs. Read more:
Affiliate disclosure
Vespa is THE iconic scooter that I looked to first when I started researching motor scooters. At the time, I thought Vespa was the name for a scooter versus – well – a scooter.
I now know it is a brand, but I know I am not alone in this definition confusion! That said, when I first started looking into the prices of scooters, I quickly realized that the Vespa options in all engine sizes were quite a bit higher than other options.
All scooters are 2 wheels, so I just had to know what the difference if Vespa is worth it.
How Much More Are Vespa Brand Scooters?
The engine size is a HUGE factor in a scooter's price regardless of the brand.
Sometimes 50cc scooters can be called mopeds. If you want help with the many terms you may see (incorrectly or correctly), here is an article to help. Regardless, stock engines here will be restricted to 30 miles per hour (mph) or unrestricted at close to 40 mph.
Vespa 50cc sized scooters are 100% over the cost of all other 50cc scooter costs (averaged).
Beyond the 50cc range, you'll find that 125-170cc options bridge the gap from about 45-65 mph. Vespa models are 150cc engines specifically, and they run 90% over the cost of all other scooters in the 125cc to 170cc range.
Beyond that range you start venturing into maxi-scooter territory, and you will not find a scooter that looks like a Vespa when we talk about the classic, Italian styling Vespa is known for by another brand.
In addition, Vespa only offers a 300cc engine size whereas competitors go up to 650cc. Still. Vespa is 20% over the price of the 200cc+ motor scooter options.
Vespa scooters are definitely more expensive than their competitors in similar engine sizes. Check out this scooter buying guide with a bonus spreadsheet at the bottom to help you compare prices across brands and models.
Click here to read get details on the price of Vespa scooters.
What is so Special About Vespas?
Vespas are THE iconic scooter. They are what you have seen in movies. Cruising through Italy, your favorite beach locale, or even in Disney films like Luca. There are full-on Vespa clubs, but there are very few brand specific scooter clubs outside of these Vespa ones. The Amerivespa rally each year. I could go on & on! But still… Is Vespa worth it?
People just love Vespa, but what is it about Vespa that makes them special outside of these cultural stereotypes?
They were the first. They were built from the ashes of World War II (brief history here). Economical, stylish, and modern Vespas are certainly smooth!
Most scooters have plastic body panels over a metal frame, but Vespa scooters all have a unibody chassis. The frame and body are a unit instead of separate. 
Let me tell you, this is one reason that makes a Vespa so much more smooth compared to most competitors!
Metal costs more. Duh. That does explain part of the price increase, but Vespa scooters have more features than most competitors across models.
You'll find a spreadsheet at the bottom of the post here on buying a scooter, but Vespa scooters come with more features than most competitors to substantiate some of that price difference. It is model and brand dependent, but you can expect upgraded brakes, premium seats and components, charging ports, electronic fuel injection, traction control and more from Vespa. 
The 150cc models are one of the few that offer ABS in this engine size range, and all Vespa scooters have electronic fuel injection (no carburetor). The Yamaha Xmax, and Honda ADV and PCX have these premium features + liquid cooled (instead of air) for less – but they look NOTHING like a Vespa. 
Specific Features That Differentiate Vespa Models
So yes. Vespa's cost more. The first time I bought a scooter, that's all I needed to know. I moved on, but conversations with scooterists on Instagram and email subscribers had me dig in a little further. What exactly are you paying for from a feature perspective?
The standout feature across Vespa scooters is that they are made with a metal body and unibody frame.
I didn't think that mattered, but I decided to test this out. After riding 50cc, 150cc, and a 300cc Vespa. It does! The body design makes the ride a much smoother experience, and it made the ride overall feel more stable.
It was an experience that I had to test out for myself to understand the WOW factor. I highly recommend you give a Vespa a test ride even if you have your eyes on another option.
When you start looking at scooters, you'll find that some brands may or may not have features such as ABS brakes on a 150cc scooter. They all meet minimum federal requirements, but I'm talking about the extras.
Vespa scooters generally come standard with features like ABS brakes (150cc+), a key fob, USB charging, and a 2 year warranty with unlimited miles. These features are not necessarily standard for other brands.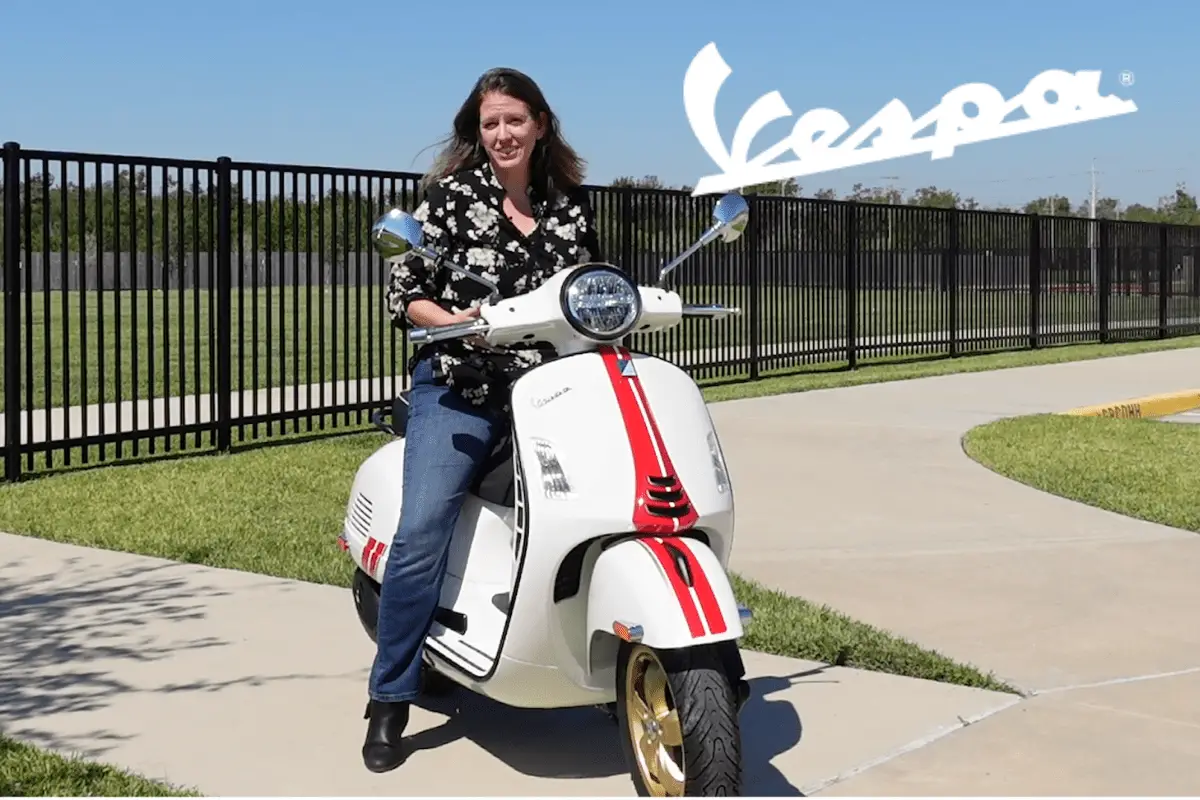 While not a published feature, you'll find that the finish on Vespas are top notch. An example here is when you close the gas cap compartment of my Kymco Like 150i versus the glove compartment on a Vespa, it's a night & day difference. The Like feels more cheap despite being a great scooter.
The feel is much different.
Another example is putting a scooter on a center stand. My Genuine Buddy Kick is light, and I can put it on the center stand without an issue. HOWEVER, I couldn't believe how smooth a Vespa 300 GTS is to do the same thing despite being 100 pounds heavier! I was literally surprised.
Some of these things may or may not be 'worth it' in your opinion, and that's ok! We love ALL scooters here!
Why is the 300cc Vespa GTS not as expensive as the lower engine sizes?
Over 200cc scooters start coming with premium features as a base. Lower engine sizes just don't, so the competition just doesn't offer the premium options. So the competition over 200cc has a more similar feature set with the Vespa GTS.
They are all liquid cooled and almost all offer upgraded brakes like ABS. Scooters in this size range are generally referred to as maxi scooters and can handle highway speeds. These safety features in particular become more important for high speed riding!
The entire class is a much smoother experience. I have an AK550, and it just glides down the road. It's incredible.
However, there is NO 300cc competition that has the classic Italian look of the Vespa. All other in this engine size range looks very much like a type of sport motorcycle. If you want the classic styling in lower engine sizes, you have options. Beyond 200, your options are sporty or the Vespa 300 GTS. 
I'll dive more into who should buy a Vespa, but if classic styling is primary factor for your decision, as is the ability to reach highway speeds – the Vespa GTS is it!
Vespa Culture is a Thing!
This was new to me. I thought a scooter club was a scooter club.
While that is true to some degree, Vespa folks have a special pride about the Vespa brand. Vintage scooter collectors are all about Lambretta and Vespa from what I've seen so far.
Not to say you don't see other older scooters out there, but you will find a much better selection, parts availability and fanatics around their vintage Vespas.
That mod symbol, a bajillion lights installed, and so much more!
In addition, you'll find some general love of Italian culture can blend into the Vespa culture. If you find yourself in that camp – it's ok!
Vespa culture might make it worth it to you! Don't worry if it isn't worth it to you – scooter culture is still a thing, too!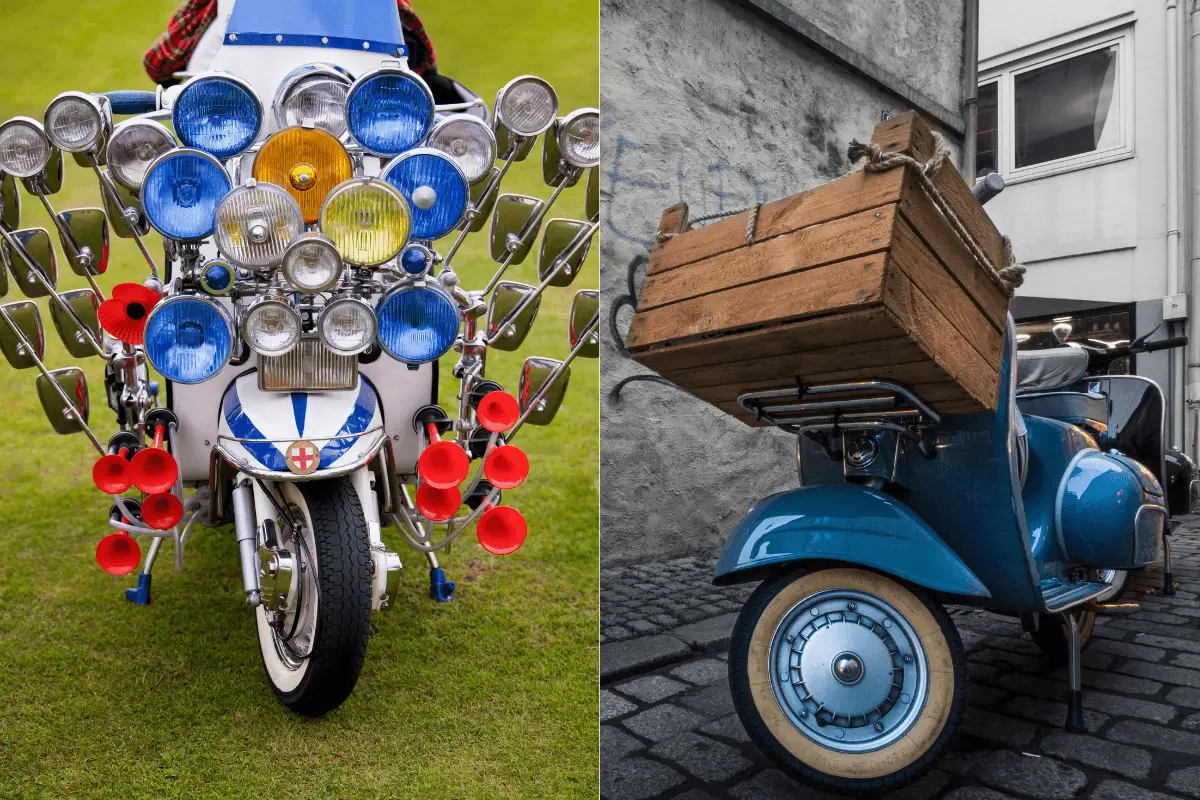 Accessories Make Vespa Models Stand Out
Part of that scooter culture conversation is you may find yourself loving the idea of accessorizing your scooter. This might come in the form of upgrades for storage with a rack and top box, but it also might come with just wanting to change out lights, seats, handlebar grips, who knows.
Some brands are better than others, but Vespa has the most accessories available – hands down!
You can certainly buy accessories through Vespa's site or your nearest Vespa dealer, but you can find a lot of aftermarket parts for your Vespa, too! This is far from universally true for other brands.
If you want to customize beyond a rack, Vespa scooters have you covered.
Used Vespa Prices Are Higher Than the Competition
I was also curious if a used Vespa would be worth it to me as a buyer or a seller. Used scooter sales are difficult to analyze across the US. The market varies widely in different cities and such, but at a minimum the scooter had to run and be relatively good looking.
I skipped over the ones that have been used and abused or wouldn't start. After all, I wanted to know if brand matters for a get on it & go perspective.
If you find that you ever need to sell your Vespa, you'll be happy to know that Vespa scooters command an average of 12% higher prices than competitive brands across engine sizes.
If you are on the buying side of things, it's ONLY 12% higher. Earlier in this post, you saw that the they are much higher new, but the gap isn't so big of one. However, higher is higher if you want to get away as cheap as possible! I get it!
So you'll get a bit more than the other brands on the market when selling your Vespa, and you'll pay a bit more if you want to buy a used Vespa – but much less than you'd pay in comparison to a new one.
In general, Vespa scooters do not increase in value. 
Well, vintage scooters do have a market, and you'll see Lambretta & Vespa in that space. While you might spend a good chunk of changed on a vintage scooter, it isn't like a 1966 Mustang. While they might be higher than what they cost new back in the day, they are generally not increasing in value substantially regardless of how pristine it is.
Resale value is better on Vespa scooters, though. It is very difficult to aggregate used scooter sales, but I did an analysis across the country for used scooters that were ready to ride without significant damage. So it runs, looks decent, and then I compared by model year.
What is Bad About a Vespa?
I really hate this question. As long as you're buying a reputable scooter brand, all scooters are great!
That said, I do recognize the cons to Vespa scooter models. 
First, the price. They are so much more expensive than the competitors whether you decide to buy a new or used scooter option.
Over on the YouTube channel, that's the thing I hear the most. The next complaint tends to be about rust. The metal body can rust over time. I haven't had mine long enough to speak to this, but the mechanically inclined person in my house just has me keep it clean & dry. 
We live on the Texas gulf coast, but it is stored in a garage. Time will tell.
That's it. There is nothing inherently bad about a Vespa.
Decide if a Vespa is Worth It For YOUR Needs
If you're still not sure if Vespa would be worth the extra money, I have some recommendations in the video below.
I bought a Genuine Buddy Kick initially, but 2 years later, I purchased a Vespa. Very different experiences and very different wants & needs were balanced
Be seen & be safe, scooter friend!