Make a purchase using a link? We earn with qualifying purchases through Amazon & similar programs. Read more:
Affiliate disclosure
The Vespa GTS 300 is the fastest scooter model that Vespa currently makes. Powered by a strong engine & placed in a sturdy frame, the scooter is ready to provide its rider with an amazing and thrilling ride.
Read my 2021 Vespa GTS 300 Review here
A Brief History of Vespa GTS 300
The Vespa GTS 300 can be traced back to 2003 when Vespa manufactured Vespa GT 125 and 200. Some years later, the Vespa 125 and 200 evolved to a model called GTS 250. After a while, the engine of the GTS 250 was modified into a 300cc engine.
You might notice the pattern here, but the number at the end of the models references the engine size measured in cubic centimeters. The bigger the motor, in general, the faster you'll be able to go.
Later in 2019, Vespa improved the scooter with what they call the HPE (high performance engine) and formed a range of scooters with different modified models.
These scooters are:
GTS
GTS Super
GTS SuperSport
GTS Touring
GTS Racing Sixties
GTS SuperTech
The engine is the same in each, but they do have some differences in aesthetics and more between them. For example, the GTS SuperTech has the Vespa Mia technology that enables a connection with your smartphone to your dashboard.
The GTS 300 models all have a 278cc engine and are the largest Vespa's available.
➡️➡️Read more: Vespa brand FAQs ⬅️⬅️
How Fast Does a Vespa GTS 300 Go?
The Vespa GTS 300 is powered by a 278cc liquid-cooled, single-cylinder engine.
According to Vespa, the top speed for a Vespa GTS 300 is 78 miles per hour.
This is the same for all the Vespa scooters in the Vespa GTS line regardless of what comes after (including Super). The speed is one of the appealing characteristics of this scooter, which is why many people love it.
Note: Scooter speedometers are notoriously wrong, but the 78 miles per hour (mph) does fall in line with what I've seen with my 2021 GTS. You can verify with GPS if you want to be certain, but it is common for a speedometer to be 2-5 miles per hour off. Watch this video on YouTube & read some of the comments if you need a fresh rabbit hole on this topic.
Another of the this scooter's impressive features is the initial acceleration. It will take a Vespa GTS 300 to complete an acceleration from a 0-60mph speed in 4.9 seconds.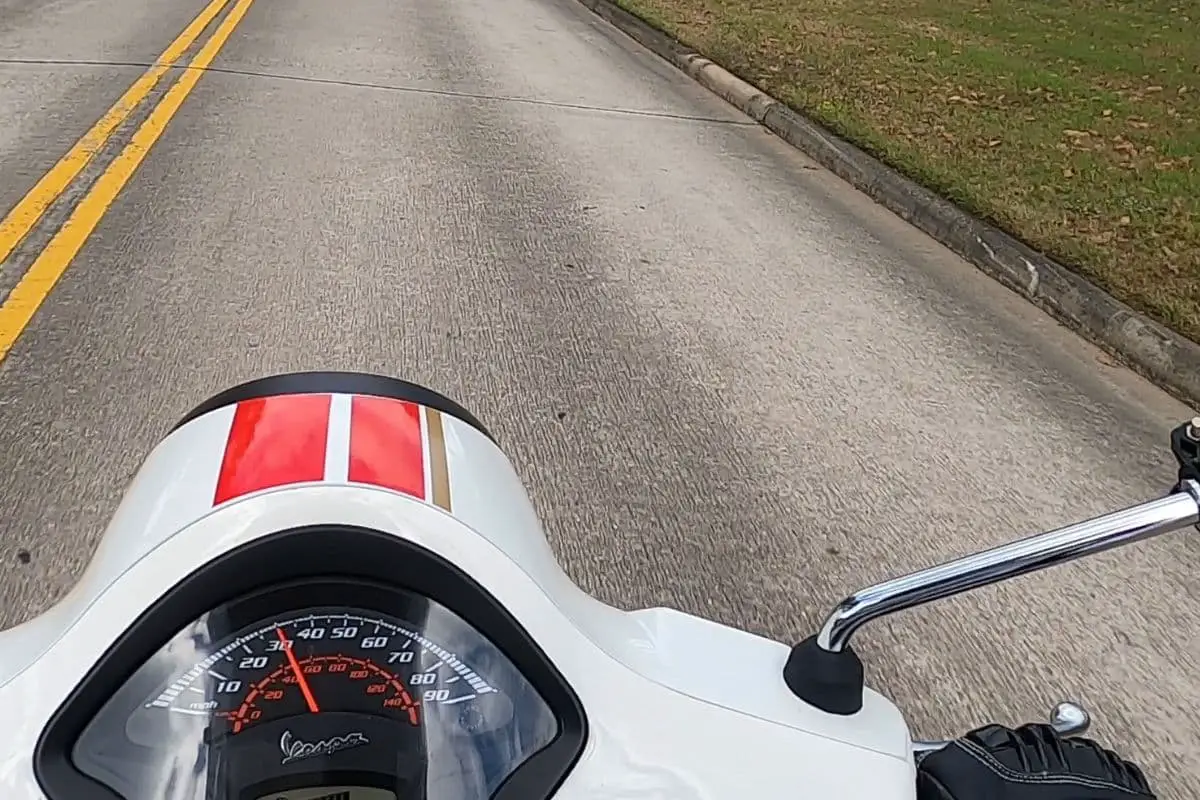 How many miles will a Vespa GTS 300 last?
Riders suggest that a Vespa GTS 300 can easily surpass 50,000 miles as long as you maintain it well.
➡️➡️ What is high mileage for a scooter?⬅️⬅️
Vespa GTS 300 fuel mileage
Generally, the rate at which Vespas consume fuel is very low when you compare it to a car and in line with scooters with a similar engine size. This makes it easy to save money on fuel since you will not be using much fuel.
The fuel mileage of Vespa GTS 300 is 73 miles per gallon (mpg) in optimal driving conditions.
How Heavy is a Vespa GTS 300?
One of the things that make Vespa, including the GTS 300, unique is that it is made out of more metal than many competitors.
The Vespa GTS 300 weighs 350 pounds, and the maximum weight it can carry is about 775 pounds in total.
This makes it one of the heaviest scooters even when taking the engine size relation to weight into consideration, but it isn't the heaviest. The SYM Citycom 300i has the same engine capacity of 278cc, yet it weighs 412 pounds.
How Tall is a Vespa GTS 300?
Vespa has 2 frames – the small frame and the large frame. The GTS 300 models are all considered large frame Vespa's whereas the 50 and 150cc models are the small frames. While the frame feels different, both the small and large frame models have the same seat height.
The Vespa GTS 300 has a seat height of 31 inches yet it is 46 inches from the ground to the top of the headlamp and 53 inches if you measure to the highest point of the mirrors.
How Much Does Vespa GTS 300 Cost?
The manufacturer suggested retail price of a Vespa GTS 300 is $7099, but each of the models have some variation to that number.
| Year | Model | Model Specific | Price New (MSRP) | Notes |
| --- | --- | --- | --- | --- |
| 2022 | GTS | 300 | $7,099 | |
| 2022 | GTS | 300 75th Anniversary | $7,949 | Special Edition |
| 2022 | GTS | 300 Touring | $7,299 | Racks & windshield included |
| 2022 | GTS | Super 300 | $7,199 | |
| 2022 | GTS | Super 300 Sport | $7,299 | |
| 2022 | GTS | Super 300 Racing Sixties | $7,299 | |
| 2022 | GTS | Super 300 Tech | $7,749 | Bluetooth Dashboard |
| 2022 | Sei Giorni | Sei Giorni 300 II Edition | $7,749 | |
Brief model differences are here but if you want to go deeper, read about the differences between Vespa models here:
SuperTech = Full-color, multi-function digital display with Bluetooth connectivity. The Bluetooth is also known as Vespa Mia.
Touring = Windshield, folding rear rack
Notte = matte black
SuperSport = black rims, matte paint
Sei Giorni = Throw-back to Vespa racing heritage with a vintage-looking instrument panel. Larger fuel tank.
Oh and fees you'll see on a new Vespa can be scary, so watch this video to have an idea of what to expect.
Is Vespa GTS 300 worth the price?
Absolutely, Vespa GTS 300 is definitely worth the price for some. With its great aesthetics and high-performance engine, this scooter is capable of giving you a nice, safe and thrilling ride. It is a classy scooter that will not only move you around town but can also ride across cities and suburbs. It has enough storage space that can accommodate a lot of things.
The GTS 300 can run at a speed as high as 78 mph, but I hope it goes without saying that you can also ride at a slower speed. Or you could look at the 50cc, 125cc, or 150c options with a similar look.
➡️➡️ Is Vespa Worth It?⬅️⬅️
What is the difference between Vespa GTS and GTS Super?
The Vespa GTS model is a classic scooter that is manufactured in four colors. On the other hand, the Vespa GTS Super has everything the Vespa GTS boasts. They mainly just have different cosmetic differences to spices things up by being extra sporty.
The GTS 300 and GTS Super 300 differences are primarily cosmetic. Both version have the same engine displacement and therefore, the same fuel mileage and speed.
They have different color options, but beyond that, the rims on the Super versions are black or gold. In addition, the seat on the Super versus brown on the GTS, but take a look at the different color options and the front wheel. Very minor differences make the difference in the price, as well.
Aside from the attempt of the Sport to well, look more sporty with the GTS looking more classic and laid back, there is no big difference between both scooters. They have the same engine displacement, fuel mileage, and speed.
You'll find that these scooters are sold at a premium price, but read here to see if Vespa scooters are worth it? And for who, of course.