Make a purchase using a link? We earn with qualifying purchases through Amazon & similar programs. Read more:
Affiliate disclosure
When I was first shopping for a scooter, I ran across the Kymco brand. I had heard of it because an out of town friend had posted about about her Kymco Like. That was all I had. The word of mouth recommendation from a friend that had only owned it for a month or two at the time.
With a little more digging, I learned more about the brand, and the Kymco Like 150i actually made the shortlist for checking out when it was time to get serious about actually buying a scooter.
I even bought one!
Let's dive into the Kymco scooter brand information to better familiarize yourself with their scooters, and whether you should buy one.
If you're curious about how Kymco scooters stack up against the competition – check out the spreadsheet linked at the bottom of this scooter buying guide.
You can filter it to compare to the features that matter to you!
Is Kymco a Good Scooter?
Kymco scooters are good scooters. The brand has been making scooters since 1970 despite the name not immediately recognized in the US like the Vespa brand.
That said, Kymco is the 4th largest scooter manufacturer in terms of scooter market share in the US. They are the 2nd in Spain, 3rd in Italy (hello, Vespa-land), and 4th in Germany.
This is impressive when you think of the Vespa, Honda and Yamaha options on the street. Kymco is highly respected in their home country, as well.
There are a lot of scooters manufactured in Taiwan, and Kymco became the biggest scooter manufacturer in Taiwan in the early 2000s.
Kymco scooters come with a 24 month, unlimited miles warranty with service performed within their qualified dealer network. This is what had me willing to take the risk with what felt like an unknown brand to me at the time.
From personal experience, I have a Kymco Like 150i reviewed in detail. I got it in July of 2019. We sold it in December 2021, and the new owner has had 1 minor issue that cost him $80 performed by a scooter shop to date (July 2022 as I update this).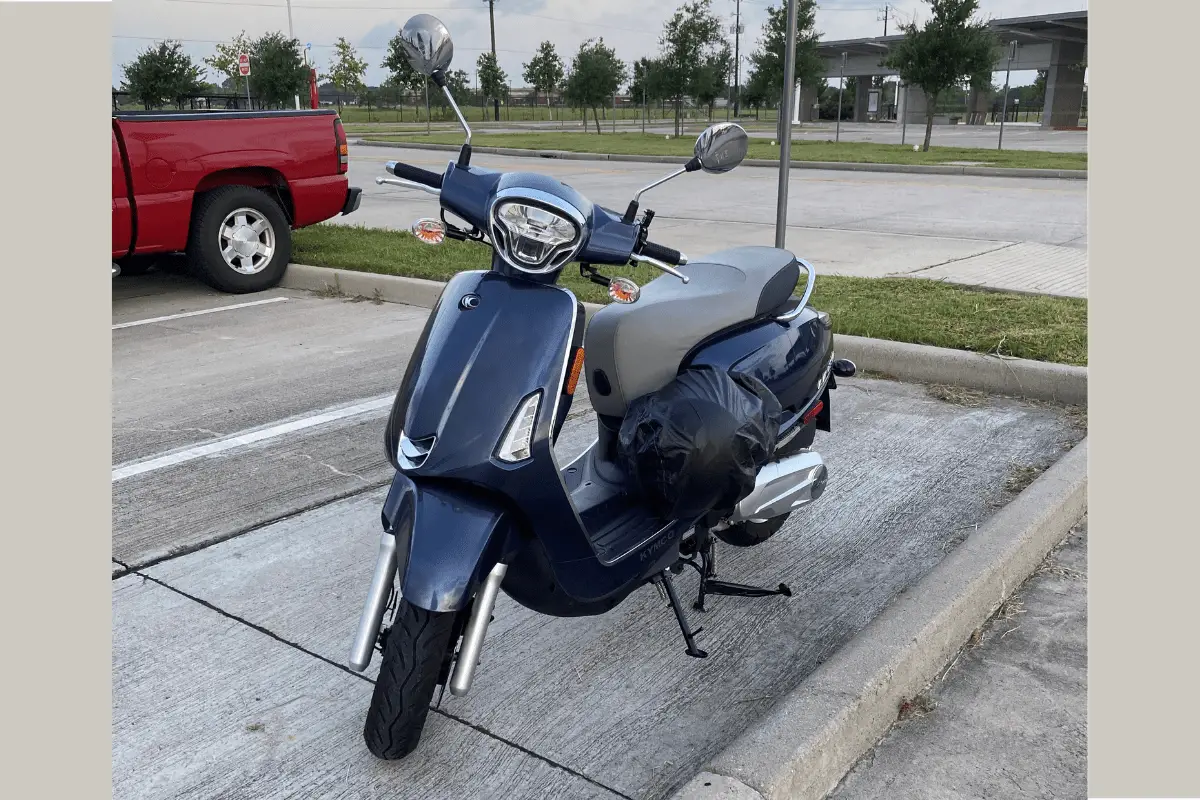 We've since bought another Kymco in October 2021, and here's the review of the 2022 Kymco AK550 after riding almost daily in between.
I'm a huge fan of Kymco after owning the 2 scooters. It's a scooter I find the best bang for my buck so-to-speak.
Are Kymco Scooters Made by Honda?
No, Kymco scooters are made by Kymco, not Honda.
However, the Kymco company was formed as a spin-off from Honda in the 1960s.
Originally, Kymco was a parts manufacturer FOR Honda. That's where the confusion comes in. The history between them exists, but from a modern standpoint, Kymco has not made Honda components for decades.
The company made its first own scooter in 1970 but didn't start marketing under the KYMCO name until 1992.
Is Kymco a Chinese Brand?
Kymco is a Taiwanese brand. They are headquartered in Kaohsiung City, Taiwan.
This question is usually asked by Americans in the context that the scooters that have a less reliable reputation come from China like the TaoTao brand, in particular. Hopefully this view changes for Kymco as more scooterists snap them up, but for this question regarding the Kymco, Kymco is a quality scooter brand based out of Taiwan.
They have manufacturing facilities in Indonesia, Malaysia, China, and the Philippines.
The Kymco USA division has sales, marketing, and distribution center in South Carolina with over 600 dealers in the US.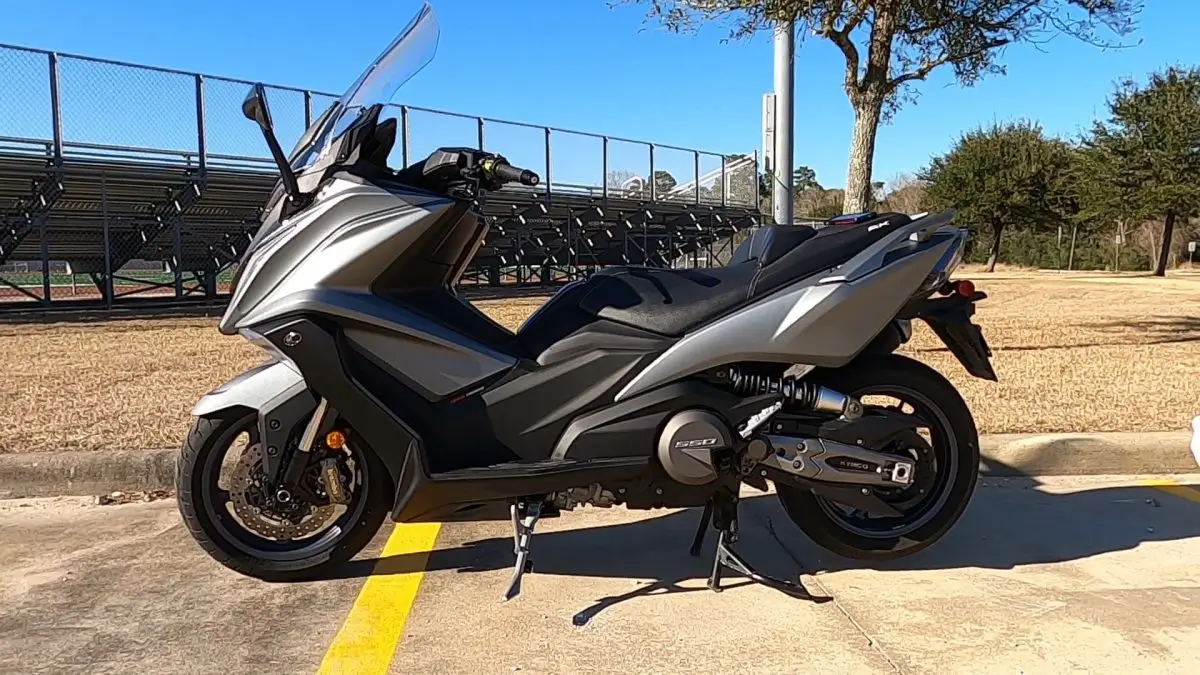 Are Kymco Scooters Reliable?
Kymco makes everything from a 50cc that some people like to call a moped (not me!) to a 550cc maxi scooter.
Kymco scooters have a reputation for being reliable. They are supported by a dealer network in the United States, and their scooters boast a 24-month warranty.
I own a 2019 Kymco Like 150i. Here is a review on it after 15 months of riding, but the short story for reliability is that I haven't had to contact the dealer even once yet.
I have a friend that has had hers a few months longer, and she is in the same boat. No issues, but she admittedly does not ride hers as frequently.
Both of those Like's have left the garage so-to-speak, but we've since bought a Kymco AK550 reviewed here. It's sitting with 12,000 miles without any time with a dealer except for the break-in service.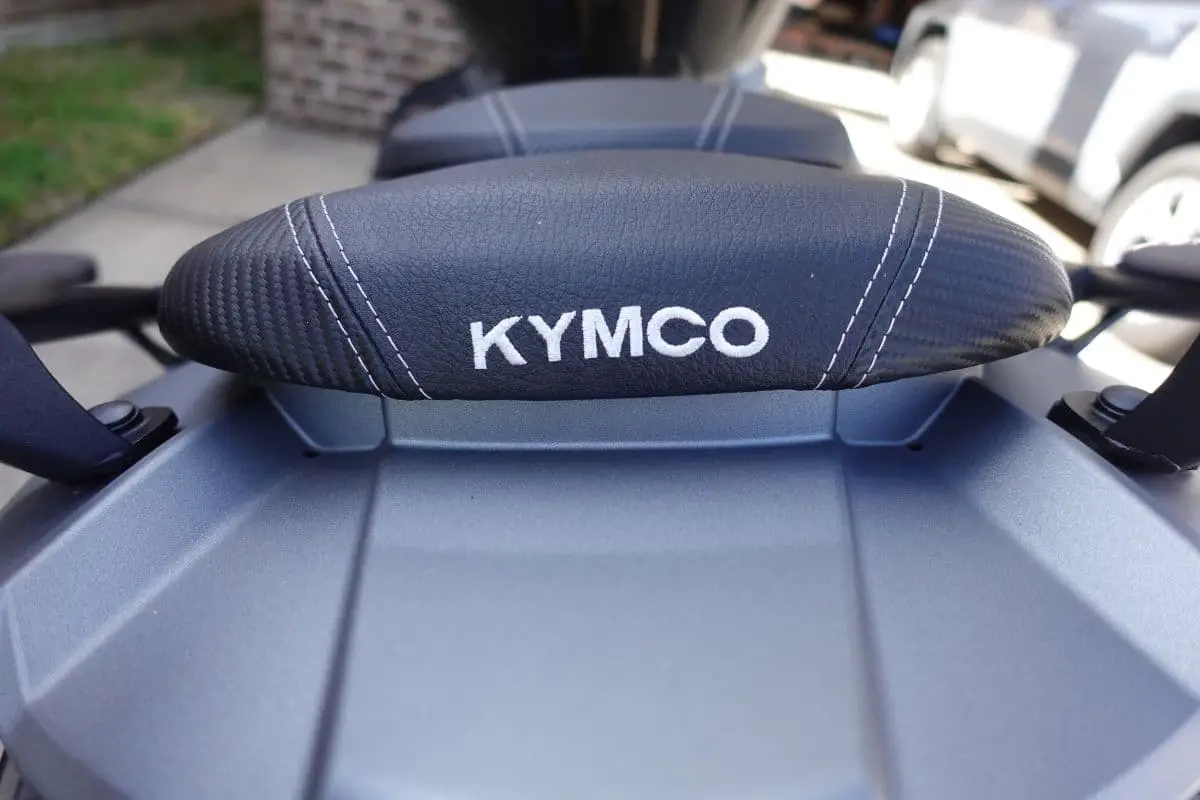 Where are Kymco Motor Scooters Made?
Kymco scooters are primarily made in the Asia Pacific region.
Kymco is based out of Taiwan with some manufacturing there, as well. They also have manufacturing facilities in Indonesia, Malaysia, China, and the Philippines to support their global distribution of scooters, ATVs, and mobility devices.
Kymco is the biggest scooter manufacturer in Taiwan.
Where Can I Buy a Kymco Scooter?
Reputable scooter brands are traditionally sold through a dealer network where you purchase a scooter similar to how a traditional automobile is sold. Even if you were to buy it online, you generally go into the dealership to finish the transaction and ride off with your scooter.
Kymco scooters are sold through a dealer network. Here is a link to Kymco's dealer locator to help you track one down.
ATVs are popular in my area, so Kymco dealers that are more heavily selling ATVs are also able to service our scooters. For us this means that Kymco service center network is larger than Vespa!
Kymco scooters come with a 24-month warranty through a dealer, so don't let working with a dealer be a turnoff. The scooters you can buy on Amazon don't have that same backing.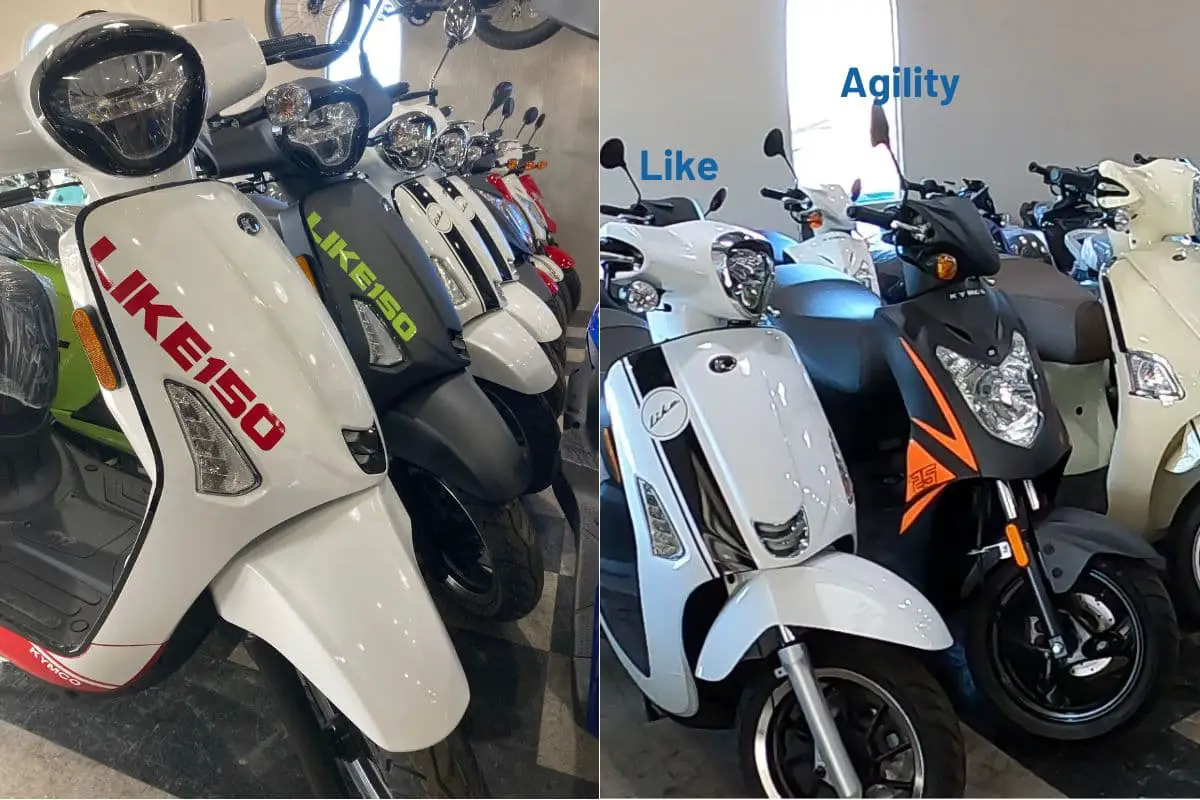 What does KYMCO stand for?
I had no idea that KYMCO was an acronym, but the questions of the internet for the win here! KYMCO stands for Kwang Yang Motor Company (Co).
The company also manufactures ATVs, Side x Sides, and have a motorcycle as part of their line-up.
Is Kymco a Good Brand?
Yes, Kymco scooters and mopeds are known to be a quality brand globally despite not being immediately recognizable by circles in the United States.
Despite not being well-known in the US, their scooters are still the 4th in terms of the market share of the scooters sold.
In addition, new Kymco scooters come with a 24-month dealer supported warranty. Oh, and it's unlimited miles, too. I appreciate when a manufacturer will put their money where their mouth is like this.
Are Kymco Scooters Cheap?
Kymco scooters are not cheap.
I am assuming you're coming from the standpoint asking if it is a cheap scooter as in a low quality scooter. Kymco is a good value with great features for the price, but as far as cheap, there are definitely cheaper scooters available.
Think of those that you can buy on Amazon. Kymco scooters are quality scooters versus many cheaper alternatives.
Kymco scooters are sold through a dealer network that offers and handles the warranty for you. You won't find that perk among actual cheap scooter brands.
If you compare scooters available in the US market, Kymco tends to have a much better feature set for the price. Check out this buying guide on scooters. Scroll towards the bottom and you'll find a spreadsheet (with an instruction video) that lets you compare scooters. Consistently, the Kymco wins out for what you get for the money.
I actually categorize the Kymco Like 150i ABS as the best scooter for the money overall in 2021. It's a great looking scooter with solid safety features, storage, and lots of pep. I have since given the title to the Kymco People in this video.
Kymco Scooters Available in the US
Kymco makes a wide variety of scooters globally, and they operate as KYMCO USA INC in the US.
However, in the United States, we have a more limited selection. This is similar to other scooter brands, though. I blame it on the fact that scooters are just not nearly as popular here as they are in other countries.
*sigh*
A prime example is that we have 1 Kymco maxi-scooter option in the US, but they make 4 sold internationally. They are introducing a 2nd maxi-scooter here in 2021, though. Options! Check out this guide on types of scooters if you're not sure what a maxi-scooter is.
Kymco scooters available in the United States: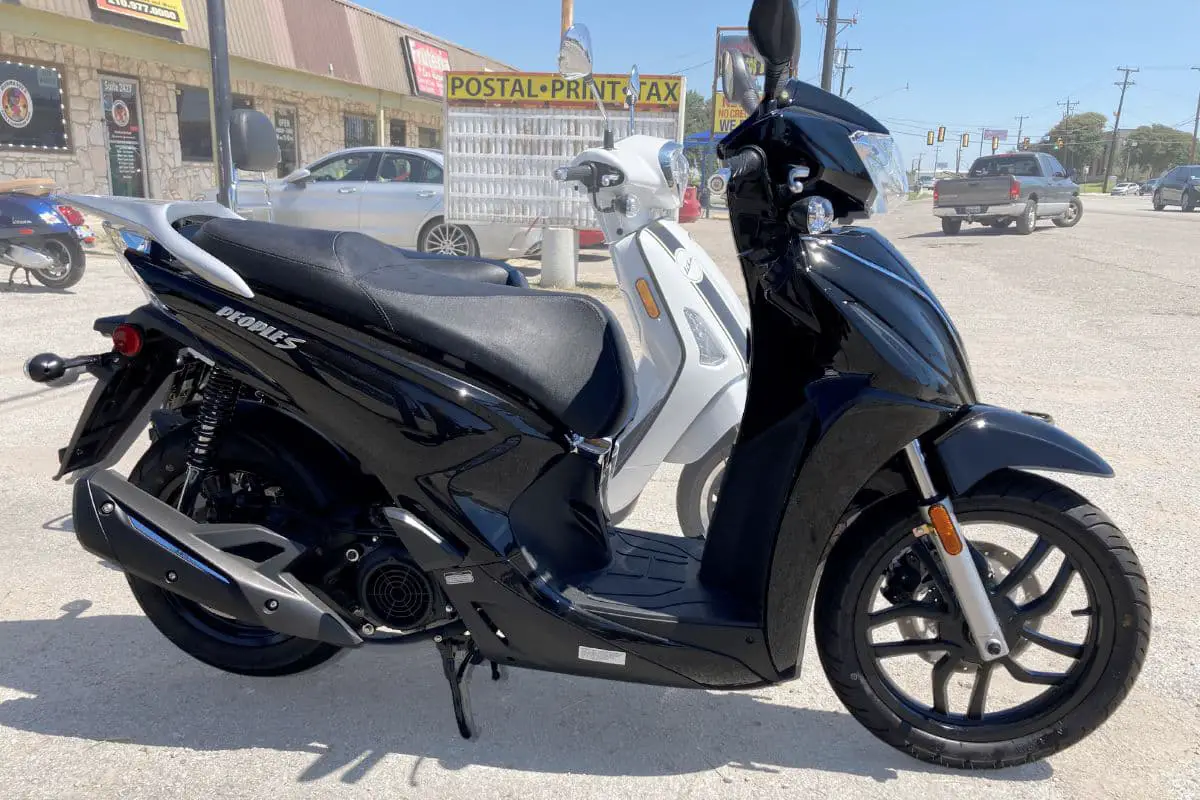 How Much are Kymco Scooters?
Kymco has scooters from 50cc, around 150cc, 300cc, and their largest coming in at 550cc.
MSRP for Kymco Scooters:
| Engine Size (cc) | Min MSRP | Max MSRP |
| --- | --- | --- |
| 49 | $1,879 | $2,149 |
| 125 | $2,199 | $2,199 |
| 150 | $2,349 | $3,559 |
| 276 | $4,899 | $4,899 |
| 550 | $9,399 | $9,399 |
search=0
The MSRP for the 50cc Kymco Scooters are just under $2,000 unless you opt for the electronic fuel injected Like which is $2,599.
Just over $2,000 gets you a 125 ($2,099) or 150cc ($2,299) scooter unless you opt for the electronic fuel injected Like which is $2,999.
The 300cc X-town is a maxi-scooter at $4,499. It is the least expensive maxi-scooter available in the US. However, it's labeled as a 300cc, but it actually has a 276cc engine. That said, it is the cheapest maxi-scooter option by a reputable brand in the United States, but it doesn't have the smallest motor in this class (Suzuki Burgman 200).
The AK550 has a walk-out price of over $11,000 in July 2022 from the MSRP of $9399. Subscribe to the Scooter Newbie email list if you'd like to be notified of the upcoming AK550 review. My husband is using it for his daily commuter. Spoiler alert: he's in love but some features he's not thrilled with.
You can find the full line up of Kymco's scooters here.
Where Can I Get Kymco Parts?
Kymco parts are not always easy to come by.
When I wanted to order a rack that would let me install a top box for my Like, my local dealer said he couldn't get it for months due to inventory/supply chain issues.
I then called a dealer 2 hours away, and they ordered it for me. It cost $30 to ship to the dealer, and the cost as another $25-30 to ship it to my home. No, they said they couldn't just ship it directly from Kymco to my house.
Bummer.
Generally, your Kymco dealer will have the most comprehensive availability of Kymco parts and accessories. <locator here>.
Additionally, for after market items like Kymco specific racks & windscreens, Givi has options for a variety of Kymco scooters. For maintenance options, I go to Scooter Works first.
While excellent retailers, both can by iffy as far as carrying what I need depending on the model. I've had better luck with the Like than the AK550, and even the Like can be problematic to get parts or accessories online!
I've also had great luck finding Kymco items on Capri Moto.
I talk about my issues getting the rack for the Like in this YouTube video.
How Fast Does a Kymco 150cc Go?
Kymco says that their 150cc in the Like 150i has a top speed of 65 miles per hour (mph).
However, I have hit right at 70 mph on a 2019 Kymco Like 150i. I don't have a need or opportunity to reach 70 mph with where I ride the Like, but that was after the break-in servicing, and before it hit 3,000 miles.
The 125cc Agility has a published top speed of 50 mph, and the Kymco 50cc scooters are restricted at 30mph.
Be Seen & Be Safe, Scooter Enthusiast!
Check out the spreadsheet at the bottom of this post to get the right scooter!