Make a purchase using a link? We earn with qualifying purchases through Amazon & similar programs. Read more:
Affiliate disclosure
The Genuine Scooter Company, usually just referred to as Genuine Scooters on the street has a beloved line of scooters – most notably you've likely heard of the Buddy.
If you have seen their line-up of scooters, you can't help but smile – all those colors! Cute looking & sporty looking scooters that have a small cult-like following. But what about the company?
I had a lot of questions myself when I started researching scooter brands. Questions about the company, its reputation for a reliable scooter, and so many more popped up along the way now that I share scooter related information. Below are questions I've had and those I've collected.
What Company Makes Genuine Scooters?
Genuine Scooter Company has partnered with PGO Scooters for manufacturing most of their scooter models. Earlier models in particular were designed with existing PGO branded scooters as a base while working with Genuine to meet the company's vision of needs in the US market.
PGO Scooters is an division of PGO Motive Power and headquartered in Dacun, Changhua, Taiwan. PGO has a line of scooters sold through dealers in Asia, as well.
Genuine Scooter Company was started first as part of a scooter parts store that still sells parts today for a variety of scooters – Scooter Works. Based in Chicago, they have been importing most of their scooters from the Taiwanese company, PGO Scooters (except for Stella).
The scooter manufacturing arm of the Scooters Works became Genuine Scooter Company in 2002.
Where are Genuine Scooters Made?
Genuine Scooters are primarily made in Taiwan through a partnership with PGO Scooters.
A lot of times I am asked this in the context that scooters made in certain countries are worse than others.
I am all about a dealer supported purchase with a warranty as part of hunting for a new scooter that is of good quality. Genuine Scooter Company models all come with a 2 year warranty with unlimited miles.
How Much Are Genuine Scooters?
Genuine's scooter line up starts at the 50cc range and goes up to a model called 200 with 169cc. I start with this because the engine size greatly impacts the price you can expect to pay.
Read more here on choosing a scooter if you are not sure what size is best for you. Bonus spreadsheet to help you compare is at the bottom.
The MSRP of Genuine Scooters range from $1,900 to $3,400 new. In general, expect to pay $2,000 for a 50cc model, $3,200 for a 125 with EFI ($2,700 without EFI), and around $3,350 for a 169cc model.
Don't forget to factor in tax, title, and license style fees, though. This ranges by state, and you can check out a video here on YouTube for a bit of conversation around the fees I've seen so far myself.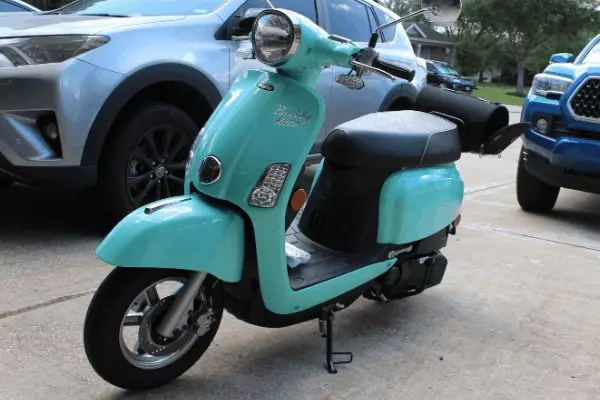 Are Genuine Scooters Reliable?
Genuine Scooters have a reputation for being reliable. The company was founded in 2002, and their partnership with the manufacturer has been in place for almost as long. The Stella was their first model, and the Buddy followed soon-ish after.
Genuine Scooters are generally known to be a reliable motor scooter brand. Genuine Scooter Company has a dealer network across the United States for service support and offers a 2 year, unlimited mileage warranty to support their scooters.
This is personally important to me as a gauge of reliability. I hit my 2 year mark with at home servicing just fine. You can read my review at 15 months here.
Some people want to know specifically if the Buddy scooter is any good! Yes! The Buddy is a popular model from Genuine, and it is a reliable scooter supported by that warranty through their dealer network.
What is a Genuine Buddy Scooter?
Genuine Buddy scooters are simply a model of scooter literally called the Buddy. It was the 2nd scooter in their line-up, and it is still offered as a new option to buy today through their dealer network.
Buddy scooters are offered as a 50cc, 125cc, and a 170i cc engine size. The 'i' in their 170 model indicates that it has electronic fuel injection (instead of a carburetor). All are 4-stroke engines. More here if you need help translating the engine related terms here.
The Buddy comes in a variety of colors (seen here on the Genuine Scooter Co website), and some model years they have what they call an 'International' model which is a type of special color edition.
They have a similarly named scooter called the Buddy Kick. It comes in a variety of colors, but it does not look the same. In addition, the Buddy Kick is only offered in 1 engine size – the 125cc with electronic fuel injection only.
Where Can I Buy Genuine Scooters?
Genuine Scooter Company sells their scooters exclusively through a dealer network. You can find a link to their dealer locator here.
Beyond that, you can look for a used option at scooter dealers near you or traditional online marketplaces such as Facebook Marketplace or AutoTrader. It is tough to find one depending on your location, so this is an area you'll need to practice some patience!
Genuine Scooters Accessories
Something that lured me to a Genuine Scooter is the availability of accessories. Since the scooter manufacturing arm of this scooter began from a scooter parts distributor, it is really one of the few scooter brands that offers accessories!
This seems crazy, but beyond Vespa, I find selection to be very limited. The Genuine brand itself through Scooter Works offers accessories like racks and color-matched top boxes with integrated lights built in.
I have been very impressed, and to me, personalizing your scooter is part of what makes scooters fun!