Make a purchase using a link? We earn with qualifying purchases through Amazon & similar programs. Read more:
Affiliate disclosure
The overarching Suzuki brand makes a lot of products from music to automobiles, but the transportation division is really the Suzuki Motor Corporation. They makes a variety of transportation options from automobiles to wheelchairs, and they do have a Suzuki Cycles specific division that falls into this Suzuki scooters umbrella.
Let's dive into the Suzuki brand and what you need to know if you're thinking about buying one of their scooters.
Does Suzuki Make a Scooter?
Suzuki Cycles is a division of the Suzuki Motor USA, LLC (Suzuki) that makes ATVs and motorcycles. While they do not have many to choose from, part of their motorcycle division includes a couple of scooter options with even more in their past (in the US).
Suzuki makes some of the most popular maxi scooters currently available in the US – the Burgman 200 and 400.
If you've heard of the Burgman 650 Executive, that scooter is no longer offered, and in the past, the Burgman was offered in different engine sizes & was branded as the Skywave in Japan. So if you are looking for information, it might help to expand your search to include the same model with a different name.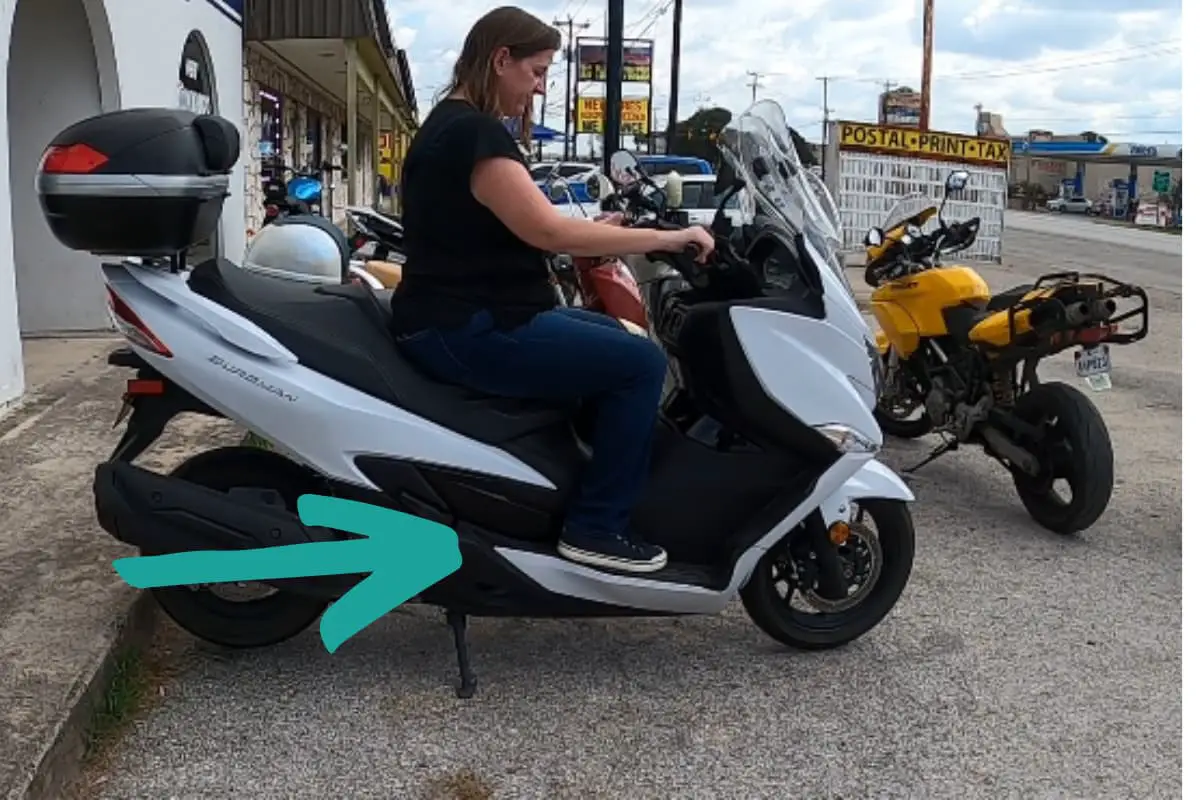 Are Suzuki Scooters Reliable?
Suzuki scooters have a good reputation for being reliable, and it's one of my recommendations for best reliable scooter brands.
In addition, Suzuki offers a 12 month, unlimited mile warranty. The servicing for the warranty is through their dealer network across the US.
Additionally, you are able to obtain parts through the same dealer network fairly reliably when you need parts down the line.
Where are Suzuki Scooters Made?
Scooters are a type of motorcycle, so many companies include their scooters in their motorcycle divisions. And in some cases, they are manufactured side by side in this manner, as well.
Suzuki manufactures their motorcycles in Japan with many parts in Kakegawa-shi, Shizuoka (Osuka plant) with the assembly in Hamamatsu-shi, Shizuoka (Hamamatsu plant).
If you heard that there is a US manufacturing facility, you're right! Kakegawa-shi. Suzuki has a plant in Rome, Georgia where ATVs are assembled.
Where Can I Buy a Suzuki Scooter?
Easy peasy. You can certainly find used models through traditional channels, but for a new Suzuki Burgman, you'll need to go through a dealer.
New Suzuki scooters are sold through a dealer network.
What Suzuki Scooter Models are Available?
Suzuki offers a LOT of different motorcycles, but you have 2 options for a scooter.
Suzuki currently offers 2 model options differentiated by a few features but mainly their size – The Burgman 200 and Burgman 400.
There is not a currently offered 150cc Suzuki Scooter sold in the United States
The numbers at the end of the name is intended to represent the scooter's engine size. Both have a sporty design with a lot of built-in features. They are premium among scooter options with things like heated components, windshields and spacious underseat storage.
The Suzuki Burgman is a scooter even though it has a motorcycle look to some. It's classified as a maxi scooter through the larger motor and elements like not having the step-through floorboard like other scooters.
According to Suzuki, the Burgman 200 has a top speed of 75 miles per hour (mph), and the Burgman 400 has a top speed of 95 mph.
For currently offered models, that makes the Burgman 400 the most powerful Suzuki offers, but the KYMCO AK550 is the most powerful scooter across the currently offered options.
In the past, the Suzuki Burgman 650 would have taken this trophy.
Suzuki definitely is a well-known, reliable scooter brand, but check out others that I consider the best scooter brands.