As an Amazon Associate we earn from qualifying purchases made on our website. If you make a purchase through links from this website, we may get a small share of the sale from Amazon & other similar affiliate programs. You can read the complete
disclaimer information
for more details.
Did you know that Honda makes scooters? If there is a motor involved, Honda has their hand in it.
But are they reliable? What do they offer? I had questions, so here's what I uncovered for the Honda motor scooter offerings in the US.
Are Honda Scooters Reliable?
Honda motors have a good reputation for making quality, precise engines, but does that translate to their scooters, too?
Honda offers a 12 month warranty on their scooters, but most of the motor scooter competition (from Vespa to brands you might not be as familiar with like Kymco) all offer a 24 month warranty.
This is a quirk for me as I value the warranty when you're new to something & not quite ready to break out the tools.
The good news is that despite the shorter warranty, Honda scooters are as reliable as their other segments are.
Honda scooters are part of the Power Sports division of Honda, so if you have a Honda Power Sports dealer near you, you also have access to a parts and service department for your scooter. Power Sports is the segment with motorcycles, 4-wheelers & side-by-sides. And SCOOTERS! 🙂
Having a robust dealer network like Honda does, adds a bit more peace of mind if something does act up on your scooter. There are over 1,000 PowerSports dealers across the country.
Remember – scooters are generally just light motorcycles, and Honda has been selling motorcycles in the US since 1959! Well over 60 years of tradition.
Where Are Honda Scooters Made?
This was news to me, but Honda is the largest motorcycle manufacturer in the world.
American offered scooters is not the biggest segment by any means, but there are a variety of different models offered worldwide.
This also means that Honda scooter manufacturing is a worldwide operation. While Italy is synonymous with Vespa, there have been over 1 million Honda scooters made there, too!
In addition, they have partnerships with other brands such as joining forces with Yamaha to manufacture their 50-cc models for some scooters offered specifically in Japan. They are also partnering with Suzuki, Yamaha, PGO, Piaggio, and more for swappable batteries in their growing electric model line-ups.
Honda scooters are a Japanese brand with scooters and their associated parts manufactured across Japan, China, Pakistan, Brazil, Indonesia, India, Thailand, Turkey, Mexico, Argentina, Taiwan, & the Philippines.
The primary location for Honda's motorcycle manufacturing is in Kumamoto, Japan.
There is an automobile plant in Ohio that used to make Honda motorcycles, but in 2009, they shifted primarily to the Kumamoto manufacturing facilities.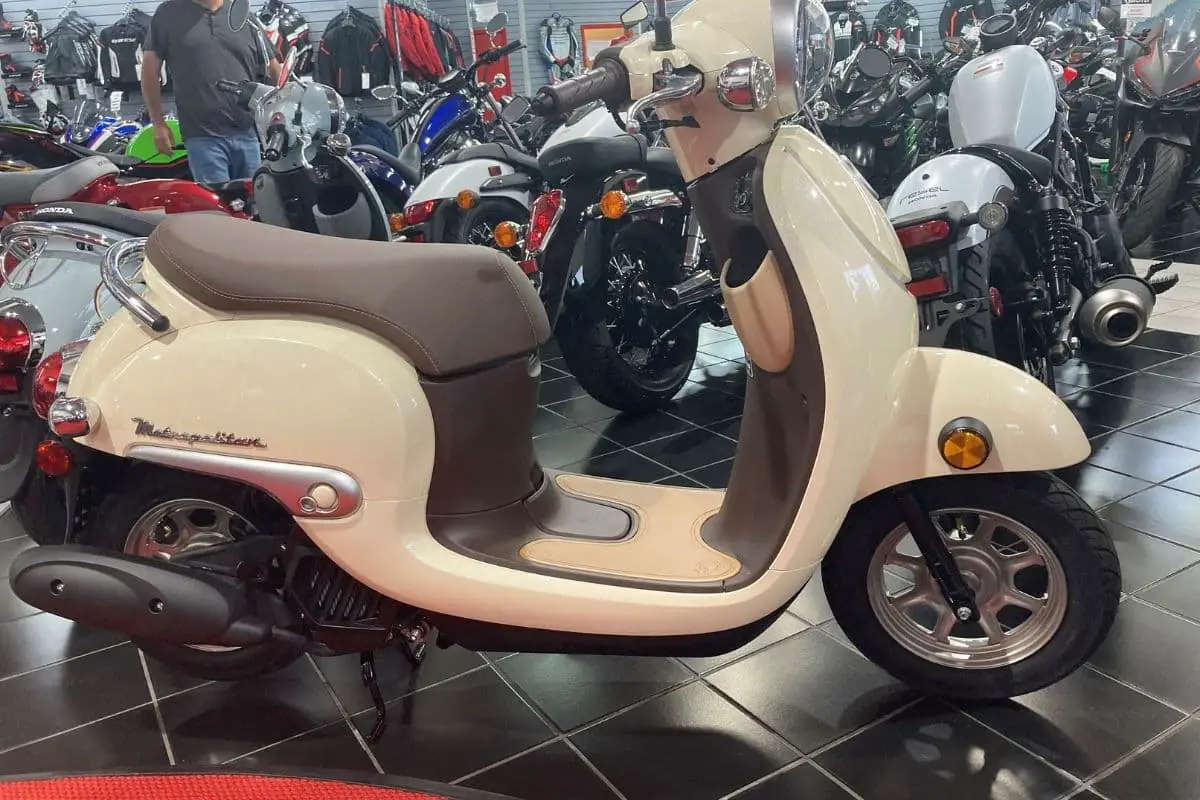 Where Can I Buy a Honda Motor Scooter?
Honda has a giant footprint across a lot of industries. To buy a Honda scooter, you can make a purchase through a PowerSports dealer that will sells the Honda motorcycles, ATVs, and side-by-sides.
Honda Motor Scooters can be purchased through a dealer network . They have over over 1,000 dealers across the United States that sell and service Honda scooters.
Used scooters can be purchased at many scooter dealers, as well as, traditional spots to buy used items such as FaceBook Marketplace and Craigslist.
What Honda Scooters Are Available in USA?
Since I started this whole scooter obsession, the line-up of scooters offered in the United States by Honda hasn't changed.
New model years happen with minor tweaks if any changes at all, but they are great models that have quite the fan following.
Below are the models offered from 2019 onward.
| Year | Model | Engine Size | Price New (MSRP) | Top Speed (mph) | MPG |
| --- | --- | --- | --- | --- | --- |
| 2022 | Metropolitan 50 | 49 | 2,499 | 30 | 117 |
| 2022 | Ruckus 50 | 49 | 2,749 | 30 | 114 |
| 2022 | ADV150 | 149 | 4,299 | 63 | 85 |
| 2021 | ADV150 | 149 | 4,299 | 63 | 85 |
| 2021 | PCX150 | 156.9 | 3,799 | 63 | 85 |
| 2020 | Metropolitan 50 | 49 | 2,499 | 30 | 117 |
| 2020 | Ruckus 50 | 49 | 2,749 | 30 | 114 |
| 2020 | PCX150 | 149 | 3,699 | 63 | 85 |
| 2019 | Metropolitan 50 | 49 | 2,499 | 30 | 117 |
| 2019 | Ruckus 50 | 49 | 2,749 | 30 | 114 |
| 2019 | PCX150 | 149 | 3,699 | 63 | 85 |
How Much Are Honda Scooters?
Scooter prices vary across brands and models, but you'll find that most of the time, the engine size will dictate about what you can expect to pay.
FYI: Engine size is measured in cubic centimeters (cc), and the higher the number, the faster the scooter can go.
Currently, Honda sells 50cc and 150cc model options. The 50cc has an MSRP around $2,500. The 150cc models are around $4,000. If you aren't sure what engine size you need, check out this article.
Below is the range of the current models years:
| Engine Size | Price Min | Price Max |
| --- | --- | --- |
| 49 | 2,499 | 2,749 |
| 150 | 3,799 | 4,299 |
Which is the Most Powerful Honda Scooter?
New Honda motor scooters are offered with pretty much 2 engine sizes. The higher the number cubic centimeters, the faster the scooter will go just as you buy it.
I say it that way because Honda scooter enthusiasts are sometimes big into modifications. You'll find that especially true of the Ruckus. It is sold as a 50cc that is restricted to 30mph. They can easily be de-restricted for 40-45 mph range. Then they can be further modified for a lot more power.
The most powerful Honda scooter sold in the United States new is the Honda PCX 150. The Honda PCX150 has 15.8 horsepower versus 14.5 with the next most powerful Honda ADV150.
Which Honda Scooter is Best?
You can't go wrong with any Honda!
The best Honda scooter is one that fits your speed needs &, of course – style!
The Honda scooter line-up has the classic scooter vibe with the 50cc Honda Metropolitan, but the remaining Honda motor scooter models are much sportier.
So is sporty or classic your style? Do you want a 50cc (30 mph max) or a 150cc (~63 mph max)?
Answering those 2 questions will help you narrow down to the best Honda scooter for you because the quality will be consistently solid regardless of the model you choose.
Honda scooters consistently come with features similar scooters are lacking. Like the Honda Metropolitan has liquid cooling instead of air cooled (by driving down the road). You seriously can't go wrong with a Honda scooter.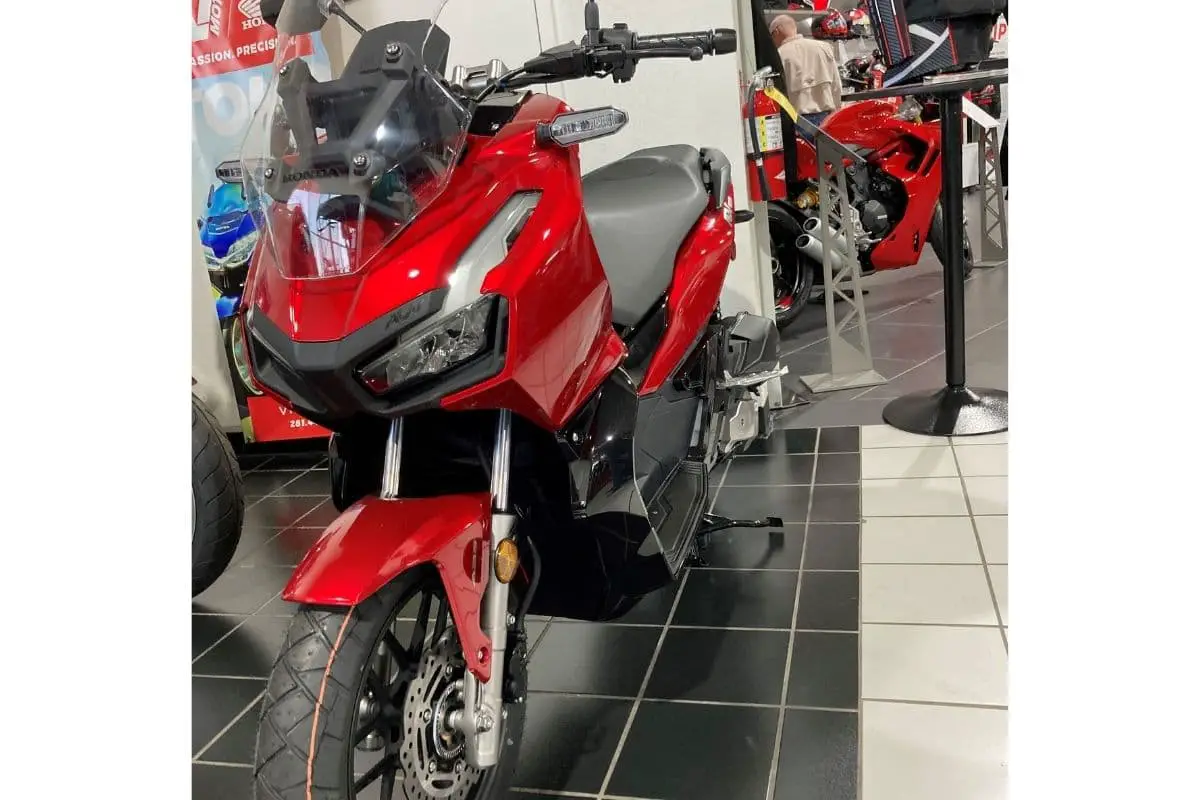 What is Honda's Fastest Scooter?
The fastest, stock Honda scooter is the PCX150 with just over 156 cc, single-cylinder 4-stroke engine. The horsepower is just over 15 with the other 150cc model option coming in under 15hp.