Make a purchase using a link? We earn with qualifying purchases through Amazon & similar programs. Read more:
Affiliate disclosure
When I started shopping for a 300+ maxi scooter, I would not have imagined that a 2022 Kymco AK550i in matte gray would end up in my garage.
I was shopping for a 300+cc maxi scooter, and my husband Rich was mulling over buying a motorcycle as a more affordable commuting option. He knew a 300cc wouldn't quite work for his freeway needs.
However, since I ride a scooter and talk about joining group rides more frequently, keeping a scooter was still a thought (even if just in the deep, dark recesses of his mind). Plus the biggest perk of all when you think about potentially riding in traffic – no clutch.
There's the background.
Read more about the Kymco brand if you're unsure if Kymco scooters are reliable.
Now the flavor on how this was written: Rich (my husband) primarily rides the scooter to work daily, and I ride it on occasion to educate myself for you. Plus its fun. 😁
Now let's dive into the scooter.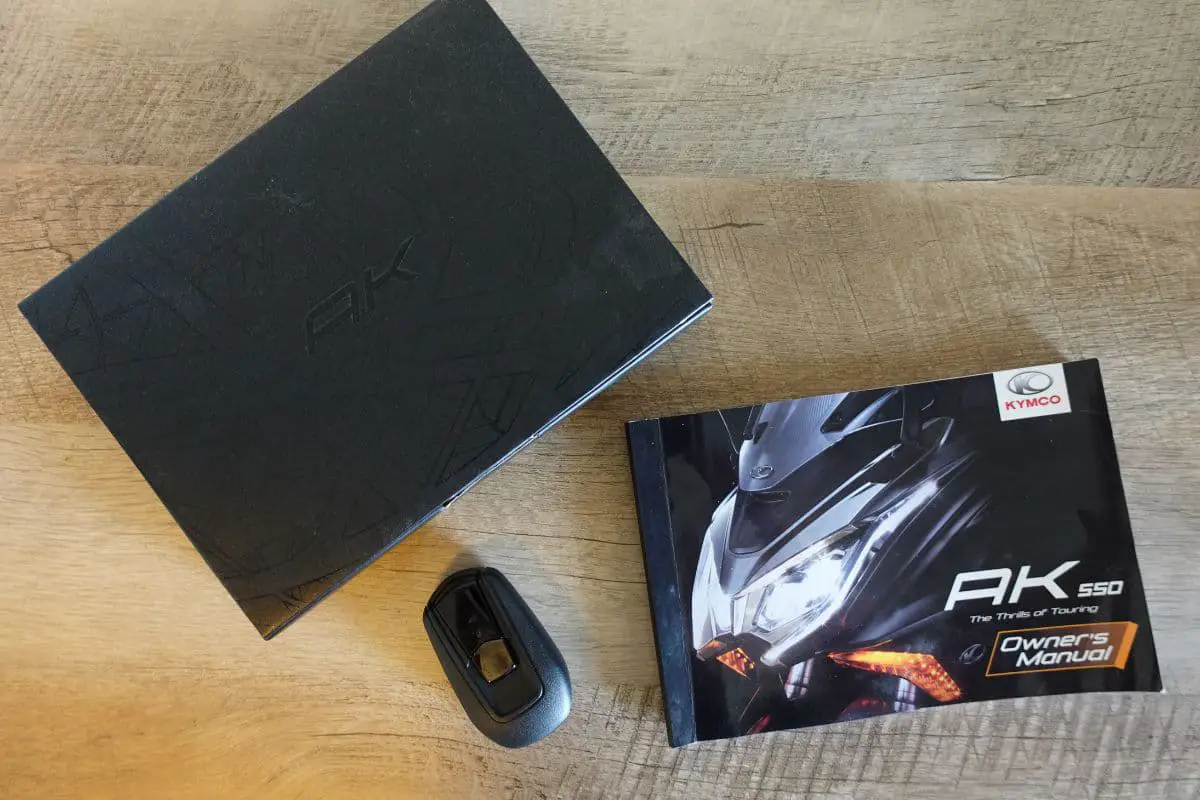 Purchase and Pick Up
Well, we lucked into seeing a 2021 model while shopping for my Vespa GTS 300. That did it. He was able to test drive it. Another scooter fan was testing it out, as well, and he ultimately bought it. No big deal. We put a hold on a 2022 Kymco headed to the dealer already.
Supply chain issues led to the scooter getting delayed. Then it was lost in the mail. Yup. An entire scooter was misplaced.
It was disappointing, but we got on a short list for another. It was going to be another color, but that was fine. The 2021 model only come in matte or shiny silver, but the 2022 Kymco AK550 moved up to 4 options.
We were originally slated for a matte gray one, but the replacement was going to be blue. Totally fine.
Matte Silver Crystal, Space Grey, Deep Blue, & Matte Black are the 2022 options.
Within a week, we got a phone call to come pick up the scooter. This dealer is 3 hours away, and when we rolled up we got an interesting surprise – it was the matte gray version lost in the mail.
So there is a time delay in the order and pick up, and in that time, the dealer notified us that the price of the scooter had increased. I know that freight costs are in flux these days, but the literal price of the scooter had increased. Shocked, but coincidentally, the dealer told us that higher price when first put down the deposit for it. I can't tell if it was dealer confusion or what – we're a huge fan, and he works to be transparent. 
While there, we got a rundown of the basics. There are a lot of features on this scooter, so when I say basics, I mean basics. The dealer was knowledgeable, but there is a lot different on this scooter than others.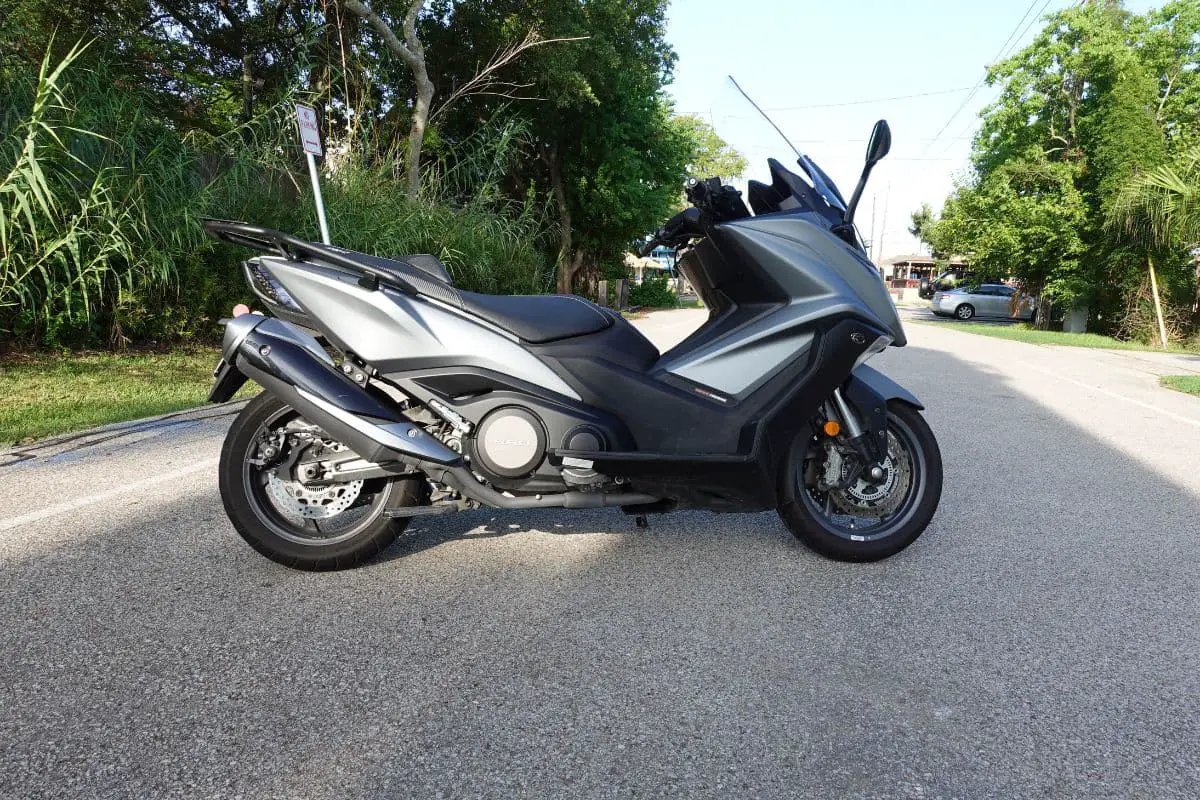 Pricing
I love that scooter manufacturer's list the price online. Buying a scooter is much easier than cars for a host of reasons like this.
BUT
The price is simply the price of the scooter. That price does NOT include the freight charge and vehicle fees & taxes that your state/local authorities require. There is a dealer prep fee added, as well, as your scooter doesn't come ready to ride off of the boat. That's the labor cost of putting the odds & ends together & getting it ready for you.
The biggest variable in the extra costs is that Ocean Freight Surcharge Info that Kymco has listed under the price on their site. They used to list the freight charge, but now they can't list a charge. It changes as the freight charge change, so this is something you'll want to call your dealer on before budgeting for the wrong price.
As I write this article, the price for the Kymco AK550i is listed at $9,899.
We paid that amount when we purchased 9 months ago. We are in Texas, and here is how our bill of sale broke down:
MSRP: $9,899
Freight: 600
Sales Tax: 619
Vehicle Inventory Tax: 34
Title & Registration Fee: 79
Road & Bridge & Inspection Fee: 49
Documentary & Filing Fee: 85
The freight is painful, but between mostly state required fees on top of the freight is where scooter prices become shocking.
All of those fees are either dictated as to how much the dealer is required to charge or regulated to how much the dealer is allowed to charge. No dealer I've used has been near the max, so thank you Texas hill country & gulf coast dealers! 🙂
Our walkout price for the AK550 was $11,364.
Specifications & Features Commentary
Engine
The 550 in this powerful maxi-scooter's name represents the 550 cc twin cylinder engine in the 2021 and 2022 models. Like most maxi-scooters, it is liquid cooled and Kymco boasts about the 53 horsepower.
It really accelerates, and it has some get up and go when needed going highway speeds.
And it does it oh so smoothly…
PERFORMANCE ORIENTED CHASSIS
"AK 550 features upside-down fork front suspension with dual disc Brembo caliper brakes. It keeps the vehicle agile and steady during cornering and delivers stunning stopping power whenever needed." – Kymco site
The first time I saw an AK550 was when there was a used one that a fellow rider (who rode up on a Yamaha XMAX) was interested in test driving. The XMAX is smooth, y'all, but he was looking for even smoother. He had some back issues & wanted pep wrapped in one package.
He got it. He rode off into the sunset on that AK550.
It is incredibly smooth. As part of the process of buying a maxi scooter, we test rode a used Suzuki Burgman 400, a Yamaha XMAX, and the Piaggio BV300. They are all quite literally great scooters that do not ride like the Buddy Kick or Kymco Like we rode in on essentially.
At the end of the day, Rich found that the AK550s lowest center of gravity, inverted fork & that dual arm rear suspension to make this the best riding scooter that he tried.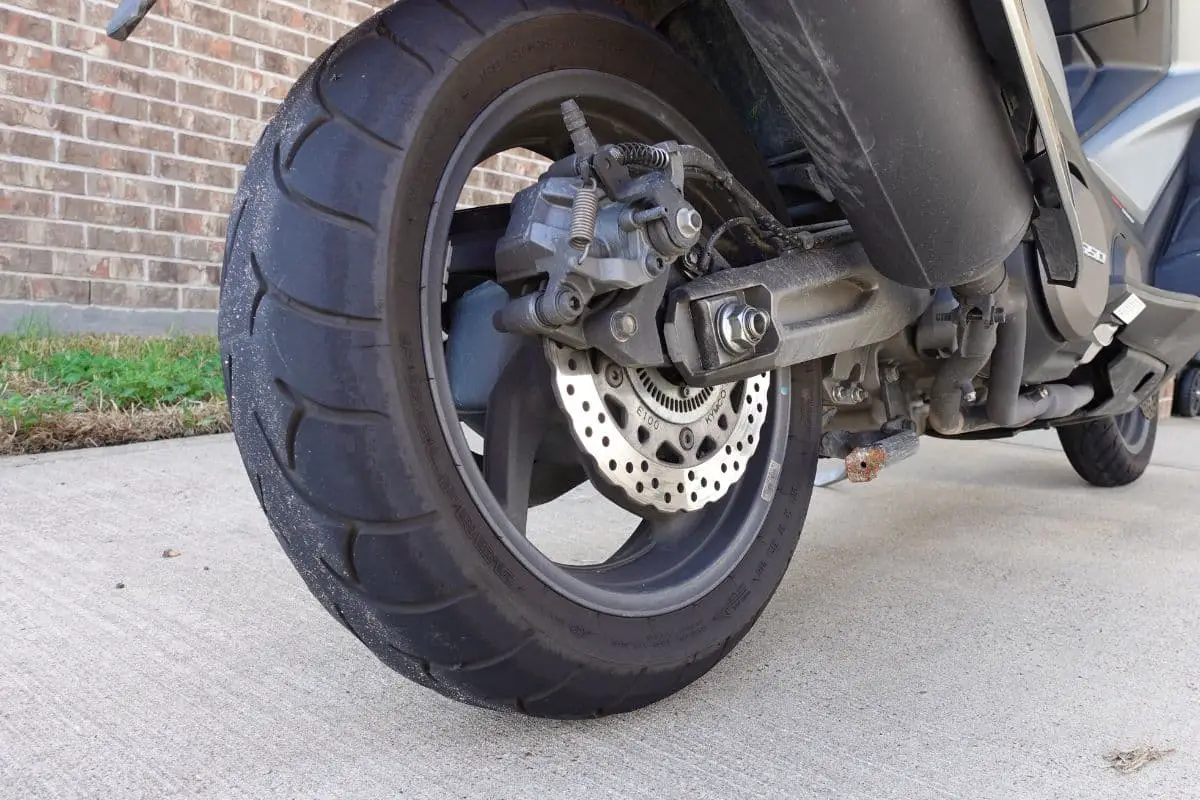 Dual power modes
There is essentially a rain mode. Or it's off. Dual power modes sounds fancier, but I do ride in the rain mode if it has been a bit since I have ridden the AK550 to moderate the power a little bit for me.
What can I say, I'm a cautious rider!
Rich doesn't use the other riding mode it at all. He just modifies how he rides for the conditions, and he forgets it is there.
Heated hand grips
This was a feature we were both excited to see! You simply slide a button, and the grips heat up well. 
However, in the daily commute, he just got a pair of heated gloves. The heat from the grips just didn't do enough to be all that helpful even though we have mild winters here on the Texas Gulf Coast.
The AK550's heated grips has 3 levels:
113 F / 45 C
131 F / 55 C
149 F / 65 C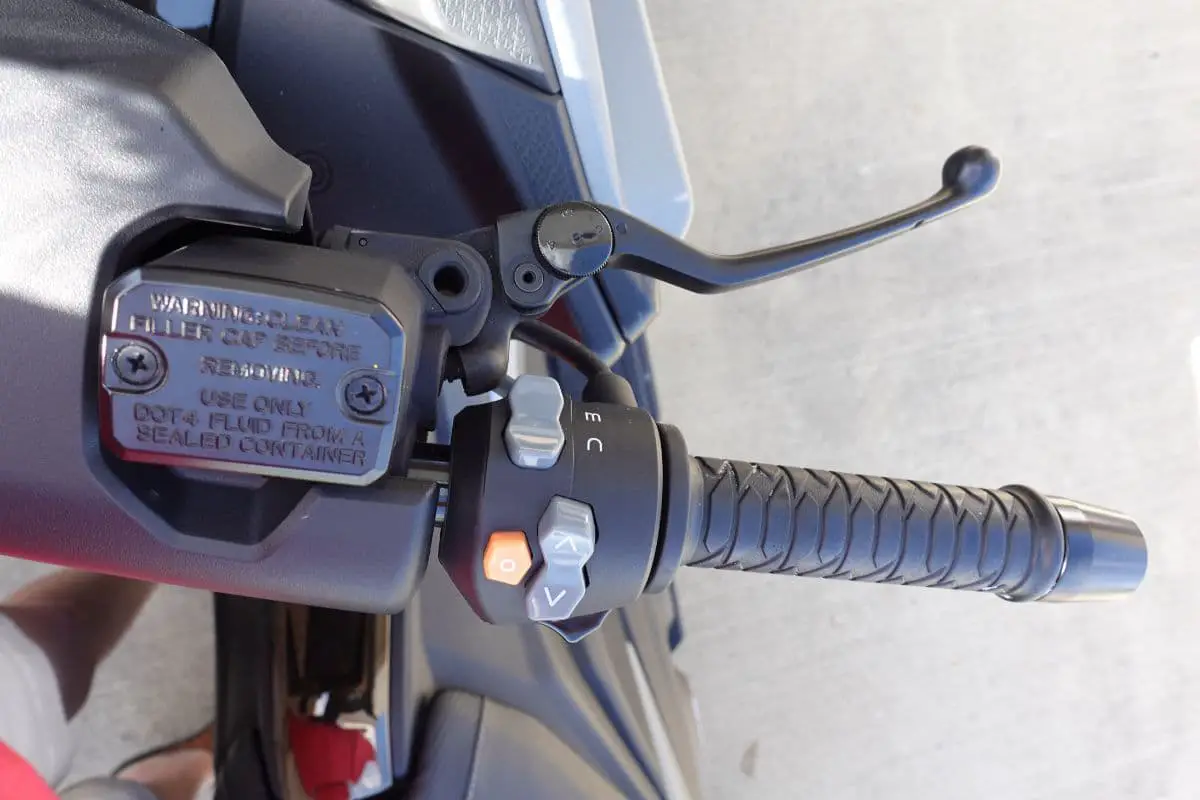 Adjustable windshield
When I was reading adjustable windshield, I had the assumption that you'd slide it with multiple options. You essentially have to take the windshield off to choose the other spot as there are 2 locations it can be adjusted to. 
Adjusting the windshield of the AK550 requires tools versus something you can do in a parking lot real quick on the fly without breaking out the tool bag.
It's not difficult, but it is 6 steps with a few screws.
The good news is that when you get it where you want it, you're fine. I prefer 1 setting (5'6″ tall) and Rich prefers the other setting (5'10" tall). He rides daily, so it stays where he wants it. 🙂
Large under seat storage area
I am passionate about having space under the seat. It's one the reasons that scooters are so great to me!
The Kymco AK550 can fit a full-face helmet and 1 open-face helmet in the underseat storage compartment. 
You won't fit anything else in there if you have 2 helmets there, but they fit! It opens from the front of the seat instead of the rear of the seat like most scooters.
To open the seat, you turn the power to the scooter on, and you click a button. As it opens, LED lights on the interior illuminate the space. It's a nice touch to have the lights.
There is also a helmet hook at the front edge.
Since we're talking storage, there is also a luggage box on each side of the handlebar area. These do not lock, but they're a convenient thing to stick a few odds & ends in. It does get hot in them, as well.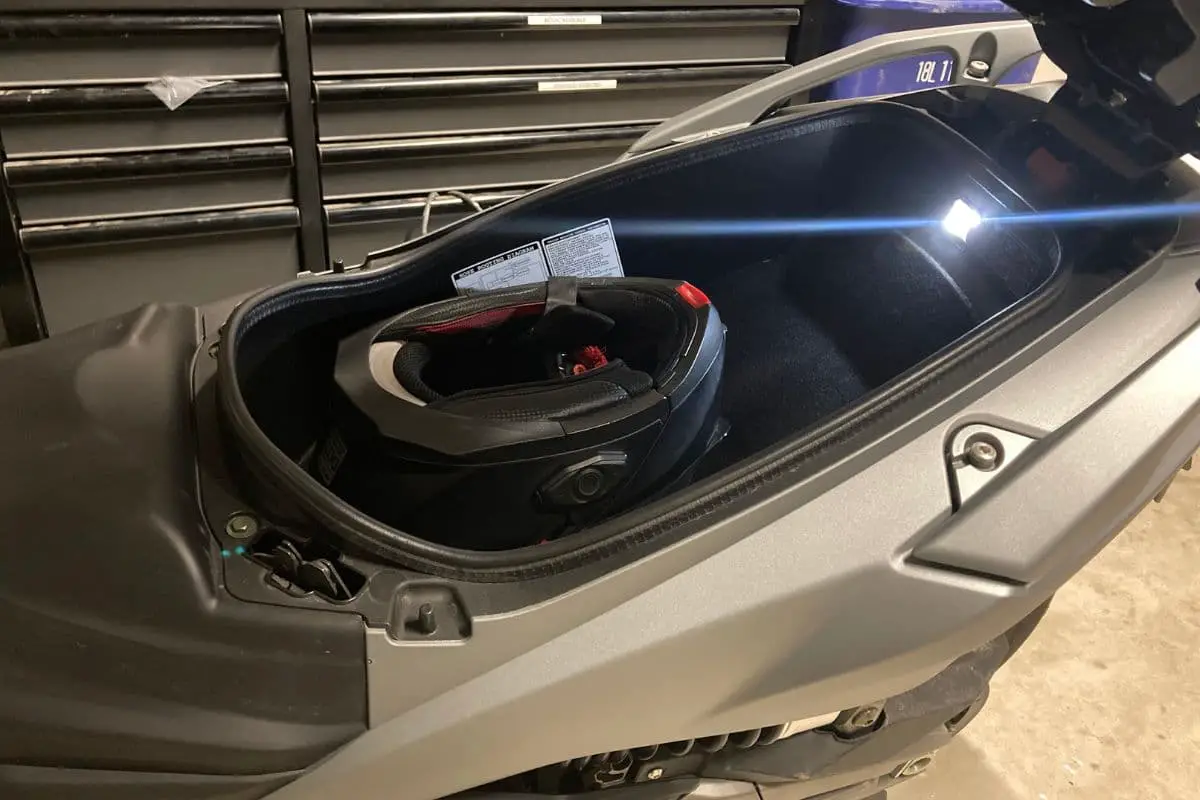 Keyless Ignition
I love the keyless ignition as it takes out the fear of locking your key in the under seat compartment. A scooter riders worst nightmare if you do it away from home!
You simply carry a key fob similar to modern cars, and as long as it is within a 31″ radius (80cm) of the instrument panel (aka dashboard), the maxi scooter turns on.
The 31″ doesn't extend to the passenger seat position, so the key really needs to be on the rider or in one of the side storage compartments to start reliably.
The key fob is larger than any traditional vehicle's fob that we've owned, so I don't love the feel of it in my pocket. I tend to carry it in my jacket pocket instead.
Do NOT lock the key inside of the underseat storage area. If it is towards the back of the compartment, you won't be able to start it or open it back up!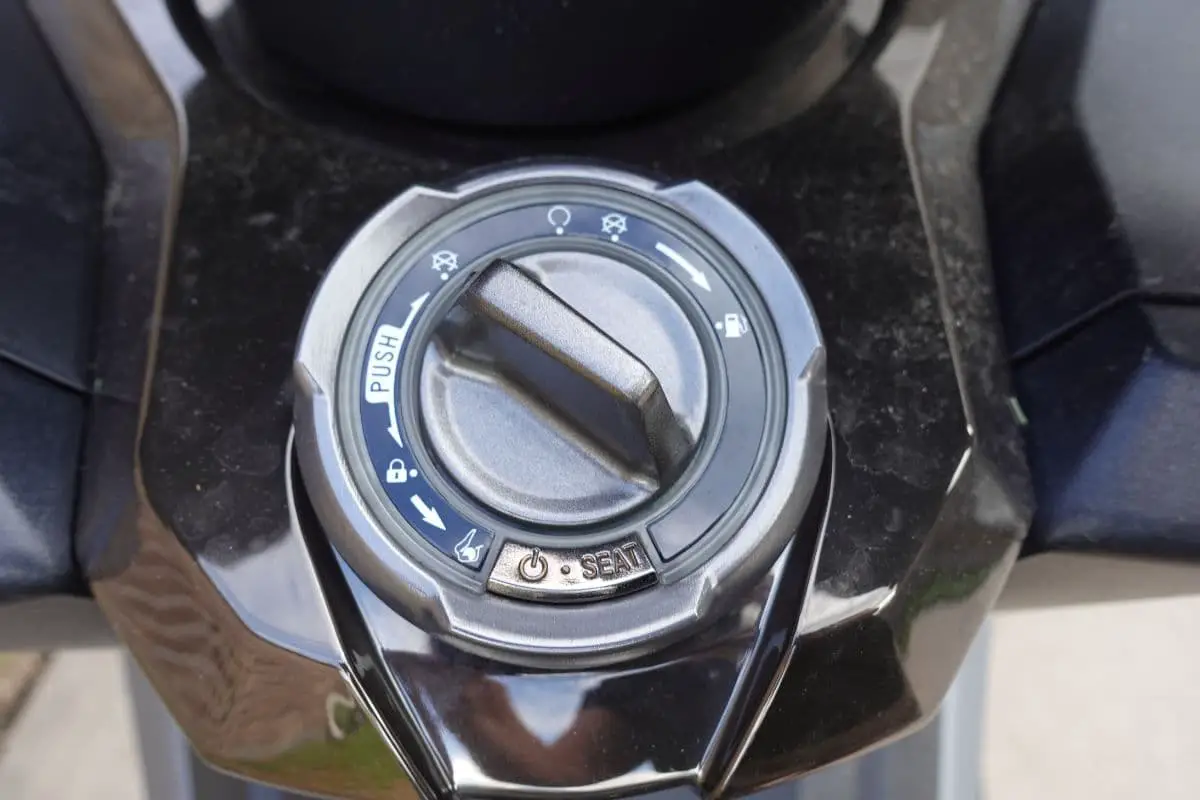 The AK550 keyless remote uses a CR2450 battery.
Brakes
The brakes on the Kymco AK550 include Anti-Lock Braking System (ABS), but that's apparently just the tip of the braking iceberg!
The braking components are Brembo brakes. Initially I didn't understand the big deal (scooter newbie here), but Brembo educated me. Brembo brakes features that makes it noteworthy for the AK550:
Larger disc & pads for better braking torque
Lightweight
Premium materials for the best friction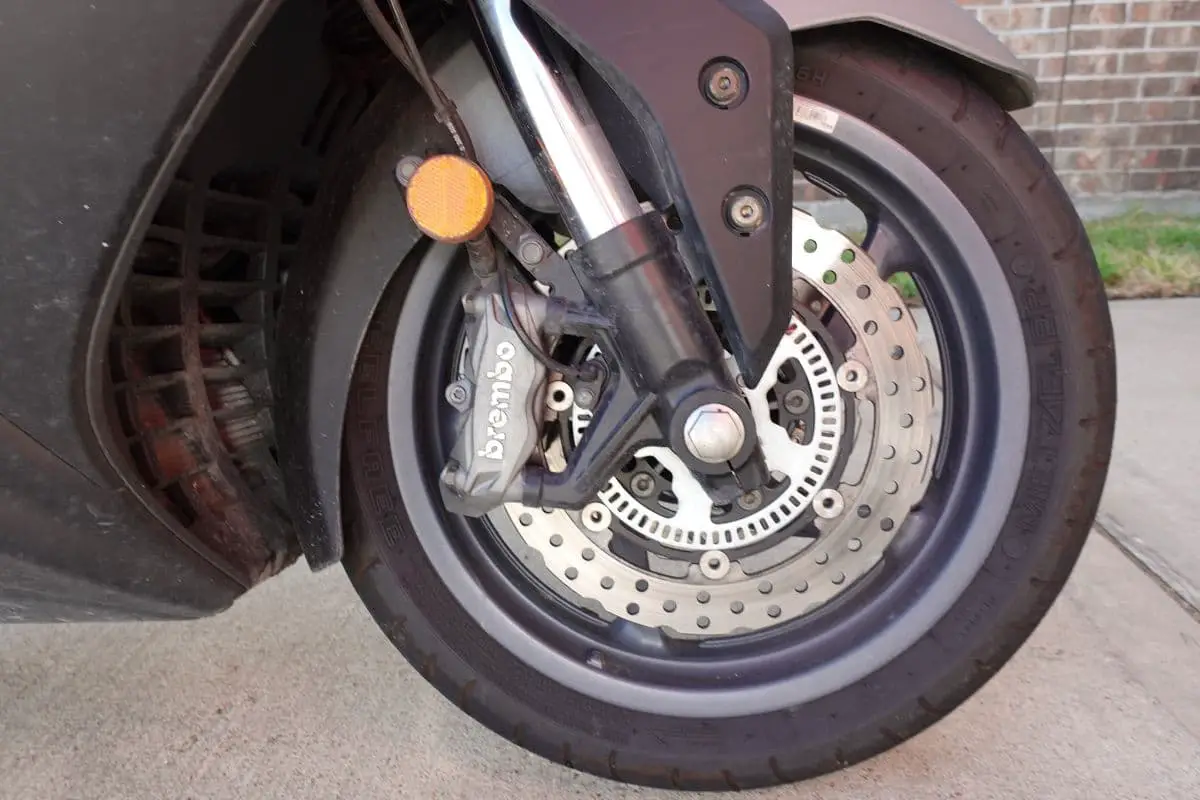 Warranty
The Kymco AK550 has a 24 month warranty that includes unlimited miles.
While we had to drive to San Antonio to get an AK550, we can have it serviced more locally. Kymco has a decent spread of a dealer network because they also sell ATVs, so if ATVs are popular in your area, you're more likely to have a Kymco nearby than a Vespa dealer!
To date, we haven't needed anything beyond the 600 mile break-in servicing.
Dashboard Deep Dive
One giant thing that sets the AK550 apart is what feels like a high-tech dashboard. You'll find 3 screens and host of buttons to play with.
The left most screen is the 'adjustment zone', and the screen on the right is the 'display zone'. The middle is specifically the noodoe feature.
Adjustment Zone (left screen)
The left screen is labeled as the "meter – adjustment zone" in the owner's manual, and you access it by switching the Handlebar Switch to m (Meter).
On this side you'll find the following indicators:
Tachometer in rpm (engine speed)
High beam indicator
Engine detection indicator
Tire pressure indicator
Blinker indicator
Mode indicator (rainy or normal)
In what is called the Function Zone, you can switch up what you see, but your options are:
Volt = battery voltage
AVE = average fuel consumption
Instant fuel consumption
Units of fuel consumption (from kl/L to I/100km), tire pressure (kg/cm2 to bar to psi to kpa), or the km/miles
For the voltage and consumption items, you're just hitting the arrow to rotate through them.
For the unit changes, you flip to the item using the arrow, but you'll click the "O" to actually change the units.
To change the odometer information from kilometers to miles or vice versa, you hold the "O" down when on the odometer reading in that menu.
Still on the left side of the dashboard, the final display information is the Mileage Information where you can flip between the following:
Yup! You can track your oil & belt change miles or kilometers without logging it somewhere else. The Oil & Belt values trigger "Service" indicators at 5,000km for the oil & 20,000 km for the belt.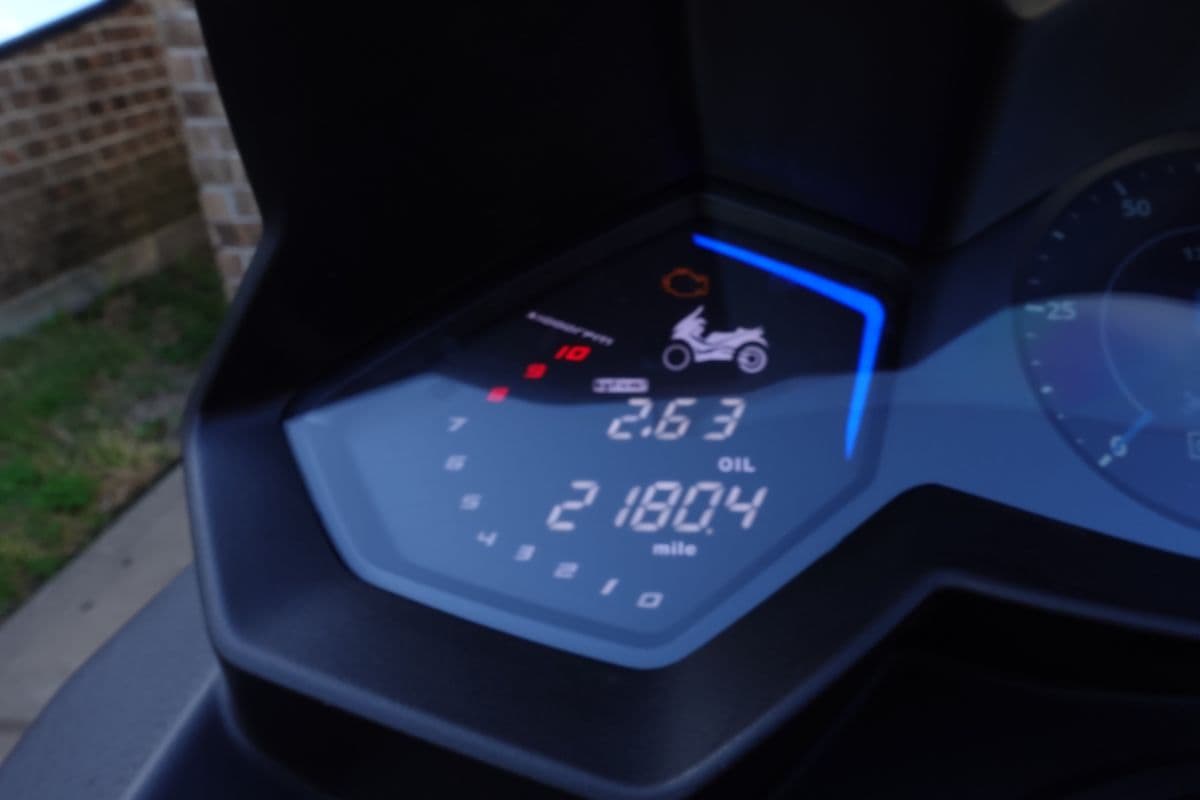 Display Zone (right screen)
The Kymco AK550's right screen on the dashboard has the following indicators:
SERVICE warning indicator when the belt or oil is needed
Parking Brake Indicator if activated
Oil pressure indicator (comes on & goes off when started)
ABS fault indicator (stays on when started until 6km/h is reached)
Water temp (problem if reaches H for high)
Handlebar heater indicator (hold button on handlebar for 3 seconds to activate or deactivate)
Speedometer
Fuel gauge
If the Kymco AK550 needs a service, it literally lights up 'SERVICE' on this side.
noodoe (middle screen)
The Bluetooth functionality of this maxi scooter is found on this middle screen. You'll need to download the noodoe APP (available for Android 4.4.4 & up or iOS 9 or above).
When doing anything with the noodoe screen, you need the handlebar switch flipped to "n", and then you use the arrows next to it to flip through what's available on the screen you're looking at.
While in the 'n' mode, you'll pair your phone by holding the 'O' button for 5 seconds to get the scooter into Pairing Mode & then you pair like you do most devices. It will ask for a confirmation code. End by pressing the 'O' button, but this took awhile to get it done as you fumble with the phone & through the menus.
The good thing is that it hasn't come 'unpaired' yet.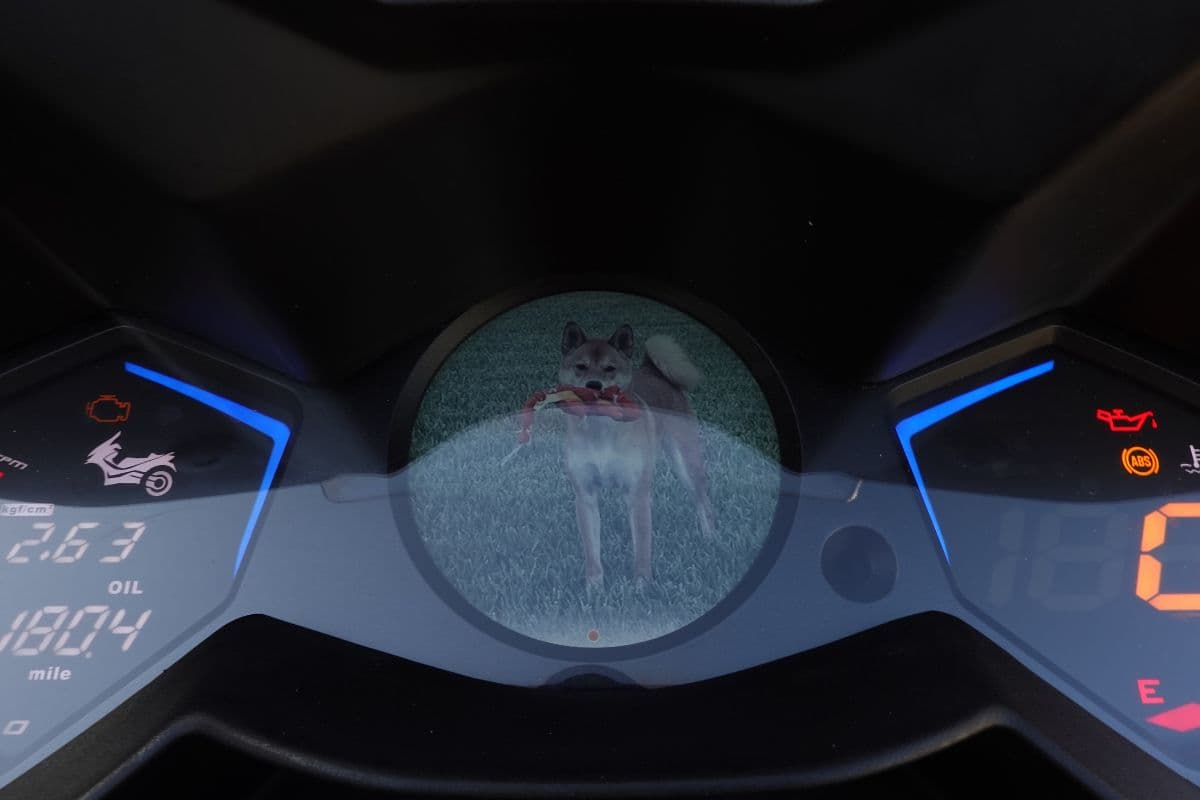 Things You Can Do in the App
Create & change the background of the noodoe screen
Find Your Scooter if you forget where you parked
Change a few settings on notifications that get sent to the noodoe screen
Things You Can See on the Screen
For the most part, the screen is a notification control panel. You can flip to a custom image that you create or download through the library of the app. You can also have it display things like a clock or the speed.
Notifications are sent from your phone to this screen, and you have some ability to control what is sent through the settings area of the noodoe App.
When you're driving, the indicator just pops up that there is a notification of some kind, but the text detail is not shared. When you stop, more of the messages or number comes through, but it will likely be truncated due to the screen size.
You can see more of the message or flip through messages using the arrows.
In addition, it also has a navigation feature, but this is not something that Rich uses any longer. It just isn't as effective as Waze or our native phone map apps.
The last screen you had in place when you last turn it off is the one that displays when you start the next time.
There is also a compass that sometimes need a minute to get oriented before it shows up. Once you start moving a little, it figures out the direction.
We haven't run into issues, but there are warnings that the speedometer & compass may not be 100% accurate as it relates to the communication between the phone & scooter for this screen & service in the area you're in.
Also, there are warnings in the owner's manual that the APP functions could become unusable with phone operating system upgrades.
Fuel Talk
The Kymco AK550 owner's manual indicates that 95 unleaded gasoline is needed. It is advertised as getting 61 miles per gallon (mpg), and after manually checking regularly that's a fair assessment.
Of course that depends on how you ride. More aggressive & you can expect that to go down, but Rich is reporting he averages 63 mpg.
There are 2 things that he raises his eyebrows at. I must preface this with how obsessed this man is about knowing his mpg & such. He watches it vigilantly in all vehicles.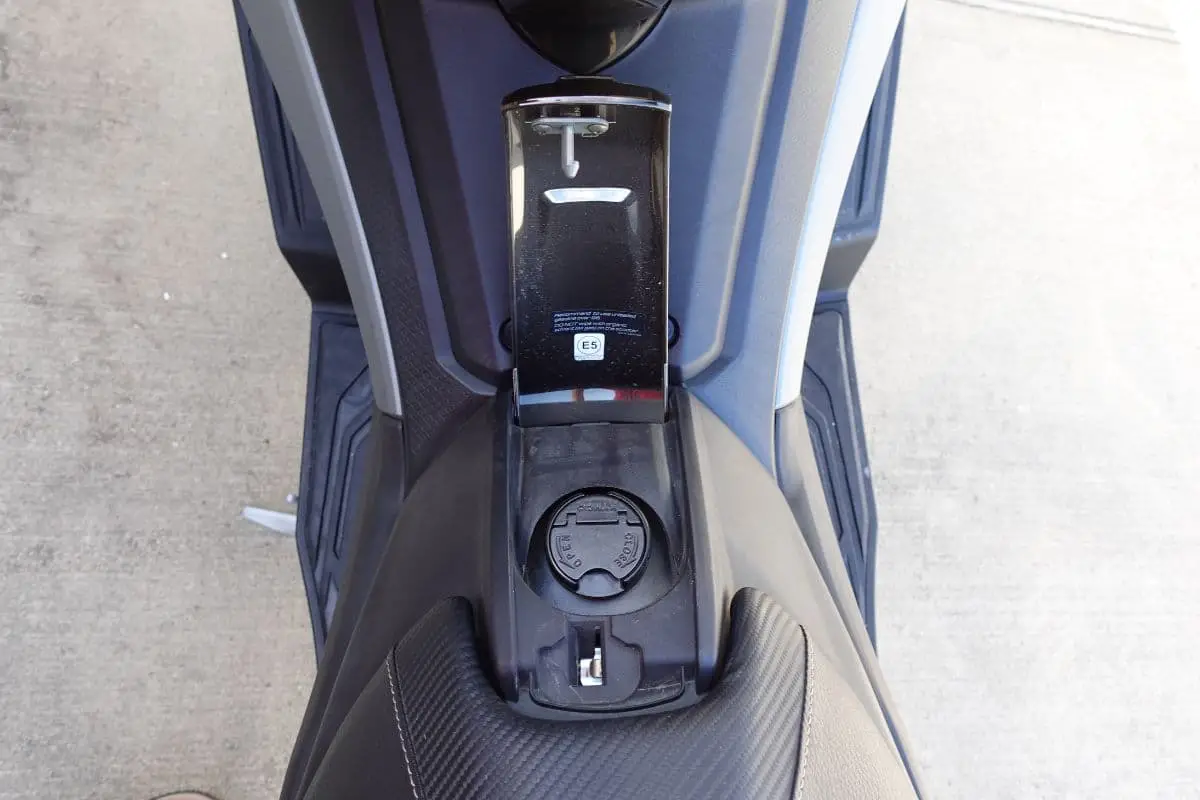 The tank has a capacity of 3.9 gallons. If you take that 61 mpg Kymco advertises & multiply it by how much gas, we're talking well over 200 miles to a tank. He had an inkling at how off something is, and he ran it dry once to find himself on the side of the road at 163 miles.
The next thing that raises his eyebrows is how the dashboard indicators tell him he is getting 70+ mpg (not the instant but the average).
Checking the miles per gallon is simply the amount of gas put in divided by the number of miles driven since the last fill up. The numbers are consistently different between the scooter's system & what he's seeing.
So just use what the scooter tells you for your miles per gallon as a guide instead of fact.
Servicing Notes
We bought the scooter in another town because this dealer already had one on the way. There are more local dealers, but they were not very optimistic in getting one in soon or just flat out did not want to deal with the big scooter.
This is not a big deal, but we didn't think about what this means to servicing. We do have more service options, but the one that is closest that we thought we would use REFUSES to work on the AK550.
Kymco makes more than just scooters, and a dealer that has more ATVs and such has been great to work with thankfully.
However, we have a mechanic in the house. Plus scooter service departments are not on every corner like you have for a car. That means it is quite the event to get the scooter to be serviced at all.
We envision we'll be doing the preventative maintenance, but we had to buy our initial oil filter through a dealer. I've since found filters online with 
This is a hang up Kymco in general. It is tough to find parts and accessories for Kymco scooters – Kymco branded or after market. It's a pain.
So far we've adjust the windshield, and we've hooked up winter heated gear to the battery. To get to the battery requires taking off the windshield. Read this again:
Anytime you have to do ANYTHING with the battery, you're taking off the windshield & such.
Problem? No. Irritating. Yes. It's 6 steps for the windshield, and then just the 1 screw to access the battery.
The windshield had to come off this week for the battery charger, so I admit to being a little dramatic. 😁
Where to Get Parts for the Kymco AK550i
You can certainly place an order through your local dealer or servicing department, but over the months we've had success in other places, as well.
The oil filter we're using is the KN-164. We've purchased it through RevZilla and CapriMoto. I had never heard of CapriMoto, but we've purchased twice through them successfully.
Another key reason I bring them up is that they seem to have more parts availability for the Kymco overall. We've also purchased the rear rack that attaches for a Givi box at CapriMoto. We couldn't find it anywhere else, so we were thrilled when it came in. Here's the link for the AK550i rear rack (but check your specific year on their site to be on the safe side).
The SAE oil recommended is 10W/40 MA for the Kymco AK550.
Summary
The Kymco AK550 is an exceptional scooter. It's definitely at the high end of what we expected to pay for a scooter – even a maxi one, but the daily commuter absolutely loves it.
There are some features he could care less about or would like to see a bit more out of it, but he's still a fan all the same!
Read more about the Kymco brand if you're unsure if Kymco scooters are reliable.
Be Seen & Be Safe, Scooter Friend!