Make a purchase using a link? We earn with qualifying purchases through Amazon & similar programs. Read more:
Affiliate disclosure
Scooters have an image of being easy-going, slow, and fuel-efficient vehicles that just putt on city streets. Gone are the days where that's the only reality as there are definitely scooters that go faster than 65mph!
We now have some scooters that are fast and can give riders the thrill that you normally think of as just for motorcycles.
If you are reading this, there is a big chance that you have a liking for two-wheeled vehicles and would not mind trying out a scooter.
Are you curious about how fast scooters can go and which scooter models can go that fast?
Are you looking to spend your money on getting a scooter, but you do not want to scoot around in the 30 mph range in a city?
Are you a lover of fast-moving, two-wheeled scooters and want to broaden your horizon?
Or are you a scooter enthusiast who is currently just looking at what your options are?
If any of these thoughts are are going through your mind, then you need to read this!
All of the scooters on this list will take you up to freeway speeds if that's where you want to be. Some of these scooters are on par with speeds you expect from motorcycles. They may not be as big or monstrous as motorcycles are, but they have what it takes to be compared to a motorcycle.
Come along & dive into the world of high-speed scooters with top speeds published by the scooter brands beyond 65 miles per hour from lowest engine size to highest.
Vespa 150cc Models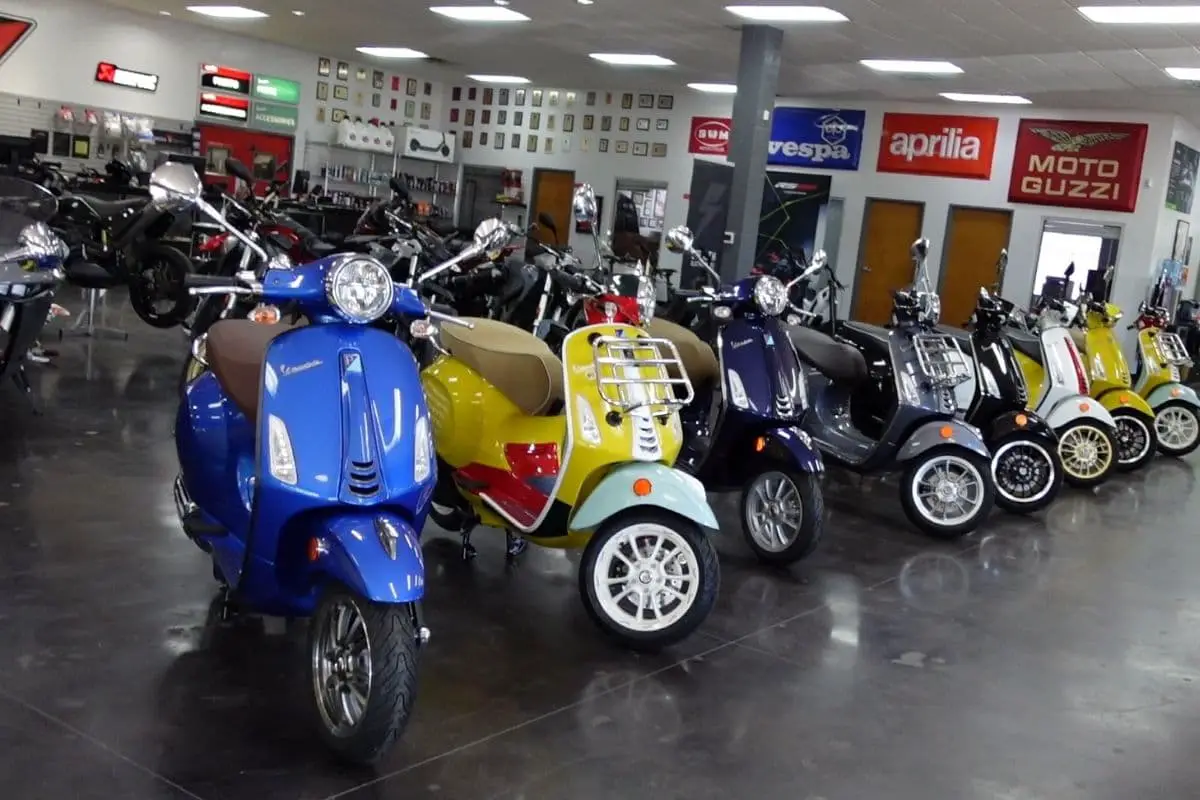 Most scooters with an engine size of 150cc don't go beyond 65 mph (according to the manufacturers at least), but Vespa does.
Vespa offers the Primavera and Sprint models with a 150cc sized engine that boasts a top speed of 70mph.
Although these models are the 'slowest' models on the list, you can certainly get up to highway speeds. Avoid hanging out at the top speed for a long time, though.
Plenty of zip on the low end & speed when you need it on the top end.
The GTS 300 is built on what is called a large frame, while the 150 Primavera and Sprint are built on a sturdy yet lightweight frame lovingly referred to as a small frame. You still get the smooth ride & iconic looks you expect from a Vespa with the ability to get up to highway speeds.
Unlike other scooters in this engine size, you get ABS equipped brakes more in line with the other high speed scooters in this list.
Suzuki Burgman 200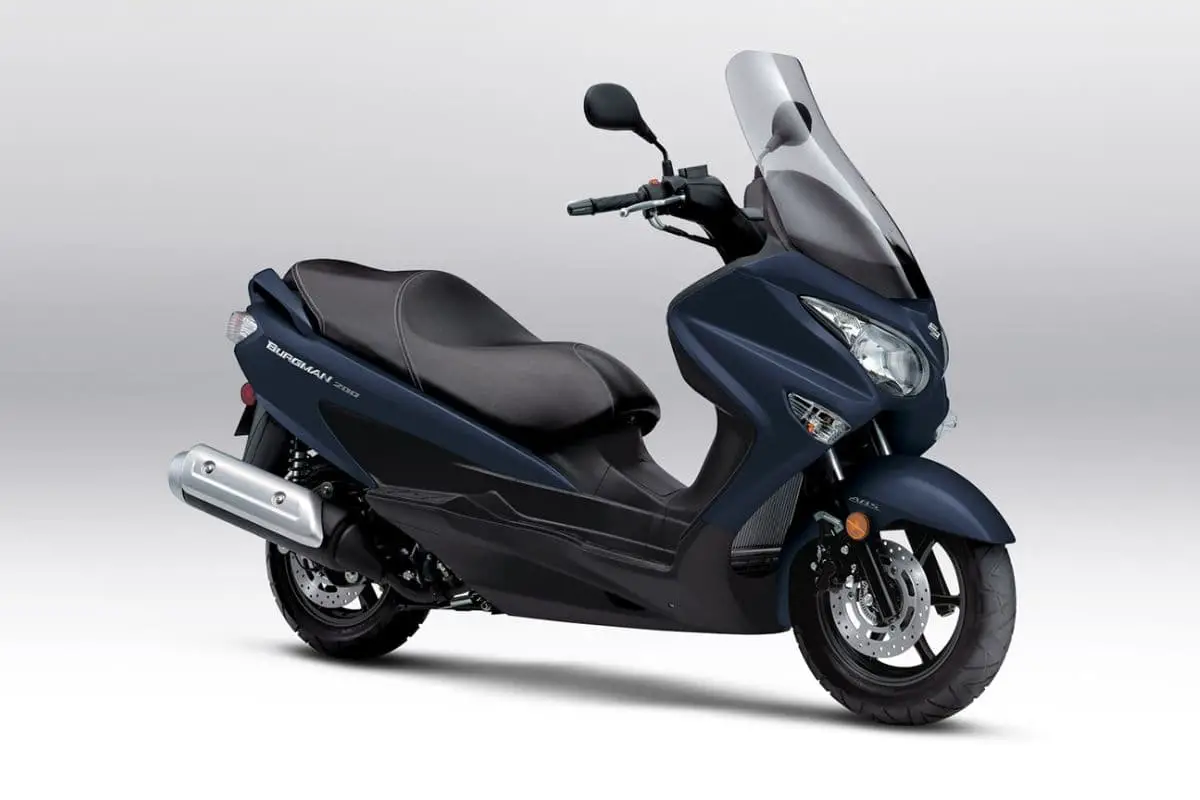 When you start talking fast scooters, you get a lot more than just extra power in the scooter. Great storage, smoother rides, and more. The Suzuki Burgman has 2 engine sizes with the 200 being the smallest – which is absolutely relative.
The Burgman 200 is still designed with the advanced technology for not only a safe but exciting ride & Suzuki publishes a modest top speed of the Burgman 200 model at 75mph.
In general, 200cc scooters have a top speed right at 65 mph, so while any 200cc scooter will touch 65, the Burgman 200 is the only one with enough horsepower available currently in the US that exceeds 65 on the top end.
Besides, the Burgman models have a smooth ride to go along with the 200cc, four-stroke engine. This motor scooter engine is powerful, and it delivers a strong performance with better fuel efficiency than the 400cc model we'll dive into later in this article.
Vespa GTS 300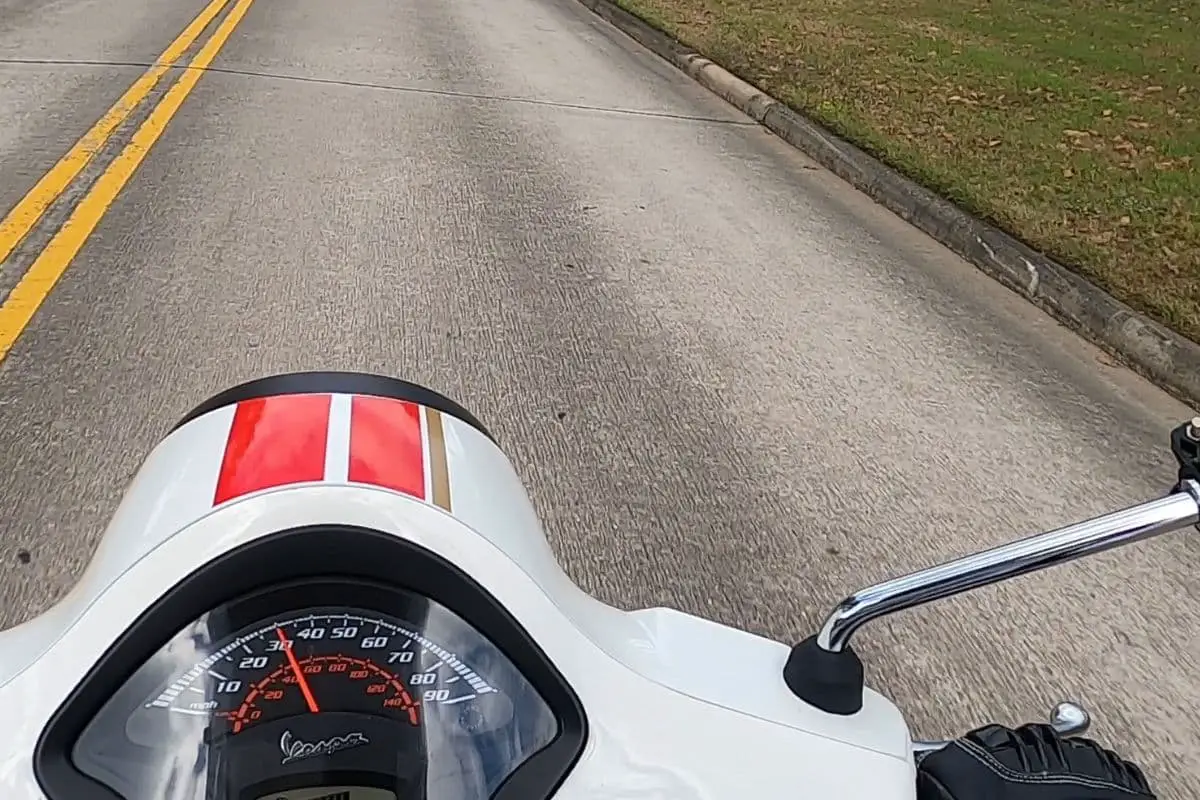 In this line of Vespa scooters, there are about 4 models with most of the differences around looks, color options, accessories & minor mechanical differences:
Vespa GTS Touring
Vespa GTS Super
Vespa GTS Super Sport
Vespa GTS Super Tech
No matter which you choose, these scooter models are sleek with amazing, classic designs that are powered with a 278cc engine that I've taken over the Vespa published top speed of 85mph myself, The GTS easily reaches speeds over 65mph.
The design combines a sporty look with vintage class. Gorgeous and speedy.
With brakes reinforced with an anti-brake system and Piaggio's ASR system to improve traction in sticky situations, it's a great, high-speed scooter.
These scooters are quite heavy and sturdy, making them fit for the high speed at which they can move.
Read more about Vespa scooters here
Kymco X-Town 300i ABS
Kymco offers 50cc scooters up to 550, and this middle of the pack engine size just doesn't do it justice. This scooter boasts top-notch sport-touring equipment at a value price tag.
This scooter offers both the power to ride on the highway and also handy enough for urban, agile riding. Ideal for city exploring AND out-of-town adventures, it is a perfect balance of flexibility and convenience.
Equipped with a liquid-cooling 276cc engine, the Kymco X-Town 300i scooter has a top speed published at 80mph.
More on Kymco brand scooters here
Sym CitycomS 300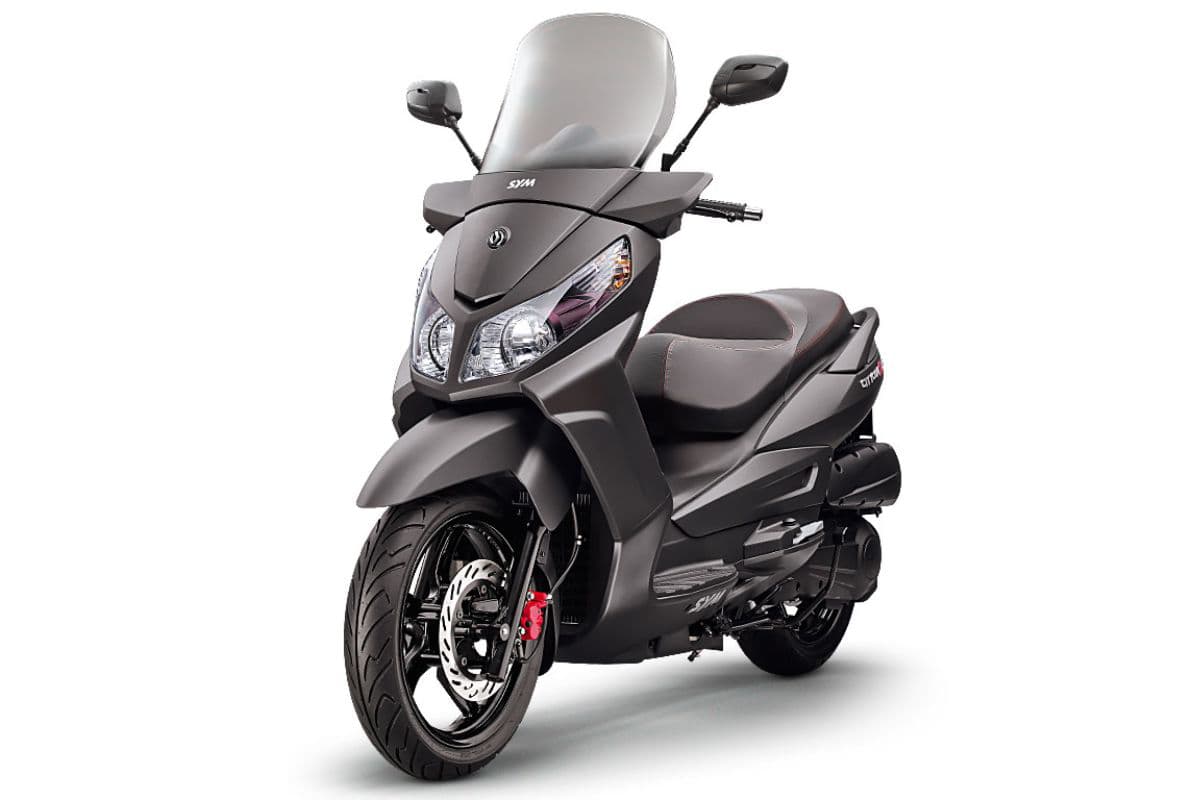 Sym scooters are affiliated with Lance Powersports. If you haven't heard of either brand, just know that this scooter is equipped with a 278cc liquid-cooled, fuel-injected engine.
The Sym CitycomS 300i has a top speed of 83mph with the best miles per gallon in scooters beyond that 150cc engine size. So it's slightly more fuel efficient & has the right speed – that's why it's on this list of scooters that go over 65mph!
BMW C 400 GT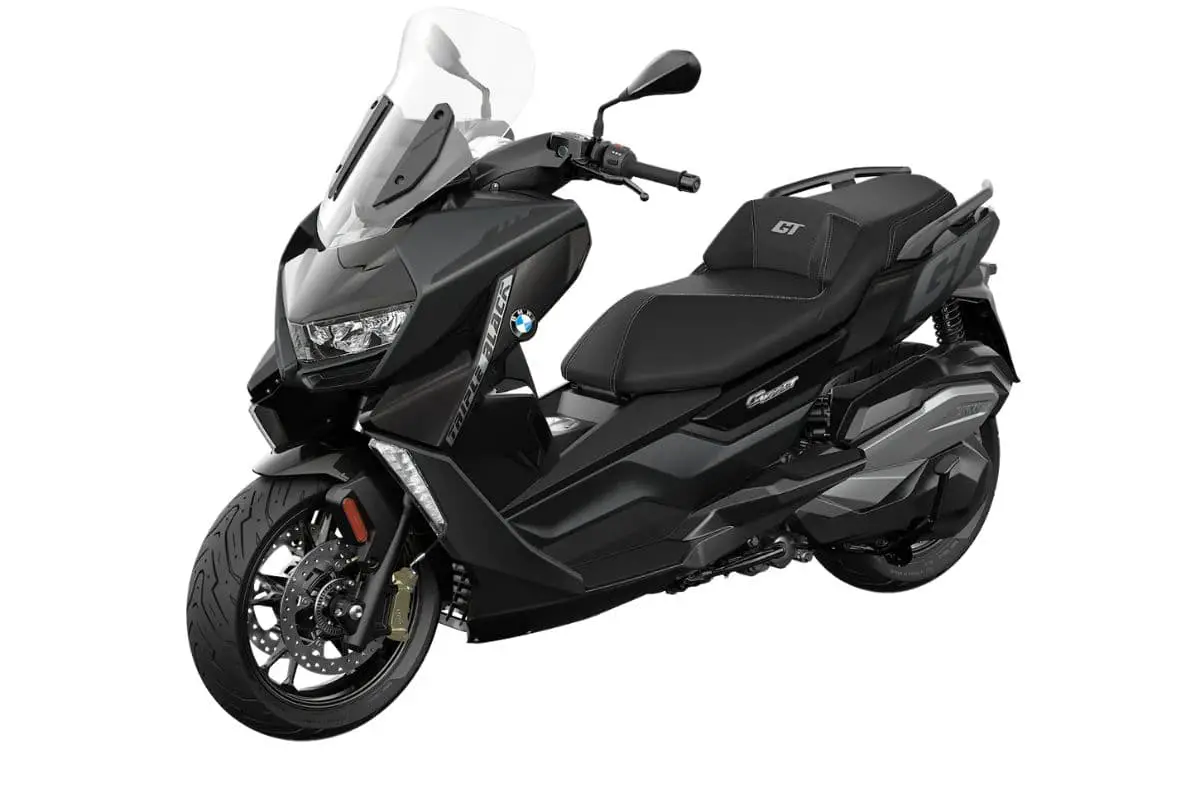 No other scooter brand distorts the line between a motorcycle and a scooter like the BMW. At first glance at this scooter, you will think it is a motorcycle. It is definitely NOT! It IS one of the scooters that go faster than 65mph, though!
The BMW C 400 GT is not like a traditional scooter. Its engine is large and really powerful. The C 400 GT runs at a top speed of close to 90mph. It also has an anti-brake system which prevents it from skidding.
This scooter has a huge feature set including keyless start, and all BMW motorcycles have a 3 year warranty. I love a good warranty.
Suzuki Burgman 400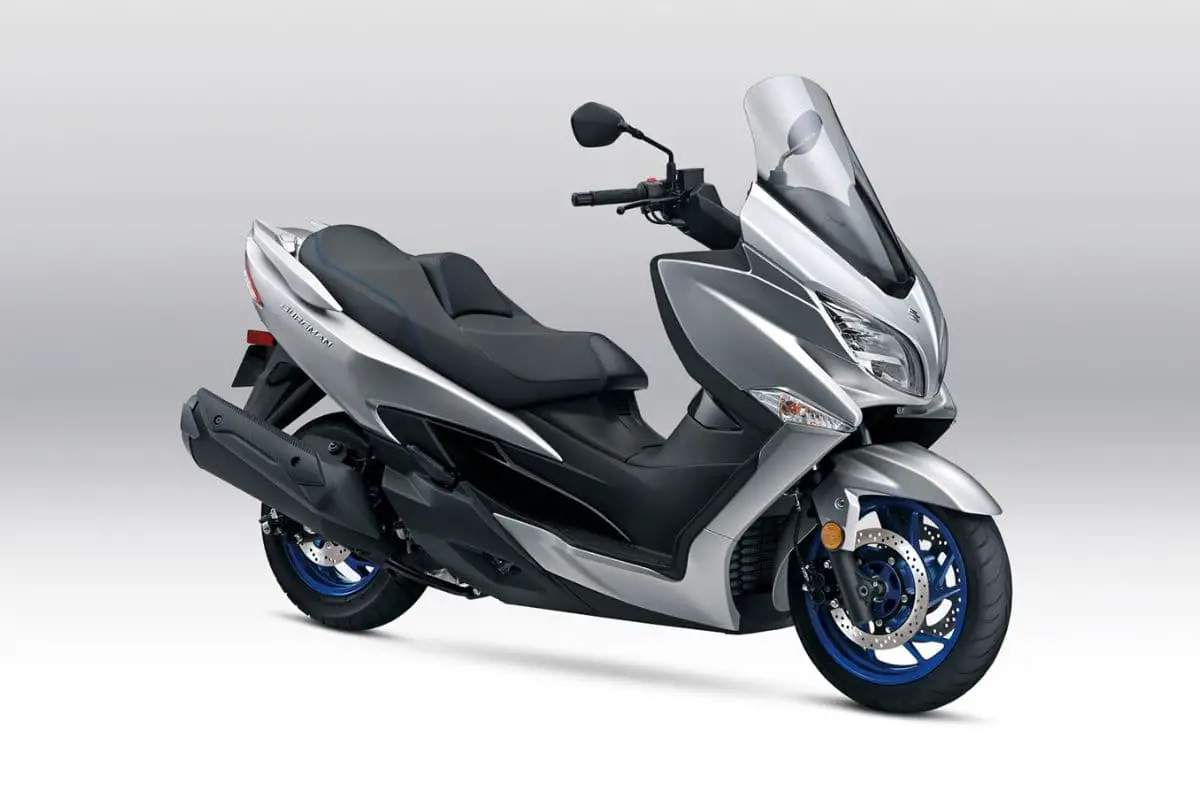 This is another powerful scooter made by the Suzuki brand.
You may feel like you've seen it in the list as it looks like its 200cc cousin, but the latest model have different colored rims to make some heads turn!
The 200 tops out at 75, but the Burgman 400 is powered by a fuel-injected liquid-cooled engine, with an engine size of 400cc. The 200cc difference gives the Burgman 400 a top speed of 95mph.
Its agile, sturdy frame, and large wheel size make it stable and ease the rider's mind.
Plus all storage and features that make this a luxury scooter make it an obvious choice for those looking for the higher end speeds.
Piaggio MP3 500 Sport Advanced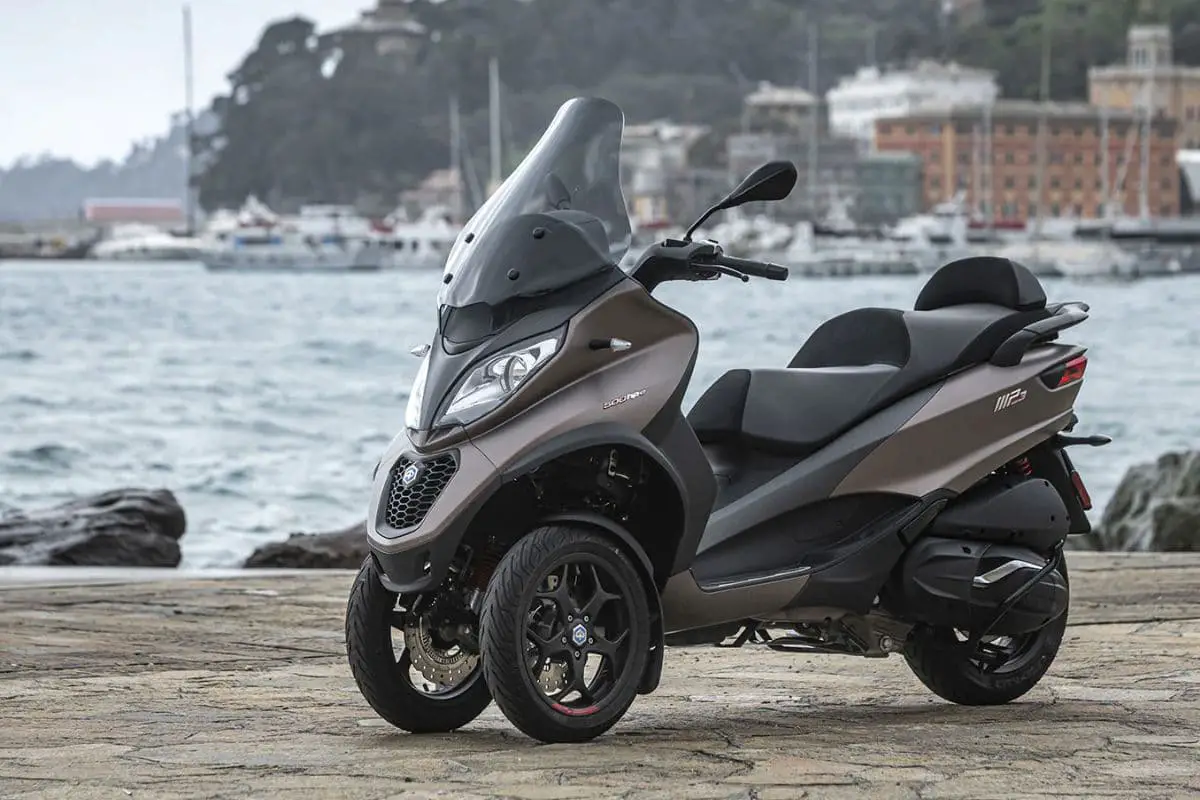 As the name "advanced," this scooter is an upgrade of what scooters look like. Unlike every other two-wheeled scooter, the Piaggio MP3 500 Sports Advanced is a three-wheeled scooter. This scooter gives its riders a feeling of safety, and it is definitely a head-turning design.
This scooter is different from other three-wheeled vehicles.
Instead of having one front wheel and two rear wheels, the opposite is the case for this scooter. It has two front wheels and one rear wheel. This design gives it more stability than the regular scooter.
Powered by a 493cc engine, this scooter can run at a top speed of 89mph. It has an ABS anti-locking system integrated with ASR traction control which prevents the rear wheel from skidding.
Kymco AK550
And finally. The largest engine size offered at this time – the Kymco AK550. This scooter model is equipped with a powerful liquid-cooled dual-cylinder engine with a displacement capacity of – you guessed it – 550cc.
Many on the road confuse this scooter for a motorcycle based on looks and size alone.
Empowered with a dual disc, Brembo caliper brakes make the scooter safe to ride at high speed. The brakes keep the scooter steady and agile while entering corners during rides, and it also delivers a smooth and stunning stopping power when required.
Kymco has published that the top speed on the AK550 is 90mph, but it definitely can go faster on the top end.
I hadn't heard of Kymco when I was new to scooters. In the same boat? Learn more about the brand here: Kymco scooters.