Make a purchase using a link? We earn with qualifying purchases through Amazon & similar programs. Read more:
Affiliate disclosure
I purchased a Genuine Scooter Company 2020 Buddy Kick in July of 2019. This is a Buddy Kick Review now that I'm just over 15 months into owning it plus a few thoughts on scooters I passed up to drive away on the Kick.
Genuine Buddy Kick is a popular scooter model known for its reliability and performance. With its stylish design and powerful engine, the Buddy Kick offers a smooth and comfortable ride. Whether you're commuting or cruising around town, this scooter is a top choice for those seeking a genuine and fun two-wheeler experience.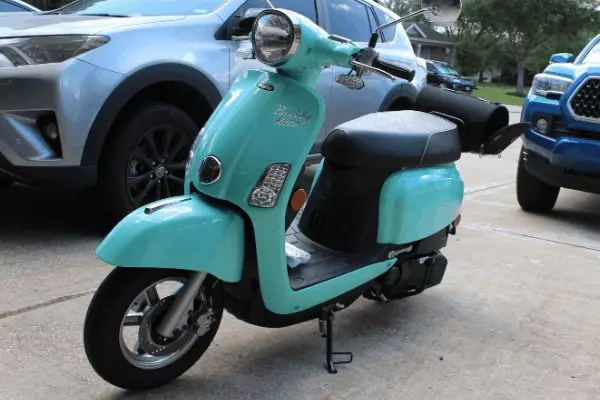 If you're in the market for other scooter gear, here are the products I recommend.
Specifications of the Genuine Buddy Kick
The Genuine Buddy Kick 125 is a popular scooter known for its efficient fuel consumption and stylish design, and you you can see full details for the kick on the Genuine Scooter Company site. I'm covering the features that attracted me to this scooter specifically.
Speed Needs: The Buddy Kick is designed for scooterists looking to ride around in the 45 miles per hour (mph) speed range.
Looks: This scooter has the classic Italian styling that screams everything that I think I scooter should look like.
Mechanical Stuff: It has electronic fuel injection to be more forgiving it I let it sit up. Disc brakes are on the front and rear. No ABS/CBS. Dual rear shocks. 2-year warranty + 1 year of roadside assistance through the dealer for someone else to deal with mechanical if something came up)
Physical Size: Seat height is 29 inches, and the tires are both 10 inches.

Why I Chose the Buddy Kick to Begin With
So to determine what scooters to test out, I made a spreadsheet to compare feature sets. Check out this guide to learn more about the features of 50+ scooters and that big ol' spreadsheet in this Scooter Buying Guide.
Before I even drove down, I had my choices narrowed down to 3 (Buddy Kick, Buddy 170i, and Kymco's Like 150i). All had the right speed capabilities, good fuel consumption around 100 mpg, had the electronic fuel injection, and were all that classic scooter style I wanted.
Size
The Buddy Kick has the shortest seat height of all the scooters in the 125-169cc range. I'm 5'6″, and my feet firmly planted on the ground at a stop. This made me feel VERY much in control of the scooter since I was VERY nervous riding back then.
It feels very balanced whereas some scooters somehow feel top-heavy. The Buddy Kick just feels so stable.
Storage
I also love the storage of the Buddy Kick. There is a 'glove' compartment that is not covered or locked. I simply toss my phone, garage door opener, or anything else to grab and go right there in the compartment. It is so much easier than dealing with a box to open and close.
There is also space for a drink (hello, coffee) in the compartment which is not common for all scooters. It's best to get a double lid to keep spills from landing all over the footboard as the ride can be a bit rougher than a car, after all!
The last storage feature I like about the Buddy Kick is the hooks or knobs. There is a hook for a small bag above the footboard. I've only used it once, but it was certainly handy. I also like being able to hang my helmet on the knobs that are in the under-seat storage compartment. Essentially, this keeps my helmet from walking off. It would be nice if a full-face helmet fit inside of the box, but my medium full-face helmet does not fit inside. I hang my helmet on the outside, and I stuff a bunch in the storage compartment instead. Between that and the rollbag on the rear rack, I can tote around quite a bit.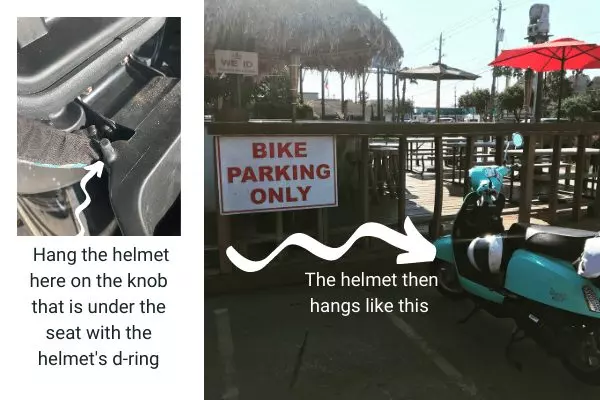 Security
When I was researching scooters, I did not know anyone with one at the time. However, I kept running across forums talking about guys cutting locks, loading them into a pick-up, and the scooter is gone that fast. The features on the Buddy Kick made me feel a bit better than if someone took off with my scooter, that it would make their life a little bit harder at least.
I believe all scooters have a steering lock, so you turn the key a certain way, the steering column to the left, and when you remove the key, the scooter's steering column can't be moved straight.
Another feature the Buddy Kick has is a key shutter. It's essentially a flap that covers the keyhole to prevent someone from messing with it when you're away. You use the key to pop it back open.
The Buddy Kick also has a 'kill' switch on the inside of the under-seat storage compartment that you can flip off as another deterrent.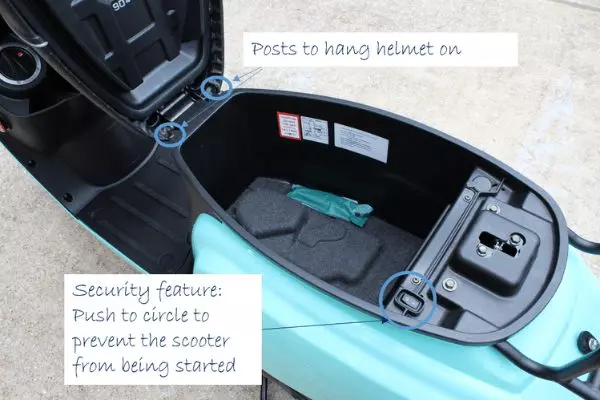 Do I think these things are foolproof? Nope. I just like the idea of being a pain in the behind (even just a little) if someone is going to mess with my scooter.
Buddy Kick Review Thoughts At 15 Months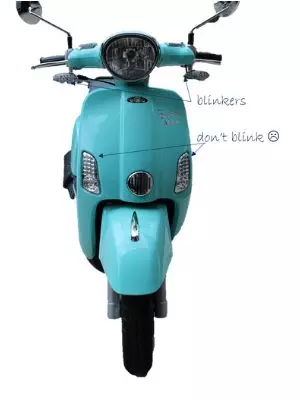 I have had ZERO problems with the Genuine Buddy Kick scooter. It hasn't been in the shop beyond the break-in window maintenance, and I've never been stranded.
Genuine states that the top speed of the Buddy Kick is 55 miles per hour (mph), but I have seen 63mph with more to give. I simply get too nervous to go faster because hello, 10-inch tires. The Buddy Kick has a lot of get-up-and-go!
I hate the turn signals that are required. I keep meaning to hook up the originals because the required ones leave something to be desired….
I have also discovered that I like the placement of the gas cap. It requires a bit of pressure to pop it open with the key, but I appreciate not having to access it through a compartment of some kind.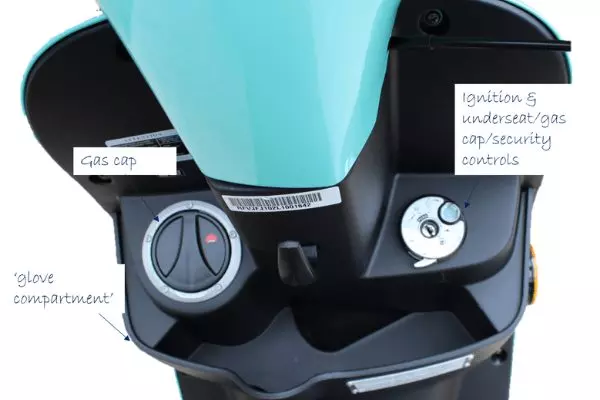 How Do I Use the Buddy Kick
If I am not toting a kid or large supplies, then I'm on my scooter. I use it for grocery shopping, commuting, and social engagements. I strap a yoga mat to the rack for workouts outside, and I have been pleasantly surprised by what I can tote for groceries with just an aftermarket rack and rollbag pretty much always on my scooter. Only once have I had to use the little bag hook outside by the front compartment as an overflow, but it worked out!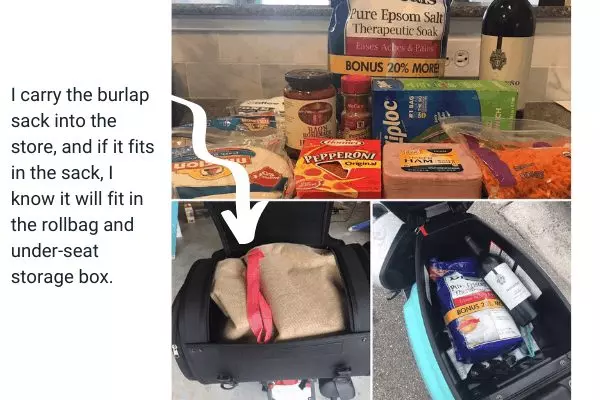 Cons of the Genuine Buddy Kick
Now that I'm a more experienced rider, I wish I had gotten a scooter that can do freeway speeds. That isn't the fault of the Kick, though.
I drive around a Kymco Like 150i from time to time, and it is a smoother ride than the 10″ tires of the Kick. The Like has a much more refined ride comparatively, but the Like isn't nearly as much fun as the kick!
The compartment drink holder was a selling point for me, but it really only holds a coffee. It can hold a soda-style can size-wise, but it was a little awkward the one time I put a medium fast-food sized drink in the holder for a short trip. Also, because of the bumpy ride, expect coffee to say hello to your floorboard to varying degrees. Seriously double-lid it to minimize that problem.
Other Scooters Considered
Buddy Kick versus Buddy 170i
I also planned to consider the 170i with the only major feature difference from my spreadsheet being the 170i has disc brakes on the front, drum on the rear, and then the 170i has a larger engine.
First, I didn't enjoy the look of the Buddy 170i right off the bat compared to the Buddy Kick. Second, the dealer explained that Genuine essentially put the electronic fuel injection on old technology and that they Kick was more fun to ride. I agree with the 'more fun to ride' for sure! Also, the 170i cost a little more, and I didn't feel like it was worth paying extra for.
I just preferred the Kick.
2020 Buddy Kick versus 2019 Kymco Like 150i ABS
I honestly expected to walk out of the dealership with the Kymco. On paper, it had all the features I wanted for $200 less PLUS ABS brakes and slightly larger tires. I'm all about the value!
However, I didn't even drive the Like that day. I sat on it, and I didn't like the way it felt. Opening and closing components of the Like also felt very cheap. It just didn't feel like a fit even though I just knew I was getting a Like that first day!
I plan to write a full review of the Like shortly. Spoiler alert: My husband drove off with the Like 150i. Obviously, he felt differently about that scooter after doing some shopping with me over weeks. Oh, and he did not go in looking to buy a scooter at all.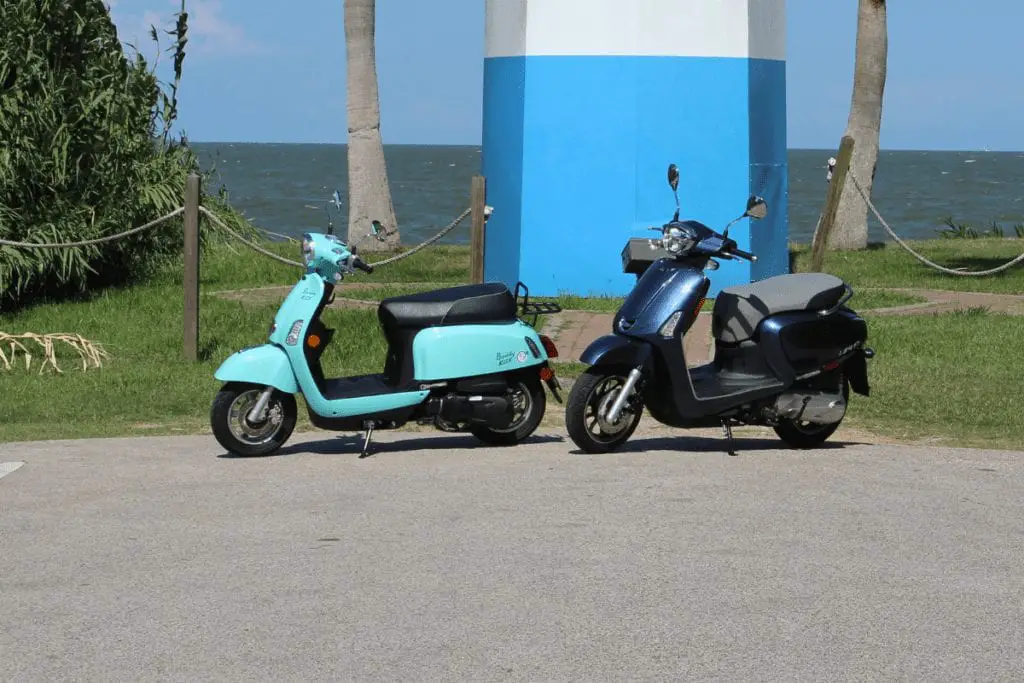 I Don't Say the Kick is the BEST Scooter for Commuting
One of the important things to me when choosing a scooter was one that had the classic Italian styling. If I had my eyes closed, I actually walk through why I rank the Piaggio Liberty 150 as the best scooter for commuting in this post. Some of that comes from knowledge after commuting for a bit, but I still rank style and price very highly in a selection!
I do, however, rank Genuine Scooter Company scooters as a top scooter brand, though.
Be seen and be safe, scooter friend!