Make a purchase using a link? We earn with qualifying purchases through Amazon & similar programs. Read more:
Affiliate disclosure
Vespa is seen as an icon in the world of scooters. They are not only beautiful, luxurious scooters, but one of the things that makes Vespa special is also what makes it practical – the storage possibilities.
Vespa scooters have built-in storage in the underseat storage box, a glove compartment and a bag hook. Racks and additional boxes, crates, and bags add to the storage capacity.
Although there is storage space on Vespa scooters, it is important not to overload the scooter. Check your Vespa scooter manual to know your scooter's weight limit.
Built-in Storage on a Vespa
Under-seat storage
This is the most obvious storage space that you can find on a Vespa scooter & is a true hallmark of a scooter vs a motorcycle.
All you need to do is flip your scooter seat up to find a large space. While full-face helmets do not fit, you may be able to fit a 3/4 depending on the year, model and size of your helmet, and a half helmet can be reasonably expected to fit.
This area can get a little warm from the engine, but you can also store bags like a purse or from the grocery store.
Once you access this compartment, you'll also get access to the posts that let you hang your helmet off the side using the D-rings on the strap of the helmet.
You'll find that bags like a briefcase won't fit, but I'll pull items out of a bag to make the best use of the space for day-to-day items.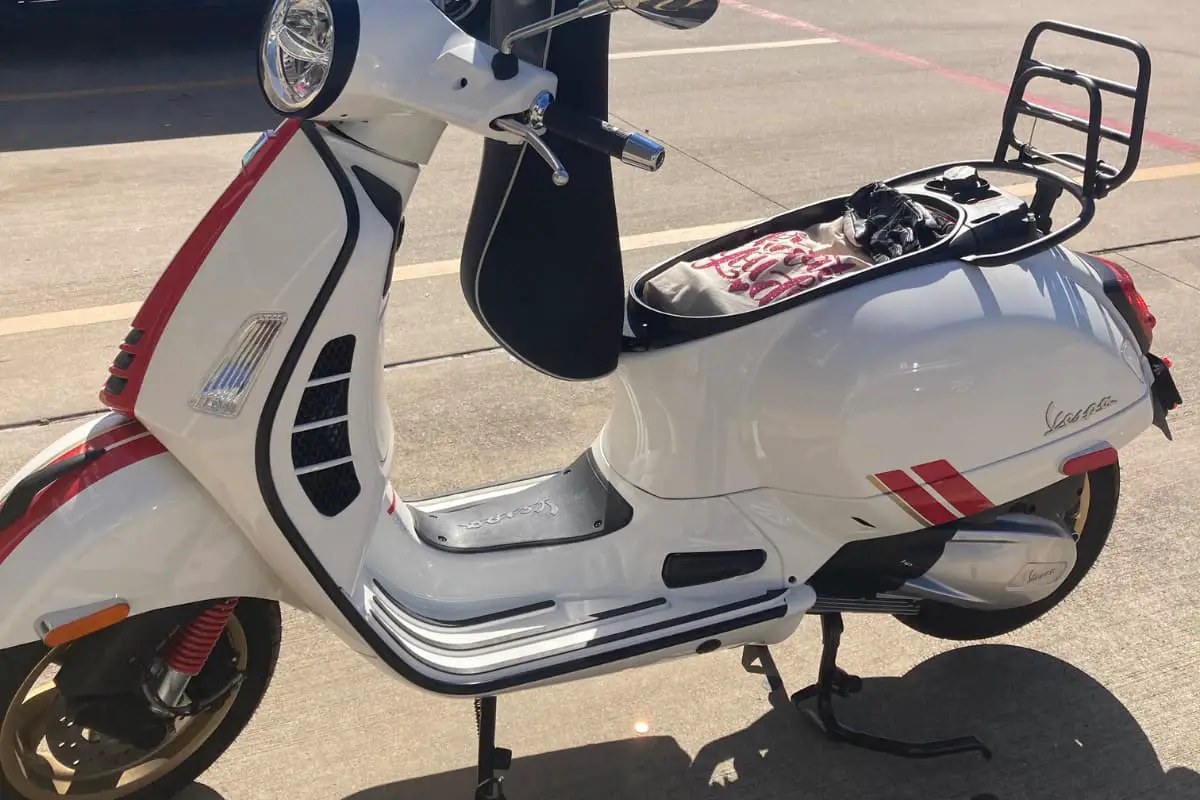 Glove box
Most Vespa scooters have a closed glove box in their front panel of the leg shield. You can open the glove box by inserting the key, turning it to the right and then pushing the key inward. This action will flip the glove box open, and you'll have a narrow spot to store items.
Below is what is in my GTS right now. A deck of cards, wipes, and I tend to throw my phone into this compartment.
HOWEVER, this area gets hotter than the underseat storage box, and my phone went into the I'm-too-hot mode on a long ride in the summer.
Some models like the Vespa Electricca and GTS models after 2015 have a USB jack power incorporated in the glovebox. You can charge your phone this way inside the glove compartment or run a charging cord from this port to the phone holder or GPS unit you use while riding.
Bag Hook
You aren't storing anything out of site with this, but a bag hook gives you a spot to hang a back just off of the handle bars and above the glove compartment.
The hook can be used to secure a bag while you are riding. You will want to make sure it is attached well and not too heavy. Any hiccups while riding can make it less safe for you while out & about, after all!
I will add that a purse isn't a good candidate for this spot unless the straps are short enough. My crossbody bag hits the floorboard & is in the way.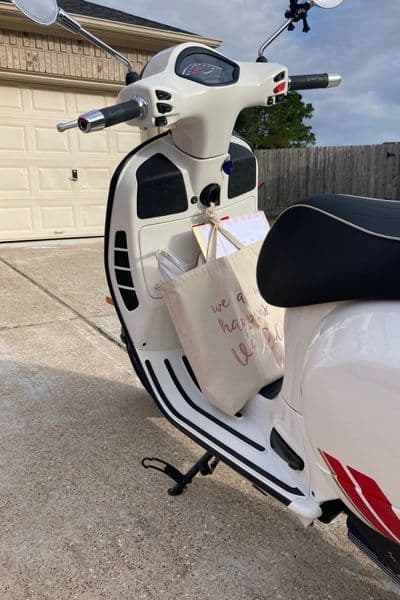 Floorboard
The floorboard of a scooter is mainly for your feet, but it can also serve as another storage option. Vespa scooters have floorboards with enough space for both the rider's leg and a little load that sits in between your feet.
Additional Vespa Storage
By adding a rack to the front and rear of the scooter, you buy yourself some more storage options.
Racks can be used to haul even without an additional storage option. I tend to carry a fitness mat for bootcamp and picking up items like a saw for my husband's birthday with careful strapping.
Regardless, you'll need to be aware of the weight limitations of the rack.
I carry around bungee cords and mesh nets like these from Amazon to attach items to the scooter or racks depending on my needs.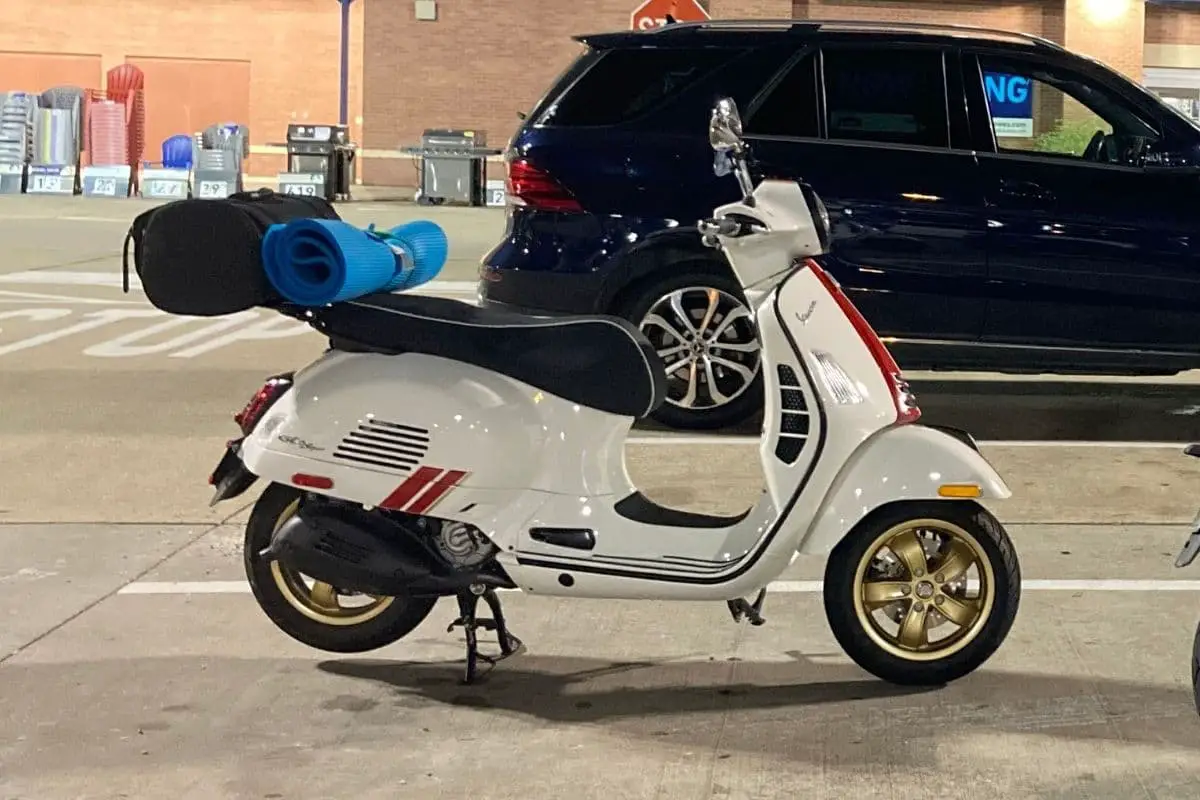 Top box
This is a scooter accessory that you can place on the rear rack. A top box like this one at Revzilla is big enough to store a full-face helmet but not so large that it feels wrong on the scooter.
Unlike other storage accessories, the advantage of this is that it is waterproof and will prevent your things from getting wet.
I also like the MonoKey Givi boxes as they can be locked on & taken off quite easily, too.
You can get a Vespa top box that comes in the same color as your Vespa frame to look like it's a part of the scooter. They will fit your helmet and look great, but they won't uninstall & install as quickly as most of the Givi options.
Along the same lines are roll bags or even a crate.
My roll bag isn't waterproof without it's cover, but it's very flexible with what I can fit in it. 3 Medium pizzas and a host of groceries for the family.
A crate isn't waterproof either, but it's nice not to have a top sometimes if you need to carry something a bit taller. You can also use that mesh net to make sure none of the cargo of your crate wants to fly out!
When all else fails (or if I'm too rushed or lazy to put the bag or box on), I'll grab a backpack. When commuting for work, I carry my laptop in a backpack like this one on Amazon that is water resistant.
Does a Helmet Fit in the Vespa Storage Compartment?
Not all helmets can fit into the storage space under a Vespa seat.
In general, a half helmet or open face helmet will fit in a Vespa's storage compartment, but full-face and modular helmets will not.
Note that the under-seat storage space varies with models so. If you want to get the perfect helmet that will fit into your storage space, you may want to go with your scooter when you want to get a helmet.
You can store your helmet in an added top box, on the D-ring with a cover if you're worried about rain, or bring it with you. There are backpacks made to accommodate a helmet if you need, as well.