Make a purchase using a link? We earn with qualifying purchases through Amazon & similar programs. Read more:
Affiliate disclosure
Vespa scooters have been gracing streets around the world for years! Spawned out of a world war, it's an obvious questions – are Vespa scooters still made?
Vespas are still made. They are a brand of motor scooters that were not sold for 2 decades in the United States but reentered the market in 2001.
Vespa is an Italian scooter brand that coins themselves as making a luxury scooter. They are more than just scooters, though.
They are icons that represent the Italian culture. Vespas are unique, luxurious, and reliable scooters. Vespa scooters are well-known, and over 1.6 million have been sold worldwide.
Vespa: Then and Now
The Italian company Piaggio Group (Piaggio and co SpA ) owns the Vespa scooter brand.
This company is an Italian scooter, motorcycle & moped manufacturer that produces sturdy vehicles under seven brand names, among which Vespa is one of them. The names of the other six brands are; Aprilia, Derbi, Gilera, Moto Guzzi, Scarabeo, and Piaggio.
> Price of Vespas <
Vespa Manufacturing
The company's headquarters is situated in Pontedera, Italy.
Vespas intended for European and American sales are still primarily assembled from their facility in the town if Pontedera, Tuscany, Italy which is near Pisa. Depending on the market and model, they are also sourced from global facilities that include in China, India, and Vietnam.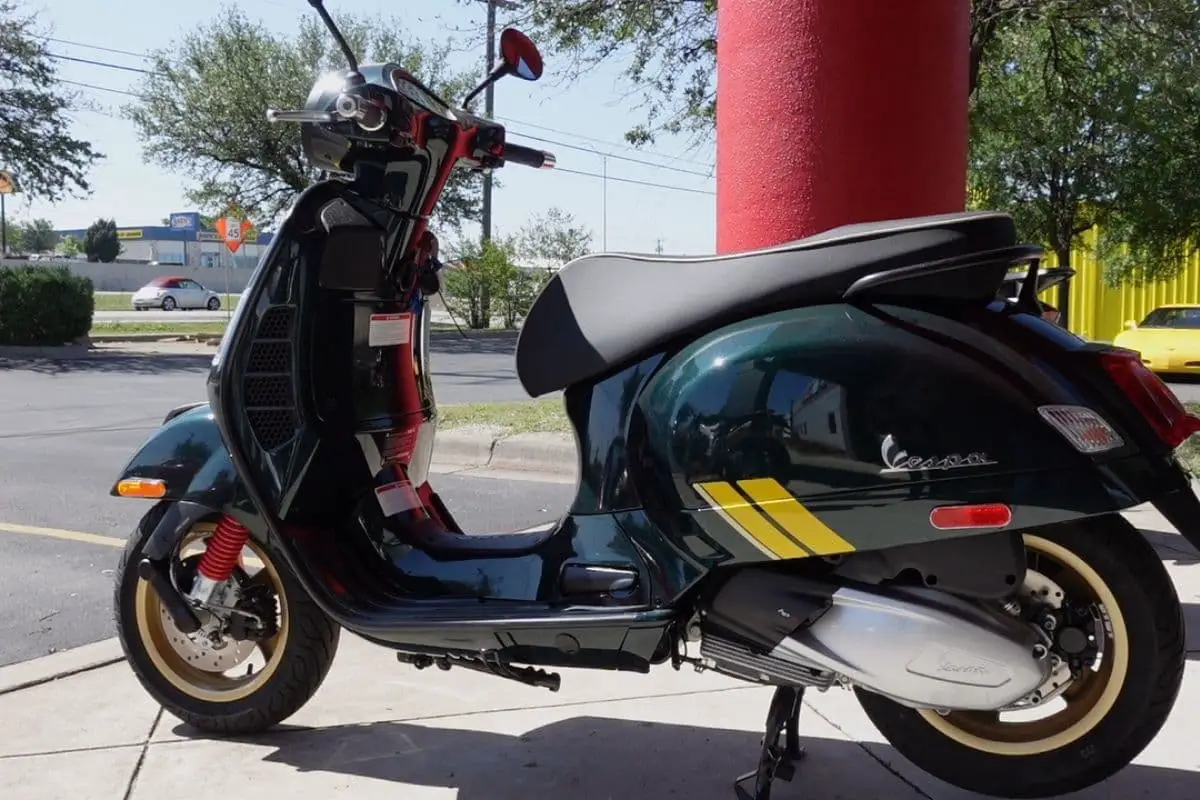 Brief History
Rinaldo Piaggio founded the Piaggio company in 1884 and started by manufacturing locomotives and railway carriages. Still, around the end of the first world war in 1917, he turned his attention to manufacturing anti-submarine boats, airplanes, and seaplanes for the military.
Between 1934 and 1939, Piaggio had grown to become the top plane manufacturing company. And after the death of their father, Enrico and Armando Piaggio inherited the business.
Enrico Piaggio decided to digress into the more common mode of transportation for the masses rather than aircraft production at the end of the war – the country's infrastructure and economy were in disarray. He came up with scooter production as there was a shortage of low-cost transport.
Vespa was founded in 1946 after the second world war. Coradino D'Ascanio invented the first 98cc scooter, and later that year, a 125cc Vespa scooter was invented.
The first Vespa scooter produced had an engine with 98cc displacement. The highest speed it could reach was 60mph.
They were sold in the United States in a partnership with Sears, Roebuck & Company initially under the Sears Allstate Cruisaires brand.
They eventually split & opened their own Vespa-branded dealership in 1955, but competition, lawsuits, and the desire for more environmentally friendly regulations led to a gap in sales in the US from 1981-2001. 
Since then they have been produced and morphed into what you see on the road today.
Vespa Models
Vespa definitely has plenty of vintage scooters running around, but they continue to innovate with their iconic designs with a model line-up that also includes an electric scooter now.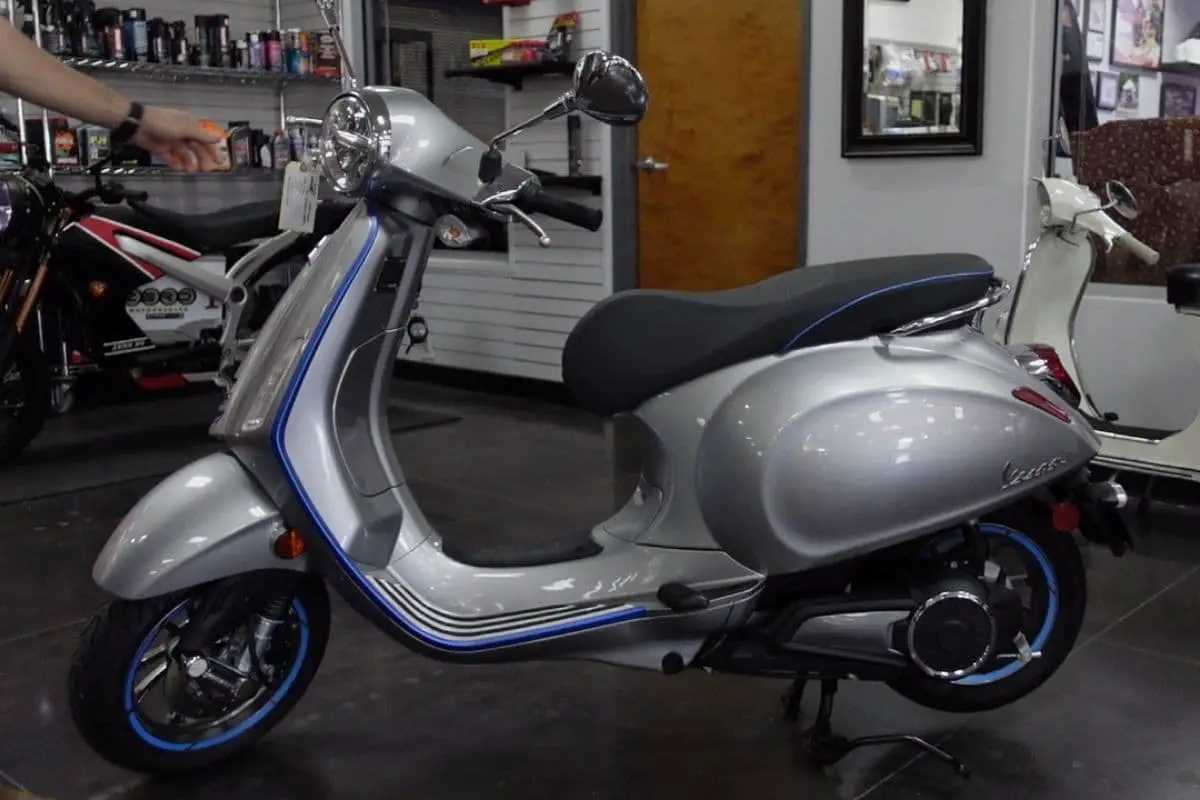 Vespa Primavera
This Vespa model is the first scooter model that was regarded as classic, and you'll find it working the retro yet modern vibes still. This line-up has the most color from Vespa including mostly non-black seat covers.
It was introduced in 1968 in response to the youth's quest for freedom and social independence. In recent years the Primavera has been sold as a 50cc engine or a 150cc. However, a 125cc has been introduced in the US in 2022.
Current versions under this model include:
Primavera 50: 50, S (Sport), Touring, Pic Nic
Primavera 125: 125, S (Sport), Touring, Pic Nic, RED
Primavera 150: 150, S, Touring
There have also been other versions in the past such as the Yacht Club. Each model and version tend to have specific color combinations.
While the differences between a 50 and a 50 S are minor, the color choices between the two won't feel minor! 
Touring is the standard version of the model except a front and rear rack along with a small windshield are included. If you were to add Vespa branded racks and windshield on a standard model, you'd spend more, but the Touring comes in a single color – currently a gray.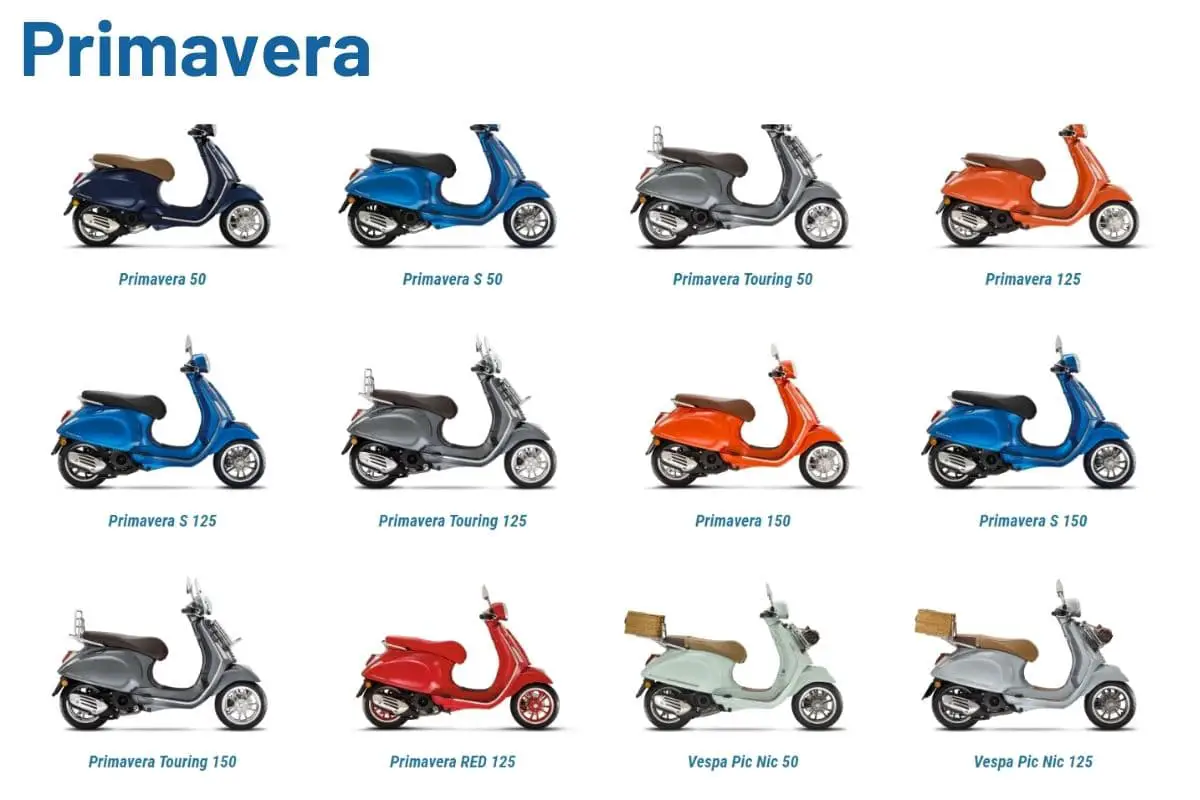 Vespa Sprint
Think of the Sprint as the Primavera's sportier cousin. If you put the technical specifications side-by-side, you won't find a difference.
You will find some differences in the colors offered, a 7-spoke rim over the 5-spoke Primavera, with more muted, sportier coloring (including black seats).
Current versions under this model include:
Sprint 50: 50, S, Justin Bieber x
Sprint 125: 125, S, Racing Sixties, Justin Bieber x
Sprint 150: S, Justin Bieber x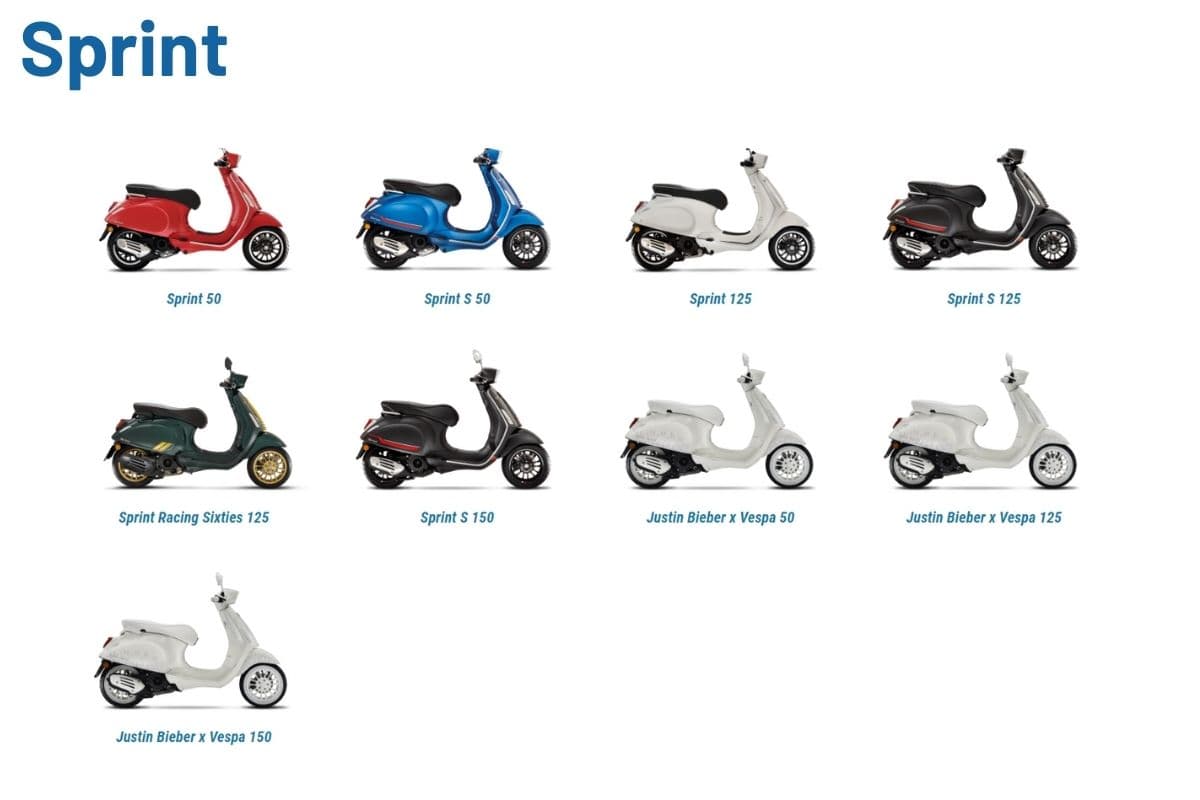 Vespa GTS
Designed with one of the most powerful engines, but if you've spent anytime on the Vespa website, you'll see they classify the GTS and the GTS Super as completely different models. Both have the same engine and are the large frame.
The frame of this model is made with a modernized frame and LED light to improve the rider's safety. This scooter model is designed with the rider's comfortability and safety in mind. The engine displacement of these scooters is 278cc, but in 2022, a 125 was also introduced under the GTS models.
Current versions under the GTS model include:
GTS 300, Touring, and 75th Anniversary edition
GTS 125, Touring, and 75th Anniversary edition
Current versions under the GTS Super include:
GTS Super 300, Super Sport 300, Racing Sixties, and Super Tech
GTS Super 125, Super Sport 125, Racing Sixties, and Super Tech
SuperTech models refer to the Bluetooth technology via an app called 'MIA' that includes a TFT display system. The engine displacement, however, remains the same as non-Super Tech models
They have special models from time to time, like the Notte (matte black packaging) and Yacht Club.
Vespa Electtrica
Vespa decided to go into the electric field with this model. It is rechargeable with a 220V outlet for 4 hours and can run silently for over 60 miles. This model comes with the Super Tech Bluetooth connectivity using its TFT displace and Vespa MIA feature which means you can connect it to your smartphone.
It is suitable for urban transportation and is low maintenance. Its electric motor has an engine displacement of 4.2 Kw/h
Vespa 946
This model is dedicated to the first Vespa scooter that was ever made in 1946 & literally a play from the year.
Some other Vespa models include Vespa PX, Sei Giorni, Granturismo, LX and many more over the years!
Fun Facts About Vespa
Do you know?
Manufactured by Piaggio Group, think of them as cousins with the Piaggio brand you will see at dealers.
They call themselves an Italian luxury brand.
Vespa means Wasp in Italian (and even in Latin)!
Have made138 models/versions since created.
Wrap It Up
With over 75 years of scooter manufacturing, Vespa is certainly a world-renowned, luxurious Italian brand that sets a bar that other scooter brands have followed.
Vespa shouts luxury and is particular about the aesthetics of the scooters. However, they still prioritize the efficiency and power of the engine, the sturdiness of the scooter's frame, and the overall riding experience.
Be Seen and Be Safe, Scooter Lover!