Make a purchase using a link? We earn with qualifying purchases through Amazon & similar programs. Read more:
Affiliate disclosure
So you're looking to find the most value for the best scooter for your money? Scooters really do run anywhere from just under $1,000 for those not known to be quality and can top $10,000 for all the bells and whistles.
So if just under $1,000 is the cheapest, where is the middle ground to get a good scooter without spending top dollar? Good news! You don't have to even spend $5,000 to find the middle ground on a scooter with good features for the money.
The Genuine Urbano 200i is the best scooter for the money when it comes to features to price with an MSRP of $2,799.
If you're not quite sure what to look for in regards to picking out a great scooter that meets your needs, I've put together a guide to help you understand the features to look for. Check out the guide here, and if you scroll to the bottom, you'll find a spreadsheet to help you compare each scooter by the features you care about (with a YouTube video to help you navigate it if spreadsheets are foreign to you).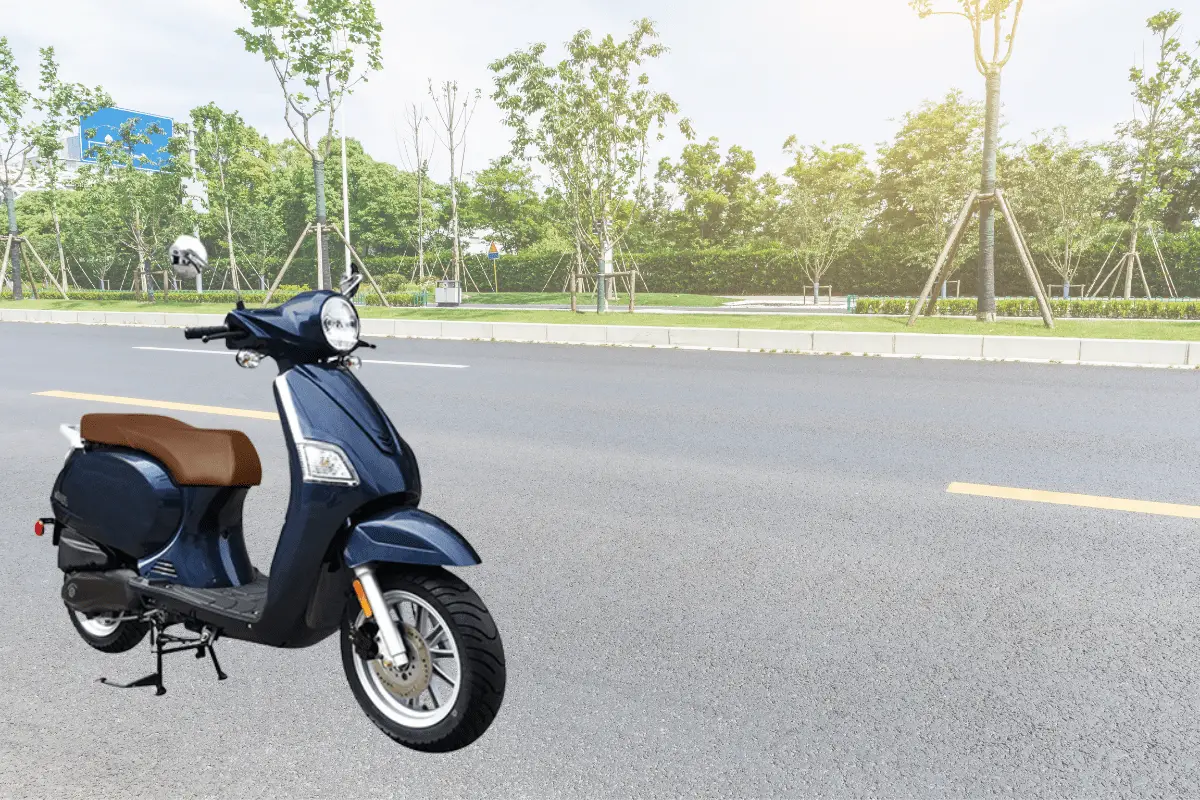 I get that this is a personal decision, and some folks really like the sporty look of a scooter over just a value conversation. Read on to the bottom for the runner up best value sporty option – the Kymco People.
Features That Make the Genuine Urbano 200i Stand Out
The prior year model best scooters for the money were right at $3,000, but the newly released Genuine Urbano has an MSRP of just a hair under the prior year winners at the $2,800 mark.
In addition, the Genuine Urbano 200i has the following features:
Electronic fuel injection
169cc engine size
4 stroke (standard for this engine size)
80 miles per gallon
Disc brakes on the front & rear
Top speed of 65 miles per hour
USB charger
12 inch tires (front and rear)
24 month warranty
average seat height
To help illustrate why the Kymco is the clear winner as far as value goes, let's walk through those features and where the value comes into play.
Engine Size
Engine size is a BIG factor in the price of scooters, so there is no sense in paying for more than you need.
However, it is VERY common for someone that buys a 50cc engine size to quickly look at what it would take to get more power from their scooter or to be looking to upgrade to a larger engine size to hang out in that 60 miles per hour (mph) range. A big factor in staying safe on your scooter is to go the speed of the vehicles around you.
That's why when I compare scooters to find the best value for your dollar, I generally stick with engines at least 125cc up to 200cc as being enough oomph for a rider without paying for more than you need.
The average price of a scooter in this engine size range (125-200 cc) is $3,190, so the Genuine Urbano 200i is a great buy against the competition in the range.
You can expect to see a top speed of around 65 mph out of the stock Urbano.
Braking
Motor scooters at a minimum will come with a combination of disc and drum brakes. However, having disc brakes on both the front and rear is a step up, as well as, adding CBS (arguably) and ABS support.
The higher the engine size, the more likely a scooter is to have the 'upgraded' braking support. However, in the 150-ish cc range, you'll find a broad range in brakes across the scooter choices.
The Urbano has the disc on both the front and the rear.
If having ABS brakes is important to you, you may want to skip down to the runner-up section (that will admittedly cost more, as well). If you prefer the more classic look and want CBS, check out the Sym Fiddle III. Want the look and ABS, you're looking at the Vespa Sprint or Primavera.
Fuel Injection
I am also a fan of electronic fuel injection (EFI) to give me a bit more buffer in how long a scooter can sit before carburetors become a problem.
It's not the end of the world to deal a carburetor, but it is not something I care to deal with either!
If the type of fuel injection is important to you, you'll find that at this price point, it is still a bit hit or miss on whether a scooter is electronically fuel injected. Crossing $3,000 is where it becomes more commonplace for a scooter to be fuel injected but not a guarantee.
The 'i' in the model name — Urbano 200i — is an indication that this scooter has the electronic fuel injection, and it is below that $3,000 threshold to be more likely to have EFI.
This definitely adds to the feature to value conversation to support the Genuine Urbano 200i as being a good bang for your buck!
Extra Perks
It is becoming more common, but not all scooters have a charging port. The Genuine Urbano does.
Also, many scooter manufacturers are now offering 24-month warranties with unlimited miles, but holdouts like Honda, Suzuki, and Yamaha are still in the 12-month warranty camps. I know folks love their Hondas, Suzukis, and Yamahas, but I'm just a sucker for a company that will put their money where their mouth is – give me the 24 month warranty!
Genuine does have the 24 month warranty, so it's a no brainer even if you haven't heard of the company before. Check out more FAQs on Genuine Scooter Company if you are in this camp.
The seat height is 31″ which may be offputting for a shorter rider, but the scooter felt lightweight, nimble enough that I was fine with how the Urbano felt (I'm 5'6″.) While my husband didn't love the look of it, he did not find it cramped (he's 5'10").
The Kymco People 150 is a Solid Runner Up
The more recent model year Kymco Like was re-branded to the a-town and has a distinctive look that I don't love any longer at the same time that they brought the People to the US market.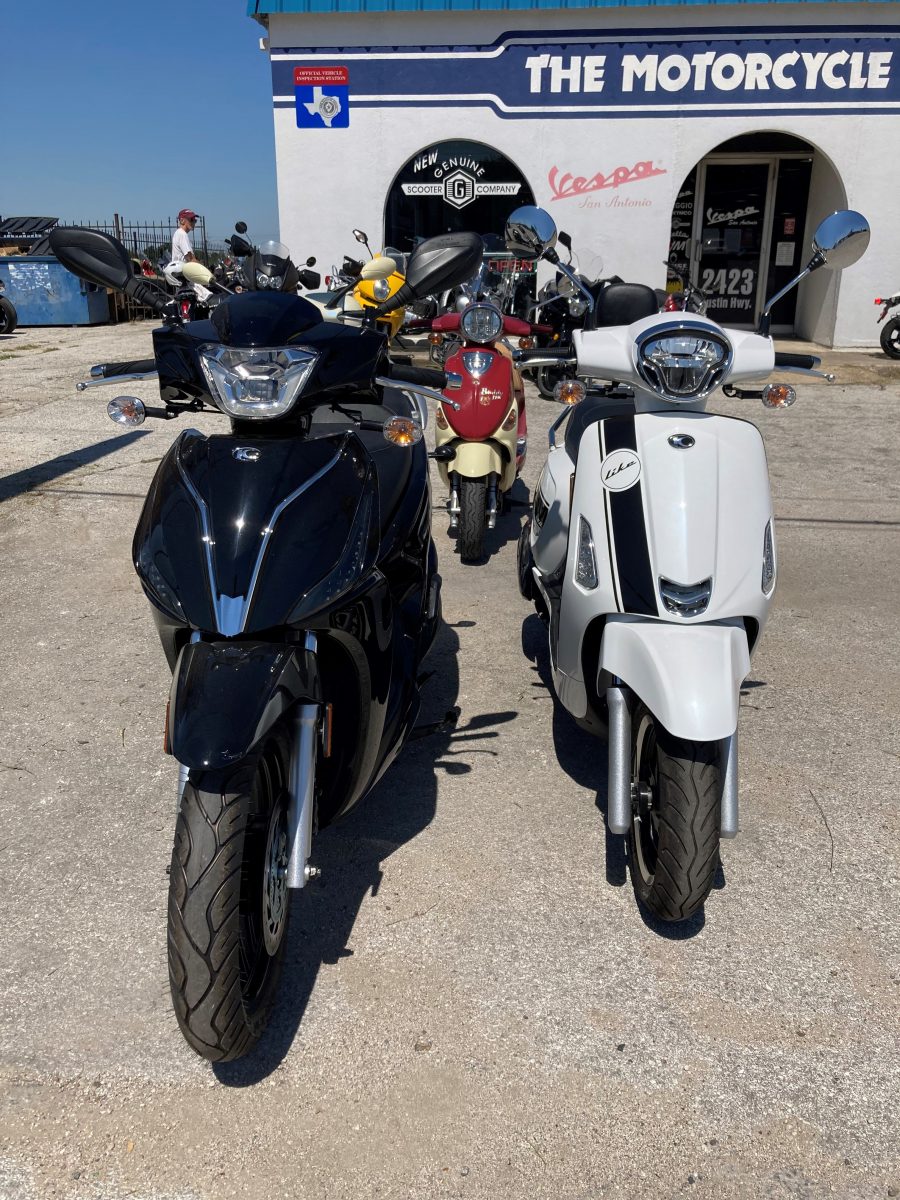 I was shopping for another scooter when I ran across the People and Like side-by-side. Now that I'm not too newbie to riding, those big tires on the 2021 Kymco People really struck me. They add to what is a really smooth ride, and despite being up to 4″ taller, they only added 1″ to the seat height over the Like.
The Kymco People is quite a bit higher than the Urbano at $3,560 MSRP, though. It has the following features with the differences at the bottom of the list:
Electronic fuel injection
4 stroke (standard for this engine size)
80 miles per gallon
Top speed of 65 miles per hour
USB charger
24 month warranty
150cc engine size
Disc brakes on the front & rear PLUS ABS brakes
16 inch front tire, 14 inch rear tire (comfort!)
More Best Scooters for the Money Conversation
The best scooter for the money in the 2019/2020 model years can be found here.
Here's a guide to buying a scooter if you still have questions about how to choose!
Need a better scooter for highway riding? Best scooters for highway riding
How about the best scooter for a commute? Best scooter for a commute
Be Seen & Be Safe, Scooter Pal!