So you're looking to find the most value in a scooter? They really do run anywhere from just under $1,000 for those not known to be quality and can top $10,000 for all the bells and whistles. So if just under $1,000 is the cheapest, where is the middle ground to get a good scooter without spending top dollar? Good news! You don't have to even spend $5,000 to find the middle ground on a scooter with good features for the money.
The Kymco Like 150i ABS is the best scooter for the money with a mix of excellent features such as the ABS brakes, electronic fuel injection, a 24 month warranty, and a smooth ride all at an MSRP of $2,999.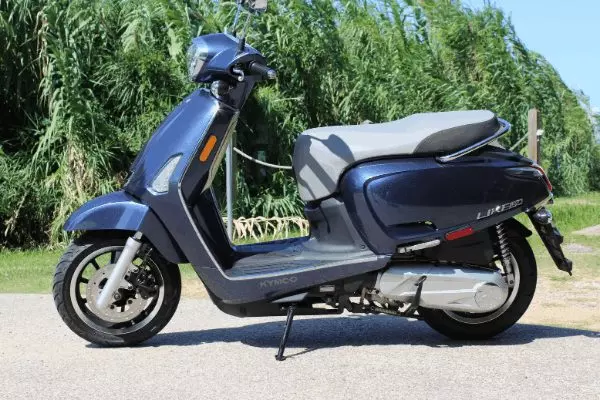 If you're not quite sure what to look for in regards to picking out a great scooter that meets your needs, I've put together a guide to help you understand the features to look for. Check out the guide here, and if you scroll to the bottom, you'll find a spreadsheet to help you compare each scooter by the features you care about (with a YouTube video to help you navigate it if spreadsheets are foreign to you).
Features That Make the Kymco Like 150 Stand Out
The Kymco Like 150i ABS has the following features:
Electronic fuel injection
150cc engine size
4 stroke (standard for this engine size)
85 miles per gallon
Disc brakes on the front & rear + ABS
Top speed of 65 miles per hour
USB charger
12 inch tires (front and rear)
24 month warranty
To help illustrate why the Kymco is the clear winner as far as value goes, let's walk through those features and where the value comes into play.
Braking
The Kymco Like is right at $3,000, but to get the same brakes on another scooter, you have to spend $1,500 for the Kymco X-Town 300. Outside of Kymco, you'll have to spend another $2,000 for the Suzuki Burgman 200 or Sym CityCom 300. You'll have to get a much larger engine size for these safety features baked in.
Speed
The average price of a scooter in this engine size range (125-160 cc) is $3,190, so the Kymco Like is a hair under the segment's average. However, those in the same 150cc segment are advertised with top speeds around 60 miles per hour, but the Like is posted with a 65 top speed. I have seen 67 on it on a brief stint on a highway, so I know that is a legit number.
The only other scooters with a higher advertised top speed are the Vespa Primavera and Sprint models. They boast 70 miles per hour top speed, but they are also over $5k.
Fuel Injection
I am also a fan of the electronic fuel injection that the Kymco Like 150i ABS has as dealing with carburetors sitting up is a complete turnoff. If the type of fuel injection is important to you, you'll find that at this price point, it is still a bit hit or miss on whether a scooter is electronically fuel injected. Crossing $3,000 is where it becomes more commonplace for a scooter to be fuel injected but not a guarantee.
The Kymco skates in under that price point and has the electronic fuel injection.
Extra Perks
Not all scooters have a charging port (surprisingly). Also, many scooter manufacturers are in the 24-month warranty range, but holdouts like Honda, Suzuki, and Yamaha are still in the 12-month warranty camps. Unlimited miles.
There are just lots of features that are on the high-end as far as motor scooters go, but they are just a sliver under the average cost of a scooter in this engine size range.
The Piaggio Liberty 150 is a Solid Runner Up
The Piaggio Liberty 150 scooter is so close in features to the Kymco Like 150i ABS that I have to mention it as a solid runner up. They are also the same MSRP at $2,999.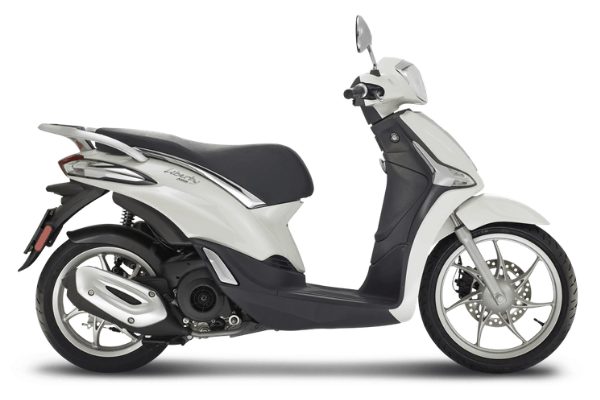 The Piaggio boasts very similar features with the biggest difference being that the Piaggio has a front disc brake with a rear drum brake and no ABS.
The advertised top speed on the Piaggio Liberty 150 is also a tiny bit lower at 61 miles per hour (versus the Like's 65). However, the Liberty's engine is technically 5 cc higher (150 vs 155 cc).
Visually, you'll find the Piaggio Liberty 150 a very different looking scooter. While the Like has 12-inch tires on the front and rear with a more classic Italian scooter vibe, the Piaggio Liberty is more of a sporty look with a 16-inch tire on the front and a 14-inch tire on the rear.
Piaggio is the maker of the Vespa brand of scooters, so it does come with a bit more name recognition for those newer to scooters offered in the United States, as well. That said, both have the same 24-month warranty.
Who Should NOT Buy a 150cc Scooter?
This scooter is the best scooter for the money. However, if you need to drive on American freeways, interstates, or highways, do not buy this scooter!
The Like 150i has a top speed advertised as 65 miles per hour, and I have personally taken one to 67. It was all out and all she had to give.
The reason for this caution is that if the speed limit is 65, yes your scooter can hang at that speed. However, scooters are not designed to go at that top speed for long periods of time.
In addition, if the speed limit is 65 miles per hour, it generally means traffic is traveling 70 miles per hour or more. Check out this in-depth article on scooter safety, but a big factor in preventing an accident is to go at the speed of the vehicles around you. This is a great scooter, but it is not designed for highway speeds.
If you need a scooter that can handle those higher speeds, check out the best scooters for highway riding to find the right scooter for you!
Closing Thoughts on the Best Scooter for the Money
The Kymco Like 150i ABS is definitely the best scooter for the money. However, if a sporty looking scooter is more your style, the Piaggio Liberty 150 is a solid option as a runner-up as far as stretching your dollar for the best feature set.
Be Seen & Be Safe, Scooter Pal!