Make a purchase using a link? We earn with qualifying purchases through Amazon & similar programs. Read more:
Affiliate disclosure
If you've been racking your brain trying to think of some gift ideas for your friend or loved one who loves their motor scooter, I've got some suggestions for you. There are loads of gift ideas for scooter riders!
After all, buying gifts isn't always easy. Even if you know their hobby is riding on their favorite moped, it can STILL be difficult.
This is partly because just because you know Uncle Fred likes his Vespa, there are still a lot of options. Layer in that you don't know what he has already, needs, or wants, and let me tell you – I get the frustration!
That said, you've narrowed down the options just by honing in on their scooter hobby. You have made progress!
Some of these things I own which is how I know what we want. I've spent my hard-earned money on these things or received them as gifts myself.
Beyond just me, I've also asked around when out and about with scooter friends. Birthday, Christmas, or just because… you'll find lots of gift-giving inspiration here!
Magazine Subscription
Did you know that there is a magazine for scooter riders? This was news to me, but I have renewed my subscription already meaning I've been getting it for over a year already. The Scooter Zine publishes every other month. 
It features art on the cover and back that is created within the scooter community. It also includes tips for riding (like group rides, in the extremes), and it also highlights riders and clubs along the way.
For $20, you can get a print or digital version with more information here. There is an additional $2 fee through PayPal I want to warn you about, though.
Simply print out a confirmation & include it with a card with a [thoughtful] greeting. Boom. Done. Thoughtful even if you aren't feeling inspired to write the sappiest card this go 'round.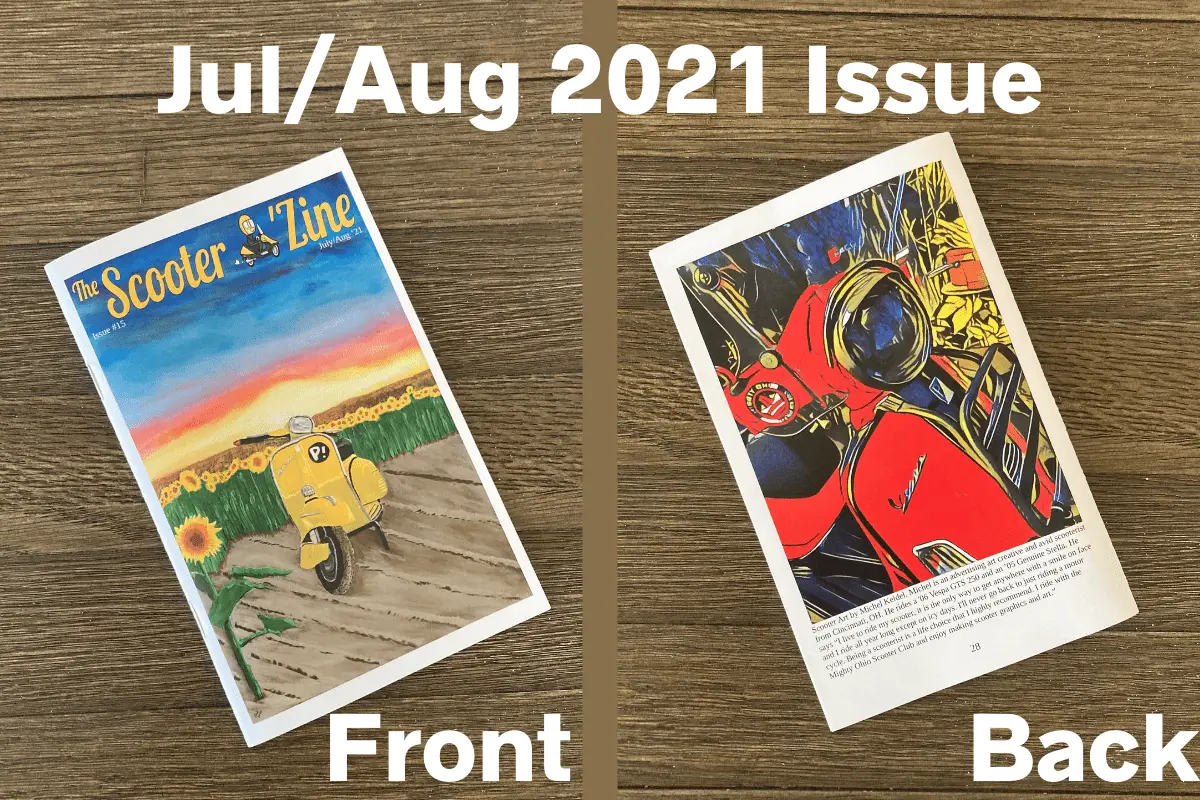 Action Camera
Whether your favorite scooterist has a YouTube channel or not, action cameras are so fun to capture rides. 
Replaying highlights of some scenery or capturing folks that like to cut you off, it is an unexpected gift idea they would likely appreciate if they don't have one already.
I started experimenting with motovlogging on my YouTube channel with a budget action camera that worked well, I've added a camera for more views, and I have a wish list camera myself that you should consider:
Go Pro Hero 7 (click to see current price): The most popular action camera tends to be a GoPro, and I landed on a GoPro Hero 7 when I wanted to add a 2nd camera. It seemed to be a good mix of value to features, and I have to say I do prefer it as far as ease of use.
Budget Action Camera: I can no longer find the exact version as it was a couple of years old when I adopted it, but this is a comparable version. It even comes with some accessories that make it easier to mount on their helmet or scooter depending on the set up of both.
Insta360 ONE X2: This is the camera on my wish list that has 360 degree video capture. It sounds like another way to get unique views that a traditional action camera doesn't quite get, but it is the most expensive option & shown below.
Along the same lines, if you know they have a camera, they may benefit from an accessory kit. I've been surprised how many of the pieces I've used in this kit (check the price here). I've even had the chest strap mounted OVER my bulky motorcycle jacket to find a different point of view to capture and share, and this is the cheapest gift option to help them capture their epic rides!
Motorcycle Safety Foundation Course
Hear me out! This may sound crazy if they already ride, but I've been surprised to learn how many people ride (particularly 50cc moped-level options) WITHOUT having gone through training.
The Motorcycle Safety Foundation has A LOT of different courses, so even if your gift recipient did go through training, it is likely that they went through the Basic Riders course.
My husband has been riding for 2 decades, but I came home from my basic rider course with things HE DIDN'T KNOW. Oh, and they made me learn how to make it in 1 piece over a freaking 4×4 wood post. That was terrifying, but have you seen crazy things on the road?
The courses help you learn to maneuver in and over tricky situations. There is an online course, but I highly recommend in-person training for the field training.
This one could be tricky to find, but check out the Motorcycle Safety Foundation site to locate trainers near your rider. They can help you make this happen.
The course can be pricey, so any help is welcome & a great gift idea for scooter riders – particularly if you're purchasing from afar!
Helmet & Other Safety Gear
This one may be harder to pull off, but we're all about the gear around here. ESPECIALLY the rider's brain!
So if you know they need a helmet since their helmet has been used & abused, I highly recommend you start here. I have a guide to help choose a helmet, but you'll need the rider in on this for it to work.
Maybe this is one of those things where you go together & make a day of it. The fit, style, weight, features… this can be a highly personal choice, and it's one of those things you WANT them to want to encourage them to wear it.
I generally do not like gift cards, but this is a case where they make so much sense. If you want them to buy a helmet, it's a nice gift. You can buy a gift card for Revzilla here.
My favorite helmets are here:
Shoei RF-1400: full face & best seller
Bilt Force: full face & a value option with better than the basic safety rating. I started with this one in the women's version.
Of course, there are many items to cover the rider up that you can read more about here. Jackets, gloves, boots, the whole body should be covered to protect against abrasion and impact in an unfortunate accident.
I have my eyes on a jacket with Wind & Throttle. This is a women's gear company, so keep that in mind, but the Midnight Motorcycle Jacket has really caught my attention. Unique. Armored. Reflective. My fav.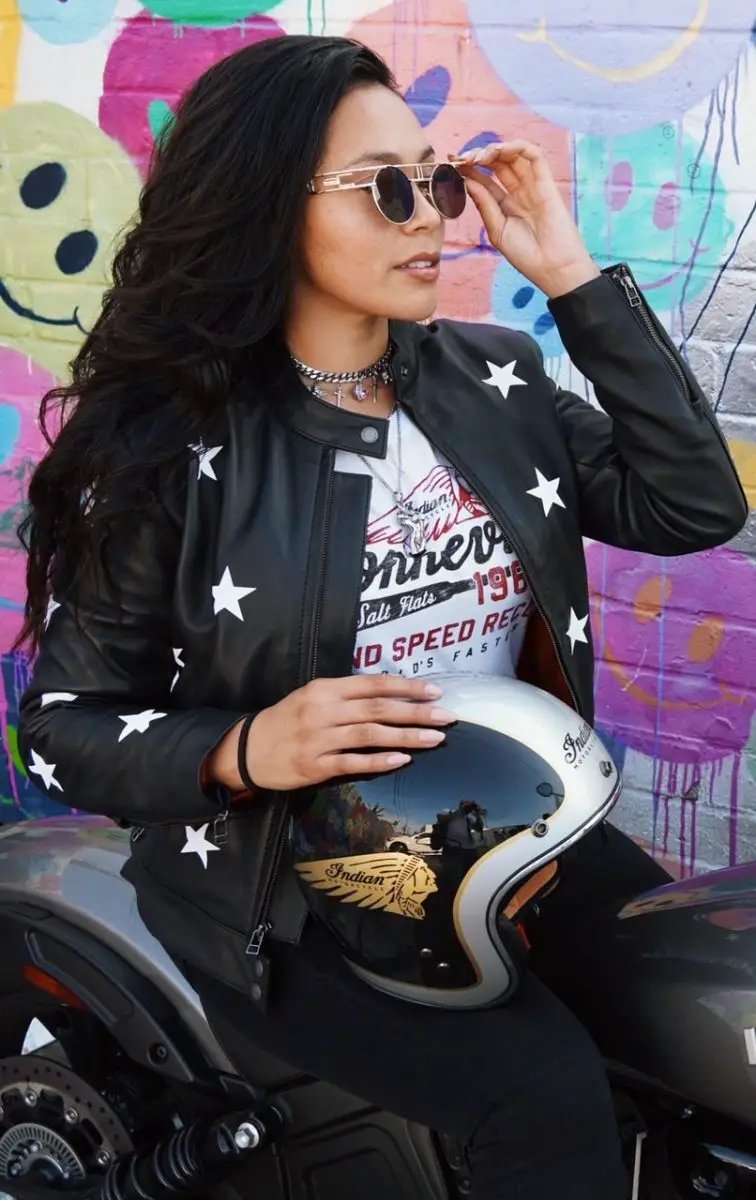 I know that I'd personally like a fresh pair of gloves. I need a winter pair to extend my riding, and my summer gloves seem to be wearing down. I need them fresh & in good condition for protection.
Even if you don't want to clue them in that you're thinking about gifts. Just get them talking about their gear pain points, and you'll find out the items that they could use or just want for fun pretty quickly.
Guardian Bell
One more option I loosely call a 'Safety' item is a guardian bell. It's essentially one of those superstition things for riders, but the key here is that they HAVE TO BE GIVEN. A rider cannot buy one for themselves. For the superstition/universe/whatever to work, it has to be a gift which makes it an excellent, inexpensive choice for a gift.
Here are a few links to help, but there are sooo many choices!
Revzilla Guardian Bells
Amazon Guardian Bells
Etsy Guardian Bells
Repair Books – Keep Them Scooting
Scooters aren't necessarily EVERYWHERE, and finding out how to handle issues with a scooter can be tough. Sometimes there is a YouTube video to help, but there is nothing like having some on-hand reference in the garage if they don't have the money for a mechanic or a mechanic is too far.
This is especially true if they have a used scooter or maybe they are one of the vintage scooter collectors.
Of course, you'll need to know the make, model, and year to do this one right, but I bet this is an easy thing to get out of someone that is into scootering. Just get them talking, and here are some books to get you started.
Vespa Vintage Repair Book (1959-1978)
Vespa More Modern Repair Book (1978-2017)
Suzuki Burgman 200 & 400 (1998-2015)
Tool Kits – the Gift of Peace of Mind
Both of my scooters came with a rinky-dink basic couple of tools in the underseat storage box, and I quickly upgraded. I barely know how to do things mechanically on my scooter, but it seemed silly to roll around without a way to try to figure things out.
I bought a basic tool kit on Revzilla, but you can also find a kit on Amazon, as well (check price here).
You could also gift a larger tool set for their in-garage tinkering. Check out this large DeWalt mechanics tool set that makes my husband drool (even though he probably has all of these things in his ginormous toolbox).
No matter what you go with, make sure that metric tools are included. Many scooters are made where metric is the norm.
Along the same lines would be a tire repair kit. Preferably something that is compact for the underseat storage. Here is a kit with CO2 cartridges to fill it with air, but if you leave your scooter in the heat, here is a version that doesn't have cartridges that won't work well with extreme heat for tubeless tires.
Cargo Gifts – the Gift of Storage
The most popular options for cargo carriers are the simple milk crate on a rear rack, a bag, or a top box. All 3 of these require a rack, and that is definitely scooter model specific!
I've had each, and I like the bag the best. This Prima Roll Bag has held up pretty well. I love that I can fit 2+ medium pizza boxes in it, but I do wish I had gotten the smaller version. It is sagging a little after 26 months, and I think if I had gotten the smaller version, the rack would have supported it better. Click here to check the current price.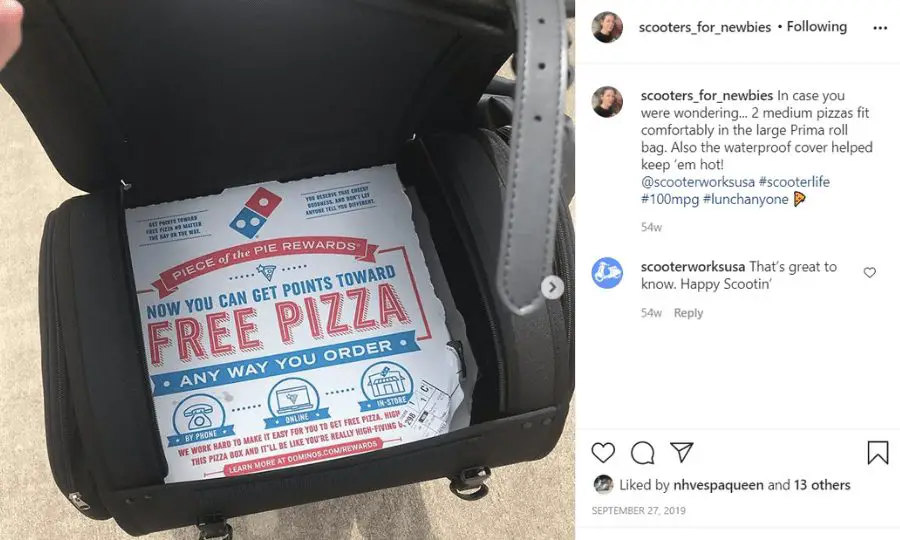 A top box that can hold a full-face helmet is also handy. I just installed one on my Kymco Like 150i because it is annoying to deal with the D ring to hang the helmet on.
Wait. Do you hear me? Listen to the gift recipient, and I bet they have an annoying problem you can help with when it's time to shop!!
I digress.
I bought this GIVI top box that came with a universal mount. I will say it DOES NOT add to any cool factor, but it does keep my helmet dry when those pop-up rain showers hit. And it's faster to just throw it in, lock, and go when I'm out & about running errands & such.
And I'm not opposed to you drumming up a milk crate. Put a bow on it, and call the gift hunt over. It's classic, and some people are hard core milk-crate fanatics.
I did find the crate a pain to take on & off. I find myself taking it off to go workout at bootcamps that require a mat & hauling oversized birthday presents on occasion.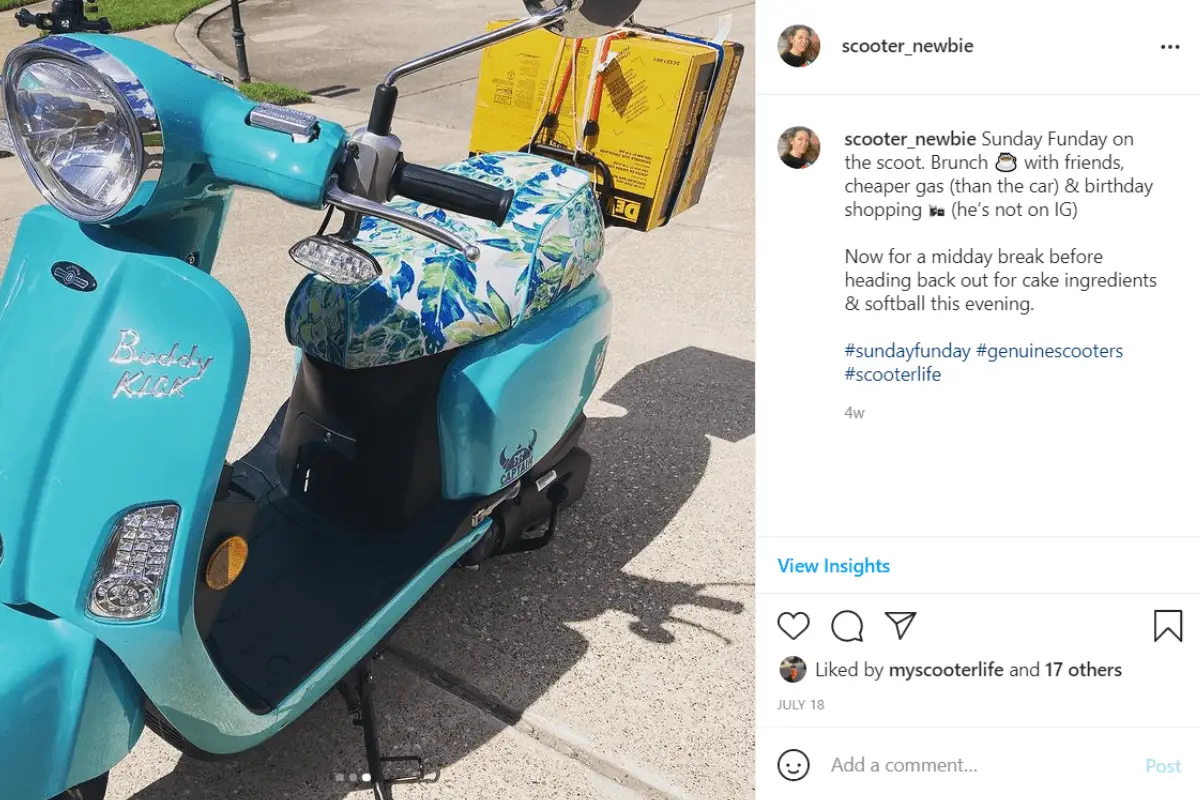 Cargo gear can also be gear that the rider can wear. Think backpack, messenger bag, or crossbody purses. I own all of these bags & use them at different times. My fav is the backpack during the workweek, and I use my crossbody purse the most on weekends. Throw them on your body & go.
Personalized Gift Ideas for Scooter Riders
There are purists that do not alter their scooters, and there are those that really want to turn heads on their scooter. I personally like to turn heads within reason, but it's not for the reason you'd think.
If someone is turning their head because the scooter caught their eye – the rider is seen! That greatly reduces the likelihood of getting squished by inattentive drivers.
Ahem. Texters behind the wheel.
There are so many options here from reflective stickers to simple, custom key chains. I keep my list of favs & new finds updated on Etsy here.
If you want personality on your scooter quick, I highly recommend checking out Cheeky Seats. They sew custom seat covers for virtually ANY scooter, but you do need to know the make, model & year here, as well, to make sure if fits.
You can order a stock version, or you can work with them to have fabric sent to them to create your seat. I ordered fabric from fabric.com. It is Sunbrella patio fabric, and let me tell you… it made a HUGE difference in not having the ridiculously on-fire bottom when it isn't parked in shade. Here's the Kick WITHOUT the seat. See. Looks much better, too!
I sent the fabric, and they provided their expertise to pick the color of the piping and such. It turned out fabulously. More on the best scooter seat cover here.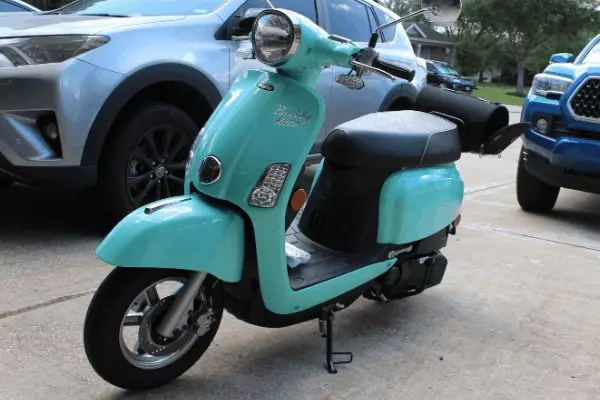 If you love custom items, Etsy is definitely an option for unique personalization. Here are 8 unique gifts for scooterists I found like masks, keychains & the neatest reflective stickers here.
Gear Storage Gift Idea for Scooter Riders
I simply love this helmet and gear storage wall rack. I keep meaning to attempt to make this, but I always push it to the back burner. I'll get around to it when we clean the garage…. Or my husband will read this, and 2021 will be my year! 🙂
Just kidding. We're saving for ANOTHER scooter. *cough, cough* Another gift idea there? A whole scooter. My bad.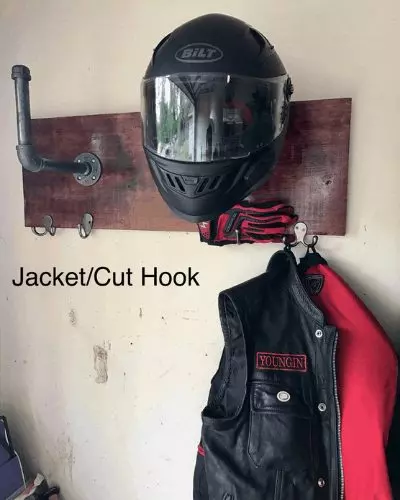 I bet this is doable if you find that you're handy, but Etsy creators have you covered for this motorcycle wall rack if you're not.
The key here is that there is a lot of gear. If it is a pain to track down and wear, it will be too cumbersome for the rider to WANT to wear it consistently.
Reduce the friction to doing what they know needs to be done by getting them a home for all of their gear in a space saving, attractive way.
Scooter Pride OFF the Scooter
Even when the moped rider is out and about NOT on their scooter, wearing gear can help start conversations. Gear NOT on the scooter looks like cute shirts or stand-out hats.
Here is a shirt I'm a fan of, but I also have a link of more things to wear and represent the scooter lifestyle here.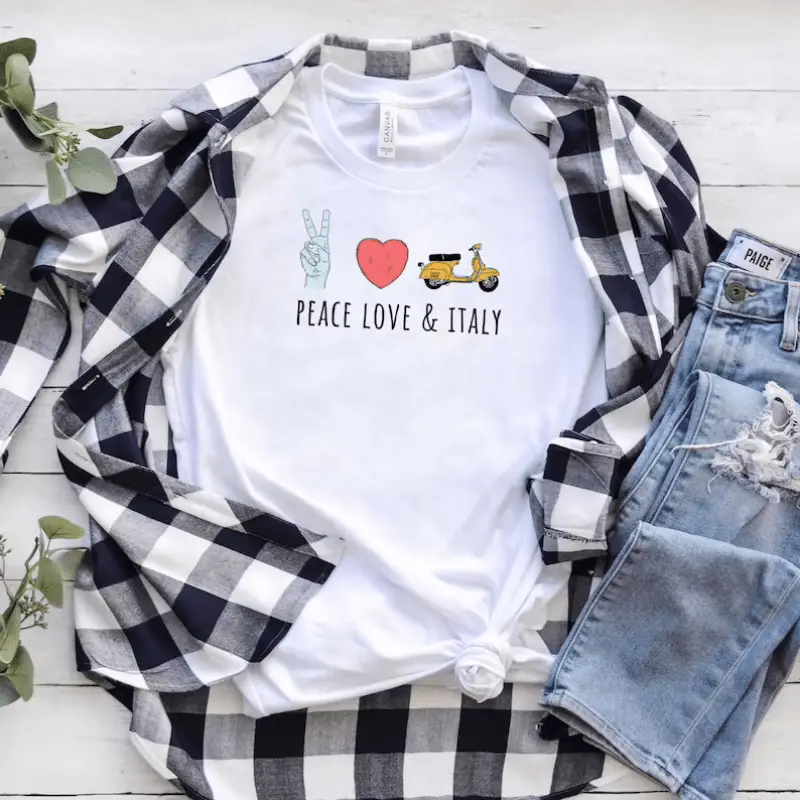 Vespa enthusiasts have a ton of branded items even on Etsy, as well. Patches, wall art, hats, you name it! Even masks.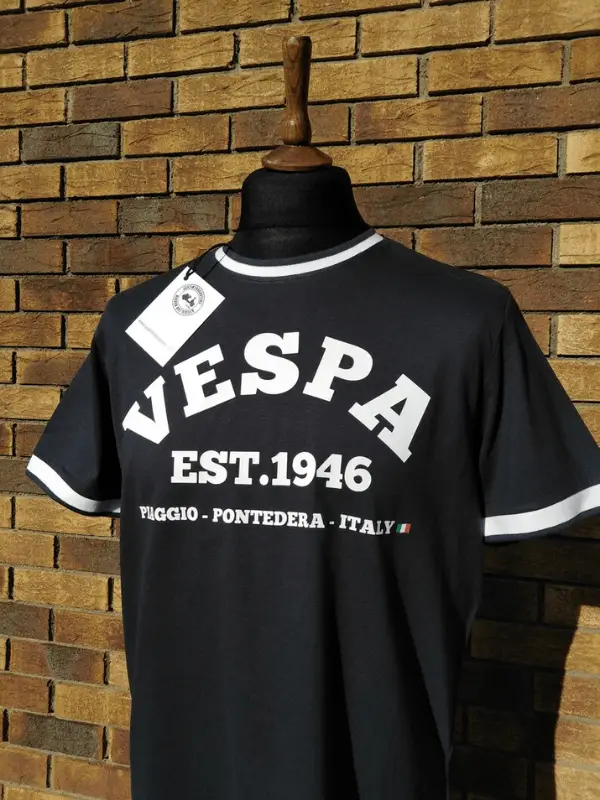 Hauling the Scooter Options
Getting a scooter to a mechanic can be tough unless you can get it there. There are some that will come to pick up & deliver for a fee. I live ~30 miles from a dealer in Houston, and the last that we chatted he charged $50 each way to get to my house. That adds up.
The first thing we got was a ramp to put a scooter in the back of a truck. The price fluctuates but click here to find the current price. Don't forget to pick up a harness designed for scooters for this, too, if you go this route.
For my SUV, I have a hitch, so this hitch-mounted carrier fits the bill.
You'll want to have an idea of which option would make a good gift idea for scooter riders, but that won't be too hard to eke out of them on the down low.
What Did You Decide On?
I love to talk scooters, so I'd seriously love it if you share what you landed on for the scooter rider in your life. You can find me on Instagram by clicking here. You can message me or comment wherever.
I'll likely share anything I get for the scooter there, as well. Even if I have to buy it for myself.