Make a purchase using a link? We earn with qualifying purchases through Amazon & similar programs. Read more:
Affiliate disclosure
So you're interested in a scooter, and now you can't decide between a 50cc and a 150cc. I get it! When I started looking at the 50cc vs 150cc debate as a complete scooter newbie, it was a legit struggle.
I had no idea if I'd ride beyond a few months, and I assumed I just goof off around the neighborhood. I heard you can make them go fast enough, so why not save some money & go 50cc?
Both a 50cc and 150cc scooter share a lot of similarities, but the 50cc is lighter, cheaper, slower, shorter but more fuel efficient than the 150cc scooter. In general, 50cc scooters are best for 30 mph roads, and 150cc scooters are best for 30-50 mph roads.
Well, I didn't buy a 50cc, but I admit that there are definitely advantages of a 50cc. Hang on to the end for who the 50cc would be right for, too!
Engine Size Overview
Read on if you know about cubic centimeters, but for the newbies around here, the cc after each of the numbers represent cubic centimeters. Essentially, this is a way to compare an engine size to understand how much power it can produce. Generally.
It's like adding pounds to the end of what something weighs. 10 lbs. 50cc.
So the bigger the number, the faster the scooter should go. In general, the 150cc engine is larger and faster than its 50cc cousin. But this still begs the question – do you even need more speed? Which is right for you?
50cc Scooters Breakdown
Sometimes when looking at scooters, you'll notice a 49cc. This is common to many brands and models. For example, the Vespa GTS 300 is 278cc even though the 300 is meant to represent the engine size.
In addition, there are state regulations that allow for fewer restrictions if a scooter is 49cc or less and is speed restricted to 30 miles per hour (mph). So manufacturers put out a 49cc to accommodate the looser laws with 1 tiny cc. It's also the smallest engine size you'll see available for an adult motor scooter for road use.
50cc scooters seem to be an entry point for people new to scooters, but there are raving fans that will take a 50cc, modify it until it can definitely exceed that stock miles per hour restrictions, and they have a blast!
So some view the 50cc as an entry point, but you'll also find scooters in many US towns that are considered a 'college' town or tourist spot. Think of Key West, Florida. Scooters are much more common there, and in both, you'll see a lot of roads in the area with 50cc scooters that have that 30 mph speed limit.
So that is a key. You need to choose an engine sized based on the speed of the roads you plan to use. If the cars are going 45mph, but your scooter won't budge over 30mph. You've picked the wrong scooter. It is the right one if 30mph is the going speed, though!
You'll also find that 50cc scooters are a transportation option for those that have some licensing issues – depending on the state.
You can expect a 50cc scooter to have a top speed of about 35 miles per hour (mph) if restricted, but unrestricted you may be able to reach 45 mph.
Note: No motor likes to run at it's capacity for long periods of time, though.
➡️➡️Read more: Top Speeds of 50cc Scooters ⬅️⬅️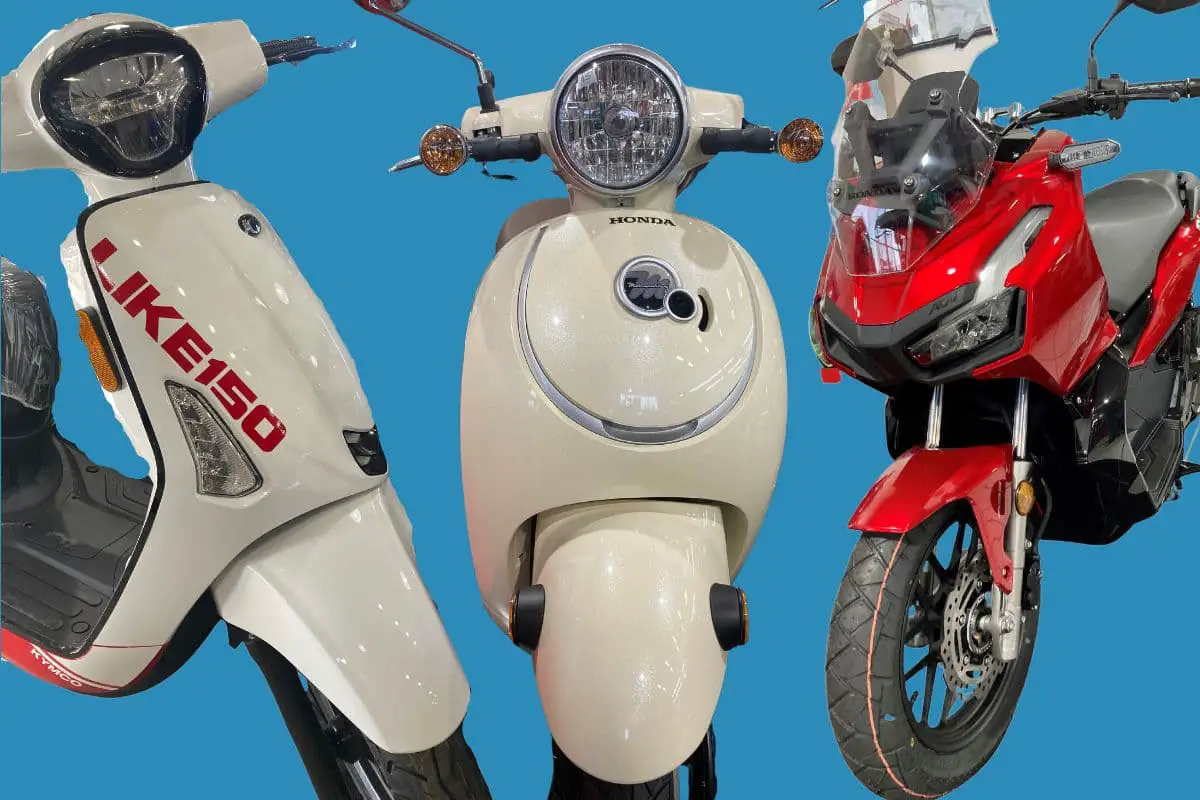 150 Scooters Breakdown
Scooters with the 150 designation after their model name represent their 150cc engine size, but in reality, the scooters in this range have an engine size of 149-157cc. For the most part, you're getting a couple of extra cc's over the 150.
For the extra power, you can reach top speeds in the 60-65 mph range on a 150cc scooter, so it gives you more flexibility in the roads that you can ride on.
At this engine size, the scooter is still fairly lightweight & nimble, so it still makes a good scooter option even for beginners.
There is even a decent amount of overlap in prices with the cheapest 150cc scooter at just under $2,500 MSRP and that happens to be the average price across the 50cc options.
You're still not ready to get on an interstate with a 150cc scooter, but you can do state some sprints on a state highway and such if needed at a low traffic time at least!
50cc Advantages
The fun part of a 50cc scooter is that they are so incredibly light and nimble. It's like a super-charged bicycle that you can take on the road!
➡️➡️ Read more: 50cc scooters vs e-bikes ⬅️⬅️
A big perk of 50cc scooters is simply that you may not need to get a motorcycle endorsement to ride one in your state. You'll want to check with your state's department of motor vehicles or bureau of motor vehicles or whatever it is called to be on the safe side. 🙂
The cost of a 50cc is extra enticing. Engine size does correlate to the price you can expect to pay, so the smallest engine size means you can find the cheapest 50cc to save some money.
The cost of the scooter isn't the only expense you will save with a 50cc, but insurance on a 50cc is low, as well.
These scooters are lightweight and maneuverable, so you'll find the 50cc most fun on city roads and finding parking in hard-to-park places.
If you've never ridden before, you probably see a 50cc as an entry point to limit your power. It's approachable that way for sure!
Read on for more detail on these advantages in this pros and cons of mopeds article.
150cc Advantages
The faster speeds of a 150cc will mean that more roads are open to that size of an engine. You can go on 45 mile per hour roads. One of the safety things that we have to worry about on 2 wheels is keeping up with traffic.
We don't promote speeding here, but if the cars around you are going 60 on that 45 mph road, you may find you need the flexibility of a 150cc until you can pull into a parking lot and find another route. Read more: Staying safe on a scooter
A 150cc option is also still quite affordable with the average MSRP for one that you can buy new with dealer support is $3,800. The cheapest option is the Kymco Super 8 150 with the most expensive being the Vespa Primavera or Sprint.
The 150 is a small frame scooter in this range, so you will find it lightweight and agile. They weigh on average 255 pounds.
50cc vs 150cc
When I think of a 50cc vs 150cc scooter showdown, I think they have more similarities than differences. I'll break the details down in a moment, but it really comes down to speed and price.
Both a 50cc and a 150cc are close enough in weight that moving them around in your parking spot is easy enough. I'm an average female, and I feel good with both.
Both are nimble and will be great for getting around town in general.
Both have the great storage options that a scooter offers like the under-seat storage box, glove compartment and bag hook.
Both have the classic, retro vibe and sportier looking options available.
| 50cc vs 150cc Specs | 50cc | 150cc |
| --- | --- | --- |
| Avg top speed | 32 mph | 62 mph |
| Avg weight | 214 lbs | 259 lbs |
| Avg Miles per gallon | 103 mpg | 89 mpg |
| Avg price | $2,331 | $3,733 |
| Avg seat height | 30.3" | 30.8" |
| Lowest price | $1,599 | $2,349 |
| Highest price | $4,249 | $5,749 |
| Median price | $2,049 | $3,399 |
In the table above (based on manufacturer information), you can see that across the board the 150cc is a bit more. Whether we are talking seat height or price except for the fuel efficiency where the 50cc gets more miles per gallon.
Is a 50cc or a 150cc the best for you?
The kicker for me in the 50cc vs 150cc debate is how fast you need to be able to go. There are the day to day rides and the weekend rides.
If you have roads in your area that are 45-55 miles per hour that you plan to ride on, then the 150cc options are the winner!
If your roads are truly around 30-40 miles per hour, then you can save some money & find the best 50cc scooter.
Don't throw your money away by buying the wrong scooter! Check out this scooter buying guide for more detail beyond just the engine size. There is a link to a database of scooters, so you can filter on the price, engine size and more.
➡️➡️Read this Scooter Buying Guide (so you don't buy the wrong scooter!) ⬅️⬅️