Make a purchase using a link? We earn with qualifying purchases through Amazon & similar programs. Read more:
Affiliate disclosure
A brand-new scooter can run you just under $1,000 for a super cheap, low-quality version and tops $11,000 for a beast of an engine. The price all depends on the size, engine, features, and of course, build quality, but how much does a scooter cost?
Scooters with a 50cc engine average $2,000.  100-200cc sized scooters are on average $2,900. The median for scooters over 200cc is $6,600.
I went through this process when buying my scooters. To help you, I have listed the prices of mopeds and scooters. I have also added some other costs to help you budget for your scooter which completely surprised me.
Scooter Price Range Summary:
Engine Size
Category
Mid-Range Cost
Lowest Cost
Highest Cost
Difference-Highest To Lowest
50cc
$2,000
$1,599
$4,099
$2,500
100-200cc
$2,900
$2,099
$5,699
$3,600
200cc+
$6,600
$3,995
$11,049
$7,000
The refreshing thing about these prices and shopping for a scooter is that what you see is what you get, and this article is focused on scooters you buy at a dealer with on-site service for the manufacturer's warranty.
When you are shopping for a car, there are a lot of options to decide within the models, but scooters are a bit more straightforward as far as their standard costs go. The model either has a feature or it doesn't.
However, there are still plenty of decisions on size, style, carbureted versus electronic fuel injection, and more, but the field and choices are not quite as large.
If you're thinking you'd like to buy a scooter, don't forget to consider gear & accessories you'll want!
If you are new to scooters, the details below can help steer you to find the right scooter in your budget without forgetting those 'extra' costs that are easy to forget when you are in the middle of the scooter-buying excitement.
Engine Size 101
The information in this article is based on categorizing engine sizes. This helps compare the scooters within the buckets of use that they serve based solely on the size of their engine.
Let's take a tiny step back just in case – The size of the engine is expressed in cubic centimeters referred to as cc. This is simply a measurement of how much air and fuel mixture is used to propel your scooter forward.
The bigger the number, the faster the scooter can go. If you know this already, feel free to skip this section.
When you see 50cc, these are mostly speed restricted to 30mph with a low horsepower engine. These scooters sometimes called mopeds will be useful only on roads with low-speed limits and minimal hills.
These are best for cities or very touristy areas with low-speed limits. There are a few that go beyond this speed, and there is the possibility of removing the speed restriction.
➡️➡️ Read more how fast a 50cc can go. ⬅️⬅️
You'll also find quite a few budget options in this segment, but not all fit this description!
The 100-200cc engine size will suit you if you have hills a 50cc can not handle, or you are looking for speeds in the 50mph speed range. These scooters are not quite freeway safe to keep up with speeding traffic, but they can handle more suburban roads.
If you go beyond the 200cc size engine when you buy a scooter, you are able to get on a freeway to cruise around. You will be able to tackle hills or speed of any of the roads you may encounter when out and about scooting.
Scooters max out at 650cc in the past, and new, you'll only find up to 550 with the Kymco AK-550.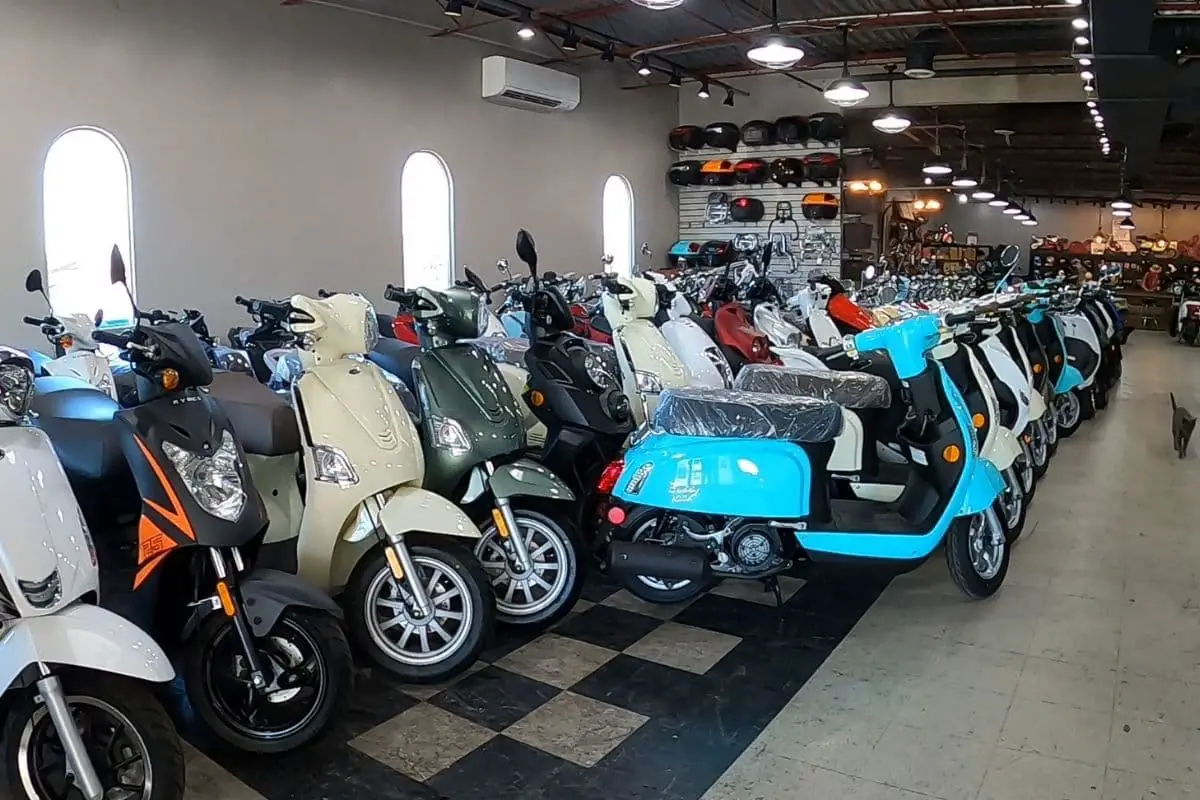 Before We Dig into the Actual Prices
There are a few things to keep in mind as you browse the pricing information.
Know that prices could vary based on your location and season.
All of the prices are for standard features for that make and model. Some models have upgrades such as 'Sport', 'Touring', and more that are not included here to keep it simple.
Also, there are other what feels like extra charges you can expect to pay that I walk through at the bottom.
I have categorized the scooter by engine size range by small at 50cc, medium at 125-200cc, and large at 200+. You will see the estimated top speed ranges in the category title, as well, as a frame of reference.
Inside the engine size categories, each scooter is listed in ascending order from the cheapest to the most expensive.
MSRP = Manufacturers Suggested Retail Price
'i' designations in the model name indicate electronic fuel injection, but a scooter with fuel injection may not actually get that designation. It is all up to the manufacturers, so I have labeled all models with an asterisk * to help.
Prices are updated April, 2023.
How Much a 50cc Moped Costs (~30 mph range)
For the most part, you will be in the 50cc engine-size range if you are going to stay around 30 mph without too many steep hills in your commute.
Towards the higher end of the category, you will see a few more bells and whistles. For example, there is a Kymco Like 50 for $2,000 and an electronic fuel-injected version available under the Kymco Like 50i for an extra $600.
So how much do mopeds cost?
Click here to read how fast a 50cc will go
| | | |
| --- | --- | --- |
| Brand | Model | MSRP |
| Genuine | Venture 50 | $1,599 |
| Lance | PCH 50 | $1,599 |
| Lance | Cabo 50 | $1,699 |
| Lance | Cali classic 50 | $1,799 |
| Lance | Havana 50 | $1,799 |
| Kymco | Agility 50 | $1,799 |
| Lance | Soho 50 | $1,799 |
| Genuine | Brio 50i* | $1,899 |
| Genuine | Urbano 50i* | $1,899 |
| Piaggio | Typhoon 50 | $1,999 |
| Kymco | Super 8 50X | $1,999 |
| Sym | Mio 50 | $1,999 |
| Kymco | Like 50 | $1,999 |
| Genuine | Roughhouse 50 | $1,999 |
| Genuine | Buddy 50 | $1,999 |
| Piaggio | Liberty 50 | $2,399 |
| Honda | Metropolitan 50* | $2,499 |
| Kymco | Like 50i | $2,599 |
| Honda | Ruckus 50 | $2,799 |
| Vespa | Primavera 50* | $3,999 |
| Vespa | Sprint 50 * | $4,099 |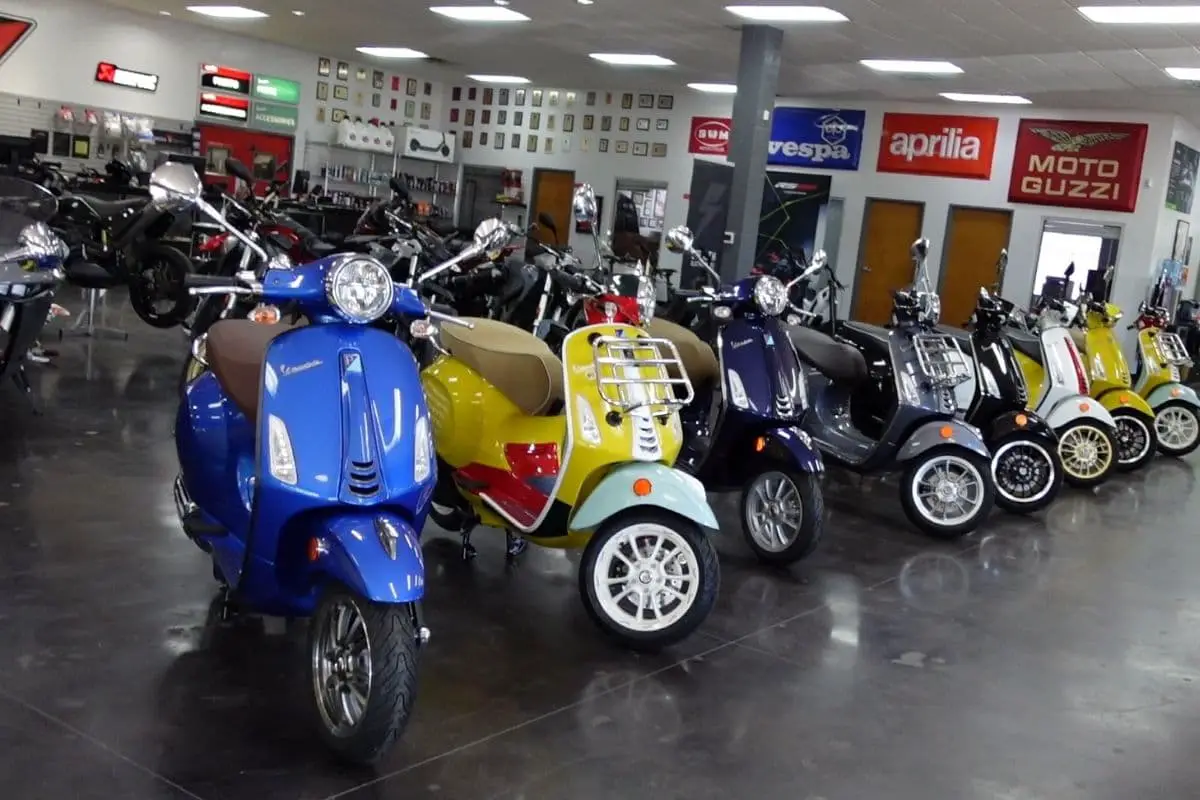 100-200cc List (45-60 mph range)
If your commute has a lot of hills with a speed limit under 30, this category is the place to be. If your roads are consistently in the 45mph range, you will get a lot of mileage in this category, also.
Note that a scooter's MSRP can be quite broad between each engine size category.
You'll notice pretty quickly that Vespas are the most expensive. There is a lot baked into that, so you can read about whether Vespa is worth the price here.
That said, you'll find plenty of more affordable options, too!
Last note here, but the models have the engine size cc in the name. However, sometimes the manufacturers are rounding.
An example of this is the Lance 200cc models that are 169cc. You have to admit it does not sound as awesome to call something the Havana 169 over a Havana 200, and you are still getting the bump up from the 150cc class.
I've got a spreadsheet with this type of information at the bottom of this scooter buying guide.
Brand
Model
MSRP
125 cc
Kymco
Agility 125
$2,099
Lance
PCH 125
$2,099
Lance
Cabo 125
$2,199
Lance
Cali Classic 125
$2,199
Lance
Havana 125
$2,199
Piaggio
Typhoon 125
$2,599
Genuine
Buddy 125
$2,699
Genuine
Buddy Kick 125i*
$3,199
150cc
Lance
Italia Classic 150
$2,299
Kymco
Super 8 150X
$2,299
Genuine
Grand Tourer 150
$2,995
Kymco
Like 150i ABS*
$2,999
Piaggio
Liberty 150*
$2,999
Honda
PCX150*
$3,699
Honda
ADV150*
$4,299
Vespa
Primavera 150*
$5,349
Vespa
Sprint 150*
$5,649
>150cc
Lance
PCH 200i*
$2,799
Lance
Cabo 200i*
$2,899
Lance
Cali Classic 200i*
$2,899
Lance
Havana 200i*
$2,899
Sym
Fiddle III 200i*
$3,099
Genuine
Buddy 170i*
$3,349
Genuine
Hooligan 170i*
$3,399
Suzuki
Burgman 200*
$4,999
Greater than 200cc List (Highway Friendlier Options)
These scooters should get you wherever you need to go. All the scooters in this engine size range will be able to handle the freeway if your scootering will put you on one.
This section was intended to handle all scooters over 200cc, but the smallest engine size beyond that limit is 300cc as you will see in the models listed in the price list.
Also, notice that this group of scooters has a large variance from the lowest to the highest cost, but there are plenty of affordable options that overlap with the smaller scooter size ranges.
| | | |
| --- | --- | --- |
| Brand | Model | MSRP |
| Genuine | G400C | $3,995 |
| Kymco | X-Town 300i ABS* | $4,499 |
| Sym | Citycom S 300i* | $4,999 |
| Sym | Wolf CR 300i* | $4,999 |
| Piaggio | BV 350* | $6,599 |
| Vespa | GTS 300* | $7,099 |
| Suzuki | Burgman 400* | $8,299 |
| Piaggio | MP3 500* | $9,199 |
| Suzuki | Burgman 650 Exec* | $11,049 |
Why the Price Variations Between Models?
As you can see, there is a lot of price variation even when you account for motor size. There are quite a few factors that influence the price of a scooter, so below is a list of quick-hit reasons.
Prices for scooters are influenced by the materials used (metal body vs plastic), where the parts are manufactured, the engine size, and the features that are included.
For some of these components, you can decide what is important to you!
Other Cost to Expect at the Dealership
Tax, Title & License Fees
I believe other locales may refer to this as registration fees, but you get the idea. Your state may have a sales tax, and then your county likely has their hand out, too, for road maintenance and such.
Handling/Prep/Destination Fees
Sometimes you will see a handling fee, as well. An example I discovered was a $380 destination charge that Honda includes as you see during a standard car buying experience.
Looking at my invoice, I see a title fee, shipping, and preparation fee included on my Genuine Buddy Kick.
Just be prepared to tack some sort of fees on top of the prices listed above. Maybe expecting it will help you keep your sanity.
Here is a bigger conversation on the fees and volatility of the supply chain now!
Long-Term Cost Considerations
The larger the engine size, the more fuel the engine will consume. The scooters in the 100 miles per gallon range are not found on a 350cc scooter. This does not directly impact your cost at the time of purchase, but this can improve your long-term costs.
That said, scooters are still better from a cost-per-mile standpoint than you'll find for vehicles and are a much more affordable option!
Do your research and buy a reputable brand. Those cheap scooters you find in the sub-$1,000 range are notorious for mechanical problems. My local scooter mechanics are busy, and they will not "waste their time on that garbage." You will notice those brands are not included in the price lists above. For a reason.
Along these same lines, higher-priced scooters are known to have higher maintenance costs.
For example, Vespa mechanics are certified, and getting them serviced is a bit higher if going through their dealer network is important to you. I think of it like knowing that if I were to buy a Mercedes, my maintenance is higher.
Higher is relative because scooter repairs and maintenance are considerably cheaper than an automobile, though!
Additional Items You'll Want Right Away
You do not need a lot of accessories as soon as you buy a scooter, but there are a few to budget for as you they pertain to your safety and your scooter's security.
Ya know. Additional costs beyond the scooter itself.
First Service
This one trips me up almost every time we've bought a scooter. If you're buying a reliable scooter brand, it's going to have a warranty.
You'll definitely want to read your warranty information, but I can guarantee you'll be less likely to have issues even if you do some level of your own servicing by having that FIRST service done at a dealer's scooter shop.
The cost varies, but we just paid ~$350 for the Kymco AK550 & ~$200 for the Vespa GTS 300.
You'll need the first service somewhere around the 500-600 mile mark, so start setting aside some money for this additional cost as soon as you drive off with your new scooter.
Gear
I know some folks do not suit up in protective gear from head to toe, but do not play around by riding off without a helmet. A gear requirement is a helmet.
My ultimate helmet pick for value to safety rating is the Bilt Force. Check out the latest pricing on Revzilla. You'll find a women's specific styled version here: Bilt Force Eternity.
Beyond the helmet, the Motorcycle Safety Foundation recommends gear designed for motorcycle protection including the helmet, face shield or goggles, boots, gloves, jacket, and pants.
Read here for the average cost for a helmet
Riding a scooter is a balancing act (pun intended) between enjoyment and safety. You decide your risk and your protective needs and plan for this in the budget.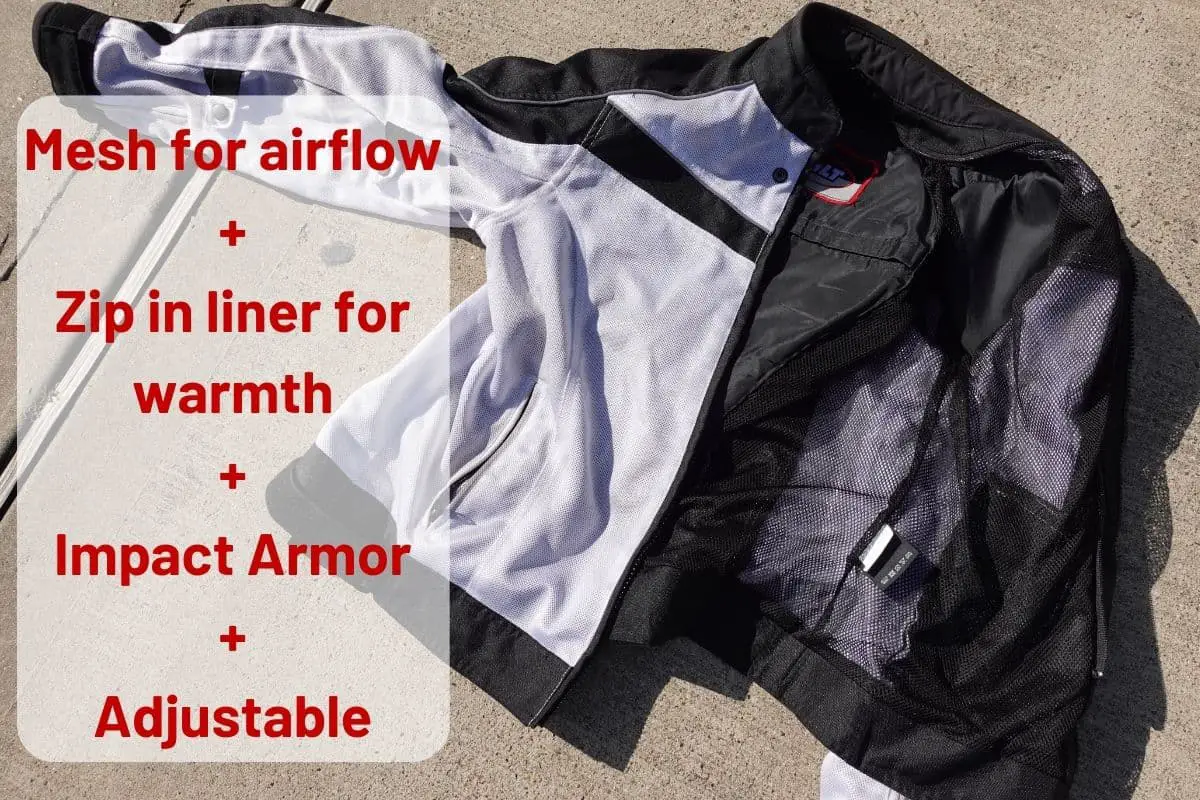 Security
Where will you park your scooter? Did you know a couple of guys can roll your scooter away in less than a minute?
More detailed security options can be found here about layering, but there are a few items that you may need immediately when you make your purchase.
If it will be in a secure garage, no accessory is needed before you scoot off into the sunset.
If you are parking your scooter in the open, consider looking at the following options with a combination of at least 2 for the best scooter security:
Scooter cover
Disc brake locks
Chain and lock
Alarm
Insurance
You will need to get liability insurance at a minimum for your scooter. You might also be interested in comprehensive coverage in case your beautiful new scoot wanders off.
When you compare the cost to standard automobile coverage, you will find it to be much more reasonable. Just remember to add it in as a cost you will need to account for when you actually decide to buy a scooter.
Check out this article where I go through specific insurance details to help you estimate what scooter insurance will run you.
Ways to Save Money on a Scooter
Buy Used
Step one to spend as little as possible to purchase something would be to look at your used options.
If you can find one in good shape, that is a quick way to score a deal. I would specifically target those that are 1 to 2 years old.
I personally live in a market where there are not a lot of scooters, though, and I have run across some gently used options up to 5 years old.
Negotiate
Just like every other market, the laws of supply and demand will either hurt or prop your negotiation efforts. There has been a surge in scooter demand, so I would not count on getting a scooter for significantly below the manufacturer's pricing.
However, it certainly cannot hurt to try to do a bit of negotiating. Are you buying in cash?
My husband and I purchased a scooter at the same time. It did not even occur to us to ask for a discount for buying 2, but the dealer cut $100 off for buying more than 1. A bulk discount at the scooter dealership was news to us, but we were happy to see it after looking at all those fees.
Do Not Buy More Than You Need
The size of the scooter's engine is a big driver in the overall price of the scooter. If you do not see yourself needing to get up to freeway speeds, you might be covered with a 150cc scooter.
There is some overlap in the categories, but if you go with a smaller-sized scooter, you might find that to be a quick way to save a little cash in the scooter-buying process.
Wrap it Up
Browse the scooter buying guide
(with more features highlighted)
Happy Riding!