Make a purchase using a link? We earn with qualifying purchases through Amazon & similar programs. Read more:
Affiliate disclosure
On most occasions, when scooter newbies see the prices of Vespa, they tend to think twice before making a purchase.  I get it. I had the same reaction when I bought my first scooter.
However, some people who are not new to scooters know that Vespa scooters are luxury. Frequently asked questions among both newbies and even veterans include; do Vespa motor scooters hold their value or not? Is Vespa a good investment? How long will one last?
In general, Vespa scooters are reported to hold more of their value over time when compared to other scooters of similar engine size and when compared to car and truck depreciation, as well.
Hold on to your seat as we dive into those questions.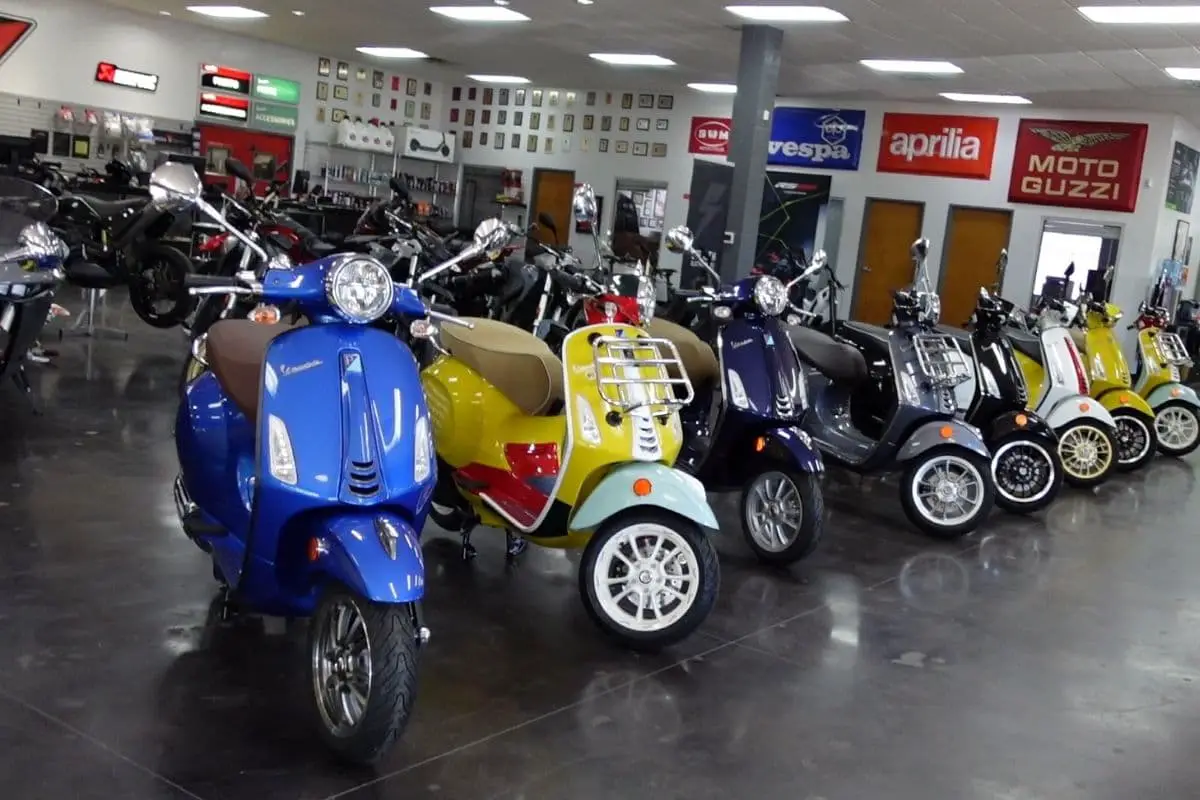 Do Vespa Scooters Hold Their Value?
There are exceptions to the rule, but vehicles of any type drop in value. That whole 'you lose $xxx as soon as you drive a car off the lot' phrase is real.
Ultimately, the closer you can keep the resell price to the original price range, the better an investment a vehicle will make. The purchase price of a Vespa is much higher than most other brands on the scooter market, so I get the concern!
In general, Vespa scooters hold their value well. The value retention, however, depends on the model & engine size of the Vespa, its condition, and the location in which the Vespa is being sold. The value retention of Vespa scooters is quite high when compared to other popular scooters ranging from 43% up to 80%.
It's widely reported that Vespa has a Resell Value Award from J.D. Power from a 2015-2018 analysis, but this information has been removed from the J.D. Power website. However, the New York Times reported that Vespa branded scooters had a retention value of 72% versus a 56% across the 24 classes of vehicles analyzed.
According to the data gotten from Kelly Book, the retention value of a Vespa Sprint 150 3V ABS that is about two years old is 83.9%, while that of a Vespa LX 50, which is five years old, is 75%, and that of a ten-year Vespa LX 50 is 69.1%
Location Influences Resell Value
Note that, like real estate, the amount you will resell is dependent on your location. This is a bit out of your control, but things like maintenance are within your control, and if you have maintained your Vespa scooter well, you will be able to resell well. More on how high maintenance (or not) Vespa scooters are is here.
Places with a good market for Vespa scooters include Florida, Illinois, Virginia, Arizona, California, Texas, Pennsylvania, New York, etc. However, in places like Mississippi, Utah, Kentucky, and Idaho, there may not be a market for used Vespa. Rural locations generally use other transportation, but Vespa lovers can be found in a lot of corners! You just may have to be patient if it comes time to sell.
Model Influences Resell Value
Another determining factor of the resell value of Vespa is the model. For example, in the J.D. Power analysis reported by the NY Times, the standouts were the Sprint 150 and GTS 300 at almost 80% value maintained!
However, I did an analysis of used scooters for sale and sold in the United States in the fall of 2021. While not as thorough as the records J.D. Power analysts have, I found that 50cc Vespa models were fetching  43% more than similar sized scooter, cheaper scooters. 150cc scooters were just over 60% higher with the larger scooter (300cc) just 12% percent value retention. The 50 & 150cc scooter models average about 95% higher than similar engine size scooters new (with way more features). Read more on whether a new Vespa scooter is worth that premium price here.
The 50cc scooter market has much more overall competition than you'll find in the 300cc+, but those scooters available in the higher engine size are those that have more similar features offered and are in a closer price range.
The smaller engine size competition offerings is where you find a big difference from Vespa to the rest in relation to the premium feel and features. That spread in difference reduces in the larger engine size model options.
In addition, Vespa produces limited edition models from time to time like the (RED), Justin Bieber edition, and 75th anniversary editions. Depending on the popularity and rarity of the models will likely influence how much this matters to resell value.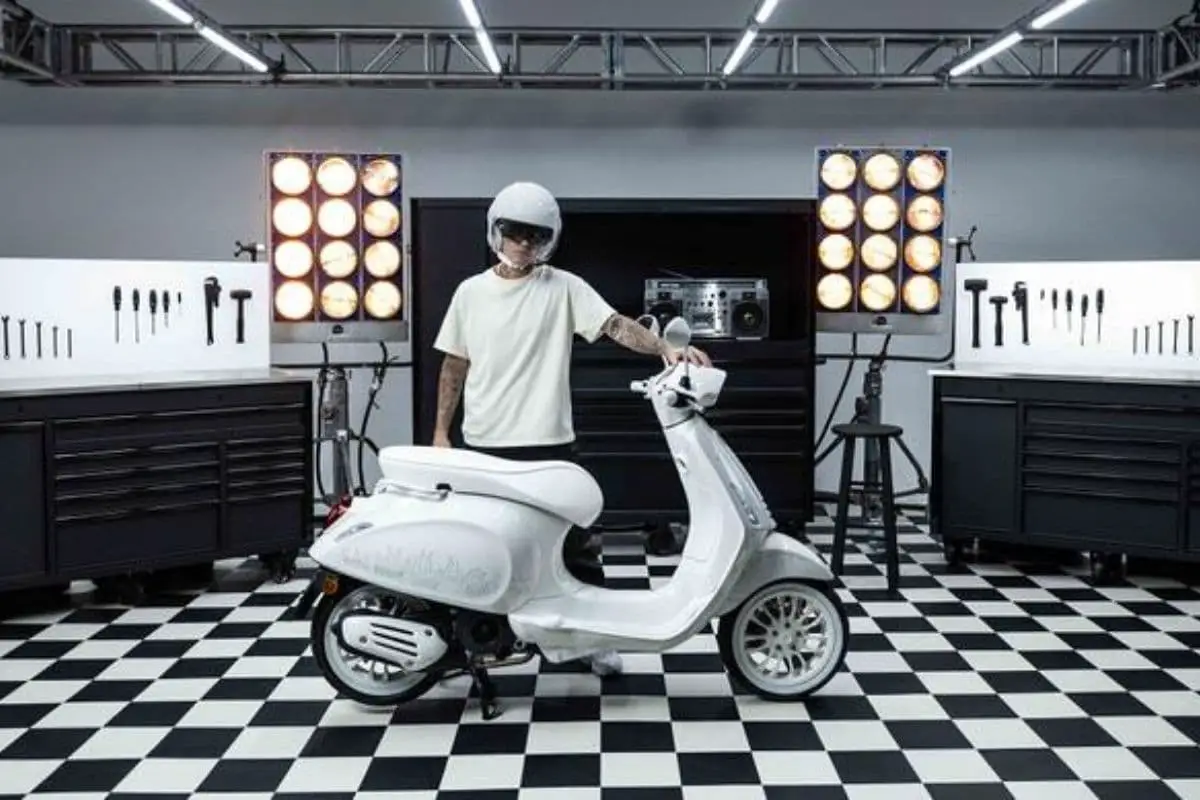 What Makes Vespa A Good Investment? 
Vespa produces and markets their scooters as luxury. And when it comes down to – they really don't have competition.
If you're looking for the iconic look, there isn't a scooter available that comes close to the premium components and higher feature set beyond Vespa. 
Build of Vespa Scooters
Let's start with the frame as it is the first thing I understood that makes Vespa scooters standout.
The frame of a Vespa scooter is made of steel monocoque. One major difference between Vespa scooters and other scooter brands is that the body's framework is made totally from steel (less plastic!). The frame of a Vespa scooter is made from several steel stampings fused together which essentially makes it one big unit instead of bolting together pieces to a frame. 
Read more –> Are Vespas Still Made? And Where?
The frame is part of what gives Vespa scooters a much smoother ride than other scooters. I didn't realize how noticeably different it would be until I finally gave in & rode a Vespa. Night & day difference.
Then layer in that you get more premium features on a Vespa compared to the competition, and while they cost more to buy new, you're more likely to keep some of your money later if you need to sell. For example, new Vespa 150cc engine models come standard with ABS brakes, but it is rare for other brands to include this feature with this engine size. 
Popularity Matters
Vespa scooters have high resell value because of the quality of the materials used, but the history and cultural popularity courtesy of its aesthetics make the Vespa a highly sought out scooter. There is a robust vintage Vespa crowd, and you'll find all manner of older Vespa models at rallys across the country.
While other brands are beloved, you just won't see the fanatics grouping up in the same like you'll see at an Amerivespa one!
Easy Maintenance
Another reason Vespa scooters are good investments is that they are easy to maintain, and the maintenance cost is low compared to other vehicles. The Vespa scooter will last you many, many miles. They are cheap to operate, and if you find yourself needing parts, Vespa parts are much easier to track down that many other brands.
More on if Vespa scooters are high maintenance here. But the short answer is that they aren't. They're like standard vehicles that like to be used, stay lubricated & clean.
Are Vespa Scooters Worth The Cost?
Although Vespa scooters are quite pricey compared to other brands of scooters, it is definitely worth the cost. It is a unique and high-quality scooter.
A major reason we can say that Vespa scooters are worth the cost is the resell value, which is incomparable to other scooter brands and even vehicles.
Another reason why Vespa scooters are worth the cost is the aesthetics. Vespa scooters are wonderful and unique. The steel frame adds to its aesthetics but also the smooth ride that is well built and stable – making it easy (& fun) to drive.
Is Vespa A Better Investment Than Other Scooters?
Vespa is a unique brand of scooters that has been manufactured since 1946 in Pontedera, Italy. They have exceptional and standard craftsmanship, which can be seen in the frame of every scooter they manufacture. With proper maintenance and care, Vespa scooters can last for a long time.
Vespa scooters hold their value more than any other brand. However, there are quite a few scooter brands that will also hold up to the miles you want to put on one.
If you want to keep your scooter for 20 years, Vespa would be the obvious choice for me. I have no idea how long I'll be able to get parts for my Kymco in the garage if I try to keep it for 20 years!
Do Vespas Hold Their Value Better Than a Car?
In general, Vespa branded scooters hold their value much better than a car. This is when you consider the original price to a resell price. The NY Times reported that Vespa scooters can be as close to 80% of the original price in 3 years whereas cars and trucks have dropped to 55%. 
Of course this research was done before the supply chain issues that have persisted since 2020, but 2022 has also brought a surge in scooter interest. Supply is short. Demand is high and gotten higher. Scooters are going for a premium, and the iconic Vespa brand is certainly no different!
Final Words
Vespa is a luxury scooter, and this can be seen from its price; however, it is not only flashy and luxurious, but it can also do a top-notch job as it has a sturdy frame and strong engine and brake system.
The scooters made by this brand are reliable, solid and hold value.