Make a purchase using a link? We earn with qualifying purchases through Amazon & similar programs. Read more:
Affiliate disclosure
SYM scooters are not common in the United States, so it may not be a brand you've ever heard of before you started shopping for a scooter. Before getting a SYM scooter, I've done a deep dive to help you feel better about spending your money buying from a company you may not be familiar with.
Are SYM Scooters a Good Scooter?
SYM, which is short for Sanyang Motor Co., Ltd. While not common in the US, this brand has been producing scooters for almost 60 years elsewhere around the world.
SYM scooters are well-known for producing good, quality scooters backed by a 24 month warranty supported through a dealer network.
Although the brand might not be as popular as Vespa is in the US, it is a reliable brand. SYM ranks among the top ten in the scooter market (even in the US) and has produced over a 13 million two-wheeled vehicles in 2018 alone across 90 countries!
Taiwan has a lot of scooter manufacturers in Taiwan, but SYM is the first two-wheeled brand that started producing scooters in Taiwan.
I trust a scooter brand with a good warranty, and SYM scooters have a 24 month warranty with unlimited miles to protect scooter buyers from manufacturing defects. Your risk is light! Just ride that scooter as much as you can – more miles = more likelihood of issues if you're going to have any.
AND THEY ARE SO MUCH FUN!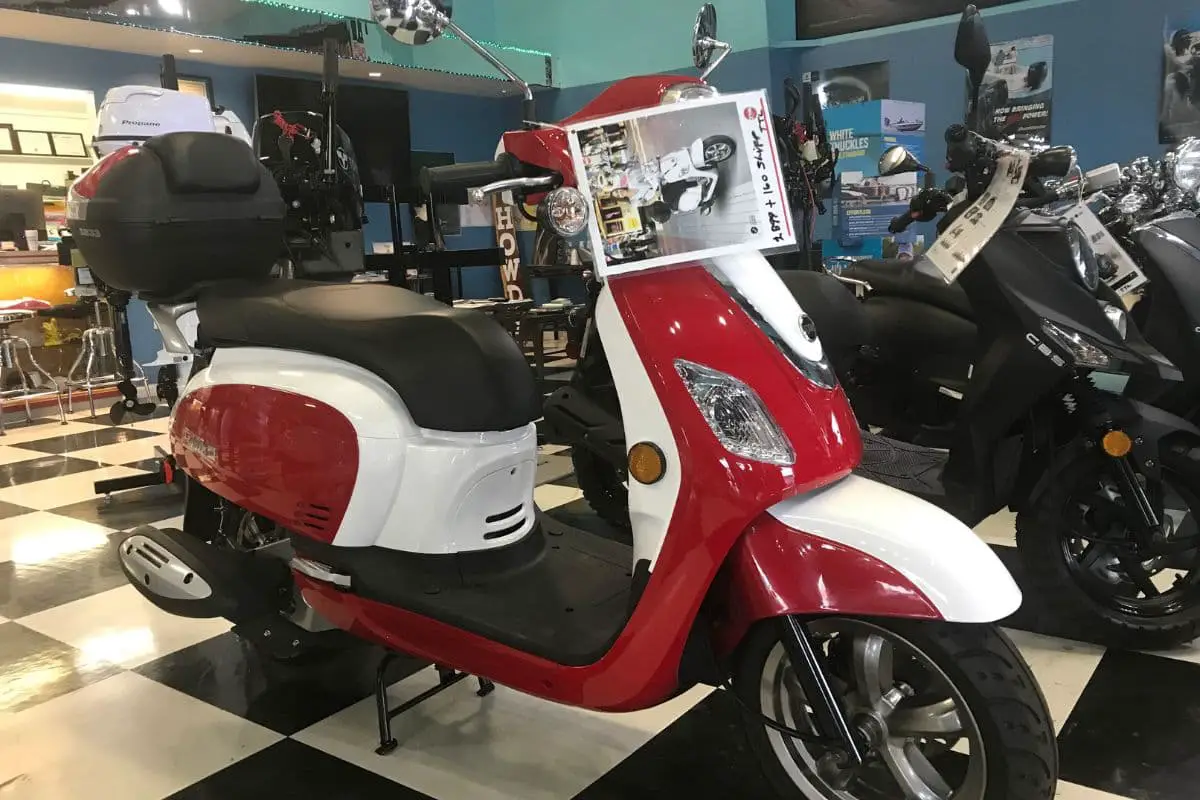 Are SYM Scooters Made by Honda?
No, SYM scooters are produced by SYM, not Honda. SYM is the sole international enterprise that manufactures both motorcycles and automobiles in Taiwan.
Many people might assume that Honda makes SYM scooters; however, that is not true. Most people assume that Honda produces SYM scooters because SYM had a joint venture with Honda in 1962 to start a local assembly of motorcycles.
Although SYM has had a corporate partnership with Honda since 1962, SYM scooters are not produced by Honda.
SYM manufactures and sells its scooters under the brand name SYM, but they manufacture automobiles components in partnership with Hyundai's brand name. This means that SYM scooters are also NOT made by Hyundai.
Is SYM a Chinese Brand?
SYM is a Taiwanese brand. SYM headquarters are in Hukou, Hsinchu County, Taiwan with manufacturing in Taiwan, Vietnam and China.
Most Americans ask this question because they have heard that Chinese brands like Tao Tao have a less reliable reputation. This question bugs me as there are lots of products that we love manufactured all over the world – including China.
The company has processes and quality checks that make SYM scooters a solid product.
Are SYM Scooters Reliable?
SYM scooters have a reputation for producing quality scooters. They are reliable and have a 24-month warranty.
The scooters produced by this brand are sturdy and well-built. The performance, braking system, and handling are all top-notch. The scooters are well-priced, and they give their money's worth. They are reliable, and they hold their value as well as other used scooters at a similar price point.
There have been several reviews from people who own and ride SYM scooters that they are reliable and do not give the owners issues.
Where are SYM Scooters Made?
Currently, SYM has three major production facilities located in Taiwan, China, and Vietnam.
They also have subsidiaries in Italy and Germany.
Although they have these major manufacturing facilities in a handful of countries, you can find SYM scooters for sale in over 90 countries globally.
SYM was the first manufacturer in Taiwan to produce motor scooters.
Where Can I Buy an SYM Scooter?
Most popular and reputable scooter brands sell their scooters traditionally through a dealer network where you can buy your scooter in the same way that a traditional automobile is sold.
Even when you buy the scooter online, you will still need to go through a dealer to complete the transaction and go home with your scooter.
SYM scooters are also sold through a dealer network.
Here is a link to the SYM dealer network, but know that there is a perk to working with a dealer. SYM scooters have a 24-month warranty serviced through that dealer network. So you will feel better with knowing you have some protection through that warranty.
The warranty does not have a limit on the number of miles you might have traveled with the scooter, so get riding!
What does SYM Stand For?
It's clear that SYM is an acronym for something, but I had no idea what it might be initially!
SYM is an abbreviation for for SanYang Motor Company, Limited.
The company manufactures mopeds, scooters, bikes, and cubs.
Are SYM Scooters Cheap?
SYM scooters are not cheap.
When I say SYM scooters are not cheap, I assume that you are talking about low-quality scooters. SYM is a good scooter that gives value and great features for the price at which it is sold.
However, as far as cheap is concerned, other scooters are definitely cheaper.
SYM Scooters Available in the US
SYM makes a large variety of scooters worldwide, and they are known in the US as SYM USA.
However, in the United States, there is a limited collection to choose from. This does not only pertain to SYM but all other scooter brands. This might be because scooters are not as popular in the US as in other countries.
Thankfully scooters are rising in popularly here, and the number of SYM scooters on the road is, too.
Here is a list of SYM scooter collections that are available in the United States:
These scooters, however, come in several colors from which you can pick.
While limited, I do love that the engine sizes are on the higher side. A lot of US offered scooters are in the 50cc range which limits you to ~30 miles per hour (mph). The 200i scooters really have an engine size of close to 170cc which gives you a top speed of around 65 mph. That's a lot of flexibility in what you can use your scooter for while still being small enough to be agile & quite nimble.
Read here so that you know what sized scooter is right for you
I don't want you to waste your money!
How Much are SYM Scooters?
SYM scooters in the US are not expensive compared to brands such as Vespa or Honda. They offer value for the price as the scooters have a sturdy build, reliable engine, and a great feature set at the price point.
Mio 50: engine displacement 49cc, $2,500
Citycom S 300i: engine displacement 278cc, $6,000
Fiddle 4 200i: engine displacement 169cc, $3,900
Jet 14 200i: engine displacement 169cc, $3,900
These prices are simply manufacturer suggestions, but for the most part, scooter dealers don't deviate much from that number. However, your state fees and a few dealer add-ons can make that number much higher. 
Where Can I Get SYM Scooter Parts?
You might find it difficult to get SYM parts if you are trying to get them independently. However, your SYM scooter dealer will have the best inside knowledge about the availability of SYM scooter parts and accessories.
I also go to Capri Moto, Scooter Works to check availability if it is something I want to try for without picking up the phone first.