Make a purchase using a link? We earn with qualifying purchases through Amazon & similar programs. Read more:
Affiliate disclosure
When I first started shopping for and riding my scooter, I planned to just use it for my quick jaunts to and from work and to run errands. I didn't think that you could or would want to use a scooter to go on a long trip, but I quickly learned I wanted to take my scooter EVERYWHERE! Even those long distances. I have to be super conscious of the speeds of the roads on my routes, so I started shopping for a higher speed scooter for longer ride options. This is how I landed on the best scooter for long distance touring.
The Yamaha XMAX is the best scooter for long distance scooter touring with a blend of value and features that make higher speed, longer rides safer and more comfortable.
So back to my newbie scooter self, I didn't know you could use a scooter for long rides, so I had to start there with my research.
Are Scooters Good for Long Distances?
Scooters are generally know to be great for short distances. They're easy to get onto, convenient, and faster a bike and more economical than a car for your day-to-day transportation needs. However, did you know that scooters can be used for long distances? It is true! That said, scooter riders who want to travel long distances will need a scooter that can go the distance.
Motor scooters are a type of motorcycle, and they are designed to operate in distances you would normally travel on the road. The only restriction would be the speed your scooter can go in relation to the speed of the intended route.
Whatever you think is a long distance, your scooter is prepared to go that distance. If you aren't already in the know, check out this article about the differences in the type of scooters, but motor scooters are a kind of motorcycle. That said, many scooters have smaller engine sizes and therefore, operate in lower speeds.
That was news to me when I start riding, but that means they can go as far as you need them to go. Sound too good to be true?
Well, the only caveat to that is that the engine size will restrict your speed. The further you intend to go, the more likely you are to need a higher engine size. There are other features to make it more comfortable and safe, but in general, scooters are fine to take on a long ride.
Things to Consider When Buying a Scooter for Long Distance Rides
Many scooterists buy a scooter for short rides, but if you have a long ride in your future, you need to consider the following:
Engine size. The higher the engine size, the faster you will go.
Weight. The heavier the scooter and the more you carry, the harder it will be for your scooter to go the max speed it normally does.
Scooter frame. A good scooter frame is one that can take a beating and still stay together. That said, this is generally not a problem for scooters intended for road use and meet Department of Transporation (DoT) requirements.
Suspension. A good suspension system will make the ride smoother. This becomes critical when you're talking hours of riding on a scooter.
Seat. A good seat will be comfortable, long-lasting, and hold up to the abuse of a ride on your body.
Storage capacity. The more storage you have, the more stuff you can take. You can always add on storage through saddle bags and top boxes.
As we dive further into this conversation about the larger engine sized scooters, they are also called maxi-scooters. If you want to check out more about the different types of motor scooters, check out this guide.
Features a Long Distance Scooterist Would Want
To identify the best scooter for long distance touring, I took a few factors into consideration. First, the scooter has to be able to get up to highway speeds. The longer you plan to go on your scooter, the more likely you will need to reach 60 miles per hour more regularly.
A scooter that will keep you in a relaxed riding position. Riding for hours can weigh on you as you are constantly being pushed by the wind. It gets tiring. The more relaxed the ride feel is, the better. A lower center of gravity will be key for the right position on a scooter.
Safety is important on any ride, but it definitely is important for long distance rides. There aren't a ton of option, but you will find that features such as anti-locking brakes (ABS) are standard for scooters with engine sizes of 300ccs or higher. I also wanted to see a scooter with a larger wheel size as a blend of a safety and more comfortable ride standpoint.
So this is the framework of how I came up with the best scooter specifically for long distance touring.
Best Scooter for Long Distance Touring
This was a tough choice, but I had to choose one based on the specifications.
The best scooter for long distance touring is the Yamaha XMAX due to it's engine size, riding position, storage capacity, tire size, suspension, and price.
The Yamaha XMAX is just a hair under 300cc at 292cc specifically. The top speed of it is around 85 miles per hour, so you can the higher speeds a long ride would likely include.
It is built for longer rides at higher speeds, so the upright riding position with an included windshield means you'll be as comfortable as you're able to be for a long ride. I almost forgot to mention – it also has an adjustable handlebar! Make it work & change up your position if you need to as you're on the road for longer stretches.
The XMAX has a motorcycle-style front fork to make for a smoother ride that absorbs more of the road for you. A long day of road riding will make you appreciate this even more!
You can fit 2 full-size helmets in the underseat storage box, so wear yours & carry it in (for the coolness factor, of course). Carrying things under the seat helps keep the weight distributed across the scooter which becomes more important when you're loading it up for a longer trip.
I wish the XMAX boasted 16″ tires, but it has a 15″ front and 14″ rear. Still a far cry from some of the 10″ tire size scooter options. As a rule of thumb, larger tires make for a smoother ride. I can tell a huge difference even going from 10″ to 12″, so 15″ is a solid long ride tire size.
The XMAX has a charging port for keeping your gear (GPS, radar detector, or your phone) charged. You'll appreciate this if your touring ride has you doing rides in unknown territory or overnight camping involved in particular.
The XMAX's safety features include the ABS disc brakes and LED lights. These are fairly standard on scooters with around 300ccs. However, I loved that the XMAX has traction control, as well. Just another safety layer to keep you scooting safely during long rides.
Add a top box or rollbag & a toolkit, and you are ready to roll! Check out these luggage and toolset options on Revzilla specifically for the Yamaha XMAX.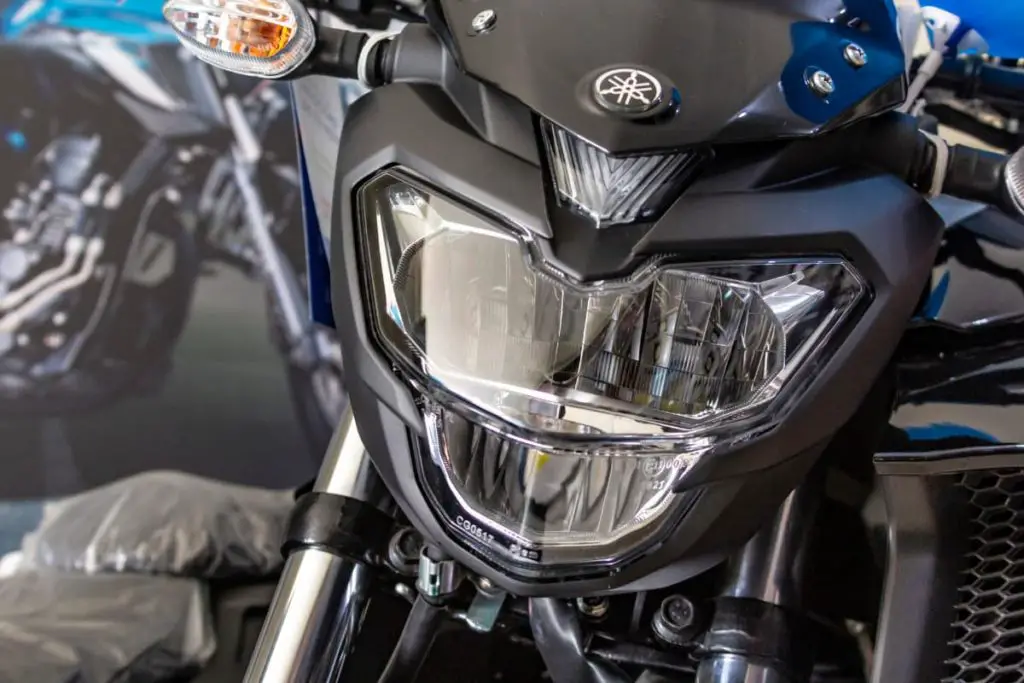 Accessories for Long Distance Touring on a Scooter
The best accessory I recommend for touring on your scooter is a windshield no matter what speed you plan to tour. You might not realize it, but riding a scooter is a constant battle with the wind as you ride. A windshield will obviously limit any debris reaching you, but it also aids in the force that hits your body over time while riding.
The XMAX comes with a windshield, so you can skip that part if are planning to buy a maxi-scooter with one.
Additionally, I highly recommend you gear up no matter what scooter you have to endure a long ride. Being comfortable while being safe will go a long way to making a long ride more enjoyable. If your ride will be warm, check out this guide on warm weather gear and tips. Check out this guide for your cool riding needs.
Your gear protects you in the event of a crash AND keeps you comfortable no matter the elements you'll encounter on a long ride.
Lastly, accessories on the scooter that give you extra storage is critical. You can get saddle bags for scooters, but you'll get the most storage bang for you buck with what you can fit on the rear rack in the form of a large rollbag or other storage. Check out Revzilla where you can put your specific model in to find out the luggage options for your scooter.
Competing Brands and Models
I built a spreadsheet of scooters. If you haven't seen it, check it out at the bottom of my Scooter Buying Guide. Most of the columns are simply specifications or features of the scooter which doesn't capture the spirit of a good touring scooter necessarily. However, for the ultimate touring scooter, it needs to be able to handle the higher speeds. That means you'd start by filtering or sorting the choices by the larger motor sizes and then your budget.
If you go through the list, you may notice the Suzuki Burgman. I would have declared it the winner, but when I look at the features of the Burgman vs the XMAX, the XMAX had so many of the same features for a FEW THOUSANDS OF DOLLARS LESS. Those few thousand dollars would buy a lot of accessories for your scooter to make it even more money worth out on the road. The XMAX was the better choice for long distance touring for value, but don't discount the Burgman if you are willing to spend the money. You do get some more cc's for it!
The other scooter that caught my eye was the Sym CityCom 300i. I would have chosen that one hands down except that I haven't had an opportunity to ride it, AND it doesn't have ABS brakes. It seems like a standard for scooters in this engine size range, so it really was a sticking point for me.
Be seen & be safe, scooter enthusiast!