Make a purchase using a link? We earn with qualifying purchases through Amazon & similar programs. Read more:
Affiliate disclosure
Well hello there, you fellow scooter lover. There is nothing like cozying up with popcorn in hand with a good movie. Let's marry that cozy vibe by adding in scooters because movies with scooters = 😍
To acknowledge our collective love for scooters, I have decided to showcase movies that feature scooters in action. These movies will cut across several genres ranging from romance to action and in between. These movies are both new and old movies, but one thing they have in common is that they have stood the test of time.
Irrespective of the genre you have in mind when you picture the best scooter movies out there, this list has got you covered because it features every scooter movie title that has resonated with me over the years. 
So without digressing, let us delve straight into the details of these movies, starting with the most popular of them all. This movie was popular when it was first released and is still popular years after its release.
(clicking on images will take you to Amazon Prime Video or Netflix)
Roman Holiday
A list about movies that have scooters has to include Roman Holiday.
It's always associated with a particular brand that is very popular… Can you guess?
Yes! You guessed right. Vespa. And more Vespa.
Roman Holiday is an American romantic comedy that was directed and produced by William Wyler in 1953. The female lead of the movie Audrey Hepburn played the role of a European princess who took off when she was in Rome. An American reporter, Joe Bradley, who was acted by Gregory Peck, took her safely back to her apartment. The following morning, Joe realizes who exactly Ann is; he tells his editor that he can get an exclusive interview from her.
As it usually does, romance gets in the way, and they scootered their way into a happily ever after on a scooter.
But more importantly – The featured actor is a 1951 Vespa 125.
This movie was the one that made Vespa scooters shoot to fame when it was produced – grace and romance fueled this vibe.
Roman Holiday took Vespa from the cute little scooter that it was to an iconic and luxury two-wheeled vehicle people longed to ride.
Quadrophenia
I had never heard of this movie until I started asking around the scooter community about iconic scooter movies to share.
It's a late 70s British movie based on The Who's rock opera from the early 70s. <– This is what sounded crazy to me! It didn't scream scooters.
I had never heard of this movie until I started asking around the scooter community about iconic scooter movies to share.
It's a late 70s British movie based on The Who's rock opera from the early 70s. <– This is what sounded crazy to me! It didn't scream scooters.
The main character, Jimmy, is a man who detests his job as a mailroom boy. His way of escaping this is by dancing, taking drugs, and partying. Mod cliques, riding scooters, and more await for his path forward.
Oh. Mod = modified scooters. And Jimmy is living his life through his modded Lambretta.
Talented Mr. Ripley
The model of scooter used in this movie is the 1953 Lambretta C
A young New Yorker is sent to bring an entitled, rich guy home from Italy. Since we're talking Italy, you know there are some nice scooters to gawk at.
The main characters are played by Matt Damon & Jude Law, and both ride around Vespa's, too. 
It's set in the 1950s, but it was released in 1999.
The Interpreter
This is a thriller, drama, and mystery movie in which an interpreter named Silver Broome overhears what she believes to be a plan to kill the president of Matobo.
Nicole Kidman is the lead, and it is she's driving a mustard yellow Vespa GT 125.
Larry Crowne
Larry Crowne, played by Tom Hanks, is let go from his job unexpected. Drowning in debt, he decided to make some big life changes. One of which was enrolling in college, where he met Mercedes Tainot, an instructor there who no longer had a passion for either teaching or her marriage.
When Larry could not afford to maintain his SUV, he bought a scooter, and a classmate at college, Talia, invited him to join a scooter club.
So you'll have plenty of scooters to admire in this pick!
What is interesting from a scooter perspective is that Larry Crowne's scooter is a vintage Yamaha Riva 180 from the late 70s/early 80s. NOT a Vespa!
Scooter
This is another produced in 2019, and most of the movie involves an adventure on scooters traveling from Miami to New Orleans.
It is considered a Thriller genre movie because they end up chased by a murderer, but it's got the vibe of a group of guy friends doing some goofy, fun stuff mixed in.
"It's Blair Witch on bikes!"

David W. Smith from HorrorCultFilms.co.uk
Luca
If you've got kids around or consider yourself a kid at heart, this is the movie for you. 😁 It's animated, and the scooter is the whole point of this movie. A couple of kids want one so bad they'll go to crazy lengths to get one.
Luca is a coming-of-age story of a young (mer)boy in the seaside town on the Italian Riviera. It is the story of a young boy experiencing a memorable summer which is filled with pasta, gelato, and friendship all tied into winning a scooter.
In the movie, Luca shares his adventures with his newfound friend, Alberto & Giulia. However, the fun is threatened by a secret: they are not of this world, but Luca and his family are sea creatures from a different world below the water.
The movie was produced in 2021 in the fantasy, animation, and comedy genres, and amination lovers are sure to enjoy this.
Icon movies with scooters for the kiddos!
Which Scooter Model is Used in Luca?
The scooter model used in this movie is the Vespa PX 150. This scooter served as a symbol of Luca and Alberto's freedom.
The scooter used in this movie is an animated version of a Vespa PX 150. It was a symbol of freedom for the kids in the movie, and there is a kid version that you can buy in true Disney fashion. It is a battery-electric ride with the unique and classy look and style of Vespa.
The Day of the Jackal
Thrilled based on a book from the 70s with the same name. The main scooter scene is at the start of the movie, but there are loads of scooters mixed in as a backdrop to the locations – like Paris & Nice.
Enrico Piaggio: Vespa
This suggestion is a documentary on the life of Enrico Piaggio & the birth of the scooter essentially through the Vespa brand.
Released in 2019, you'll definitely see some vintage scooter iterations.
Under the Amalfi Sun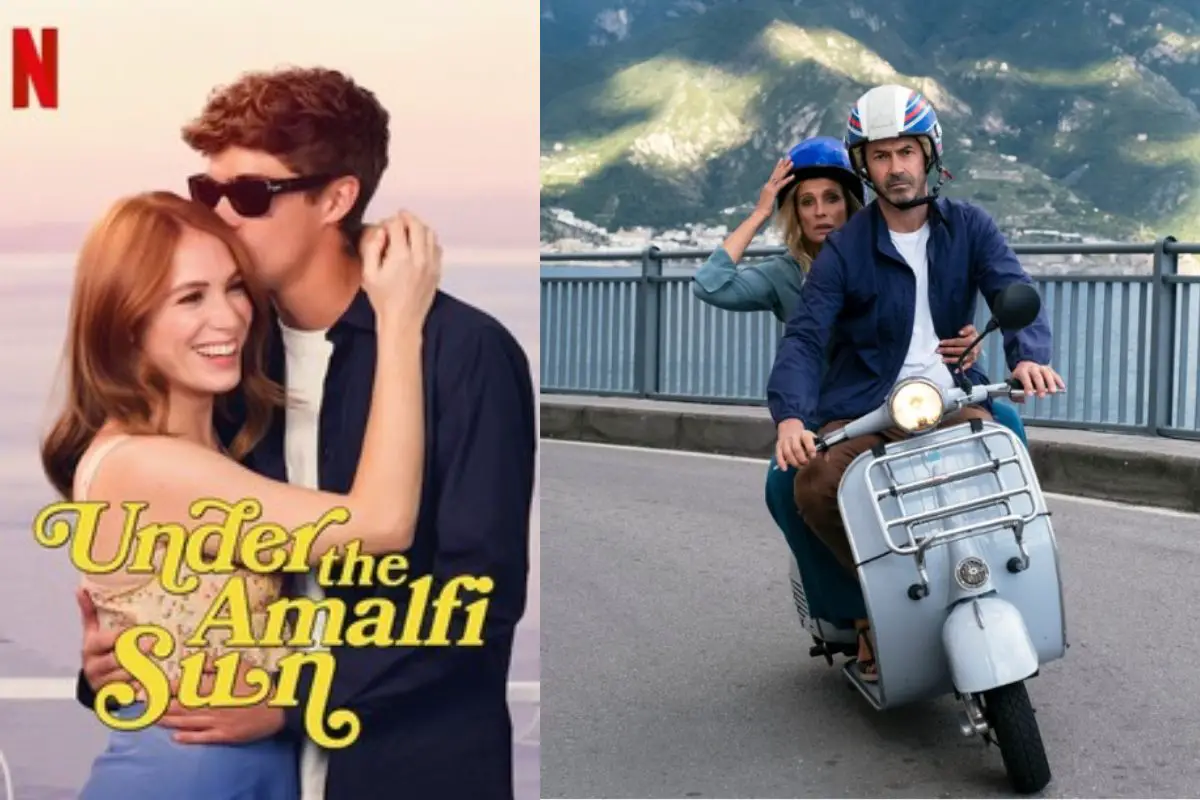 Honorable Mentions
These movies have scooters in theme, but they don't become a vehicle that gets the characters what they want or become a character themself. 
They do contribute to pop culture scooter sentiment, though!
Alfie – 2004
This one is a remake of a 1966 movie. Alfie, played by Jude Law, rides a 1960's 160 GS Vespa to get around NYC.
According to ChiefMarketer.com, it was one of those brand collaborations with Vespa presumably because Jude Law is a scooter rider, but Vespa teamed up with the launch as advertisement for Vespa Gran Turismo models at the time.
The Bourne Ultimatum
This is one of the movies in the Jason Bourne series, and in it there is an epic chase scene. Bourne is chasing an assassin that's on a Vespa PX 150. I can't quite tell what Jason is chasing him with, but please laugh a little with me. The villain uses a flip cell phone while riding… in the right hand?!
Classic for movies with scooters – you won't see safety gear, but since we're talking assassins here…
Emily in Paris, Netflix Series
Ok, ok. This one isn't a movie, but at the end of 2021 I saw a lot of buzz about the Vespa product placement in this Netflix series. This is the .5 in the title.
Emily is an American that ends up in a career-altering role in a Parisian marketing firm. It's a mixed bag with who likes her American-ness & not.
She ends up with a Christian Dior limited edition Vespa in season 2 for an episode or 2. It's a head-turning, very expensive scooter to check out. If this quirky gal isn't your style, the scooter is definitely interesting. It's over-the-top what-the-heck or that's-amazing vibes – depending on your point of view. Either way – over the top!
So no, this one is not a movie with scooters, but it's a tv show with one!
Be safe & be seen out there on your next ride, scooter friend!