Make a purchase using a link? We earn with qualifying purchases through Amazon & similar programs. Read more:
Affiliate disclosure
If you are looking for the absolute best seat cover for your scooter, you don't need to look any further than checking out Cheeky Seats. They make the absolute best seat cover for your scooter with oh so much personality!
I first ran across their product when I was at the motorcycle safety class to dip my toe into the 'scooter' water, so-to-speak. I drove to the other side of Houston (which is not a small feat) just for a class with a scooter to use during the riding portion of the class.
The gear they had for us to use was definitely beat up, but I lucked out with a scooter with a crazy looking seat cover with a zebra print. I wish I had taken a photo of this really beat up Honda Metropolitan 50 with a pristine zebra print scooter cover. I didn't even know it was a separate cover until later in the day when my classmates started complaining about their hot seats. Mine wasn't too bad. I started looking into a bit, and then I saw a tag that helped me identify the maker.
I didn't own a scooter at the time, but I am glad I filed away the Cheeky Seats for when I did!
I did end up buying a scooter a few weeks later, and then I went down the rabbit hole of how I could personalize it. Isn't that what scooter fanatics do? One of those things to personalize was the seat. I primarily park in a closed garage at home, and then I park in a parking garage at work. For the most part, my scooter stays out of the elements, but I liked the idea of a cover for the temperature control when I hop on the scooter when I wasn't covered PLUS for looks.
Enter Cheeky Seats. Here is how they describe themselves.
Cheeky Seats is a small boutique tailoring company… Like two people and a dog kind of small.

We specialize in hand crafted seat covers and accessories for scooterists. We personally make all the items you see on our website. Nothing is factory made or outsourced
Custom Fabric Option I Went With
Like I said, they have some standard fabric options and each cover is custom made to a variety of scooters. They will also take a fabric of your choice to make a custom cover, too! This is the route I took.
You'll want to stick to an outdoor fabric. I simply searched for a few days on fabric.com. I obsessed over it really. I landed on this one to match my turquoise Buddy Kick. This fabric is out of stock, but there are literally hundreds to browse to match your specific scooter. Plus check out the gallery or Instagram of Cheeky Seats to see all the combos they have done in the past. Insanely creative, top-notch seat covers!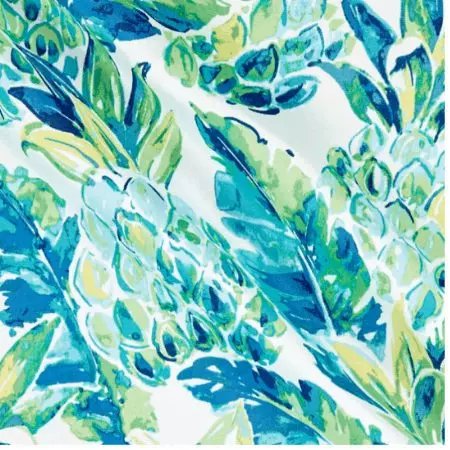 I sent the link to the fabric to make sure it would work, and they suggested a matching trim along with the quantity they would need. I ordered the fabric, and I had it sent directly to their location in Pennsylvania. A few weeks later I got a new seat cover in the mail. It was pretty easy. There were a lot of touchpoints with the back and forth, and they were responsive and friendly.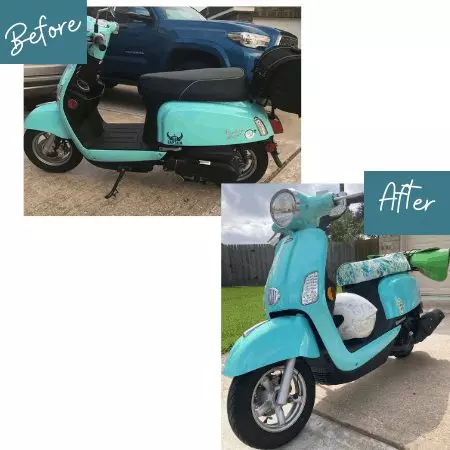 The piping detail that I mentioned earlier is for the places on the seat with the hard angles, so you can see it outlining the top in the photo below. It matches beautifully.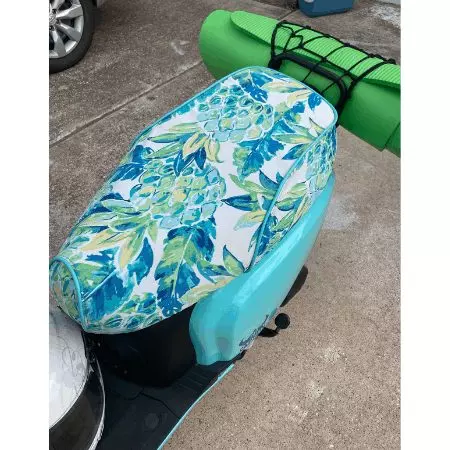 How is the Install?
Easy peasy. Below is a photo, but there is essentially an elastic band that you can loosen and tighten along the bottom of the liner. Ignore the garage, but you get the idea. There is a piece of brown string towards the top left that is attached to the black elastic area that I'm referring to. I've literally never taken it off or adjusted it. Well, until today when I took it off just to make sure it was holding up in that regard. Yup.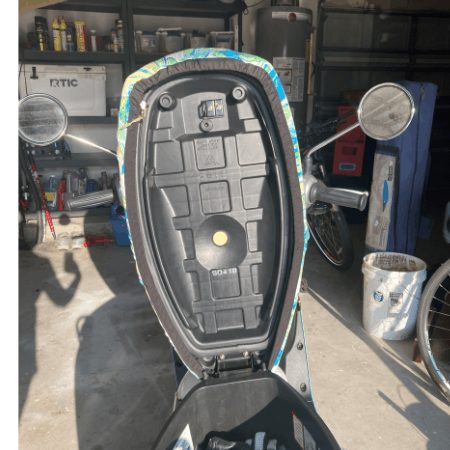 How is the Cover Holding Up?
I am approaching the 1 year anniversary, and it still looks like new despite the regular use. As a matter of fact, the piping and after photos are both from this week, so they are essentially the wear & tear version of the cover at this point.
When I would put my helmet on the under-seat storage box post to hold it, I'd close it, and it was starting to wear on the material of the original scooter seat cover. I haven't taken off the Cheeky Seats cover in the year since I got it, and the damage has not gotten worst. I'd say that the cover is even protecting the original at this point. Win!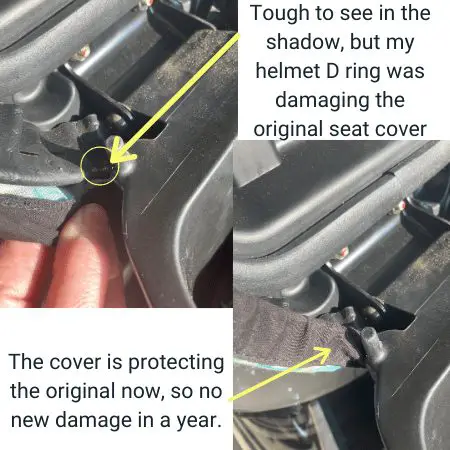 Other Custom Options
They have so many options, and they have some fantastic galleries of covers they have made already. Here's a link to their custom gallery. Here's a fun list of some of the things they have done.
Fringe. Yup. Fringe.
Quilt!
Amazing embroidery and quilt type stitching
Bob Marley. Hair & all
Oh, the glitter….
State and country flags
Sports your thing? There is a seat with the design of a football on it and another with a soccer design.
Coffee
Animals – cats & monkeys, anyone? What about an octopus or a bear?
There is literally a veil. A wedding veil.
I love the Batman, Deadpool, and Ghostbuster inspired seats.
I have to end this list with a solid R2D2 inspired Star Wars seat cover. Who else would make this kind of awesomeness?!
Do They Make a Cover for Your Scooter?
Here's a list in case you are curious about how extensive their custom options are:
Super Cub C125
Honda Ruckus Zoomer
Metropolitan Jazz Scoopy CH 50
Elite 50 80 110 250
Grom MSX 125 2013-2020
PCX 125 150 2010 – 2019
Reflex 2001-2007
ET 2/4
LX/LXV
S Sport/Touring
Sprint/Primavera
GT/GTS/GTV
Vintage
Buddy
Buddy Kick
Stella
Roughhouse/Rattler
Hooligan
Cozy Rocket Sidecar
Like 50-200i
People 50/150
Compagno 110i
Agility 50-125
Cali Classic
Havana Classic
Cabo
PCH
Mio 50/100
There are plenty more options, as well, so check out their site or toss them a note to double-check if you don't see your model listed here. They have excellent customer service, as well!
What Would I Improve?
The only thing I thought of when I made the purchase was that it was not all that clear how to buy the cover much less buy a custom version. Since then, it appears to be a bit easier on their site to order a cover. I might have to try it again. My scooter, Marisa, needs an update, right?!
Anyhow, they've got a storefront on Etsy, as well, and I encourage you to check their store out here!