Make a purchase using a link? We earn with qualifying purchases through Amazon & similar programs. Read more:
Affiliate disclosure
When I first started an informational site on scooters, I had no idea how many older riders are drawn to scooters. Scooters aren't the norm in many US cities, so I hadn't really thought about who rides them. However, the more I talk to readers and YouTube subscribers, the more I understand why scooters are the best motorcycle for older riders as they age.
Whether you are feeling a few more creaks getting out of bed or just not as strong as you were, scooters offer a way to keep riding as you age. Let's dive into why if you aren't quite convinced yet.
Reasons a Scooter is the Best Motorcycle for Aging Adults
Comfortable Riding Position
Scooters have a riding style that is generally unlike other motorcycles. On a motorcycle, you sit with your legs apart and depending on the type, you may need to lean forward. There are reclining styles in the same way that there are some reclining scooter options.
In general, you ride a motor scooter with your feet placed on the footboard with your chest in an upright position. Think like if you're sitting on your dining room chair. It's natural.
➡️➡️Read more: Scooters vs Motorcycles ⬅️⬅️
Easy to Ride
Scooters are incredibly easy to ride – especially modern automatic models!
One of the appeals of a scooters is the twist & go. You literally twist the throttle, and the scooter is propelled that easily. No clutches to use with a foot or your left hand.
I have had a few subscribers have told me about foot injuries that make using a clutch problematic. My favorite story is one where the rider bought a cheap, used scooter to just try it out. He loved how zippy and easy the scooter was, so it was a no-brainer for him. He sold his motorcycle.
I actually have a bum left ankle from time to time, so I'm glad I can keep riding!
Saves Money
There are certainly expensive scooters, but most scooters will save you over a traditional motorcycle. You certainly do pay more as the engine sizes increase, but most scooter riders are interested in the 50cc, 150cc or 300cc and not so much on the motorcycles around 1,000cc.
The maxi scooter is still there for you if you're ready for a premium scooter with more power, too.
This makes it easy for older individuals to get a scooter without breaking into their savings or retirement funds.
But a scooter is the best motorcycle for older riders that also want to save some money!
Power Limits
If you consider yourself older and you've never ridden, then a scooter is an obvious choice. You can certainly get into trouble on a scooter, but they are generally smaller compared to the engine size of a motorcycle.
The size limitation means you are limited to speeds that should reduce your likelihood to not be able to control the situation.  
That said, they are great for getting around on city blocks to run errands, piddle, or even be a tourist in your own town on! With a big smile, of course! The zippy experience on a scooter is just very different than you'll find on a traditional motorcycle.
Pro-tip: Mopeds are 2 wheeled transportation that stands for motorized pedals. There aren't pedals on motor scooters, so we're going to refer to them as scooters from here on out! 🙂
Easier to Maneuver
The size of a scooter is a huge perk for anyone that doesn't feel like they can handle the weight or bulk of a motorcycle.
One reader actually shared that he broke his leg moving around a motorcycle in his driveway. He lost control, and he was essentially pinned under the motorcycle until someone came to help after yelling a bit.
That was scary, he healed, and he wanted to ride still. Enter the scooter. He checked out a 150 and a 300. He really wanted the 300 cc engine size for the flexibility of the roads he wanted to ride, but he was nervous about the weight. He handled one in person, and he was sold!
They are just so much lighter, narrower, and shorter. Couple that with (usually) smaller tires and a smaller engine, and you just aren't moving around as much. It makes it way easier for backing out of a slight incline of a parking lot and maneuvering around town.
Convenient
Between the glove compartment, underseat storage area, bag hook, and if you add a top box, you'll be surprised how much you can fit on your scooter! I have even carried a backpack, and I have gone grocery shopping for my family of 5 on a scooter!
Plus, the smaller size generally makes it easier to find a parking spot. You'll want to follow the rules of your area, but where I live the rules are fairly lax.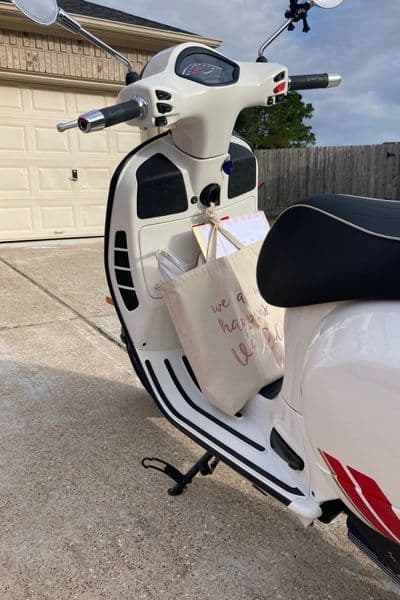 Things To Look Out For as an Older Rider
When getting a scooter, your joy can be found in the details. This is so that you can ensure that you're safe & comfortable while riding the scooter. Below are some of the elements you should pay attention to truly get why a scooter is the best motorcycle for older riders.
Wheel Size
In general, the larger the wheel, you'll find that the scooter will be more stable and easy to control than a scooter with the smallest tire.
You don't need to find the biggest tire to get going, though. I swear the Buddy Kick is one of the best scooters for shorter riders. Part of that is courtesy of the 10″ tires on it!
So consider the wheel size when comparing scooters, but it isn't an end-all, be-all decision maker if the height of a scooter with big tires is too much.
Good braking system
You can get scooters with a disc and drum combo, but there are models that offer a Anti-Lock Braking System (ABS) or Continuous Braking System (CBS).
ABS brakes serve as a preventive mechanism to ensure that riders do not lose control of the scooter during emergency stops. CBS applies the brakes uniformly at the front and rear even if you don't apply them quite as smoothly.
Upgraded brakes are a great idea for any rider!
Engine Size
All scooter riders need to get the engine size suited for the roads they plan to travel. If a 30 mile per hour (mph) city rider works, a 50cc is absolutely fine.
If you hope to get on a 60 mph road regularly, then a 150 will really be too small. A 150cc has a top speed of ~63 mph, but scooters don't love to run at their max for a long time. Add-in that it is very important to be able to maintain the speed of the road. Yes, you can stay in the right lane, but if you aren't able to go a speed relative to other vehicles, find a different route, or speed up!
➡️➡️ Read more: Are Scooters Safe? ⬅️⬅️
Scooter Riding Tips For Older Riders
If your age is a factor for riding, just know that the safety tips for young riders are the same for older riders.
Get training: Whether you've been riding for years or just driving your car, refreshed training can be absolutely helpful. If you have doubt, sign up for an MSF Basic Rider class when the chance of cold or extreme heat isn't as likely.
Wear protective gear: Always wear protective gear whenever you are riding a scooter. I get asked often if helmets are necessary for scooters. Dings hurt more as I age, so I do what I can to protect my body by wearing gear, and yes, wear a helmet.
Be a fair weather rider: Avoid riding in the snow or rain, really. Other drivers miss seeing motorcycles and scooters on the road on a good day, so I prefer not to tempt drivers with limited visibility. Plus those slippery roads. It's not to say you can't ride in the rain. It's just not my favorite thing if I can avoid it.
If you're prone to getting cold, layer up & dress for the weather! Plus you can get heated gear if it is truly problematic for riding.
5 Best Scooters For Older Riders
Contrary to the notion that scooters are meant for teens and young adults rushing to get to the office, scooters are now becoming more popular with across the ages! I didn't find scooters until I was over 40!
Below is a list of scooters is the best motorcycle for older riders.
Honda ADV or PCX 150
These scooters are characterized by their powerful engine, enabling you to scoot around the town or city with roads on the regular with 45 mph limits.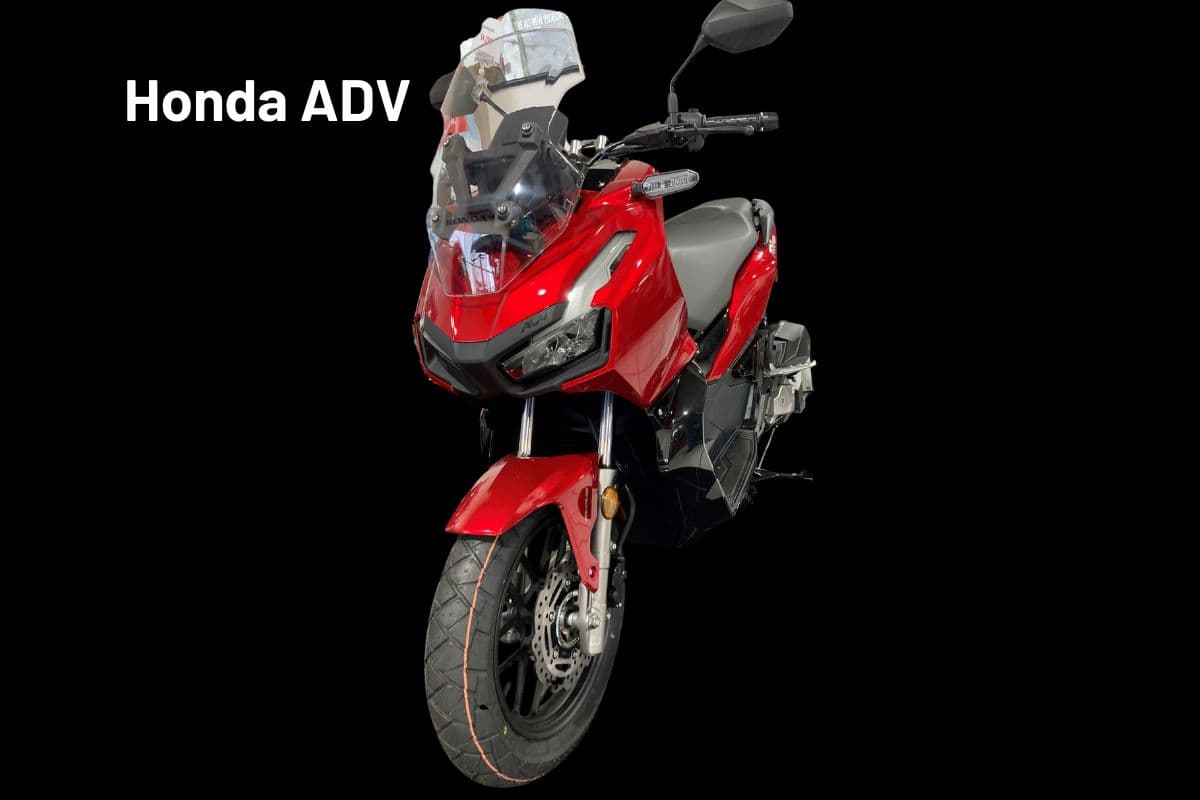 The Honda PCX and ADV have a top speed of about 65 mph, and their gas mileage is around 80-90 mpg. It's got the Honda stamp of approval with a big dealer network, and the electronic fuel injection means you won't have a carburetor to deal with if you forget to winterize when you won't be riding much.
You will like that these motor scooters have the option for ABS brakes, and they have 14″ wheels to add to the stability of the ride. In addition, they both come with a windscreen. I find that a windscreen makes it a bit less tiring to ride longer because your torso doesn't have as much working against it through a little wind blocking.
Lance Cali Classic
The Lance Cali Classic scooter comes in a 49cc, 124cc and 169cc option. The 169cc is labeled as a 200i with the 'i' referencing that it's fuel injected. I tend to recommend scooters with the fuel injection, but I know it isn't important to everyone!
The 169cc has a top speed of about 65mph. It is a reliable scooter with effective brakes, good handling, and a comfortable riding position. It has a tank capacity of 1.37 gallons with good fuel economy of about 87 mpg.
The only downside to this scooter is that the wheels are a bit small at 12 inches and might not give it the optimum stability needed.
The 200i 169cc has the CBS brakes to help apply the braking power evenly between the front & rear, but the lower engine sized Cali Classics are not equipped with that feature.
Suzuki Burgman
If you're looking for an extremally comfortable ride, then a maxi scooter will answer that call. The Suzuki Burgman comes in a 200cc and 400 model. The 400cc model is the one that you can even take on some highways comfortably.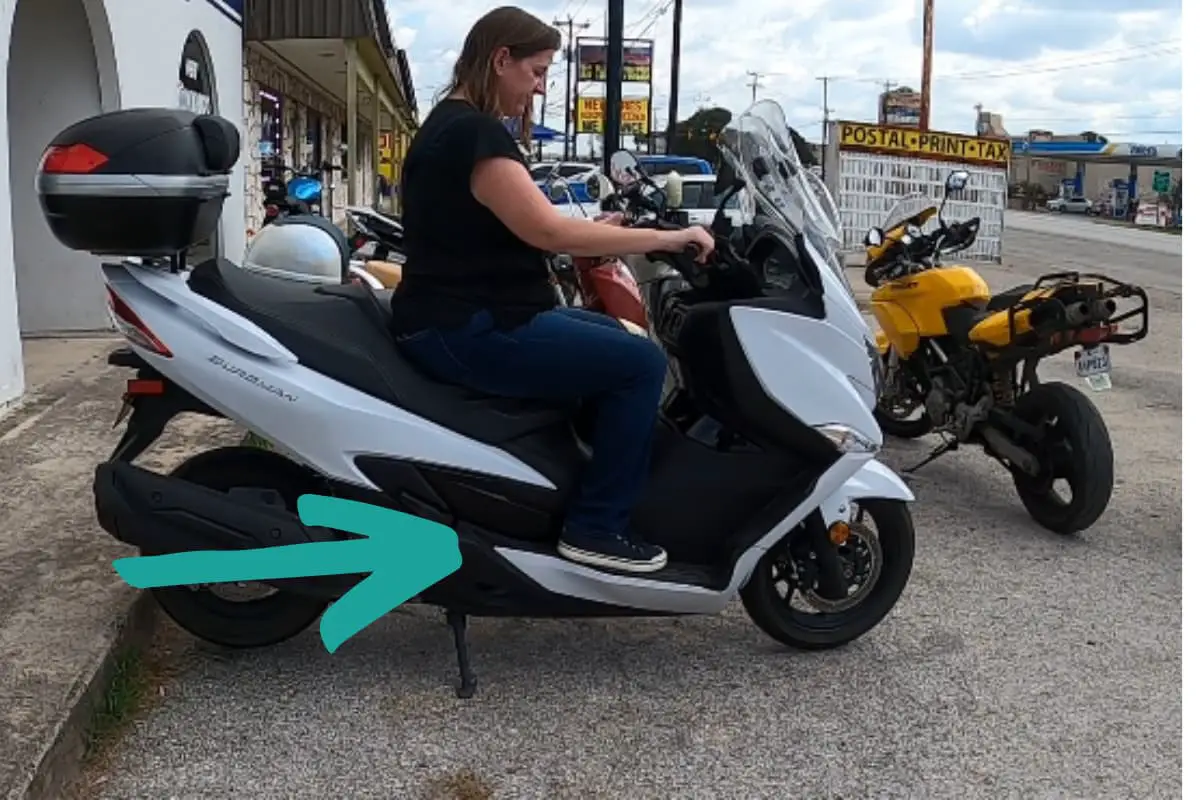 It's got an upgraded suspension compared to the smaller sized scooters, a windshield, electronic fuel injection, liquid cooled, ABS brakes, and larger wheels for stability.
It's a scooter with a lot of features that those young & old can appreciate.
Genuine Buddy Kick
The Buddy Kick is one of my favorites, and it's in my garage! I especially love this scooter if you want a scooter that feels lower to the ground, has enough power for a 45mph road, and doesn't feel too heavy whether you're maneuvering in the garage or making turns on the road.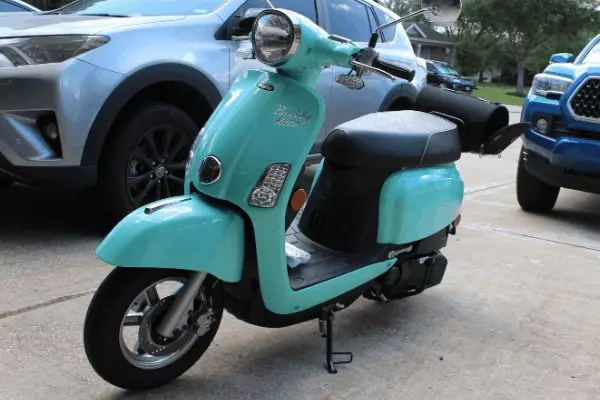 The Genuine Buddy Kick has a 4-stroke, fuel-injected engine, is fairly lightweight, and it comes in a variety of colors. I know it sounds cheesy, but really, if you are seen by drivers on the road with a bright scooter, you aren't as likely to be hit by one!
Sometimes scooters are tough to get accessories for, but you can get all the options on this one including a windscreen to limit how much wind your body has to fight against as you scoot around.
There are lots of scooters that can meet your need, so check out this post on how to choose a scooter. In it, there is access to a spreadsheet that will help you filter on the elements that are most important to you (like weight, engine size, braking system and more).
Accessories You May Like
Once you get your scooter, you can always add things to make your ride better as you encounter something. You'll want to double-check, though, because some scooters are harder than others on getting accessories.
For example, you can add a windshield to many scooters like the Buddy Kick or a Vespa as they don't come with one.
A rack and top case, crate or even a roll bag really expand how much you can use your scooters for an errand.
If you aren't sure on the helmet, read this helmet buying guide to buy one that is as comfortable as possible while protecting you.