Make a purchase using a link? We earn with qualifying purchases through Amazon & similar programs. Read more:
Affiliate disclosure
Did you know that scooters are motorcycles? Well, technically they are a class of motorcycles, but that is why you find moped laws and such wrapped up in your area's motorcycle laws. There are engine size laws that make scooters feel like a different class of getting around town, so it's easy to see how scooters seem like a gray area.
In general, only 3 states in the United States have no helmet laws. However, 19 states require all scooter riders to wear a helmet. The remaining states have helmet laws that depend on the engine size or power and rider age.
We recommend helmets around here, and I like to think of it this way. Bicyclists wear a helmet, and they go 30mph. They may only go that fast downhill, but you get the idea!
Read on for a jumping point on whether your state requires helmets or not.
State Specific Helmet Law Summary
Wearing a helmet is all about protecting you, so it is definitely a good recommendation. I did some research on scooter safety if you want to dive in on safety in particular.
The big takeaway regarding helmets is that 60% of motorcycle fatalities were a result of no helmet.
Regardless, below are the state specifics I was able to dig up at the time of this article.
YOU WILL DEFINITELY WANT TO CONFIRM THIS WITH YOUR DEPARTMENT OF MOTOR VEHICLES. Laws change!!
No Helmets Required for Scooters
If you are in Illinois, Iowa, or New Hampshire, you have no helmet laws.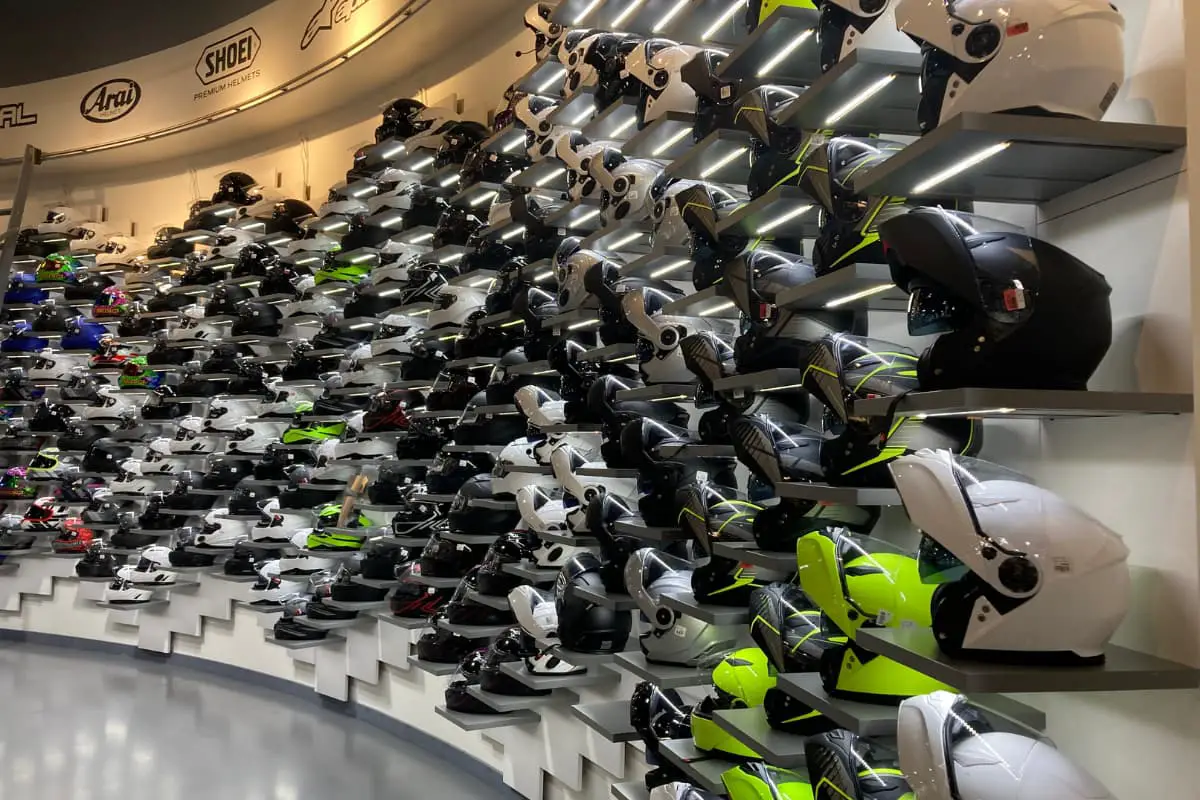 States Where ALL Riders Must Wear a Helmet
If you're in one of these states, you'll need to wear a helmet to ride your moped:
Alabama
California
District of Columbia
Georgia
Louisiana
Maryland
Massachusetts
Mississippi
Nebraska
Nevada
New Jersey
New York
North Carolina
Oregon
Tennessee
Vermont
Virginia
Washington
West Virginia
You'll want to confirm, but you're likely only required to wear a helmet with a Department of Transportation (DOT) approved certification. That means a half or 3/4, open face helmet would be on the table for you.
My fav full-face helmet and open-face helmet
All YOUNG Riders Must Wear a Helmet
Alaska, Arkansas, Colorado, Connecticut, Hawaii, Indiana, Kansas, Minnesota, North Dakota, Ohio, Pennsylvania, Rhode Island, South Dakota, Texas, Utah require younger riders to wear helmets.
This varies by state, and several of the states have changed the threshold. If you are under 21, you will want to confirm your status as the laws requiring the helmet start at 17 and go up to 20 for cut-offs depending on the state.
Speed & Engine Size for Mopeds
I hate that they call them mopeds because mopeds have pedals. Motorized pedals = moped.
Anyhow.
The laws here are that the mopeds are restricted at or below 30 mph with the horsepower of 2 or less and a motor no larger than 50cc. Georgia and Vermont are in this zone.
If you've seen a scooter advertised as a 49cc this is generally why. Trying to make sure they stay state friendly for this engine size.
All young riders must wear a helmet unless speed and horsepower requirements are met
Each of these states has different age cut-offs for a helmet from 17 through 20, and they have different designations for mopeds (30 mph max & 49cc engine).
For example, some want the horsepower under 1.5 while others have a 2-horsepower max. If you are in Arizona, Idaho, Maine, Montana, New Mexico, Oklahoma, Wisconsin, Wyoming, Delaware, Florida, Kentucky, Michigan, you'll want to confirm further for these moving targets.
Other
These states have a few nuances you'll want to know about, but yes, they generally helmets are required for scooters.
Missouri requires helmets for those 25 and younger unless you are riding a motorized bicycle that meets moped requirements. That bicycle terminology was a bit odd to me, but that's a true moped = motorized pedals.
New York requires helmets for all riders unless the speed has a max of 20mph. This is the lowest speed requirement in the country.
South Carolina requires helmets for those 20 and younger unless they are riding motorized 3-wheel cycle. This is the only state with a 3 wheel designation in the regulations.
If you find yourself in the market for a scooter helmet, you'll find a Complete Helmet Buying Guide here.
Is Other Safety Gear Required for Mopeds?
Generally, states don't regulate the rest of the gear, but there are some that have requirements you'll want to double-check.
For example, some require eye protection.
Read more about safety gear beyond the helmet.
My recommendations: