As an Amazon Associate we earn from qualifying purchases made on our website. If you make a purchase through links from this website, we may get a small share of the sale from Amazon & other similar affiliate programs. You can read the complete
disclaimer information
for more details.
The first year I was riding, the winter turned out to be a huge learning curve for me. I would bundle up with what the gear I have, but it never seemed like enough. I live on the Texas gulf coast, and I trail run in a bit varied climates for fun. Surely I have the right combination of clothes to wear under my safety gear. I kept getting to work as frozen as a popsicle. Learn from my mistakes!!
To stay warm on your scooter, you will need to focus on layering your clothes. Base and insulating layers made with moisture-wicking fabric with top layers that are wind and water-resistant will make for a warmer ride. Carry layers to add and keep room in your storage to make sure you can take some off as the day warms up. Add in a few accessories to fill in the gaps such as heated handgrips or a windshield.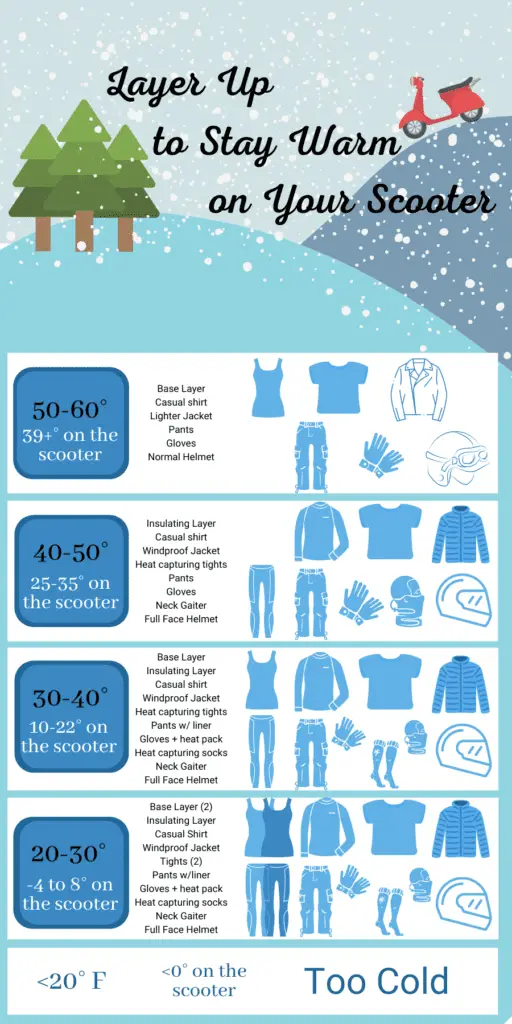 When the temperatures fall, it is a balancing act to stay warm but not to the point where you find yourself sweating. It is difficult to find that middle ground, so I have put together some tools to help on that front.
Know When It's Just too Cold
All of this information is assuming you do not have ice on the ground. That poses dangers that I am not experienced enough to answer. I just know the hurdles I had to go through to find the right balance to stay warm which led me here.
Your Speed Makes Your Ride Much Colder
Let's say the temperature outside is 40°F. That is cold, but it isn't a big deal. Now let's add in winds at 45mph, and now the feels like temperature is 26°. Below freezing. Bigger deal. Check out this chart from the National Weather Service to help understand the temps you may find yourself riding in. The temperatures are the left and right values with the wind (your speed) going down the chart. Find where the temp and your speed is, and that is the temperature you will feel cruising (or freezing) down the road. The warmer it gets, the lesser the impact. The colder it is, the greater the impact. Know what to expect from your weather before you head out to prepare well.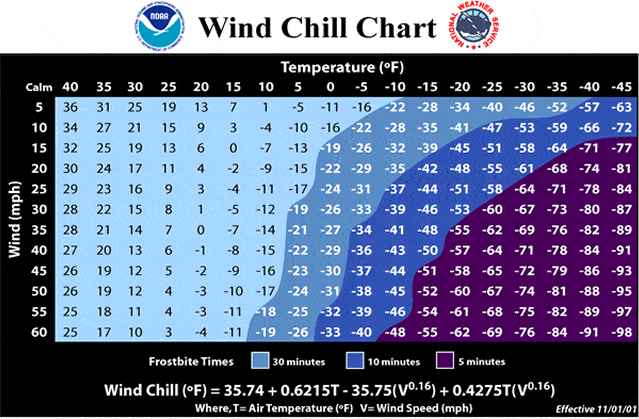 Start With Your Fingers and Toes
I swear, the coldest parts of my body in those days of bad experiments were my fingers and toes. I only work 8 miles from my house, but I kept having to stop and pull over to get the feeling back in my fingers, in particular, to make it all the way there. You have a lot of options to use in this space. I have included a few links to Amazon on the list.
Heated grips to actual send heat to your hands
Handguards to limit wind
Bar muffs to insulate
Winter gloves including heated options
Hot packs (Amazon)
Keep Your Upper Body Warm
Now Onto Your Base Layer
For a base layer, you are looking for an undershirt that will sit close to your skin but is also moisture-wicking to keep you dry. You can choose a tank top, short, or long-sleeved option as long as steer clear of cotton. I use my workout gear for this as it is dual-purpose.
Insulating Layer
When I need to add in an insulating layer, you should look for fleece or wool options. This layer also needs to have moisture-wicking properties. Seriously, getting wet is awful, and it is easy to do when you start layering up. For this one, I just used some cold weather work/sports shirts. Below are the links to the ones we ride in.
Male version the mister uses for work and riding
Female version the lady-of-the-house uses for running and riding
We've bought the 2.0 and 3.0, and there is even a warmer 4.0 we haven't had the need for.
Jacket
Check out my full recommendations for jackets here. I have a mostly mesh jacket with the armor in it, and when the temperatures start to fall I just add the quilted layer in to cover me in the fall and spring. When the temperatures fall further, I then move up to another jacket for the wind and water resistance.
Depending on the temperature, we are on the 3rd layer for the top portion of our body. You can get bulky, so pay attention to how much you are able to move as you layer. The base and insulating layers are designed to prevent limiting movement as they designed for the outdoors and all that means, but if you're shopping for a jacket, make sure you can move well still.
There are options to provide heat in your jacket, as well. If you are fighting some frigid temperatures, a heated vest could be a welcome relief!
Now Onto Your Lower Half
Tights
Just like the base and insulating layers of your upper body, you will want to wear tights that are moisture-wicking and close to your skin. This helps hold in your body's heat and keeps you dry.
For the upper body, I do not mind wearing as many layers, but I find layering the bottom half gets cumbersome. It is rare I will break out 2 pairs of tights under a pair of motorcycle pants, but I do have 2 types of tights I rotate through depending on the temperature that still allows me to feel like I can walk normally.
Just a pair of thermal leggings for a little warmth. Men's version
Fleece-lined tights to step up the warmth
For whatever you choose, be sure the seams are not a problem. When you start layering, an irritating seam can become really problematic.
Pants
This is where I have the armor for the bottom part of my body's protection. I prefer all-weather options, so a removable liner that provides both warmth and wind/water resistance is key for me. The pair I recommend has a thermal and waterproof liner that you can check out on Revzilla.
Above Your Shoulders
Your Neck
When I need to break out a neck gaiter, I generally just start layering the running ones I have gotten for swag at races. They are not anything special, but they are lightweight for tucking away quickly and give me the moisture-wicking I need. I really find it annoying when my collar area and neck get cold when my torso and head are fine, so I always carry one on my scooter.
Check this neck gaiter out on Amazon if you are not quite sure what a neck gaiter is. You can wear this a variety of ways, but 9 times out of 10 it is just a neck gaiter for me. If you are seeking warmth, you the wool version would limit the need to layer. Balaclavas are also an option. I opt for the Buff style to keep from buying more than I need.
Your Money Maker (Your head, silly!)
I am a big fan of the full-face helmet, but it seems that most scooterists are not. You do you, so that is fine. However, when it is cold, you will love having a full-face helmet. Just make sure you close your vents before you put your gloves on. I can get them closed with the gloves, but it is definitely harder when the helmet is already on my head.
If the full-face helmet is still cold while out riding, you can play around with layering the buff around your head, too.
Staying Dry = Staying Warm
If you have read through all of this, you will notice a theme. Layering + Stay Dry. Staying dry is critical to staying warm.
When you are wet, the water becomes colder faster. This in turn prompts your body to give its heat to the water which then evaporates. This in turn makes your body temperature fall through the exchange. Sweating is very similar but beneficial when hot because feeling cooler is good. Feeling cooler when it is cold out is not good.
This means that damp base layers are bad. If you find yourself sweating, like when you hop off the bike for the errand you are out for, you'll want to notice and adjust.
One option is to simply adjust your layers to the temperature without all that wind from the ride.
If that is a pain for your quick errand, you can always just open up any panels or zippers to allow some cooler air into your gear.
Carrying Any Layers? Keep Them Dry.
If you find yourself with layers in your luggage, make sure you keep them dry to be useful. If you have a top box like this one on Amazon, it should be fine. If you have a soft luggage option, make sure you cover it with a waterproof cover or keep your gear inside of a drybag inside of your luggage.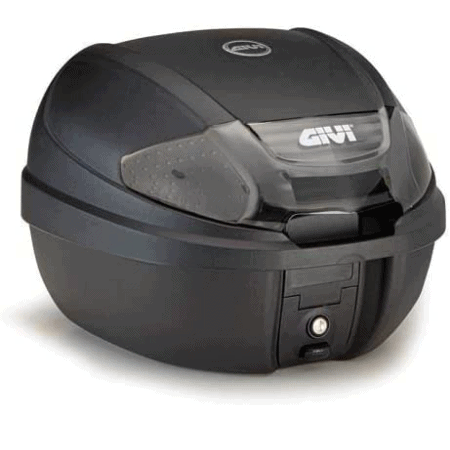 Scooter Accessories That Keep You Warm
There are a variety of options that you can add to make your scootering more comfortable in the winter. I have not yet tried them all, but I wanted to share what I discovered in case you need a bit extra to get through your rides with a smile!
A leg cover that fits over your legs. This should limit how many layers you need, in theory.
A windscreen acts as a barrier for the wind to go over and around to limit how much of it hits you. These are scooter specific, but here are a few windscreens to see what they look like.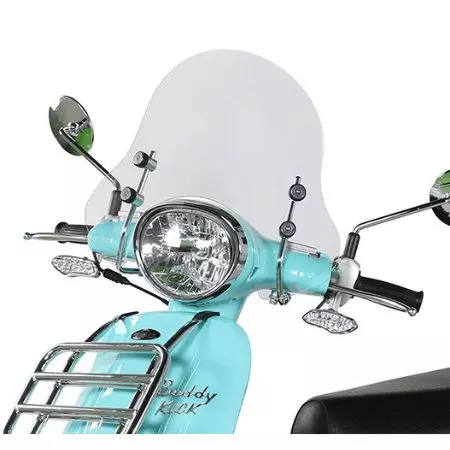 Heated grip kits. Here is a universal option. There is a version for a 7/8″ size and a full 1 " size.