Make a purchase using a link? We earn with qualifying purchases through Amazon & similar programs. Read more:
Affiliate disclosure
Scooters are NOT all mini motorcycles that go 30 miles per hour and putz around town. There are some that go over 100 miles per hour and cruise along the highway with a LOT of premium features.
That's a maxi scooter.
What is a Maxi Scooter?
Maxi scooters are certainly bigger version of scooters, but they are designed very differently. To start, they generally have a larger motor than many scooters. The smallest maxi scooter has a 200cc engine, but a Vespa GTS 300 is larger than that yet isn't a maxi scooter. So what is a maxi scooter?
Maxi scooters are a multipurpose motorcycle. In general, they do not have an engine size under 400cc with premium suspensions and larger tires than traditional scooters come with. Maxi scooters tend to be larger and offer more storage, as well.
So what exactly makes a maxi scooter so awesome (& worth buying)?
Think maximum scooter. They're just MORE all the way around.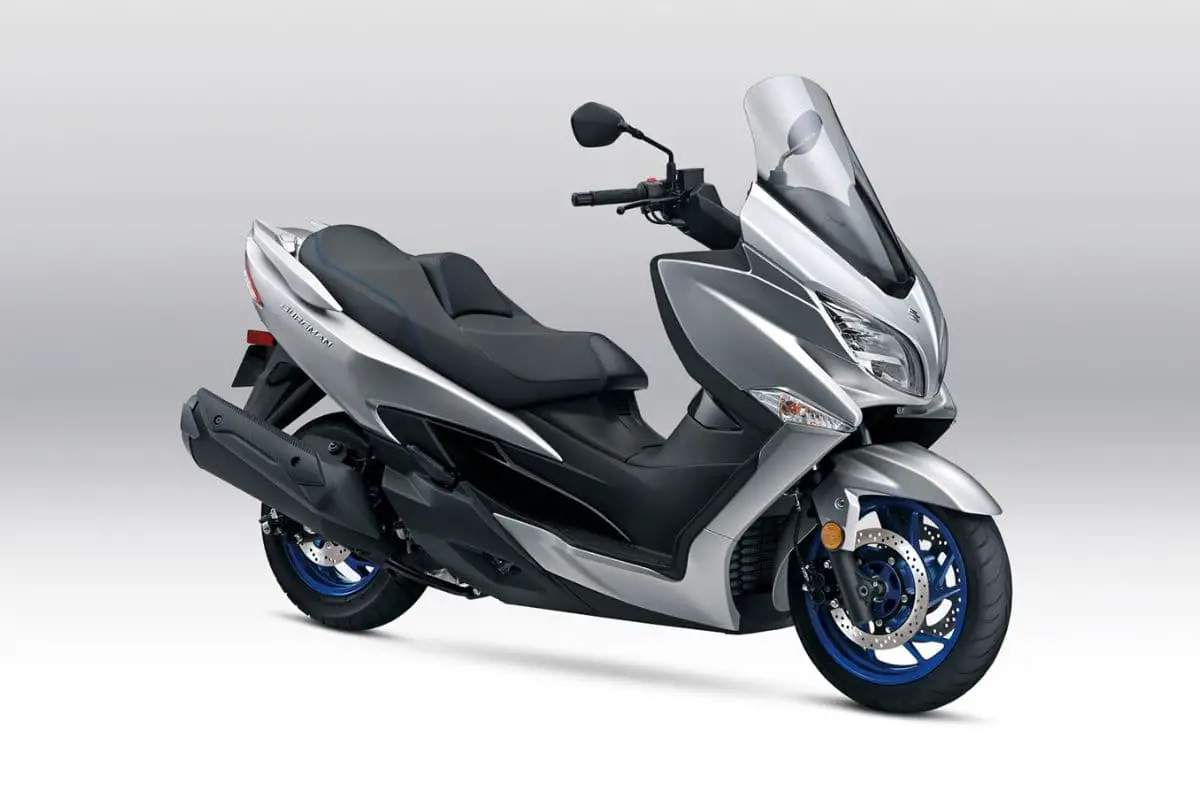 Read more about Different Scooter Types
1. They're FAST!
To start, maxi scooters generally have a larger motor than you think of when you start thinking of scooters, and that's going to give you more power & speed. How much, though?
The smallest maxi scooter available is the Suzuki Burgman 200 cc model, which has a top speed of over 70 miles per hour (mph). Most models are 300 cc and beyond with the 550cc and up scooters that can certainly top 100 mph. 
We're definitely talking about a full-on motorcycle speeds but luxury.
However, know that not all scooters with a 300cc engine are maxi scooters. The Vespa GTS 300 is an example of what you'd expect a scooter to look like but with some speed capabilities. However, there is more to a scooter than just the engine size to be labeled a maxi scooter.
2. More Comfortable Ride
What truly sets a maxi scooter apart is how much attention is given to comfort. 
Maxi scooters have upgraded suspensions (like the horizontal arailing arm rear suspension on the Kymco AK550) that give the ride a premium, smooth ride, but its more than that.
They tend to have larger tires (closer to what you'd see on a traditional motorcycle tire). If I throw out the Suzuki Burgman 200, the maxi scooter average is 15-inch wheels. 
For those 200cc and lower, the average tire size for a scooter is 12 inches. That 3 inches makes for a cushier ride as the tire absorbs more of the bumps in the road so-to-speak.
Maxi scooters are also considerably bigger to accommodate those features and engines. The weight of the scooter certainly adds to more of what makes a maxi scooter so awesome!
That weight and the larger tires also make the ride feel more stable. They aren't quite as nimble as a 50cc moped, but they will take the twisty roads you imagine yourself exploring that much sweeter.
Maxi scooters also offer 2 locations for foot placement. You can ride upright like a traditional scooter, or you can have your feet up a bit like you see cruiser motorcycle riders ride. The key here is that you can move around a bit more than you can on any other type of 2-wheeled option.
Lastly, they tend to have a lower center of gravity, so even though you'll find a maxi scooter quite heavy, riding it doesn't feel heavy.
3. More Storage
The size of a maxi scooters gives you more than an improved ride but more storage. Why does that matter?
If you want to go on longer rides, you'll have more storage space in the underseat storage box for the gear that will keep you rolling.
Want to carry a passenger on the back with you? Maxi scooters tend to have the space for 2 full-face helmets in their under-seat storage space. You can't fit 1 full-face motorcycle helmet inside of most traditional scooters or a motorcycle, so it's a big difference.
Plus their weight allows for you to carry more luggage if needed. A rack on a smaller scooter is limited to around 20 pounds, but the sturdier options for a maxi scooter will let you bring more along.
4. Premium Features
Maxi scooters across the board just come with more features. 
Anti-lock braking systems (ABS) are standard across the model line-ups. Those are optional on smaller scooters. I used to think that ABS was just standard for maxi scooters because they are simply higher powered.
Nope. Equivalent sized motorcycles and beyond offer ABS as options instead of standard. 
The same goes for things like the upgraded dash options as you'll find more advanced feeling dashboards that connect to your phone for navigation and alerts.
Another example is that they come with windshields standard, traction control, dual disc brakes (in premium brands like Brembo), many have heated grips (some have a heated seat), LED lighting and more that you just don't see as standard on other scooters or motorcycles. 
These premium features mean comfort and added safety features.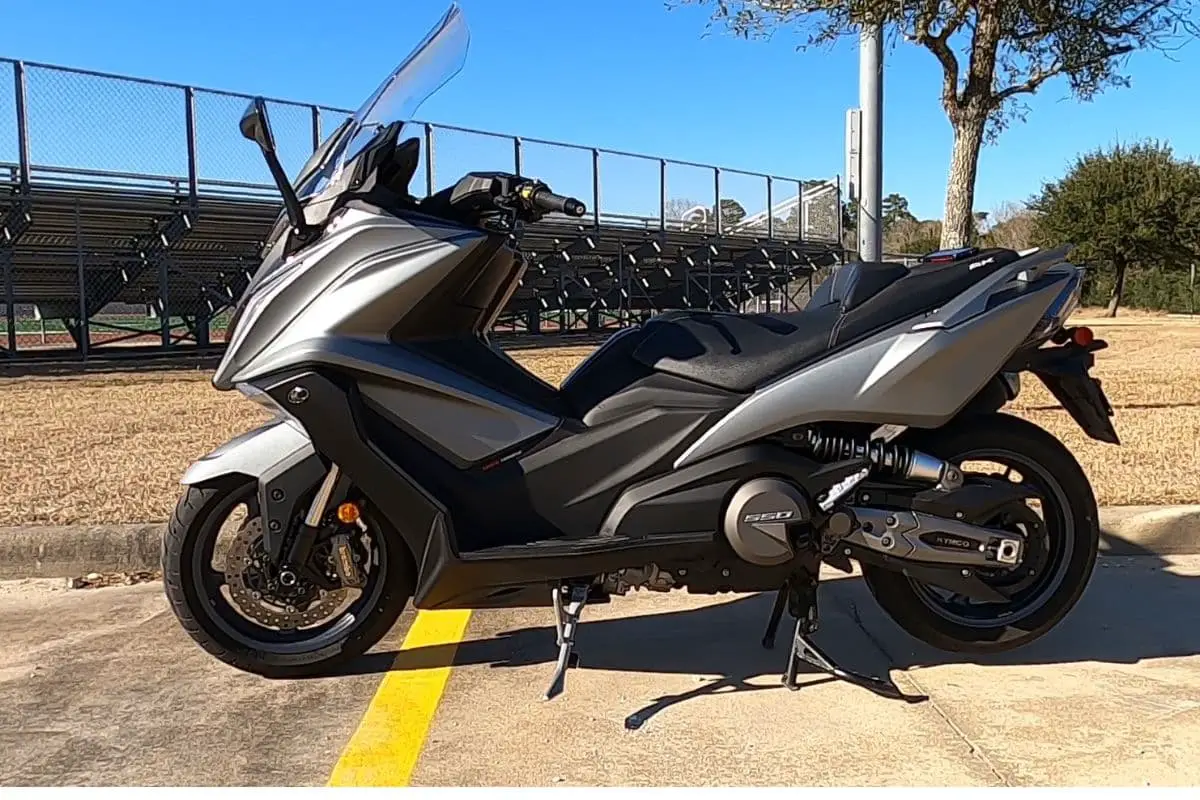 5. Perks of Good Fuel Mileage
In general, the bigger the motor, the more aggressive you are on the throttle, and you simply get less fuel economy.
However, we're still talking a scooter. An 1,100 cc motorcycle will guzzle more fuel than the 550cc maxi scooter. 
Also, scooters are not nearly as common in the US. They ARE more common in Asia & Europe, and Europe has strong fuel efficiency standards. To make the models more internationally compliant & available, you'll find that maxi-scooters tend to come with the EU requirements here like the Euro 4 versions available now.
The most recent model year maxi-scooters boast an average of 63 miles per gallon (mpg).
6. No Clutch
A maxi scooter has the benefit that modern scooters are known for. They have an automatic transmission, so you do not have to shift with a clutch.
Scooters are known for being twist & go fun, and maxi scooters take on that perk. You simply start the scooter up, twist the throttle on the handlebar, and off you go!
7. They are Absolutely Fun to Ride
Riding a maxi scooter is unlike any other. You get the thrill and speed of a motorcycle yet the ease of riding and lots of storage like a scooter.
Long trips that have you carrying larger loads are easier, but those tires take on the winding roads of an iconic trip with ease and grace.
All the while, the windshield keeps you from getting tired too fast and the cushy seat adds the ability to keep going longer.
They're just all around a blast to ride!
8. Great for Larger Riders
If your knees hit the leg shield of most scooters, you won't find that problem here.
The same goes if you have a higher body weight. They make you feel like they can handle your weight and not make you feel like they can't at least!
The most obvious reason is their size. They have larger engine sizes which generally also gives them more weight, larger wheels, AND a longer wheel base (more space in between the 2 tires). This gives you the ability to spread out differently.
Also, because they have 2 places to put your feet, you have more options to get comfortable. You don't have to ride as upright if you can have a more relaxed, slightly recline position by where you place your feet.
9. Best for Longer Rides
The detail on comfort and the premium features mean you are best equipped to ride as far as your imagination can take you.
The standard, adjustable screens mean you'll have some wind protection and can therefore ride longer.
The stability and upgraded suspensions also add to how long you can ride. Less bumps = happier bottom and back.
The ability to change up your foot position from upright to a bit of a relaxed, cruiser ride keeps you from feeling 'stuck' like a statue in a long ride. Moving around a bit lets you keep going a hair longer.
The ability to carry more gives you flexibility with how much is possible. Long rides require a bit more in planning and gear, and a maxi scooter can handle it.
Read more about Best Scooter for Highway Riding
Maxi Scooter VS Motorcycle
Although you can liken maxi scooters to motorcycles because the top speeds let you far exceed the speed limit like a motorcycle, they are definitely not the same. 
Speed
Maxi scooters offer the same range of speed motorcycles. The speed ranges between 80mph and 120mph, some exceeding this.
Comfortability
Maxi scooters are more comfortable as they have a footboard that scooter riders can put their legs on along with a more reclined position as you'd see on a cruiser.
Motorcycles just don't have the footboard, so you have one position to ride in.
Fuel efficiency
The distance measures the fuel efficiency of both a motorcycle and a scooter a volume of gas can go, i.e., miles per gallon (mpg)
The fuel efficiency of a maxi scooter averages 63 mpg.
The fuel efficiency of a motorcycle is an average of 44 mpg
Wheel size
The wheel size of a two-wheeled vehicle is important as it will heavily impact its stability.
The wheel size of a maxi scooter is an average of 15 inches but ranges from 13-16 inches.
A motorcycle's wheel size is 16 inches or more.
Engine size
Maxi scooters in the US currently offered max out at 550cc whereas motorcycles are commonly available over 1000cc. 
Maxi Scooter VS Scooters
Maxi scooters are upgraded versions of a regular scooters. Maxi scooters and regular scooters have similarities and also differences.
A maxi scooter is similar to a regular scooter because they have a similar framework. The body of a maxi scooter is built with a footrest platform for the rider's comfortability. The engine of a maxi scooter, like the regular one, is placed around the rear of the scooter. The wheel size of both the maxi scooter and the regular one is the same.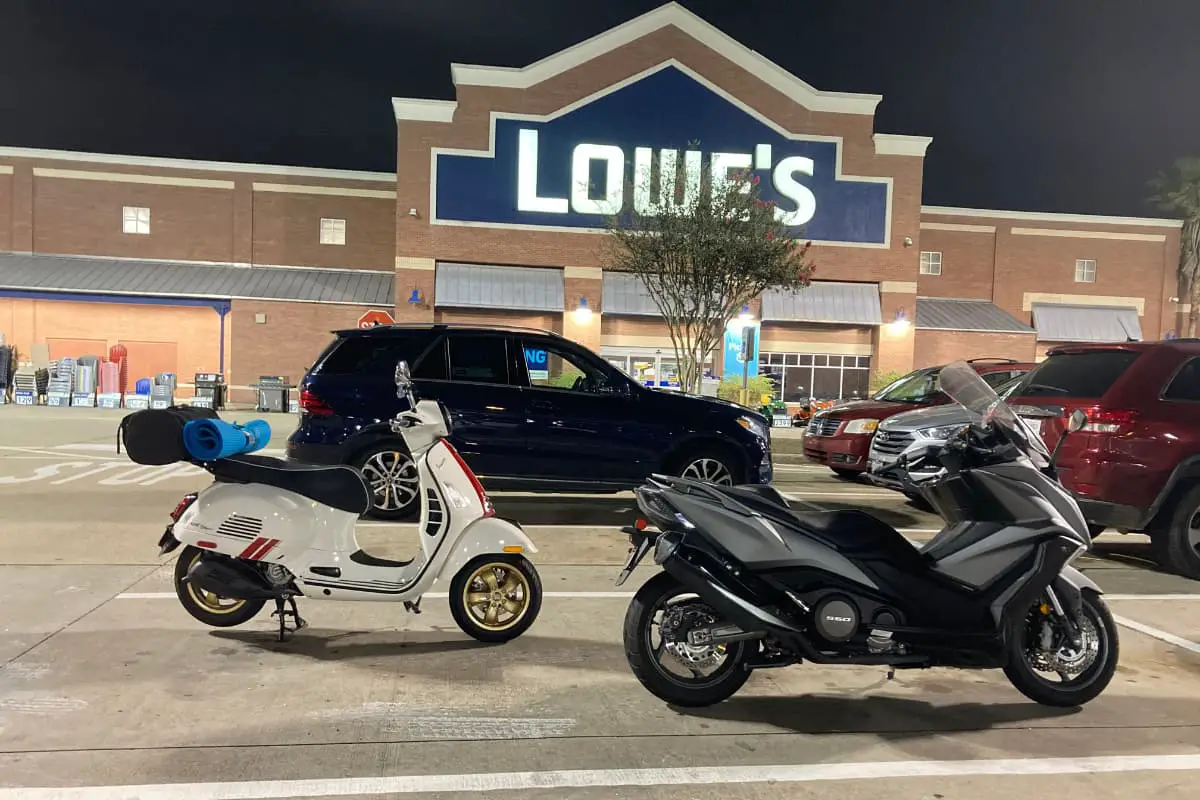 Below are the differences between a maxi scooter and a scooter:
Engine size
Recall that engine sizes gives you more power & therefore your ability to have more speed (or not).
The size of a maxi scooter is 200cc to 650cc (in modern offerings but maxed out at 550cc with current offerings).
That of a regular scooter is 50cc-300cc with most model choices under 200cc.
Speed
Maxi scooters have a higher speed and can reach 80 mph-110 mph.
A regular scooter's top speed is about 30mph – 85 mph
Examples Of Maxi Scooters
There are several examples of maxi scooters:
BMW C650 GT
BMW C400 X
Kymco AK550
Honda Silverwing
Yamaha T-Max
Suzuki Burgman 400
Honda NSS 300 Forza
Why Buy a Maxi Scooter?
While it may sounds simple to just say that a maxi scooter is a bigger version of a traditional scooter, it's definitely more complicated than that courtesy of the premium ride and features that they come with. But why buy a maxi scooter?
In general, you would want to buy a maxi scooter if a larger engine size fits your riding needs and prefer a more comfortable ride with more storage than is possible on a traditional motor scooter. The size and comfort make them ideal for long rides.
They simply offer more than just a larger engine & more speed. They are an upgraded ride all around.
Final Words
A maxi scooter is the best choice for a rider that is looking to get the engine size and speed of a motorcycle and, at the same time, the comfort and ease of riding that a premium scooter offers. Riding a maxi scooter really opens you up to traveling long distances whether you opt for the highway for part of it or the fun, twisties out there, too.
Maxi scooters offer the best of both the motorcycle world and a scooter world.
Be Seen & Be Safe Fellow Scooterist!