Make a purchase using a link? We earn with qualifying purchases through Amazon & similar programs. Read more:
Affiliate disclosure
I was recently asked whether a pal could fit their moped into the back of their SUV to get it home. At first, the question sounded insane, but getting a lower-speed scooter home after purchase without getting on a freeway is a tall order.
To determine if the scooter will fit in a vehicle, measure the dimensions of the cargo space and the height of the scooter. Vans and large SUVs are more likely to accommodate a scooter, but transporting a scooter in a car is not likely.
Now let's dive into the logistics of a motor scooter in a standard vehicle….!
Items to make transporting easier
✅ Handle bar specific straps – Amazon Revzilla
✅ Straps – Revzilla Amazon
✅ Hitch carrier – Amazon Revzilla
✅ Ramps – Revzilla Amazon
I've also linked to the items I specifically own through the article.
Can I Lay the Scooter on Its Side?
Laying a scooter on its side is just not a good idea. You run the risk of some cosmetic damage at a minimum. If that doesn't deter you, you will likely have to deal with leaking fuel and oils from the scooter.
Generally, for a scooter to be transported on its side, you must drain all the fluids first and pull the battery first.
If that is intimidating to you, then I stick with, "That's a bad idea."
The reason to you need to take the battery out is to prevent battery acid from leaking out by being at an angle it wasn't designed to be in.
Scooters also have gas, gear oil, engine oil, and brake fluid, as well. Leaking oils and such is clearly a safety risk. Layer in the mess, and I hope you get the importance of draining everything FIRST if you must go this route.
Dimensions of the Cargo Area
Cars
If you have a trunk you're considering or backseats that do some cool folding tricks, I doubt this will ultimately work. I did a survey across my scooter pals, and no trunk of any of them would work with their scooter.
We literally broke out tape measures just to check. Volkswagen Jetta, Honda Fit, Toyota Matrix, Hyundai Elantra….. Even if you get creative, you will have to put your scooter at some crazy angles to make a car backseat (even with tall mode) work or a trunk work.
Don't run the risk of damaging your scooter or vehicle.
Head on down to the area about options if you can't use your vehicle to get the scooter where it needs to be.
Hatchback-style cars, SUVs, and Vans
Let's give these vehicles a bit more benefit that it could be a possibility. Before you start enlisting help to load it up, break out a tape measure instead. This will save you some headaches. Here are the steps to measure your space.
Determine the height, length, and width of the scooter. You will use the tape measure to determine the maximum end to end length. Tip of the front tire to the tip of the rear tire. Ground to the top of the mirrors. Widest point on the left to the widest point on the right (likely to work by approaching below the step-through platform).
Determine the height, length, and width of the vehicle. You will need to do this for the interior where you hope to put the scooter, as well as, the entry point for the scooter.
Do you have attachment points to secure the scooter with straps? This is a no-go if you are unable to secure the scooter for safety reasons. You can find the straps I own here on Amazon.
Does the cargo area have a flat surface to safely use with a loading ramp that isn't the bumper? The ramp must be secure. Ramps can be dangerous on a good day, but to limit your risk, you'll want a flat surface to keep it from slipping. Some scooters are light enough to load without a ramp if you have enough muscles in the vicinity to help do the heavy lifting. Scooters and mopeds are over 200 pounds, so I'm not being flippant!
So the scooter physically fits, you have a way to strap it down, and you have the means through a ramp and/or muscle to get it in. Let's do this, but only after a bit of a safety conversation.
My straps:
Safety Considerations to Load Your Scooter
So you've decided that the scooter will fit, and you're ready to make it happen. No matter what method you roll with (pun intended), there is inherently some risk here that you are assuming.
Are you going to lift the scooter?
Enlist help and protect your back, knees, and anything else you'd like to keep working with tomorrow. No moped or scooter dry weighs less than 220 pounds.
Here's a guide to buying a scooter with a spreadsheet to reference at the bottom to help you identify how much your scooter weighs if you need to know. If your specific scooter isn't there, you can make a guesstimate based on similar scooter styles and engine sizes.
Are you using a ramp?
You'll still want an extra set of hands to help maneuver and push it into the tail gate. That ramp has got to be secure. There are plenty of stories of ramps that slip off of the vehicle surface which leads to damage to the vehicle, ramps, scooter, and possibly yourself. Don't be a story! Be careful!
Click for ramps on Amazon or Revzilla
Can you securely strap the scooter to make sure it won't move during the trip?
Even a 50cc scooter is 200 or more pounds that could be propelled toward the front seats of your vehicle in the event of a rear collision. Imagine 200+ pounds coming at you without a barrier like you would have in a truck.
If there are oils or even gas inside the gas tank, you run the risk of spills if the scooter has a shot of tipping. Be smart here.
If you are comfortable with the issues that could come from this, read on. If not, hop on down to the section on other options.
It Fits! How Do I Get it in There?
You will have a much better time using a ramp to get the scooter inside a truck, van, or any other option.
Check this bi-folding loading ramp from Amazon if you need a set for current (and future) use. I prefer a wider option to help me walk it up if I don't have help.
Below you'll find a list of steps to roll the scooter in.
If there is an option to do so, find a bit of elevation to help you decrease the angle that you're loading with. The bottom of a driveway or hill with the vehicle facing away from it is optimal.
Pull out all of your straps and whatever you will be using to secure it well inside. I particularly like these handle bar straps, too.
Drain fluids. Pull the battery. Put a thick sheet of plastic down if you are tilting the scooter in any way.
Before you start loading, put the straps in position for easy reaching in each place where you plan to secure the scooter. This is easier when the scooter is not 'in your way'.
Place the ramp securely onto a flat surface inside the cargo area. If you are putting this on your bumper = damage, not secure. The ramp MUST be secure. If the ramp comes off of the vehicle, damage to the vehicle, scooter, and YOU is likely.
I suggested a wide ramp to give you the space to walk the scooter up or powerwalk it by straddling with a tiny bit of throttle. Some people will ride up a ramp into a truck, but the roof of the vehicle will cause you some issues as you get closer. I'd huff it up manually, but you can add a little throttle and power walk it as far as you are able if your angle is too high from the ground to the cargo space of the vehicle.
Strap it in. I like to strap at each side of the handlebars, and on 2 points on the rear which usually will mean latching on to a rack.
That's really all there is to it. Ramps, walk it up, strap it in! Ok, so maybe there was a bit more to the experience, but if you're looking to put a scooter in an SUV, you didn't expect it to be easy did you?
Options for the Motor Vehicle Not Quite Able to Haul a Moped
If you are unable to load the scooter into the type of vehicle you have access to, there are a few things you can do to get the scooter where it needs to go. I've listed them in the order from the easiest to harder or more expensive option.
Borrow
Worst case, can you borrow a better-suited vehicle. A pickup truck with a ramp and tie-downs will be easier than a van not equipped for this type of thing.
If borrowing is off the table, look into your rental options. I have rented trucks from Home Depot in the past, and even car rental places may have trucks available for rent.
Along these same lines, if you are buying a scooter, have you asked the seller or dealer if they can help?
I live quite far from the dealership that I purchased my scooter from, but he has a way to transport scooters. The owner is willing to transport scooters for free within so many miles of his shop, and beyond his limit, he has a mileage cost he tacks on.
This is likely the easiest solution if it is an option.
Hitch-Mounted Hauler
Click for hitch carriers on Amazon or Revzilla
or ramps on Amazon or Revzilla
Hitch mounted haulers work to get the scooter wherever you need it to be if your vehicle can accommodate the hitch and weight. You may have seen these types of haulers on the backs of giant RVs.
You will have to check the specifics for your vehicle, but even cars can have a trailer hitch mounted on them. You likely see cyclists with bike racks attached this way, but there are hitch carrier options if your car can handle the hitch and scooter weight.
Check out this hitch-mounted hauler below on Amazon to start your search for options. It has a ramp built in with an excellent weight limit.
If you have a local U-haul, they sell and install hitches, too.
This becomes more worthwhile if you'll be hauling your scooter on a regular basis.
Trailer
Using a trailer to transport your scooter requires you to have and store a trailer on top of getting a hitch installed with the wiring. None of this is necessarily a deal-breaker, but they are just some things to think through as you figure out how to transport your scooter.
You will need to start with checking if your vehicle can have a hitch installed and that it will have the towing capacity for a trailer and scooter. Jeeps and even small SUVs are likely to be able to handle this well, but it's unlikely a car could handle a trailer option.
With a hitch, you'll most likely need to find a trailer on the lighter side, and it is always a good idea to get a trailer with the ramp attached, if possible It makes it easier to load, and then you don't need a separate ramp to load.
One last thought on the trailers is that a separate trailer tends to also mean an additional registration with the state to pay taxes on, so it is the most expensive option on this list.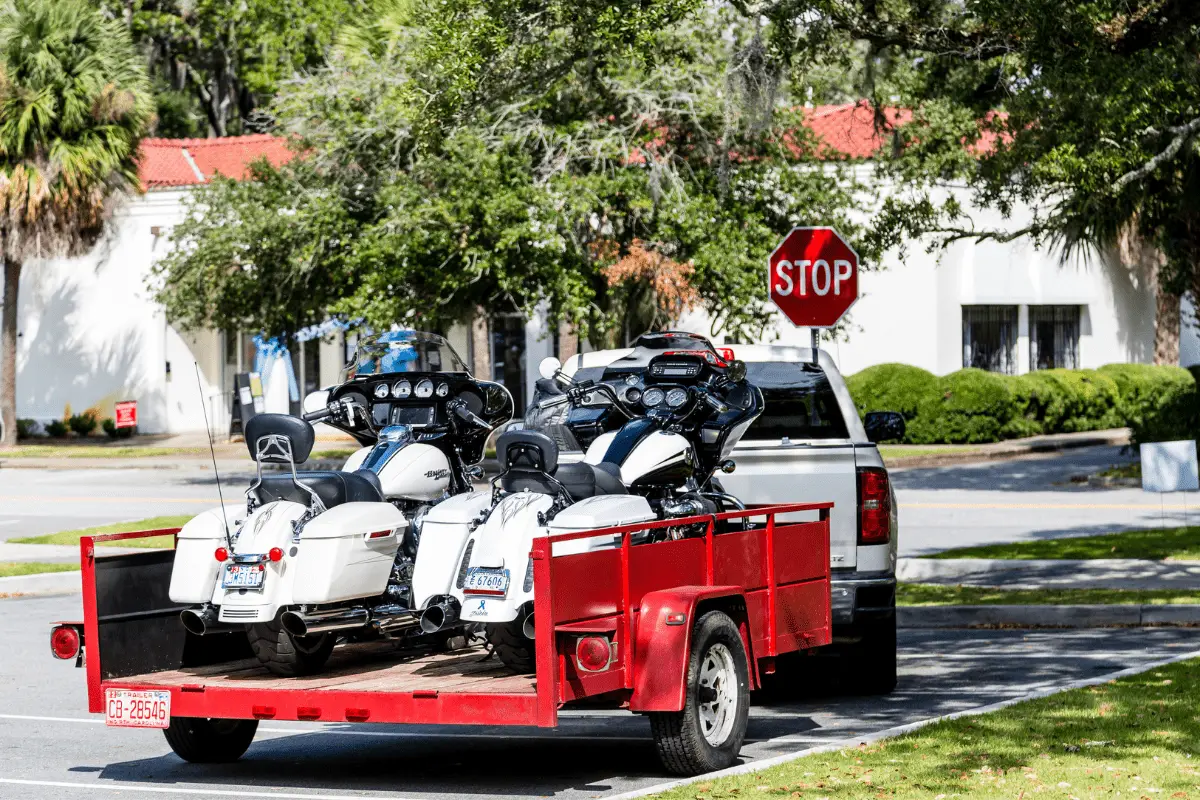 There are also motorcycle specific trailers that can carry a single or double set of motorcycles that make hauling a motorcycle easier.
What Did My Friend Do?
In case you're wondering how my friend got their scooter home, the end is the right place for an update, right? Her friend (me) owns a truck. I drove over to the seller's house, and we wheeled the scooter up the ramps like we did when we bought my scooter!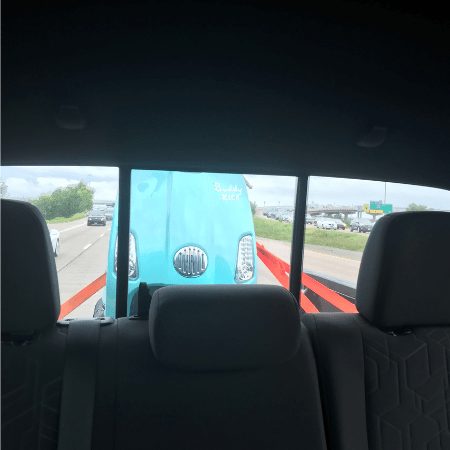 Since then we've needed to transport scooters several ways. When we had a truck, we have rented a trailer. We were picking up a Kymco AK550 with a really long wheel base and drove a Toyota Tacoma, so the easy load was great!
We've sold the Tacoma, and to get my Vespa to another town during the break in period, we rented a truck solely for this trip.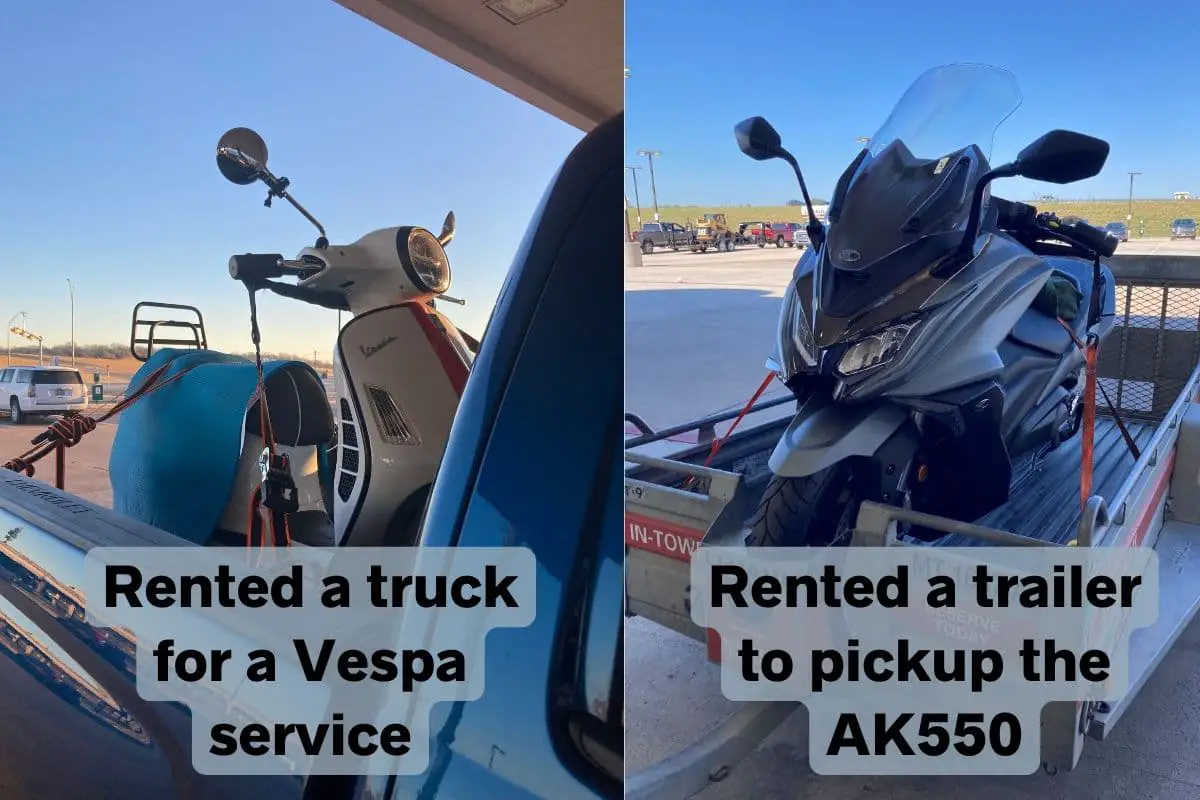 Be seen & be safe, scooter friend!