Make a purchase using a link? We earn with qualifying purchases through Amazon & similar programs. Read more:
Affiliate disclosure
So many people are in the gig economy, and there is so much business to be had through services such as DoorDash, UberEats, and PostMates. If you're considering diving into delivery on your motor scooter, you'll need some accessories to make it work AND reduce your anxiety about it!
I've put together a list of items that have made it easier for me, and I also chatted with some friends that do delivery way more than I do.
I get that you may not have a bunch of money laying around to invest in getting started whether you're trying it out or need to make ends meet right way. That's why we'll start with must-haves to make it work within the limits of your scooter, but the list becomes more nice-to-haves as you actually make some money from the gigs.
And don't forget – you can always upgrade later if needed.
What You Need to Know Before Using Your Scooter to Deliver
First, before you buy anything you'll want to make sure that you CAN deliver on a motor scooter.
Each service has their own rules and sometimes this boils down to differences based on where you live (big cities versus not). I did some research on whether you can use your scooter to deliver that you can read here to get you started depending on what service you are thinking of using.
Next up, whether a delivery app allows you to actually deliver on your Vespa (or other beloved brand) or not, there are still other things you'll want to consider. Insurance, safety, etc.
Read tips to set up your scooter for deliveries here
Phone Mount
Your phone is the key to communicating throughout the delivery process. You need it to let the service know you're available for orders, what to pick up and where, the map to get where you need to go for the pick up and the delivery, and then it serves as the way to communicate with the customer and wrap the delivery up.
Before I jump into the options, phone carriers have come out to say that the bouncing that comes from your phone being out on a motorcycle (and presumably a scooter) is not good for them. It can impact your camera, so just be aware. Lots of folks mount their phones, but lots of folks have likely had to replace their phone.
I started with this relatively inexpensive phone mount on Amazon because I simply had it at home for my bicycle. It's worked great. I switch it between my bike and scooters still, and it's still going strong.
I see that the RAM Mounts Universal Cell Phone Holder Kit gets a lot of love online. Here's a link to the u-bolt and Quick Grip XL phone holder on Amazon, and here it is together on Revzilla.
Both are installed on the mirror. Robot with Vespa Motorsport/Scooter West has a solid installation snapshot in the video below.
Keeping Your Phone Charged
You have 2 options. You can carry an external battery and run the charging cord, or you can run it through a 12v or USB adapter.
If you have a USB plug on your scooter, you just need to have a cord on hand to charge your phone.
Below is a Quick Charge USB option from Amazon if you need to add it to your scooter.
I don't mind popping an external battery in my glove compartment, and I've got the Anker Lite 10000 mAH that's slim & high capacity. Check the price on this battery here with Amazon.
Carry a Drink for Yourself
Most scooters are missing a spot to keep your own drink much less if you need to transport drinks for customers. We'll talk about the customer drink options in a moment, but you need to stay hydrated if you'll be out for some period of time. That lunch window of 11-2 can be HOT! Even if it isn't hot, periodic water is refreshing and a good idea.
This cup holder (check the price on Amazon) gives you the ability to tighten the spot where your drink goes and has an alligator clamp to tighten to your scooter if you have a good place for one.
If you don't have a good spot for a drink holder, still bring a drink! An insulated option with a lid can be thrown in your underseat storage box, and you can snag a drink in between deliveries or while waiting. I opted for this stainless steel mug myself & take it between the bike (that has the cup holder) and the scooters (that do not have cup holders).
Carrying Customer Drinks
This can be tricky. Scooters have a little bit of space, but no stock space is ready for a 4 pack of drinks.
What I like about this insulated 4 pack carrier (found on Amazon here) has adjustable dividers. Hang this on your hook for a small bag or strap it to a front rack. You could also carry this one on your floor board if you felt comfortable.
It has a cover, so you have a lot of flexibility about where to stick it and minimize the likelihood of a spill!
Insulated Bag
You'll need insulated bags to keep hot food hot and cold food cold. If you just want to experiment with food delivery using your scooter, I've seen people put insulation on the inside of their top boxes.
I'm not a huge fan of the top box because their shape makes them weird for most to-go options. It's still a great way to experiment, though!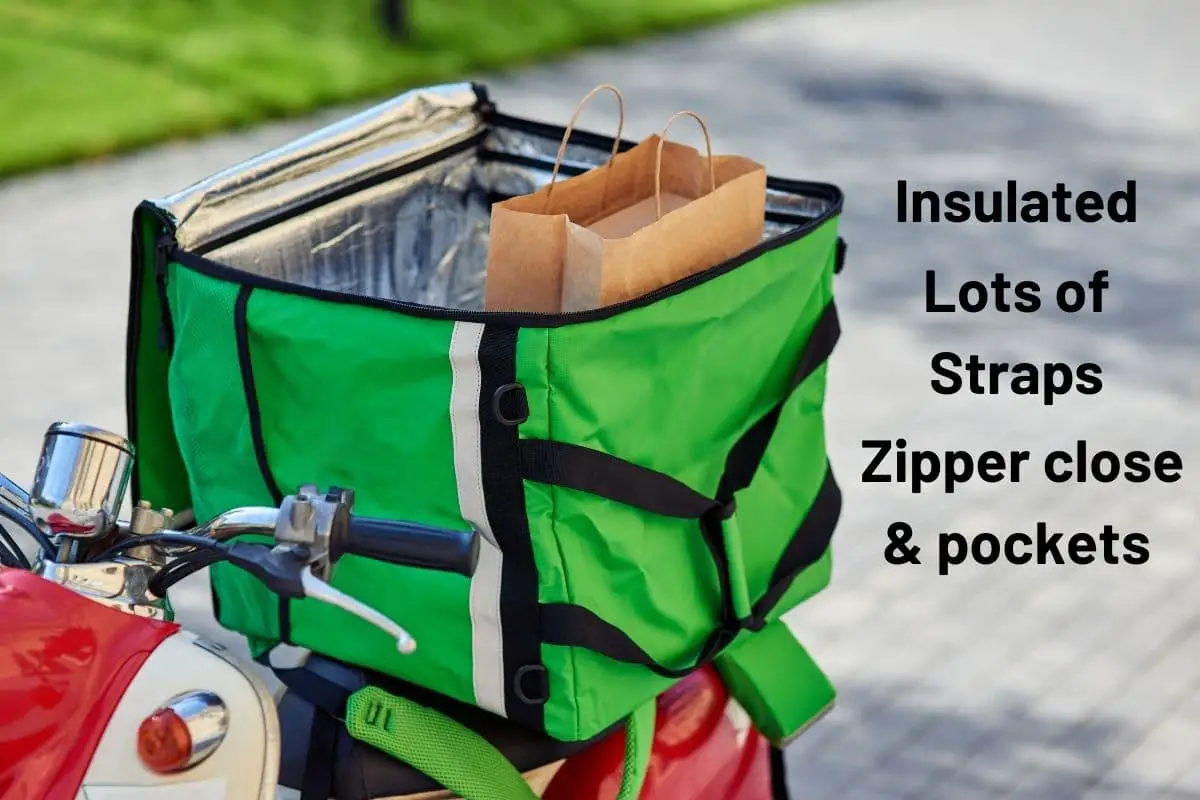 This bag is 20″x15″x15″ and attaches to a rear rack fairly easily. It does have a drink holder that can be inserted or pulled out, as well. I haven't used the drink holder, though. I needed more room for the food!
There is a frame on the inside that helps it keep its shape. It even has a stiff bottom, so it keeps its shape and doesn't want to collapse on you.
If I were to buy again, I'd go for this one by CleverMade. Find the price here on Amazon, but it's also insulated and about 18″x12″x12″. It stores flat and can handle up to 30 pounds.
Don't Forget About ALL the Storage Options!
I ALWAYS run around on my scooter with an extra bag. I have had this happen one too many times where I needed a little extra than what would fit in the bag on the rear rack or in the underseat storage compartment.
If you have a front rack, attach away! Just be sure to not put anything too heavy there as your turning will be impacted.
Also, you can carry some items on the floor board of your scooter. I don't have as much luck with this on my Vespa, but on my Buddy Kick with the flat floorboard, I found it very flexible to put my feet around something in the center.
Also, there is usually a hook around the glove compartment of your scooter or just under the seat. Sometimes they need to be popped out, but anything that you can hang on a hook could work here. You just need a bag sturdy enough for what you hope to carry there.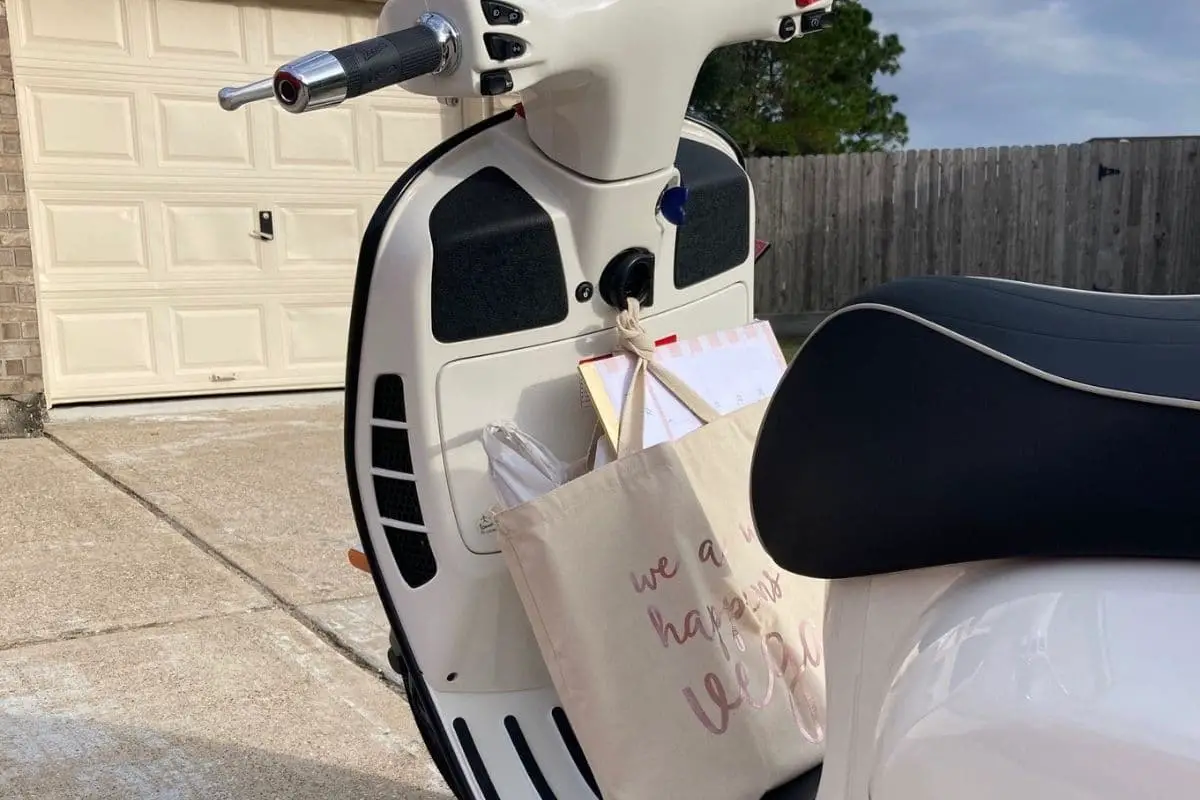 Underseat Storage
If you decided to use the underseat storage for delivery, don't forget that it gets hot in there! Chocolate or cold items are a no-go here unless you have the items in an insulated bag and don't need to go to far!