Make a purchase using a link? We earn with qualifying purchases through Amazon & similar programs. Read more:
Affiliate disclosure
Before I became an avid rider, I honestly didn't understand why someone would ride a scooter. I lived in my own life experience bubble, but don't we all? If you are wondering why people ride scooters, then you're in the right place to chat about it!
Scooters are a form of personal transportation. They are more common outside of the United States, but their use is growing here. They are used as transportation like cars, but they are more affordable to own and insure, smaller for simplified parking and storing, maneuverable, and use less fuel.
Used as Transportation
Primarily, scooters are used as a form of personal transportation. Some scooters can accommodate multiple riders, but it is more common for 1 person to be on a scooter. This means that the scooter is used to run errands like grocery shop, go to dinner, and commuting. Everything you would use a car for, you can use a scooter for if you are traveling solo.
If you are driving a car, you might feel like you are missing a lot of space. I have been surprised by what I can fit into a scooter, but it does require more planning and gear than simply throwing groceries in the back of a trunk.
Grocery Hauls on a Scooter
Here is a photo of a grocery haul I did with my under-seat storage box and a backpack. I have a family of 4 that I feed, and this was literally my first haul. I could have fit more, but I was a bit nervous.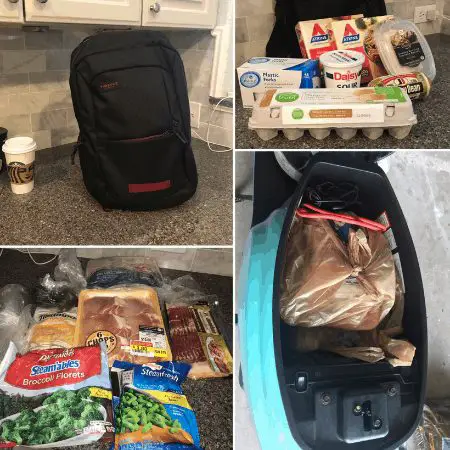 For this next haul, I just used the under-seat storage box with the Epsom salt strapped to the rear rack with a net. I have had my net for well over a year, and it has held up well for these moments. Find it here on Amazon. This was a trip where I went in for 1 thing, and I came out with a bunch. Your mileage may vary. I have a Genuine Buddy Kick, but my husband's Kymco Like 150i would not squeeze all this in it.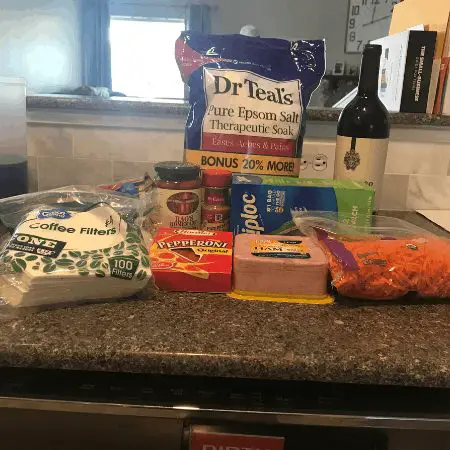 Unfortunately (or fortunately depending on how you look at it), I do not take photos of every trip I make out. To make this work, I found a bag that I can carry in with me (to prevent using the plastic bags anyhow). If the groceries fit in the bag I carry in, they will fit in my scooter when I get out. This last time, I cut it close and had to use the little hook by the foot platform to get every item home with me.
It just takes a bit more planning, but I find the cost and enjoyment factor make it worth it!
Used for Social Engagements
I use the scooter anytime I am meeting up with friends solo. Even if the hubby is coming along, we take our separate scooters depending on how far it is and the weather.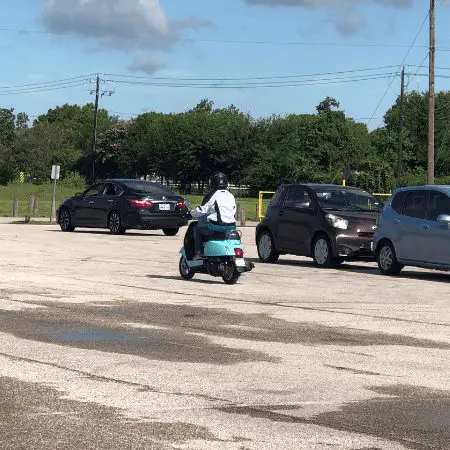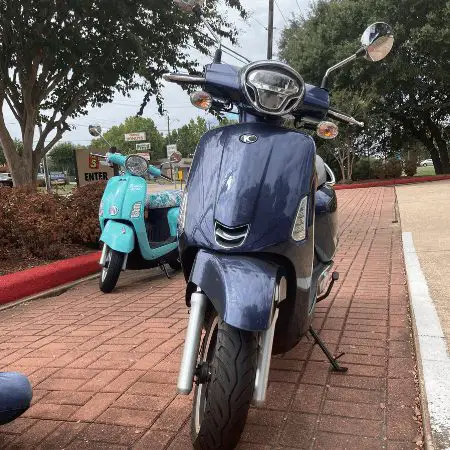 Used for Fun
In addition, scooters can be used for joy-riding similar to how motorcycles are viewed. Many scooterists will take off on trips that are hundreds of miles to cruise and take in some scenic views.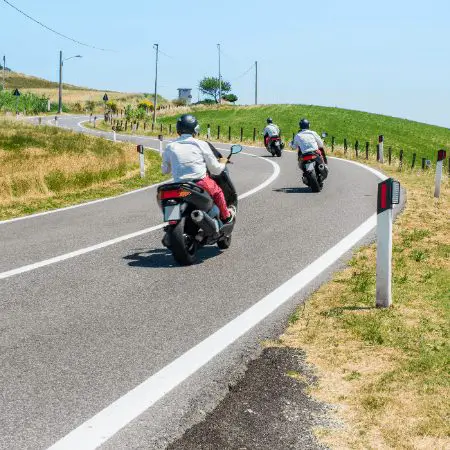 So Many Types of Scooters and 2-Wheel Fun!
If you are interested in learning about different types of scooters, I've compiled a guide here that dives into it. If the differences between scooters and mopeds or scooters and motorcycles are more your speed, I have a guide on that, as well. I'm all about sharing the scooter love!
Benefits
I put a whole guide together on why scooters are so practical if you'd like to head over there. Here is the condensed version to help understand why you would use a scooter:
Faster

Can Carry More

Simple to Operate

Compact

Reduces Traffic Congestion

Nimble/Easier to Park

Environmentally Friendly

Gas Savings

Maintenance Savings

Insurance Savings
Cost of scooter versus the cost of a car!