This page is organized by women's and then men's favs of this scooter riding household. In addition, you will favorite information for each jacket type as it is important to have a jacket that fits your needs and weather considerations. If only it could be blue skies, sunny and 70 degrees year-round….
All of the jackets have armor for the shoulders and elbows. Those that require a separate purchase for the back armor piece are noted.
Women's Jackets
Leather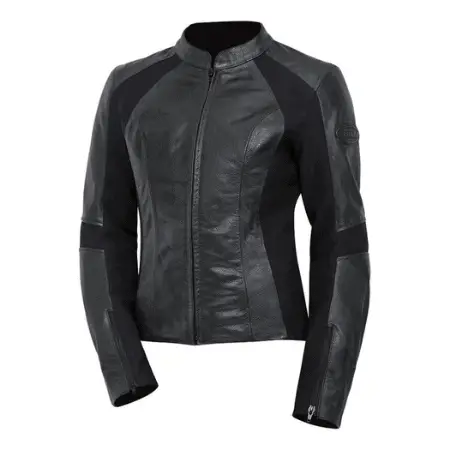 This jacket looks great and is made from good materials, especially when you consider the price point. It is made from the full-grain leather to protect you from road rash with plenty of stretch panels to allow you room to move.
Pockets. I love pockets.
This women's jacket looks incredible. It has a classic, retro look without feeling outdated. Lots of conveniences such as venting for airflow and allows for plenty of movement. I am not as big of a fan of a cafe style for my body type, but the fit is super flattering.
Summer
This is the jacket I wear almost all year round. It is very adjustable with straps on the arms and hips to make the jacket fit well, and the interior liner helps for cooler mornings that I can take out for a warm commute home. The black looks slicker, but I went with the white for visibility. Pockets with zippers are great. I've used it for over a year, and it still looks new.
The back protector is separate for this one.
I really love the look of this jacket, but I do not own it. I have tried it on in-store, but it is tough to find the larger size of this jacket. Anyhow, if they have this jacket in your size and color preference, you will see it is a very good looking jacket.
The back protector is separate for this one, and it does not have many reflective components or a removable liner.
Waterproof
This jacket is great for the ugly weather on warm days.
Great zippers
Plenty of venting for airflow
Comes with a back protector
Feels like good value for this price point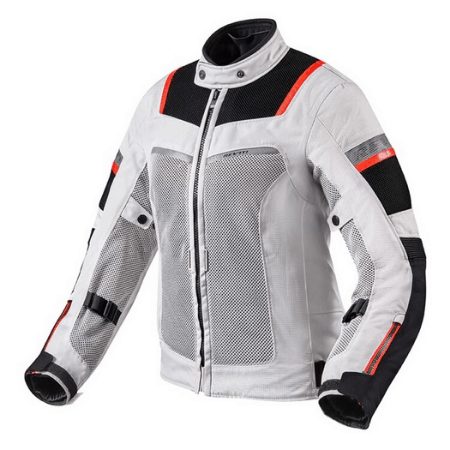 You can probably tell that I typically like the way REV'IT! gear looks, and most of their products have a good price-to-quality intersection that makes it a winner brand to me.
This one has a removable liner that is what puts it in the waterproof category as it is also a good mesh jacket that solves for riding in the heat, too. I use the BILT Techno over this one because the liner is a bit warmer than the BILT, and my days are mainly riding in the heat. If you have a chillier climate with more temperature swings, then this is a jacket you will enjoy a lot.
The white is not as slick looking, but it does have a nice shape and lots of adjustment points.
The back protector is separate.
Men's Jackets
The male scooter rider in the house has taken over for these.
Leather

This jacket has a classic feel of a motorcycle jacket but feels fairly modern. I think it is the worn finish that I really like. Why I think this is the best leather jacket is for the removable quilted liner. It also has perforated panels to let air in for warmer rides.

No back armor option for this one.

This is a great looking jacket with that classic look and distressed leather I seem to like. There are perforated panels under the arms and on the side with tabs for adjusting and getting a better fit. This one also has a jacket liner that makes it cozier when you need extra for scootering on a cold day.
All Other Jackets
I like the Techno for the same reasons as Renee. Tons of mesh and the liner. It really does capture all of my riding needs. Unlike Renee, I go with the black versions instead of the white. The men's version requires the back protector to be bought separately, too. Tabs everywhere to adjust, so I keep it with lots of room. I want to feel like I can move freely in a jacket.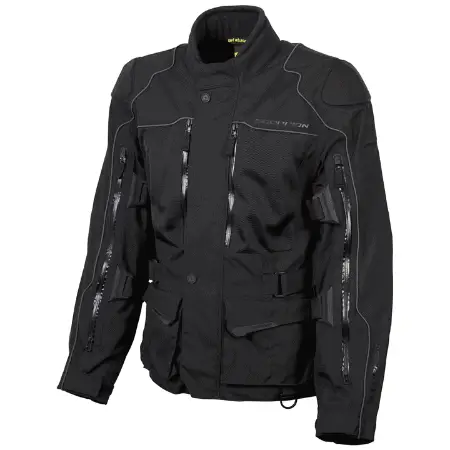 This jacket feels overkill for where I live, but it is definitely warm. There are ventilation panels for when you need airflow. This one feels like it could be a 4-season jacket depending on where you live. There is a waterproof liner and a separate thermal liner that are removable. It does have some stretch and more reflective parts than the other jackets I have liked.