Make a purchase using a link? We earn with qualifying purchases through Amazon & similar programs. Read more:
Affiliate disclosure
If you ride for the pure joy of riding the weather can change those plans (& your mood) quickly. Whether we're talking cold or rain, bad weather on rainy days doesn't have to dampen your spirit! Enter the "Bad Weather Survival Guide"!!
Have you put your scooter up for the winter? Or are the rainy, cold days simply stretching on for what feels like forever.
Bad weather can definitely weigh on you.
What's a scooter-lover to do?!
You look to your hobbies to lift your mood, and since your scooter is on your mind let's dive into things you can do while you wait for the weather to get better!
Give your scooter some TLC
All things with motors need a little maintenance, and your scooter is no different!
When was the last time you did an oil change? Guess what… Even if you don't ride enough for the mileage to flip over to oil change territory, it's likely that your manual says 'OR 1 year'. 
By default, I do my oil changes & gear oil changes over the winter.
I've got my Kymco Like manual on my desk, and they have inspecting or replacing something every 2,000 km or about every 1,000 miles.
Inspecting your throttle operation, replacing the oil, engine idle speed, brake fluid, and so much more.
So check your manual for some inspiration to take care of your neglected scooter.
That manual may also say things like 'winker' for blinker. Browsing your manual can be entertaining in itself if you're that bored.
<The winker for blinker thing is something I read in the Kymco AK550 manual riding back from a dealership 3 hours away. Entertainment is EVERYWHERE!>
If you have winterized your scooter, your choices look only a little different. You'll want to leave your fluids as you had them, but there is nothing to say you can't do some of those inspection options.
The rainy day survival guide options go beyond just the basics of keeping your scooter running, though!
Pimp your ride
Please tell me you remember that show on tv or else that is just a stupid heading for this.
Just in case I'm off-base here, Pimp My Ride it was a show where a car was transformed. Because it was tv some of the cars would be extreme.
When was the last time you shopped for some accessories for your scooter? It's a perfect thing to do if you're looking for a bad weather survival guide!
Get you a piping hot cup of coffee☕ (or tea 🍵), and let the browsing begin!
Need some inspiration?
Maintenance stuff. Nice to have on hand when you're ready.
New gear? Helmets need replaced if they are banged up or ~5 years old
Storage – Is your current box or crate still working for you?
Tools – Do you have an easy to use & read tire pressure gauge? A carry-along tool kit?
Accessories. This is the fun one & can't be contained by this list!
Well, accessories can be fun, but they can also just make your ride easier or less stress-filled.
A phone mount like this Universal phone mount this is great for directions on deck. Or an in-helmet turn-by-turn option like this Cardo headset (Cargo net.
Windscreens can be handy on longer rides, so you have some help in fighting the wind. They also keep some of the super-cold air or bugs from hitting you, too. Fun fact: They also come with a warning along the lines of 'Don't go over 60 miles per hour.'
What about your storage? Did you ever get a top box? Or is your crate working just fine but one of those Zen and the Art of Motorcycle Maintenance (Amazon)s to throw over would just make your day?
Or is your crate working just fine but a Cargo net to throw over would make your day?
Rain gear in case it pops up on you? Here's a Zen and the Art of Motorcycle Maintenance (Amazon)
Your options are truly endless! More sites to browse:
scooterwest.com
scooterworks.com
caprimoto.it
twistedthrottle.com
sip-scootershop.com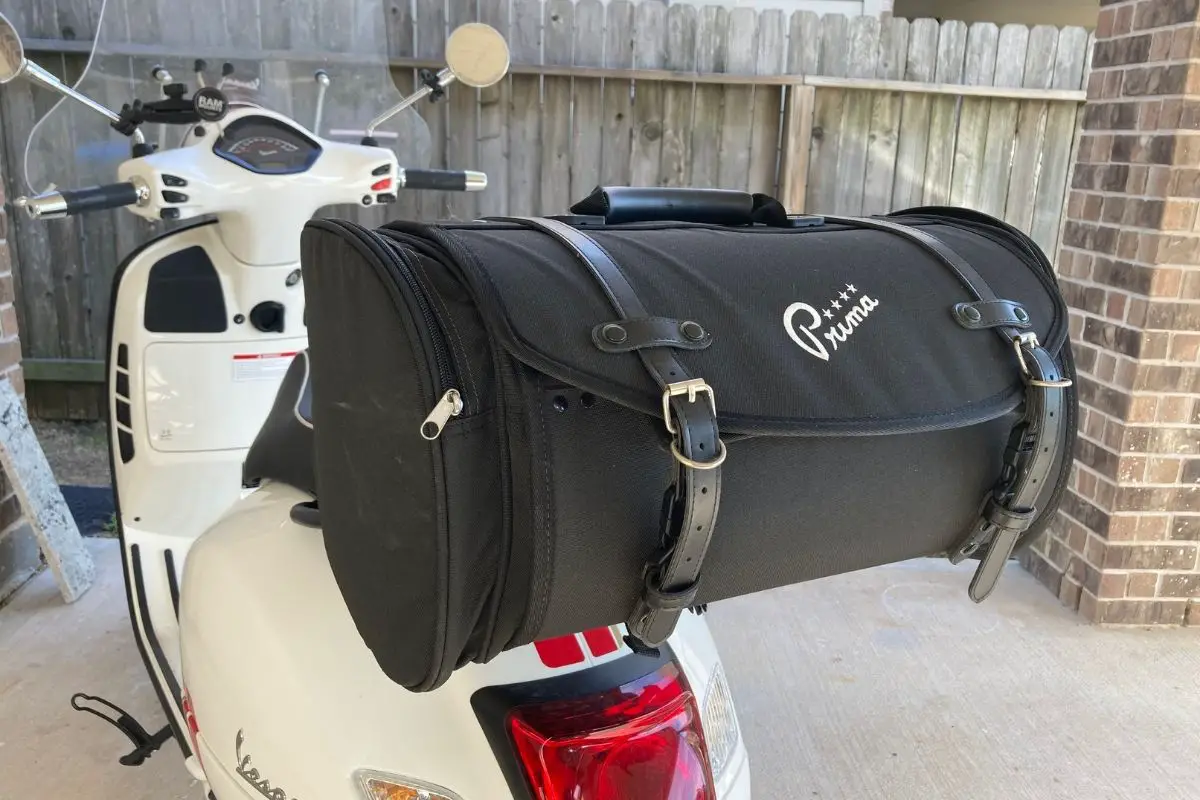 Start planning your next adventure
This is my favorite idea as part of my bad weather survival guide.
Routes. Reservations. Packing all the things with what you can fit…. This can be quite the rabbit hole. 🐰🕳️
I had no idea how many rallys there are all over the country! I am now in year 3 of trying to be a part of the community, and I am only just now learning of how many options there are! My best advice is to check out Facebook groups. There are so many groups, and over time you'll see them shared there. Not sure where to start? Here's a guide that includes some groups.
If a rally catches your eye that is far, you'll need to figure out how you'll get there. Riding the whole way? Then you'll spend lots of time on route-planning.
Are you going to tow it in the back of your truck or trailer it? You can even arrange transportation if you're willing to pay. Many of the (bigger) rally event planners will have recommendations for transportation options but also accomodations.
Hotels, AirBnBs, campgrounds – that can be a nice dreary day diversion to plan, too.
Rally not your thing? A long scooter adventure will still have you thinking through these logistics. Ride across Texas? Ride with the 'big dogs' on the Blue Ridge Parkway? Grand Canyon more your speed? Across a desert?
Have you gone scooter camping? Fitting everything you'll need for a weekend camping trip on a scooter requires some serious planning, too!
The sky is the limit on scooter adventure planning!
Movie days hit the spot
If escape is the first word that comes to mind, then a day curled up is the ultimate part of your bad weather survival guide.
There are a host of movies & even tv shows that at least include a scooter beyond Luca. You can find movie inspiration here: scooter movies
Curling up on the couch with a good book 📘 is therapeutic (to me), too. Don't let motorcycle in the title trip you up, but you might enjoy Zen and the Art of Motorcycle Maintenance (Amazon). It's a father-son trip that "becomes a personal and philosophical odyssey into fundamental questions on how to live."
If you aren't going to commit to a full movie or book, YouTube has you covered! There's my channel, of course, but the popular Robot with Vespa Motor Sport for some accessories & maintenance inspiration.
One of my personal favorite scooter YouTube channels is actually in German! Scooteria has multi-day rides in locations I can only dream about riding in for now, and the subtitles are relatively good.
Here is the video that inspired my latest storage buy for scooter camping.