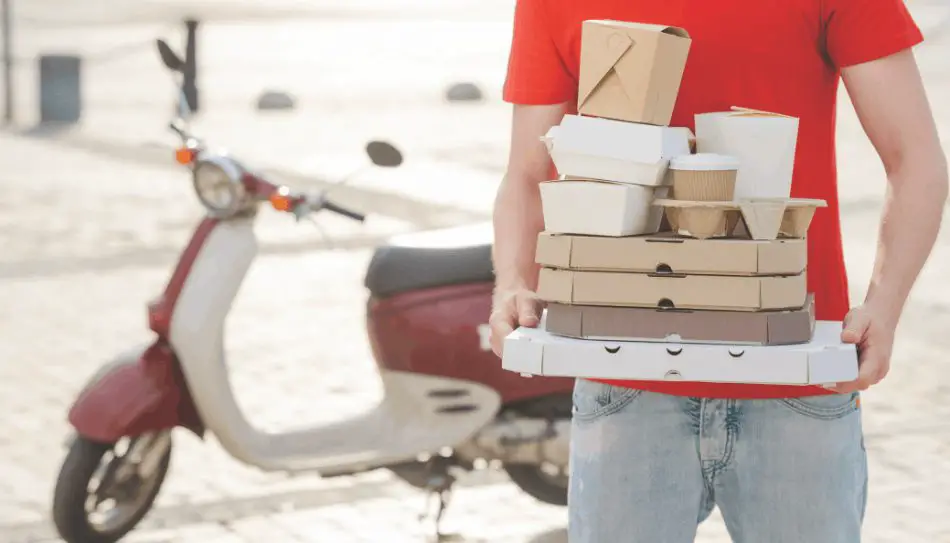 Make a purchase using a link? We earn with qualifying purchases through Amazon & similar programs. Read more:
Affiliate disclosure
I am always looking at more ways that I can use my scooter in general, and using it to produce some income sounds pretty good to me! That led me down the path to look into the delivery driving services such as DoorDash, UberEats and Postmates.
There are some obvious benefits to using a scooter over a car like reduced overhead from maintenance expenses to easier parking options. It sounds like a no brainer opportunity. However, I was surprised by the restrictions companies in this space place on scooters.
You can use your scooter for deliveries. The size of your scooter's engine and the location you want to serve dictates the restrictions of the companies.
UberEats requires that your scooter be 50cc or less with a speed of no more than 30 miles per hour.
Both DoorDash and PostMates only permit scooter deliveries to their large city markets such as New York City and Austin.
Only GrubHub allows scooters without restrictions as long as you are meeting the customer's needs, of course.
Must-have accessories to make scooter deliveries easier
(and keep good ratings)
Keep reading for more details around these restrictions for each company to understand how they impact your desire to make some money with your two-wheeled fun machine!
UberEats
I looked into UberEats first as it was the service I was using when I first started down this path.
UberEats requirements:
Be at least 19 years old
Scooter must be under 50cc and newer than 20 years old
Valid drivers license, registration and insurance that doesn't expire soon
These requirements are interesting since to deliver with a car, you need one year of experience without an age restriction other than what your individual state mandates in order to have a license. Additionally, it seems odd to be restricted on the motor of your scooter since there aren't any restrictions in the same manner as a car.
Motorcycles aren't permitted at all.
The restrictions are based on their liability insurance they carry, so it is not likely to change in favor of a broader range of scooters.
There are people that have tried to disregard the restriction, but users have made some reports such as, "Another user is using the account," that have alerted UberEats to do some investigation.
It is important to note that they give an asterick '*' on their restrictions because it varies by market. I add this because there have been recent rumblings that scooters may not always be allowed, but it isn't clear if that is a by market restriction.
If you're set on delivering for UberEats, know that some scooterists have had success by connecting with the UberEats call center to get their guideline-compliant transportation added to their account with a quick phone call.
DoorDash
Courtesy of a sweet credit card deal, I have converted to DoorDash myself for deliveries. It turns out you can use ANY car, scooter or bicycle. With some more of those '*' asterisks in the mix.
DoorDash requires the following to be deliver for them:
18 years old
Valid drivers license, registration and insurance
Background check
All modes of transportation are fine – DEPENDING ON THE MARKET
That final one is the hang-up with DoorDash for scooterists.
Essentially, they allow for scooters, as well as other modes if you're in a larger city. Think New York City, San Francisco and downtown Nashville. They do not specify which cities until you actually head into the sign up area.
GrubHub
I haven't tried out Grub Hub as an orderer or orderee. Ok, delivery person.
The driving requirements for GrubHub at the time of this article are listed below:
Minimum of 18 19 years old except if you're in Chicago or Las Vegas where you need to be 21+
Have valid insurance and driver's license for at least 2 years if you're using a car
Have an iPhone or Android with a data plan & minimum operating system requirements. (seen here)
Have a checking account
If you put scooter in your application, they are meaning the kick scooter style. GrubHub allows for all cars and motorcycles as a delivery vehicle, so you're set if you have all of your requirement documents all set. Yes, your motor scooter is a type of motorcycle!
Postmates
PostMates appears to have teamed up with UberEats for their delivery service, so I've removed the detail here for PostMates specifically with this update.
Valid license, insurance and registration
Scooters are limited to certain markets
Markets Where Scooters Might Be an Option
The markets listed below seem to be possible for scooters to give it a try. I say that loosely because I can vouch that Houston is huge. I imagine it is really zip code dependent rather than based on strict city limits.
Between safety and therefore their corporate insurance responsibilities on top of keeping the customer's delivery the right temperature, it can't hurt to ask about the following markets in particular.
Arizona: Phoenix and Tucson
California: San Francisco, San Diego, San Rafael, Los Angeles
Colorado: Denver
Florida: Miami
Georgia: Atlanta
Hawaii: Honolulu
Illinois: Chicago, Evanston
Indiana: Indianapolis
Louisiana: New Orleans
Maryland: Baltimore, Washington DC
Massachusetts: Boston
Michigan: Detroit
Minnesota: Minneapolis
Missouri: St Louis, Kansas City
New York: New York City, Brooklyn, Bronx, Queens
North Carolina: Charlotte
Ohio: Columbus
Oklahoma: Oklahoma City
Oregon, Portland
Pennsylvania: Philadelphia
Texas: Dallas/Fort Worth, Houston, Austin
Virginia: Virginia Beach
Washington: Seattle, Bellevue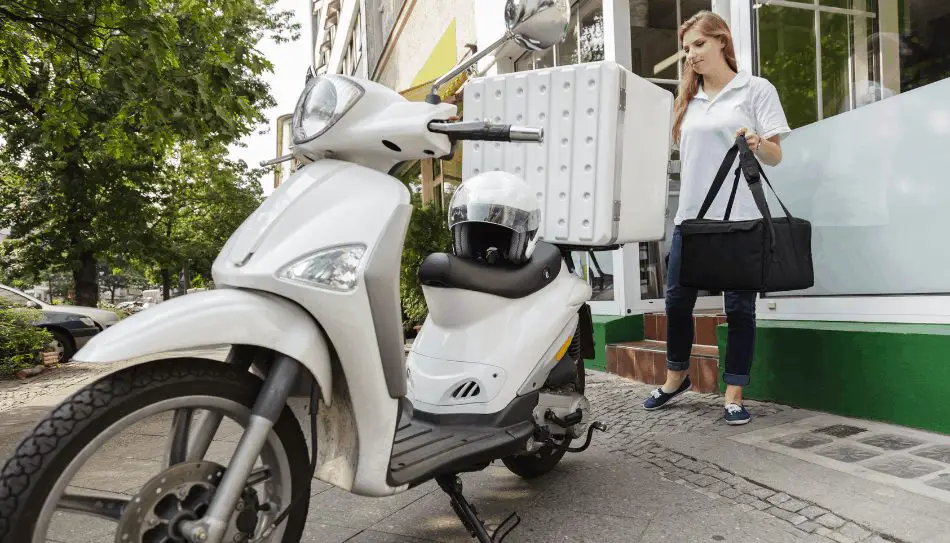 Is There Anything I Can Do to Get Around the Scooter Restrictions?
I would start with trying to chat with someone at the company on the phone in particular.
There are instances where people have called and gotten the right person that helped them get their scooter loaded in for deliveries.
I would not recommend driving an unauthorized vehicle. I'm generally a rule follower if I can see the benefit to myself or the greater good, and this is one of those times.
Insurance.
That's a huge factor because they will not cover you if you are using an unauthorized vehicle. Yes, you have your own coverage, as well, but you want their support as your personal motorcycle insurance is likely excluding commercial use like delivery driving could be deemed.
That's a whole other topic, but ultimately, you will not want to be left hanging by blatantly disregarding their vehicle requirements in this way.
There are plenty of instances I've run across of people riding their scooters for deliveries.
Some have gotten caught and others do not. You could get turned in by customers, and there are some GPS tracking considerations that could alert to something odd depending on the mode, market and delivery company.
I can't see how, but I wanted to put this thought as a consideration just in case after talking to some folks that deliver regularly.
It does not seem to lead to legal trouble if you are busted, but it has resulted in removal from the program. If you want to keep the money flowing, you'll need to follow their rules.
Final Scooter Thoughts
Across the board, you need to carry insurance with a valid license and registration. With those in hand and assuming you're the right age in the right market, yes!
I used the DoorDash service while in Miami recently, and I couldn't believe that a scooter delivery driver delivered my food on the back of a scooter with no insulation. Yes, my food was cold. There are options!
Keep cold food cold and hot food hot with accessories here