Make a purchase using a link? We earn with qualifying purchases through Amazon & similar programs. Read more:
Affiliate disclosure
Vespa is one of the most popular scooters around the world. It is luxurious and iconic, but it is sturdy, classy, and powerful. Ever since it was founded in 1946, it has evolved a lot to what we now see as a luxurious and beautiful icon, but do you know how to find all of your Vespa information?
Many people ride Vespa scooters but do not know specifically where to find bits of information to help get it insured or repaired.
Sometimes, you might quickly need to get your scooter back on the road and can't afford to wait for the dealer you purchased it from or a local repair shop for one reason or another.
Sometimes you might want to get an accessory for your scooter, and you want to get the accessory in the exact color as your Vespa scooter. You will need to know your scooter's color code, and if you do not know where that is on your scooter, you might not be able to get your accessory.
This article will help you with all you need to know about the Vespa parts and where they can be located on the scooter.
Where is a Vespa's Battery Located?
This is an 'it depends' moment as the model determines the location of the battery in your Vespa.
In general, the battery in scooters is located in the center around the floorboard or just behind the under-seat storage.
For example, Vespas like Vespa LX have their batteries located behind the under-seat storage while Vespa GTS, Primavera, and Sprint have their in the center mat on the footboard.
Find Your Vespa's VIN
A VIN is the abbreviated Vehicle Identification Number, and it is a unique number that indicates the make and model of the vehicle along with a serial number for your scooter. This 17-character code is associated with ONLY 1 vehicle because part of it is literally a serial number. Other parts indicate the make, model & such. Even scooters get assigned a VIN. The location of a VIN on a Vespa scooter varies with the kind of model it is.
This information should be in the paperwork from when you purchased the Vespa, in your state registration information, and even on your scooter's insurance card.
The VIN, also called a chassis number, can also be found on the scooter, as well. I constantly overlook mine, and on all of our scooters, it's luckily been on a plate below your eyeline to stay overlooked.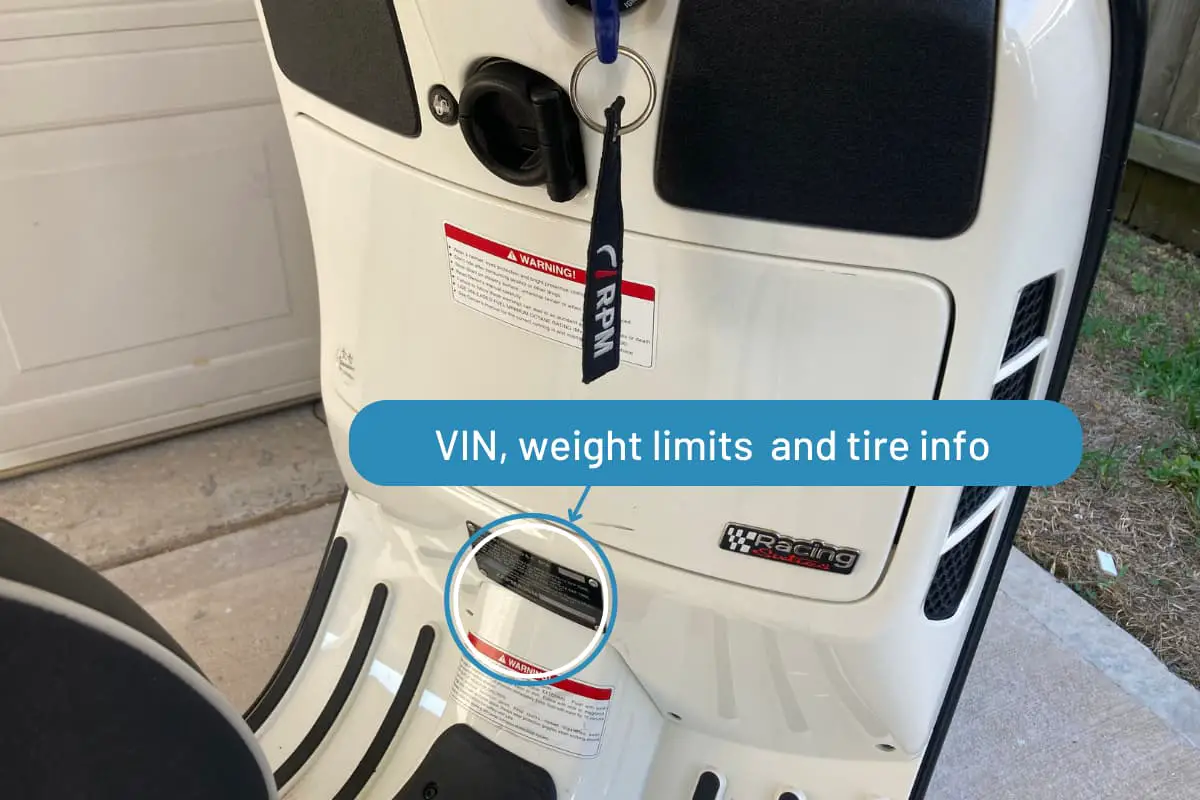 On this plate, you'll find weight limit information and tire size and pressure info, too! This same information is in a similar spot on 2 other scooters in our garage.
The VIN is also stamped under the seat. Take out the helmet storage bucket under the seat & just to the left of the paint code, you'll see your VIN stamped, as well. Scroll down and you'll find a photo of the 2 bits of information.
BUT the maxi scooter had the VIN on a plate attached to the rear frame. It was visible without pulling anything off or opening anything, but it is still fairly discrete.
If you're looking for the VIN on a vintage scooter, ScooterHelp has diagrams to help based on the type of frame.
Where Is Vespa Engine Number Located?
A Vespa scooter engine is mostly located in the rear of the scooter. It is always either under the rider's seat or behind it. This location is because the engine is connected to the rear axle.
To find the engine number, check the lower support of the left rear shock absorber.
Where Is Vespa Paint Code?
Sometimes you might want to get some scooter accessories for your Vespa scooter, and you want to get the exact color so that it will match. Other times you might need a repair job involving your paint. You will need to know your scooter's paint code to get as close to an exact match as you can.
To locate your Vespa scooter's paint code, you can try looking for a code under your scooter's seat or looking under the inner well.
For my 2022 GTS 300, I removed the underseat storage bucket, and it was on the frame right under the gas cap area.