Scooters have very different setups between them. For example, my Kymco Like 150i does not have a rear rack, and it has been a pain to locate an aftermarket one. My Genuine Buddy Kick came with a tiny bar that might have been called a rack, but I upgraded it to a larger black one to carry more. Below is my list of items I have on my Kick currently or that I'm eyeing if I decide it is time to upgrade or replace.
Rear Rack
I have the black version of the rack, but you can also find the chrome version at ScooterWorks specifically for the Buddy Kick.
More Buddy Kick specific items from ScooterWorks.
You can also find Buddy Kick Rear Racks on Amazon, as well.
Luggage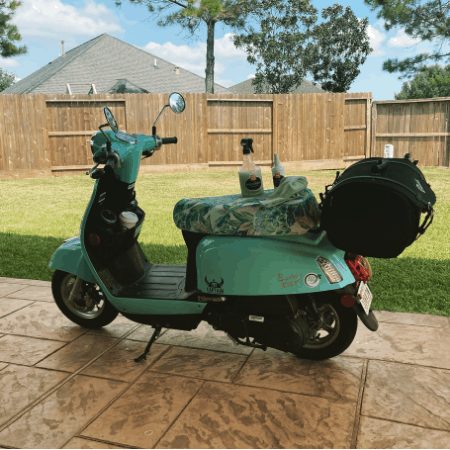 This Prima Roll Bag has been very handy on my scooter. Click this link to check out prices on Amazon. You can fit so much into it, and there are 2 zippered pockets at the end of each side that you can stuff things into. It comes with a waterproof cover in case you find yourself out in the rain. This is the large version, and the photo of my Buddy Kick was shown to help understand exactly how large this bag really is. I would like to try out the small version, but I just can't justify it based on the cost.
However, this bag is on my scooter 99% of the time. It is much larger than the rear rack that is installed on, and yet it is still not sagging. It is very well constructed, and I fill it up regularly with groceries. 2 medium pizza boxes fit in it, and I'm betting I could have squished another 2! Prima Roll Bag – Large
If my rollbag ever gives out on me, I have this basket ready in my cart to try out.
Of course, a solid milk crate is a scooter rider's favorite. They are very functional and affordable. Strap them down and go!
Top Box
This top box will fit your helmet if you are looking for that specifically. I like that it comes with the base plate, large enough for a helmet, but it doesn't look too large for a scooter.
Keep Things Tied Down
When I need to tote something around that doesn't fit inside the roll bag, I take the bag off and use a net like this one on Amazon. In the photo below, you'll see a bright green item on the back of my scooter. This is an exercise mat, and I simply tightly pull the net over it. I ride with it at least one time a week for outdoor workouts, and this net shows no sign of wear and tear and does its job well.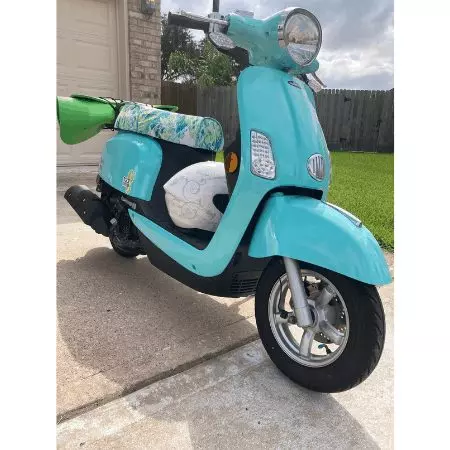 I also keep a few bungee cords from Amazon in my under-seat storage for the random times I need to tie something else down. In my scooter right now is 1 canopy tie, 2 18″ and 2 24″. I keep them in sandwich bags to keep them from being a tangled mess when I need them.